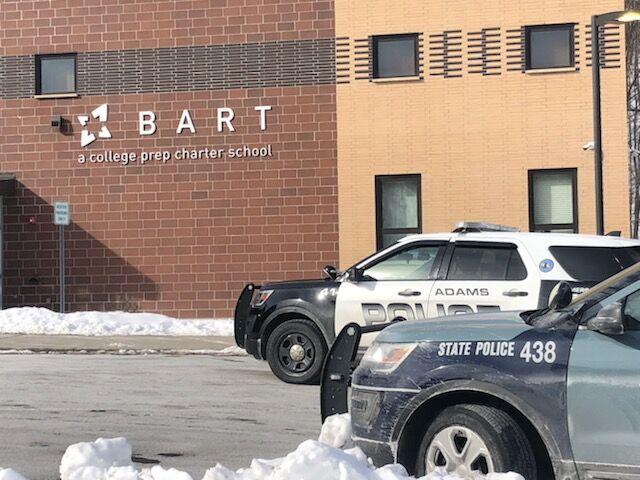 ADAMS — A threat caused Berkshire Arts & Technology Charter Public School to shelter in place for about two hours on Thursday afternoon until officials deemed it not credible.
The threat was received shortly after 11 a.m. by a student via the iPhone "airdrop" function, Adams Police said in a Facebook post late Thursday.
The student shared the message with a teacher, according to Jay White, BART's executive director. The contents of the message were not released, but in an initial email to families, White characterized it as "a threat of harm towards our School community."
About eight Adams and state police officers were escorted through different sectors of the school with a staff member to search the hallways, rooms, backpacks and exterior of the school, White said. An Adams Police K-9 and handler were seen coming out of the building about 2 p.m.
During a shelter in place order, students and teachers stay in the classroom, lock the door and pull the shades so no one can see into the room, White noted. But since the threat came in just before the lunch period, school staff changed their routine and prepared meals for delivery to each classroom.
Students were also escorted by an adult for any bathroom breaks they needed.
White said the faculty, staff and students have conducted drills for just such a scenario, and everyone knew where to be and what to do.
He noted that the students handled the situation well, and that there didn't seem to be anyone unduly upset.
While this threat wasn't credible, White said, the main concern is for the safety of the students, so every threat has to be taken seriously.
In a message to the school community announcing the threat was not credible, White wrote, "I am relieved to provide you this information. But I am also upset and sad that our BART community experienced this — as someone who adores this community but also as a parent of two school-age children."
One parent waiting for her child after dismissal, who declined to identify herself, said she wasn't overly worried.
"I wasn't concerned very much," she said. "I have faith in the school."
The investigation into the source of the threat is ongoing, and anyone with pertinent information is asked to contact the Adams Police Department.
BART, a college prep charter school on Route 8, serves 362 students with 75 faculty and staff in grades 6 through 12 from across the Berkshires.