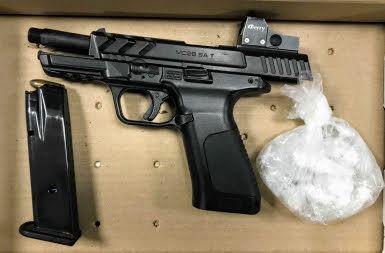 PITTSFIELD — Pittsfield police say they arrested a 27-year-old man Monday after an officer on patrol spotted what he thought was a concealed handgun.
That led the officer to stop the man, Myles Handy, and ask that he show proof that he held a license to carry a firearm.
Handy refused to comply, police say. Though Handy walked away, Officer Ansy Jumeau was able to stop him and recover a loaded 9mm firearm, police say.
The gun was in Handy's waistband, police say.
After determining Handy did not have a license to carry, he was arrested and now faces firearms and drug charges.
Police said the incident began at 3:30 p.m. Monday in the parking lot at the Big Y at 200 West St. Jumeau reportedly saw Handy with what appeared to be a firearm concealed beneath his T-shirt.
Handy refused to stop as the officer approached, police said.
"​​At one point, Mr. Handy's shirt lifted, thus giving the officer visual confirmation that he possessed a non-holstered firearm," according to a statement Tuesday from the police department.
Police say they recovered "several" baggies with what appeared to be crack cocaine, both in the cruiser in which Handy had been placed and from him when he was being booked.
Handy was charged with carrying a firearm without a license to carry; possession of a large capacity firearm; possession of a large capacity feeding device; possession of a high capacity magazine; possession of ammunition without an FID card; possession of a defaced firearm serial number; possession of a firearm while under commission of a felony; and possession with intent to distribute a Class B substance.
Handy, a 2014 graduate of Pittsfield High School, was arraigned Tuesday in Central Berkshire District Court.