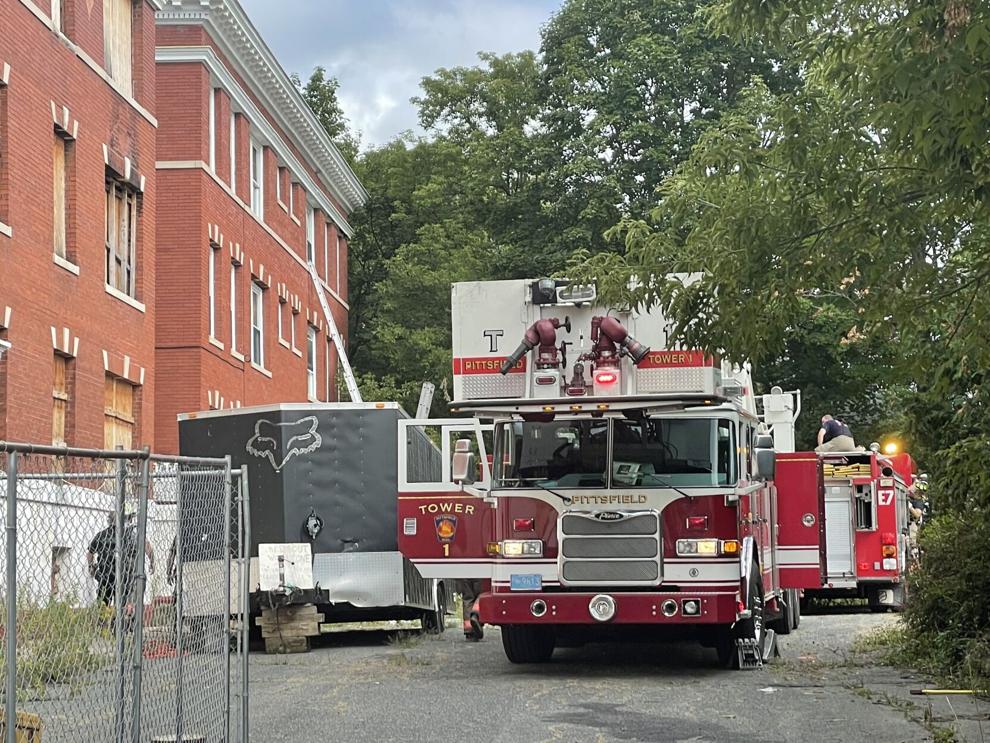 PITTSFIELD — A man with a history of arson was arrested Thursday afternoon after allegedly setting a fire at White Terrace apartments — the second fire at the complex in just under a week.
Joseph A. Stone, 43, of Pittsfield, was arrested on South Street about 2:52 p.m. Thursday, said Lt. Gary Traversa, just under 40 minutes after police and firefighters responded to a report of a fire in the rear building.
Firefighters were about to quickly extinguish the fire in the basement, according to Fire Chief Thomas Sammons, and no one was injured. All three buildings in the complex are vacant.
"It was a quick, aggressive interior attack," he said. "They got it out quickly."
In contrast, firefighters one week ago battled a three-alarm blaze in the front building of the complex on Sept. 9. The building lacked electricity and gas service and had long ago been boarded up.
Authorities are investigating a fire that occurred overnight at the White Terrace Apartments on North Street.
The first and fourth floors of the building had heavy fire, heat and smoke damage, according to a Fire Department report. The second and third floors had only smoke damage.
Four firefighters suffered minor injuries, including two who were treated at Berkshire Medical Center for smoke inhalation.
The cause of that fire remains under investigation by members of the Pittsfield Police Department Detective Bureau in collaboration with a Fire Department investigator, Traversa said. He did not say whether Stone was a suspect in that fire.
Stone was arrested quickly after Thursday's fire as investigators "were able to connect enough dots" to establish probable cause, Traversa said.
He was charged with one count of arson, and an additional count of possession of a Class B substance, Traversa said. He is expected to be arraigned Friday in Central Berkshire District Court.
Stone has a history of engaging in arson. He was convicted by a jury of setting a fire that destroyed a historic Fenn Street apartment building in 2004 that displaced 13 tenants during the wintertime and caused what the owners estimated was approximately $1 million in damages and debt.
He initially had been celebrated as a hero for evacuating tenants when the fire broke out Feb. 7, 2004. It took 70 firefighters three days to fully stamp it out.
But ultimately, Stone signed a five-page confession and admitted that had set a blue winter jacket on fire inside the basement of the Fenn Street apartment building. He told authorities at the time that he had been helping out around the building in exchange for a break on rent and had felt "underappreciated" by the owners.
In November 2005, a Berkshire County Superior Court Judge sentenced Stone to up to 12 years in state prison.
He also was charged more than two decades ago with setting on fire his pickup truck because he owed restitution on it.
Anyone who has information to share about either fire is asked to contact the lead investigator, Detective James Losaw, at 413-448-9700, ext. 572.