PITTSFIELD — A city man is facing more than a dozen charges after police say he rammed a woman's car with his vehicle and then fled from officers.
Jovan Rodriguez, 25, of Lincoln Street, was arrested Saturday, after he surrendered to authorities in a "wooded area" behind 122 Dewey Ave.
The incident began about 9:30 a.m., when police responded to a crash at Third and Lake streets. A woman told Pittsfield Police Officer David Hallas that Rodriguez had "chased" her car around the neighborhood, then rammed his vehicle into the back of her car in front of a Lake Street home, according to a police report.
He slammed into her car a second time, she said, causing it to spin out and come to a stop along a guardrail in front of 64-68 Third St.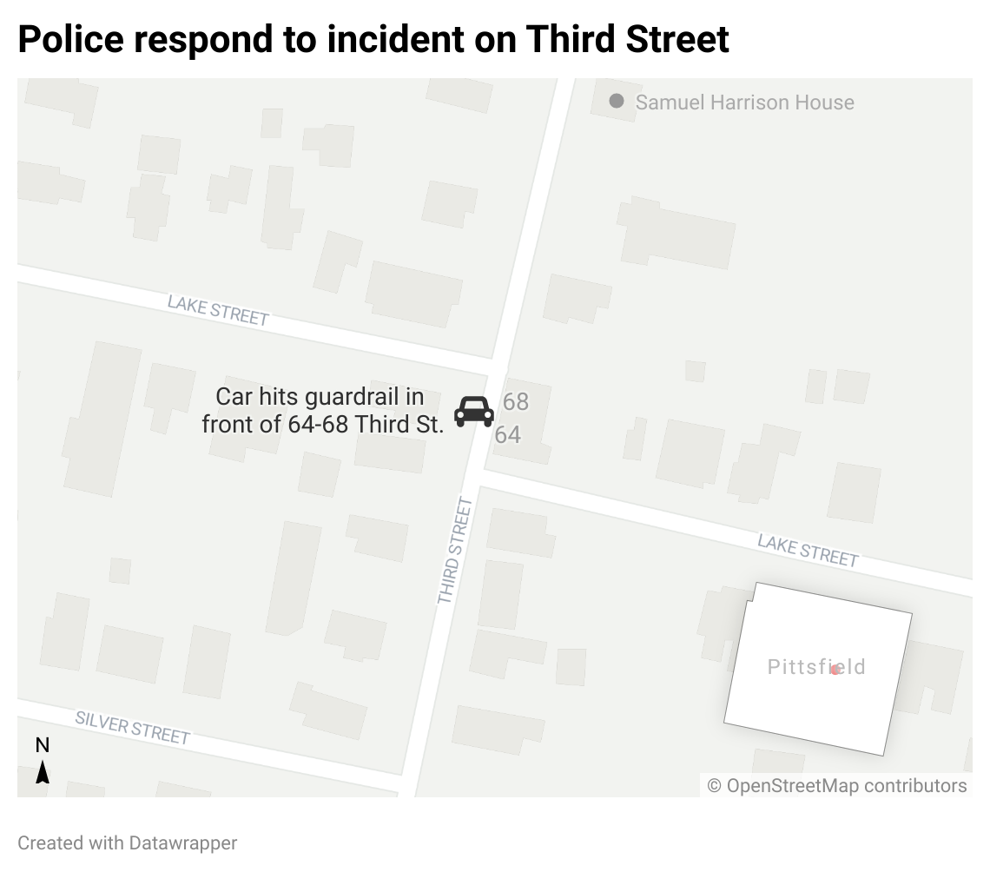 A man police later confirmed was Rodriguez was spotted driving a black Subaru with front-end damage and trying to maneuver around several vehicles, Sgt. Matt Hill said in a report. Hill signaled to Rodriguez to stop, but he squeezed past Hill's cruiser and drove away.
Another officer, John Virgilio, then saw the car heading toward Second Street. He activated his lights, but Rodriguez kept going, and what followed was what Hill described in his report as a "slow speed" pursuit.
Virgilio, in his report of the incident, said Rodriguez bailed out of the car and started running behind houses between Robbins and Dewey avenues.
Rodriguez's wallet fell from his pants and into the snow as he ran, and the now-empty Subaru rolled down the road, striking a vehicle that was parked in a driveway on Prospect Street.
Officers converged in the area and eventually surrounded Rodriguez, who surrendered to authorities behind 122 Dewey Ave., according to Virgilio's report.
Rodriguez was wearing size-9 Timberland boots — police later would link them to a shoebox filled with drugs and a firearm — and he had cuts on his hand and was having trouble breathing, so, he was taken to Berkshire Medical Center, a report states.
Back at the scene of the initial crash on Third Street, the woman told police that after Rodriguez rammed her vehicle, he had gotten out of the black Subaru and approached her car. She said Rodriguez smashed her front passenger-side window, then got inside and rummaged around as he screamed at her. The dispute between the two started when the woman rebuffed Rodriguez, the woman told police.
But, a man in the area at the time also reported to officers that he heard Rodriguez shout, "Where's the money? Where's the money?"
As investigators sorted through what happened, a resident on Third Street directed officers to a shed behind a home. According to the report, there was a trash can in the shed, and in it was a shoebox for a pair of size-9 Timberlands.
Instead of shoes, the box held a Glock handgun with an extended, and loaded, magazine. Stuffed inside was crack cocaine and heroin packaged for distribution, and two more plastic bags filled with a brown substance officers identified as more, unpackaged heroin.
According to court documents, the total weight of the heroin was 140 grams, and the weight of the crack cocaine was 16 grams. Police said Rodriguez had discarded the box before fleeing the scene.
After his release from the hospital, Rodriguez was taken to the police station, where he waived his right to remain silent and "admitted the shoe box, that matched the boots he was wearing, was his" and that he had taken it out of the woman's car and put it in the shed.
But, he denied that the gun belonged to him, and instead told police it might belong to a former partner of the woman, Emmanuel Kodjo, who faces weapons charges after police allegedly found him in possession of parts for manufacturing "ghost guns."
He said he accidentally crashed into the woman's car, and was looking for her because she had stolen $9,000 from him.
Rodriguez, who had no firearms license or active driver's license, was charged with 18 counts, including 10 felonies. The charges include carrying a loaded firearm without a license, possessing a large-capacity firearm, assault and battery with a dangerous weapon, drug possession with intent to distribute, and trafficking more than 100 grams of heroin.
He pleaded not guilty at his arraignment in Central Berkshire District Court on Monday and was ordered to remain held in custody pending a dangerousness hearing Thursday.