PITTSFIELD — An internal investigation by the Pittsfield Police Department has found that the officer who shot and killed city resident Miguel Estrella on March 25 followed "use of force guidelines" and that Estrella posed an immediate threat as he came at an officer "at a fast pace" with a raised knife.
The preliminary report from the department's Force Investigation Team (FIT), released Wednesday, says that Officer Nicholas Sondrini fired twice after repeated efforts to stop Estrella with less-lethal means failed and after officers had backed 120 feet away from Estrella, into Onota Street traffic.
Estrella, 22, died that night of two gunshot wounds to his torso — an outcome the department calls "tragic," but one in which officers followed proper procedures.
"Recognizing this [imminent] deadly threat within a few feet of his position, Officer Sondrini fired 2 rounds from his firearm, striking Mr. Estrella with both rounds," the report states.
"On the basis of the preliminary FIT report, Officer Sondrini's TASER deployment and subsequent use of his firearm in response to a perceived imminent deadly threat is in compliance with all relevant department policies, training guidelines, statutory requirements, and use of force guidelines," the report says.
The report reveals publicly for the first time that the department did not believe it had grounds to seek an involuntary commitment of Estrella after officers responded to an initial 911 call for help.
It also identifies the officers involved and says that police on the scene felt that Estrella's actions ran the risk of harming a woman present.
Work continues by the department's investigatory team and a complete report will be filed in the coming weeks, according to a statement approved by Police Chief Michael Wynn.
In the statement, the police department said it extended "sincere condolences to the family and friends of Mr. Estrella."
The statement said the department recognized the impact that Estrella's shooting and death has had on the Pittsfield community and said it "extends great effort" to ensure that police officers follow "established protocols" and comply with "new/changing state/national requirements."
Wynn was not available to comment on the report Wednesday afternoon, according to a spokesman. A spokeswoman for Estrella's sister and mother said they were not immediately available for comment.
Separately, the Berkshire District Attorney's Office is conducting a criminal investigation into the fatal shooting.
Mayor Linda Tyer said Wednesday afternoon the community has been eager to receive the department's report and called it "an important first step and understanding what happened that evening."
She declined to discuss her view of the officers' conduct, based on the preliminary report. She said she read the findings once Wednesday but wanted to "read it a second and a third time before I offer any specific comments." Tyer also cited the ongoing investigation by the Berkshire District Attorney's Office.
"This, you know, is a pending investigation and a potential legal matter. I am not, at this point, able to offer my opinion or understanding of what's contained in the report," she said. "So I have to reserve all of that, because it is still a pending investigation."
Both Sondrini and another officer who responded to the call at 279 Onota St., Christopher Coffey, had been placed on administrative leave after the shooting. Their status was changed Wednesday to limited duty, under which they can resume "non-enforcement" roles, the department said.
Wynn initiated the internal review March 26, the day after the shooting. He received a report April 8. After reading it, he directed the team on April 14 to do more work, in light of new standards on the use of force by police that were put in place by the Criminal Justice Reform Act of 2020.
The department said Wynn received a revised preliminary report a week later.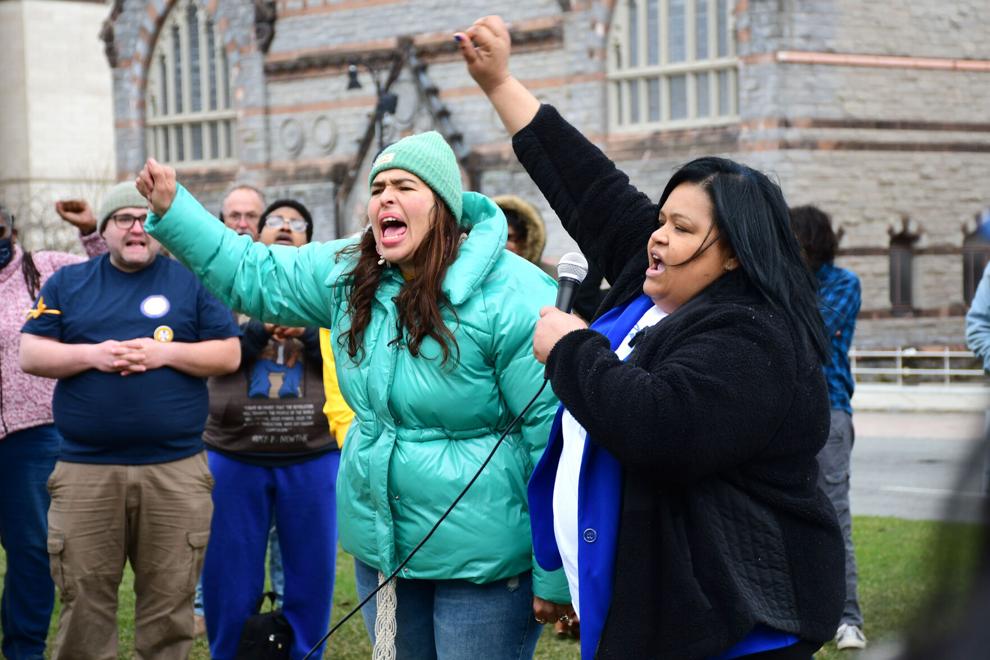 Report's findings
The document says police did not have the option of compelling Estrella to be placed in psychiatric care. Estrella's friends and family members have told The Eagle that he had been drinking and was fighting depression. On the night he died, his domestic partner, Daneya Falwell, appealed to officers who responded to a second 911 call to transport him to the local hospital. She has said he had been intentionally cutting himself and was not a threat to others.
The report concluded that transporting Estrella wasn't an option during the first emergency call, only minutes before.
"According to information provided to the responding Officers and EMS by Mr. Estrella and witnesses on scene, he was not engaged in any self-harming behavior, and made no threats and/or statements of self-harm at that time," the report states. "All parties reported that his visible existing injury had occurred earlier in the day."
Estrella declined treatment and transport to a hospital, the report says.
"On the basis of this information, Mr. Estrella did not meet the criteria for a civil commitment under [state law]. Officers adhered to both relevant department policies and the applicable laws and regulations," it said.
When Coffey arrived at the address, he reportedly saw Estrella holding "a large knife … and that he was within an arm's length of a female party" and at one point was seen to move "towards the female with the knife raised in a threatening manner."
The report says that led Coffey to attempt to disable Estrella using a Taser. It says that Estrella turned and moved toward Coffey, who asked him to halt and drop the knife. The Taser failed to incapacitate Estrella, the report says.
At that point, Sondrini arrived and also used a Taser, to no effect. Coffey attempted another use of his Taser.
"At several points during the attempts to incapacitate Mr. Estrella with Taser deployments, the female party's positioning and close proximity to Mr. Estrella placed her in danger of becoming injured by means of Mr. Estrella's knife," the report states.
The department says that after the Taser use, Estella "took a fighting stance, raising his fists with a knife in one hand and advanced toward the Officers."
That led Sondrini to resort to use of his police firearm, the report says, after the officer decided that "Mr. Estrella's continued assaultive behavior, refusal to comply with any verbal commands, and failure to respond to de-escalation techniques presented an imminent deadly threat to himself, Officer Coffey, and the female party …."
Both Sondrini and Coffey tried to keep distance from Estrella.
"Mr. Estrella continued advancing on the Officers until they had reached the middle of Onota Street, and traffic traveled dangerously close to their position," the report states.
The use of lethal force was moments away.
"At this point, Mr. Estrella turned and focused his attention on Officer Sondrini," the report says. "He bladed his body, clenched his fists while still holding the knife, raised them upward, and moved toward Officer Sondrini at a fast pace. Recognizing this … deadly threat within a few feet of his position, Officer Sondrini fired 2 rounds from his firearm, striking Mr. Estrella with both rounds."
Use of the Tasers by both officers complied with departmental rules and training guidelines, the report says. Sondrini's use of his firearm "in response to a perceived imminent deadly threat is in compliance with all relevant department policies, training guidelines, statutory requirements, and use of force guidelines," it says.
Coffey has been with the department for four years. Sondrini joined the department in 2013. Both are members of the Berkshire County Special Response Team.
'Painful and tragic' time
Tyer said what she has seen and heard from the community since Estrella's death has been "painful and tragic."
"I continue to listen to what the community is saying, I certainly hear of a call to action that the community has to do better, that we have to strengthen our systems so that these sorts of things don't happen again," she said.
Asked how she proposes to do so, Tyer said there have been conversations over the past month about how the city could potentially "expand" the mental health co-responder program in the Pittsfield Police Department.
"I'm not not at a point where I can speak to it in any great detail except to say that it is one of the things that we're exploring," she said, adding that she's open to community feedback about how to support those experiencing mental health crises.
Her budget proposal for the next fiscal year will not include funding for police body cameras, she said.
"We're not at a point in the city of Pittsfield, really, or even in the commonwealth, where we can implement body cameras," she said. "There's a lot of work happening in the commonwealth with the POST Commission and the elements of policies related to body cameras."
The report was released a day after a petition was delivered to the City Council calling for Pittsfield police officers to be equipped with body cameras. Tyer said the proposal warrants further review. "It's certainly something for us to consider, and the City Council will be taking that up at its Ordinances and Rules Committee," she said. "We will have a community conversation about it."