PITTSFIELD — In the hour before he admits he burned a political message he deplored, Lonnie Durfee stopped at a convenience store in his town.
Durfee wasn't keeping secrets. He told another shopper he planned to set fire to hay bales across from Holiday Brook Farm that had been painted with an endorsement of the Biden-Harris presidential ticket, according to a Dalton police report.
Minutes before that encounter Friday evening, he said the same thing to people inside Paddy's, a Dalton bar. And as police would soon learn, it wasn't the first time he'd burned a political sign this year.
Not long after, Durfee pulled out of the Cumberland Farms on Main Street with containers of gasoline and headed for the small mountain of hay bales, and the message they displayed, though one container fell out of the back of his yellow GMC pickup onto the road, and was left behind.
As he remains in custody awaiting a dangerousness hearing, a fuller picture is emerging of what led Durfee, 49, to set fire to the 19 hay bales bearing the Democratic endorsement. Given his statements to police, it appears to be a mix of personal grief and political frustration.
Durfee, a Dalton resident, lost a son, Jacob, to a motorcycle crash this summer. That was among the first things he told town police officers when they found him two hours after the fire at his Home Terrace address.
But as an avowed supporter of President Trump, he was also fixed on the election contest coming in just weeks. "He is frustrated with the Democratic and political left agenda and believes they are ruining the country," Dalton police would later note.
That's what lay behind another instance of fire-setting that he also admitted to police: the burning late last month of a small Biden-Harris sign in front of a vacant home at 12 Home Terrace. Neighbors told police that Durfee then placed an American flag in its place.
On Tuesday, during an appearance in Central Berkshire District Court, Durfee was ordered held without bail until a dangerousness hearing scheduled for Friday. He pleaded not guilty to a charge of burning personal property.
First Assistant District Attorney Richard Dohoney told The Eagle that the state pressed for a dangerousness hearing because of Durfee's history of assaultive behavior.
He was arrested in June 2014 in Pittsfield on charges of assault and battery, disorderly conduct and resisting arrest. The circumstances of that arrest were unclear. A spokesman for the District Attorney's Office said Tuesday that the charge had been continued without a finding.
Andrew McKeever of the DA's office said the prosecution is expected to present arguments Friday about past violent behavior by Durfee.
A police report obtained by The Eagle on Tuesday revealed more details about the fire at Holiday Brook Farm. Durfree told Sgt. Christopher Furlong that he burned the hay bales because he "disagreed with the political stance it represented," according to a police report.
Along with Furlong, State Trooper Michael Mazza and Dalton Sgt. Geoffrey Powell interviewed Durfee outside on Home Terrace, as he stood talking by the tailgate of his truck, smoking cigarettes.
Durfee told police he used motor oil and gasoline to torch the hay structure.
He said he was sorry for his actions and offered to pay for the damages, estimated at about $2,000, according to the report.
The Dalton police report includes statements from neighbors who had become concerned about Durfee's behavior. One resident told Furlong that Durfee had been invited to a recent dinner party on the condition that politics not be discussed.
But politics came up. "Lonnie is a huge supporter of President Trump and proceeded to make a huge scene during the dinner related to politics," Furlong's report says.
Furlong's report noted that he'd spoken with Durfee on Sept. 22, when he dialed 911 to complain about the Pittsfield Police Department. The nature of the complaint was not specified. Furlong wrote that he believed Durfee was intoxicated at the time of the call.
After interviewing Durfee on Friday night, police advised him to remain at home and to come to the Dalton station the next morning. He presented himself there at 9:48 a.m. Saturday and was read his rights before recounting his actions Friday night. The session was videotaped and witnessed by Furlong, Mazza and Dalton Officer Bustin Buzzella.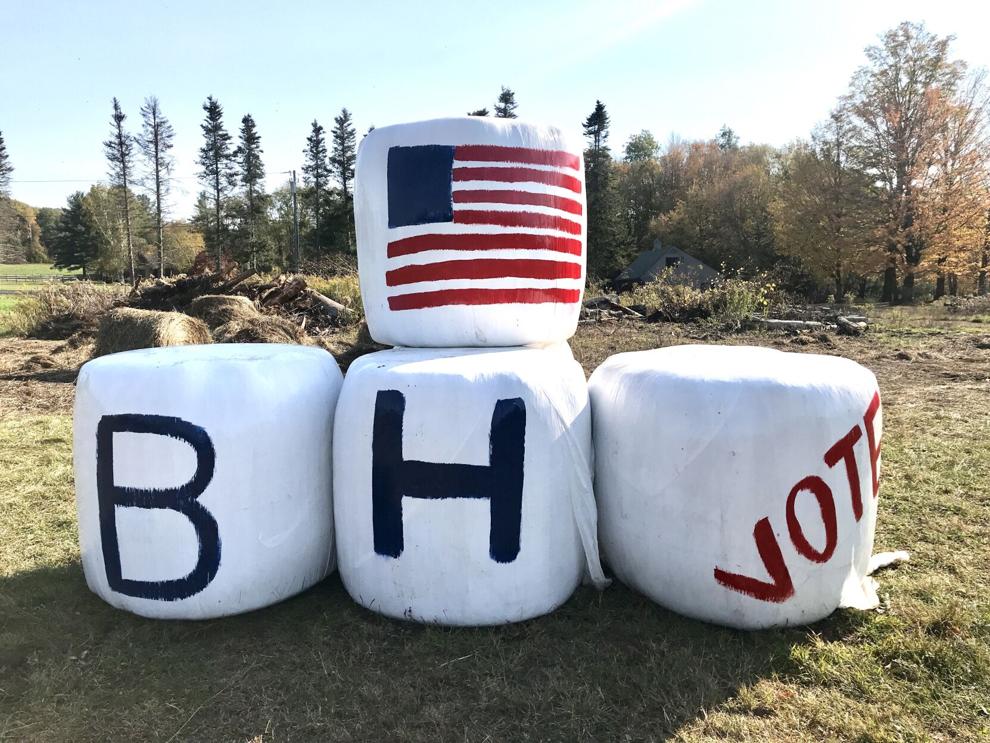 In the Saturday interview, Durfee repeated his account of his actions Friday. "Mr. Durfee admitted to using gasoline and oil to set the hay [bales] on fire," the police report says. "Mr. Durfee was apologetic for his actions and offered to pay for the damage he caused."
Durfee said he never intended to hurt anyone.
The bales with the message were standing on the south side of Route 9 across from Holiday Brook Farm, in a field near Cleveland Road. No one was hurt in the fire, which started around 6:30 p.m. and forced travel delays on Route 9.
Dalton Police Sgt. Deanna Strout said Tuesday that she couldn't recall another incident in which a political sign had been defaced or destroyed. "I am not saying it doesn't happen, but we haven't had a history of that here," she said.
The state Department of Fire Services is also investigating the incident at Holiday Brook Farm. Asked for an update on the investigation, Jennifer Mieth, a spokeswoman for the department, referred a reporter to a statement that Dalton police issued over the weekend. The statement announced Durfee's arrest.
In a statement Tuesday, Berkshire District Attorney Andrea Harrington said the incident reflects the political polarization "in our country and in the Berkshires."
"We believe Mr. Durfee destroyed personal property because he disagreed with the property owner's political views. Our community will not accept those types of actions under any circumstances," she said. "We will hold Mr. Durfee accountable and I hope the community uses this incident as a rallying cry to reject fervent divisiveness and hate."