PITTSFIELD — When Ronny Brizan lost his job as a server at The Red Lion Inn due to the economic impacts of COVID-19 last spring, he saw it as an opportunity to fulfill a lifelong dream — owning his own food business.
"It was always something I wanted to do," he said in a phone interview, adding, "I've been in the food business for over 25 years."
After being laid off, Brizan started running his own food truck, BB's Hot Spot food truck, featuring Caribbean and American foods. The truck, located mostly by Rocco's North End Barber Shop at 175 North St., Pittsfield, was open July through November, Brizan said.
After increasing demands to move the food truck to different venues and events, Brizan said he realized he needed a bigger and better place to do his prep and clean-up work. He moved into a small place at 302 Columbus Ave. and in January, opened BB's Hot Spot for takeout food. He plans to offer delivery soon and is looking into doing more catering, "like auto events," and adding family packages (for four to six people) to the current menu.
Brizan began his culinary career on the island of Grenada, studying at the T.A. Marryshow Community College in St. George's. From there, he interned at a hotel in St. George's and went on to work as a server at different hotels in Grenada, including the Tropicana Inn in St. George's that was owned by his uncle.
"I developed a passion for [food]," he said, adding he started a catering business there.
Brizan moved to Brooklyn, N.Y., in 2010 and, two months later, moved to the Berkshires.
"I had friends from Grenada who did seasonal work at The Red Lion Inn in Stockbridge," he said. He worked at the inn for 10 years prior to being laid off due to the pandemic.
Brizan operated a concession stand in the summer of 2019 at Burbank Park on Lake Onota. Due to the pandemic, it was closed last summer.
BB's Hot Spot offers jerk and curried chicken, jerk and barbecued pork ribs, braised oxtail and curried goat, in addition to beef and veggie burgers, and chicken wings. Side dishes include beef patties in coco bread, cabbage, rice and beans, fried plantains, potato salad, macaroni salad, and baked macaroni and cheese. Side dishes are $5 each.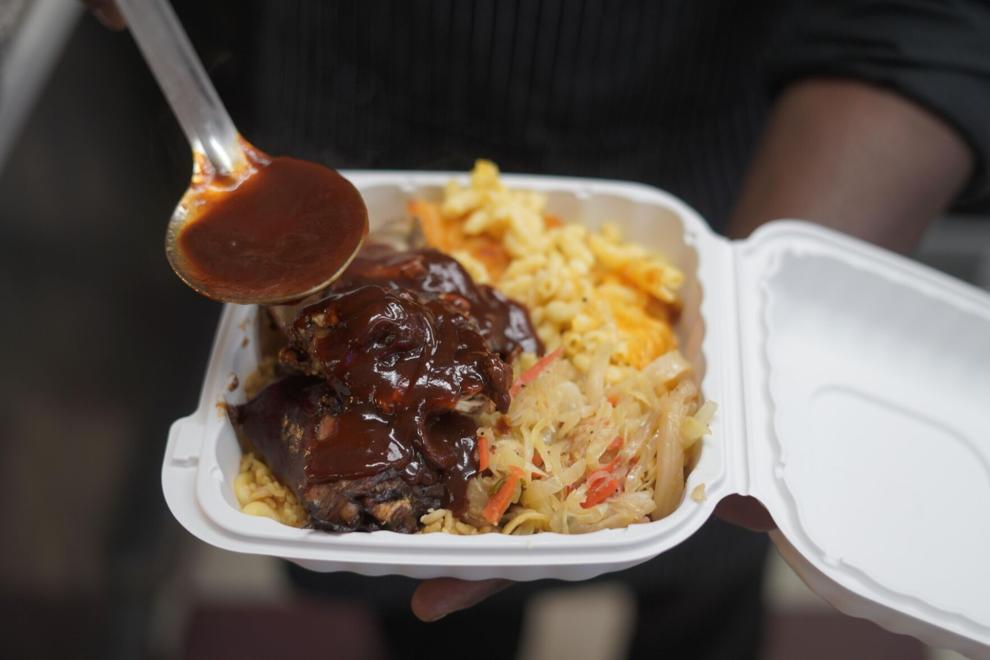 "I get a lot of calls for the braised oxtail, jerk chicken and curried goat," Brizan said. "I make the rice and beans with coconut milk to add more flavor."
Full-sized meals of chicken, goat or pork ribs are $15; braised oxtail is $18. Brizan offers a sampler box with three meat choices and two sides for $20. A snack pack, available only from 11 a.m. to 3 p.m. is $8.
"I come from the isle of spice and I cook with all of the spices, like cinnamon and nutmeg," he said when asked what made his food special. "It's also the way it's prepared, properly seasoned and the type of food. You previously had to go to Albany [N.Y.] or Springfield to get curried goat."
"I want to be professional and make sure the food is safely prepared and give everyone a great experience. Once I do that, everyone will come here and be happy," he said. "I've had a lot of support and compliments from the community."