STOCKBRIDGE — It all began with Duncan Pollock's college-age sons asking him for recipes to supplement dull college cafeteria food and their forays into restaurants and fast-food joints.
The Stockbridge resident said he would get an email every day asking for a recipe.
"I would send the recipe and a shopping list," he said. "They, in turn, would share the recipe with 5 to 10 of their friends. This went on for 6 to 12 months and I thought, 'I should do a website for guys just starting out.'"
He launched the website "Chowguys | Good Eating for Guys" (www.chowguys.net) about 10 years ago.
"We started Chowguys to help other guys get comfortable in the kitchen, eat better at home, and have some fun along the way. Cooking and eating well doesn't have to be complicated. We've tried to keep our recipes simple without dumbing down the results," an introduction on the homepage reads.
"I've been cooking all my life," Pollock said in a phone interview. "My mother was a good cook and she inspired me."
"My real love of food and cooking began right after college, when I was in Rome and on my way to a vacation in Greece," he said.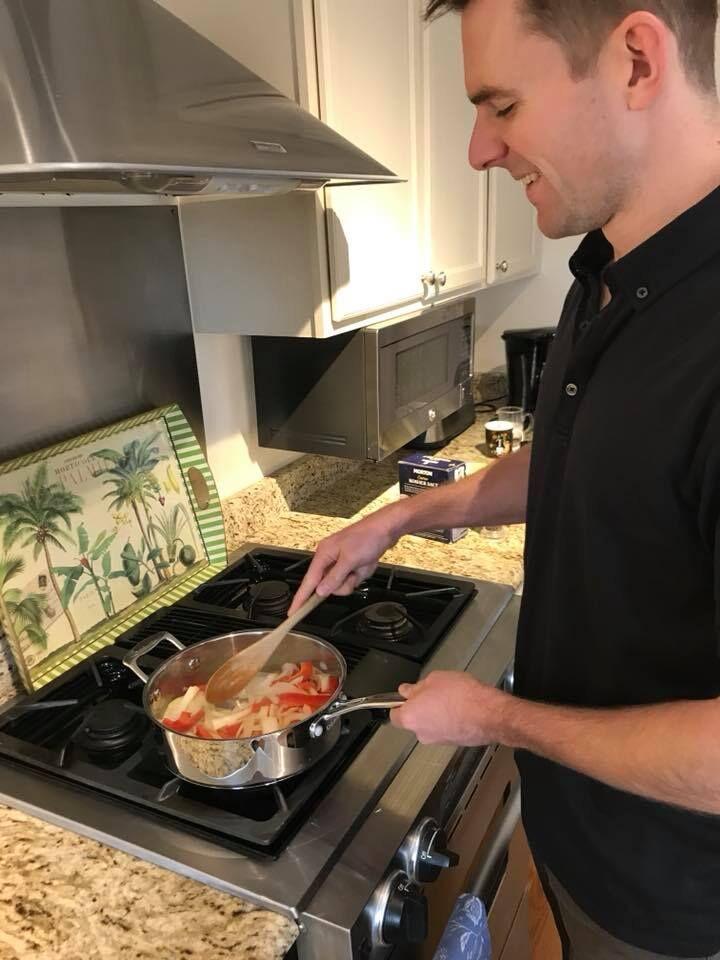 On a stopover in Rome, he had lunch with the headmaster of St. Stephen's School [an American international day and boarding school], who offered Pollock a job as the school's first director of admissions.
"I took the job and stayed two years. It was the most wonderful job I've had," Pollock said.
"I was paid $600 a year," he added. Since his position at the school provided him with free room and board, he went to a restaurant almost every night. "The American dollar was so strong then, I could live very well on very little money."
Pollock makes it a point to visit Rome every year, and learned Italian so he could go into the kitchens at restaurants and talk to the chefs.
After leaving his position at St. Stephen's School, Pollock returned to the U.S. and worked at The Rocky Mountain News in Denver, Colo., for three to four years in its lifestyle department. He went on the earn an MBA and worked in the field of advertising for 30 years. "I had a good run at it," he said, "I'm retired now."
"I'm always looking for terrific food that I can simplify the recipe for," he said. Some of the recipes on the website are his, others he has adapted from his favorite recipes by cooks like Ina Garten and a cookbook writer from New Jersey.
"The cookbook writer's crab cake recipe is unique because it uses Ritz crackers and they give the crab cakes a rich, buttery flavor." He added that each recipe comes with a shopping list. "You can be in a store, click on the recipe and download a shopping list."
Another featured recipe is for Fast Crab Soup. "It was the first thing I made when I was young," Pollock said. "You put a can of condensed pea soup, a can of condensed cream of tomato soup and 2 cans of milk into a pot. Open a can of crabmeat, drain it and add it to the pot. Add a dash of hot sauce, and salt and pepper, and in 10 minutes you have a great soup."
Chowguys features a section, "Getting started" that provides tips such as: Equipping your kitchen, cooking basics, salad and dressing, smart shopping, grilling and useful tips, a shop featuring Chowguys merchandize and community, which offers news, blogs and bragging rights, where the site's users can ask questions or offer recipe reviews.
"I also add quotes on the site to make it fun for the guys — like 'Cauliflower is cabbage with a college education,' by Mark Twain."
Pollock said his sons, now in their 30s, are avid cooks.
"They use the recipes all the time. My older son, Michael's favorite recipe is Bob's Grilled Flank Steak and Jack's favorite recipes are the crab cakes and the Chowguys' Salad Dressing," he said.
And Pollock's favorite? Spaghetti alla Carbonara.
---
CHOWGUYS SALAD DRESSING
INGREDIENTS:
Extra virgin olive oil
Red wine vinegar
1/2 lemon juice
1 generous spoon Dijon mustard
1 clove garlic , peeled
Generous grind black pepper
Pinch kosher salt
DIRECTIONS:
Wash out a used medium-size pickle or jelly jar (best if you put it through the dishwasher to really clean it out). Fill the jar 1/4 full with the vinegar, add the lemon juice, garlic clove, mustard, salt and pepper, and then fill the jar almost to the top with the olive oil. Screw the top on, shake the jar well, and there you have it!
"A jar of salad dressing lasts us a couple of weeks and we eat a lot of salad. Just take it out of the fridge 15 or 20 minutes before you want to have your salad so the olive oil loosens up and will mix well."
If you want to add flavor or adjust the taste of your salad, you can add fresh herbs like chopped basil, dill or oregano. Or, you can give your salad an Asian twist by halving the amount of dressing you use and then adding a dash of white rice vinegar and sesame oil to your salad. You can also make a creamier salad dressing — a natural ranch-type dressing — just by stirring in a spoon of sour cream to our basic salad dressing at the bottom of your salad bowl.
---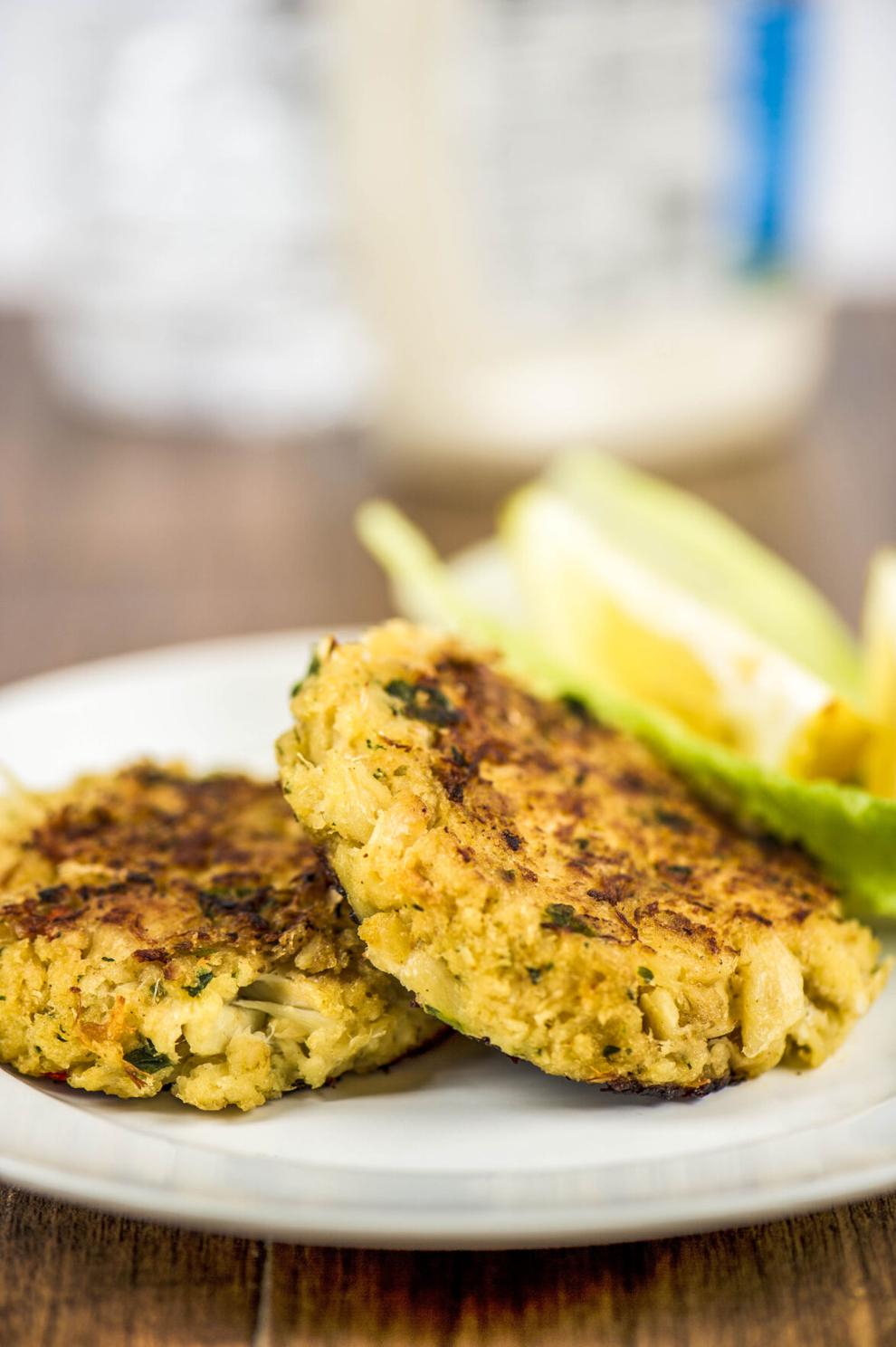 CRAB CAKES
INGREDIENTS:
1 rib celery, minced
2 scallions, minced
1 egg
1 large spoon of mayonnaise
Juice from 1/2 lemon
1 small spoon Worcestershire sauce
1 small spoon Dijon mustard
1 small spoon Old Bay Seasoning
1 pinch kosher salt and black pepper
5 Ritz crackers, crushed by hand into coarse crumbs
One 12-ounce can jumbo lump crabmeat, drained, or fresh crabmeat
1 pat unsalted butter
1 large spoon vegetable oil
DIRECTIONS:
In a large bowl, whisk together the egg, mayonnaise, lemon juice, Worcestershire sauce, mustard, Old Bay Seasoning, salt and pepper. Add the minced celery, scallion, crackers and crabmeat and mix together carefully so the crabmeat doesn't break up too much. With your hands, shape the crab mixture into 6 to 8 medium size round cakes. Arrange the cakes on a parchment or foil lined platter, cover loosely and place in the fridge for at least 30 minutes so the cakes stick together and aren't too runny. To cook, heat the butter and oil in a large non-stick skillet over medium-low heat. Fry the cakes, turning carefully, so they're golden brown all over, about 5 to 7 minutes. Serve with lemon wedges and a dab of tartar sauce. (To make a quick sauce, mix together 2 large spoons of mayonnaise, 1 small spoon Dijon-type mustard, 1 large spoon of capers, a dash of fresh lemon juice, salt and pepper.)