It's great that the kids want to treat mom to breakfast in bed on Mother's Day. But all too often, despite their best attempts, the breakfast ends up being a bowl of soggy, cold cereal or a couple slices of burnt toast. Or mom ends up getting up and taking over when the cooking duties are too ambitious. Not this year, though.
"No matter the age of the child, they can help create a breakfast for mom," said Diane Krol, program manager, School Wellness, for the New England Dairy & Food Council. "Little ones 18 months of age can stand on a stool or chair next to the home chef and simply stir the pancake batter a few times or sprinkle in some of the ingredients. Older children can use a plastic or a serrated dinner knife to do cutting and even older children can take the lead, reading the recipe, measuring the ingredients and using the oven or stove top with adult supervision."
She said the beginning of a perfect Mother's Day is having the kids in the kitchen without catastrophe. "The two main things to remember is: Be careful and to clean — wash your hands before cooking and put away the ingredients when you're done cooking. The best gift for mom is not having to do the dishes and wiping down the counters when the kids are done."
When planning a Mother's Day breakfast, Krol said to look at the five food groups and My Plate (which has replaced the former food pyramid). "Have something from most of the food groups," she said. "Bonus points if you use all of them. Have grains to give mom energy, dairy for strong bones and to reduce Mom's blood pressure, protein for strong muscles, and fruits and vegetables for fiber."
Krol suggested taking something normal, like French toast, and presenting it in a different way, such as french toast kebobs with a yogurt dip or a handmade whipped cream made with Greek yogurt to boost protein. "Make the French toast and cut it into bite-sized pieces. Kids can easily string it onto a skewer with strawberries, blueberries, raspberries or bananas."
Kids can also amp up a yogurt parfait by layering yogurt and fruit in a pretty glass and use crumbled toasted waffles in place of the usual granola, Krol said.
"You can also never go wrong with a smoothie," she said, adding some adult supervision is needed when using the blender. "Toss a few simple ingredients into a blender, put the cover on and blend."
"Overnight oats are another option. Because they're done the night before, it keeps the mayhem of Mother's Day morning to a minimum. Kids can combine the ingredients in a bowl or jar, cover it and refrigerate overnight. In the morning, all they have to do is stir it, add fresh or dried fruits and some honey, and voila, breakfast is served."
Monster breakfast pizza is one of Krol's favorite recipes. "Simply take commercially prepared pizza dough, bake it and then top it with a sauce of whipped cream cheese and cottage cheese, and any of your favorite fruits — kiwi, mandarin oranges, bananas or berries. Older children can help an adult spread out the pizza dough and spread the sauce on the cooled crust. Younger ones can arrange the fruit on top of the sauce."
And while the food is cooking or older children are busy "cooking," younger children can take the time to make Mom's breakfast tray really special. "Anything made by hand, small hands — Mother's Day cards, a picture can be used as a placemat, folding napkins for the tray or picking flowers (from an adult-approved location) to put in a vase on the tray."
Monster breakfast pizza
(Courtesy the Milk Life campaign)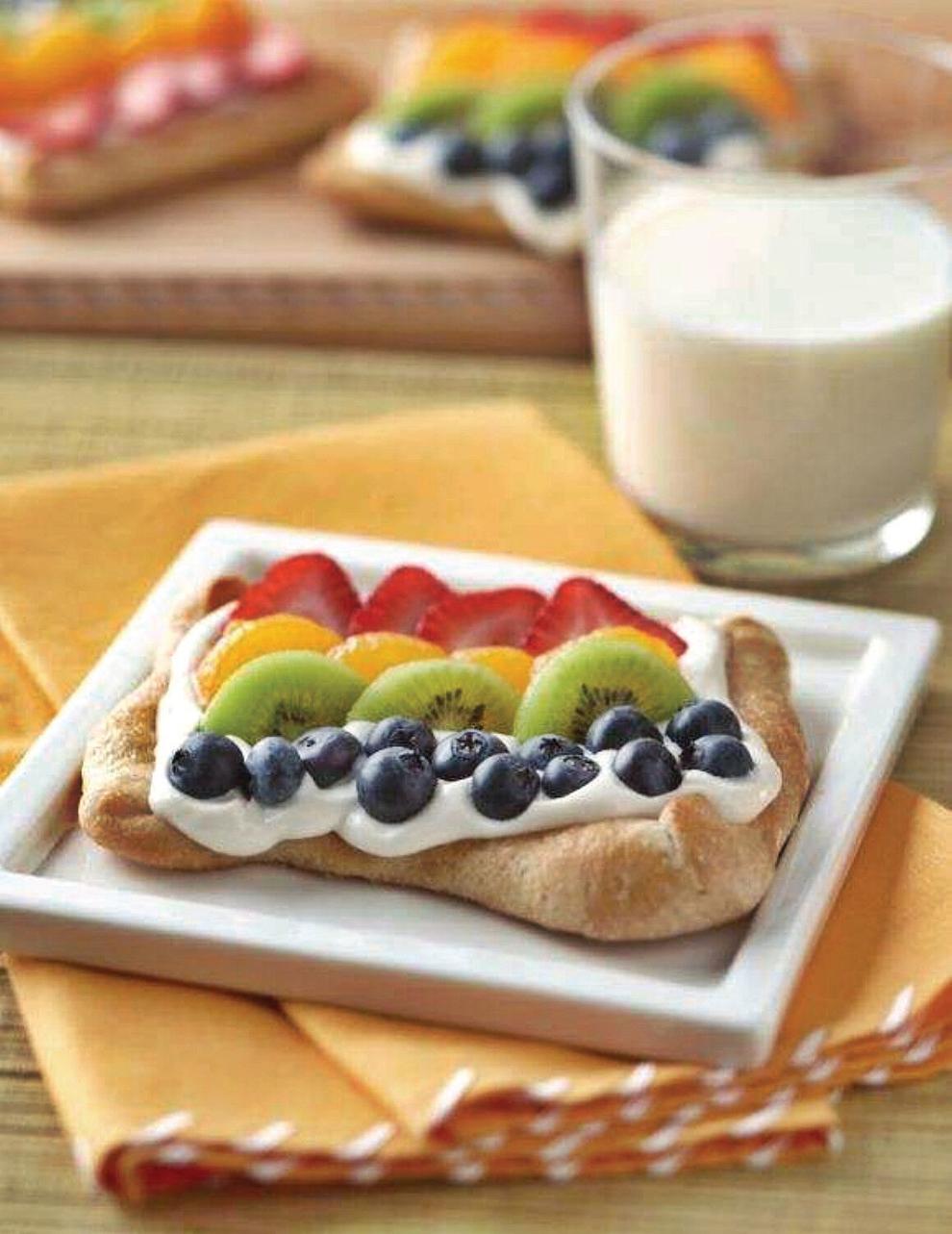 Servings: 6 pizzas
Skill Level: Easy
INGREDIENTS:
1 tube refrigerated pizza dough
2 tablespoons low-fat or fat-free milk
2 tablespoons sugar
3 ounces reduced-fat whipped cream cheese
1/2 cup low-fat cottage cheese
1/4 cup powdered sugar
1 teaspoon vanilla extract
1 teaspoon lemon juice
3 cups assorted fruits (strawberries, blueberries, bananas, kiwi, mandarin orange segments, etc.)
(Optional) powdered sugar
DIRECTIONS:
Preheat oven to 400 F. Lightly coat 2 large baking sheets with nonstick spray.
Unroll pizza crust onto a work surface and cut into 6 squares. Place three squares on each of the baking sheets and fold the sides up inch.
Brush the surface of each crust with milk and sprinkle with some of the sugar.
Bake until lightly golden and puffed, about 10 minutes. Let cool at room temperature completely before assembling the pizzas.
In a food processor, whip the cream cheese, cottage cheese, cup powdered sugar, lemon juice, and vanilla together until smooth.
Divide cream cheese mixture evenly among the crusts, then spread to coat, leaving a -inch margin around the edges of the crust.
Arrange the fruit over the cream cheese mixture and dust with additional powdered sugar before serving, if desired.
Overnight oats
(Courtesy the Milk Life campaign)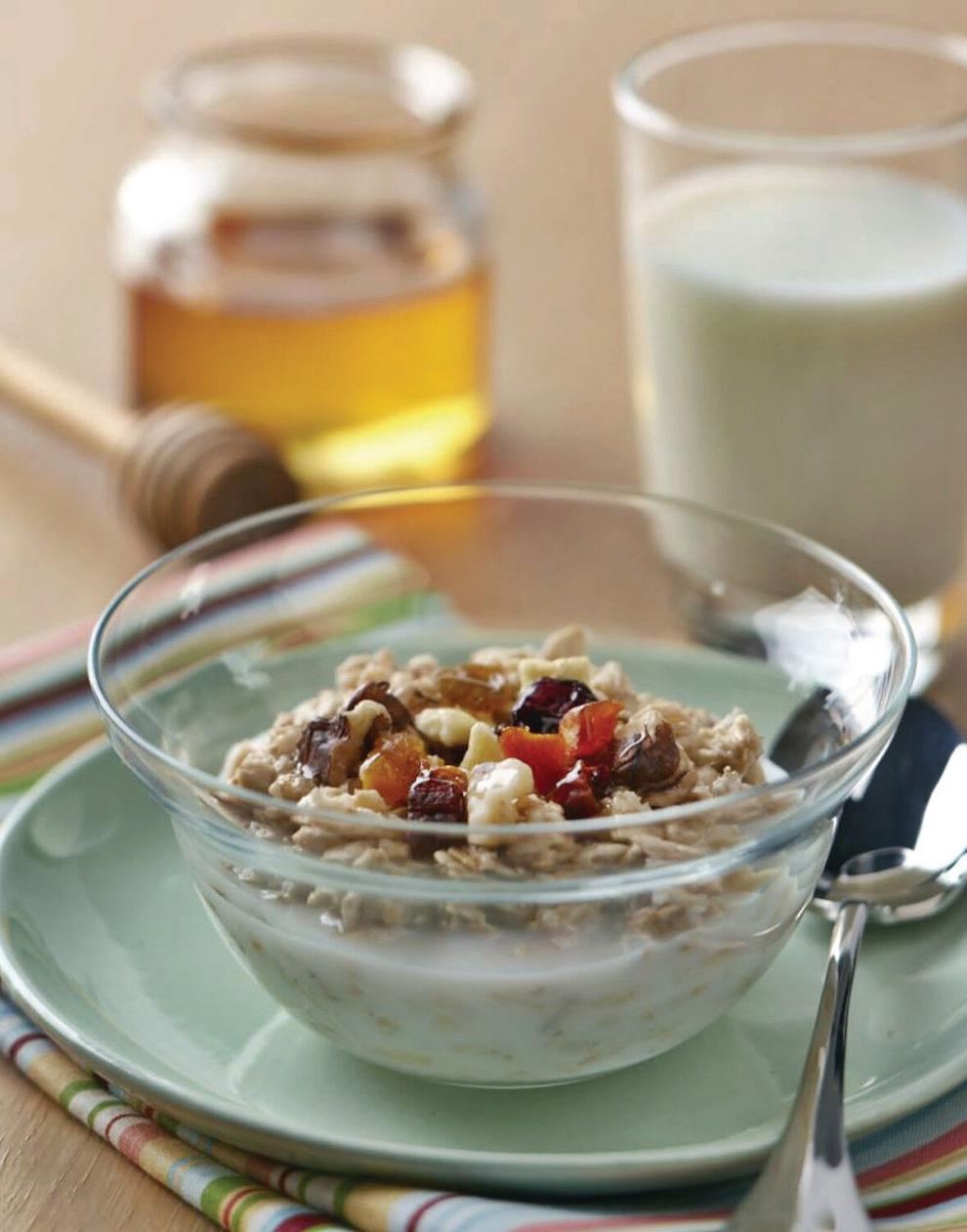 Servings: 1 serving (4 ounces milk per serving)
Skill Level: Easy
INGREDIENTS:
1/3 cup old-fashioned rolled oats (not quick cooking or instant)
1/2 cup low-fat or fat-free milk
1/4 teaspoon vanilla extract
2 tablespoons mixed dried fruit, chopped
1 tablespoon chopped toasted walnuts
1 tablespoon honey
DIRECTIONS:
Combine the oats, milk and vanilla in a bowl or a jar.
Cover and refrigerate overnight.
In the morning before serving, stir in the fresh or dried fruit, nuts, and honey.
Microwave coffee cup scramble
(Courtesy the Milk Life campaign)
Servings: 1 serving
INGREDIENTS:
Cooking Spray
2 eggs
2 tablespoons low-fat milk
2 tablespoons shredded Cheddar cheese
Salt and pepper
Pair each serving with:
8-ounce glass of milk
DIRECTIONS:
Coat a 12-ounce microwave-safe coffee mug with cooking spray. Add eggs and 2 tablespoons milk and beat until blended.
Microwave on high for 45 seconds and then stir. Microwave until eggs are almost set, 30 to 45 seconds longer. Top with Cheddar cheese.
Season with salt and pepper, and serve with remaining 8-ounce glass of milk.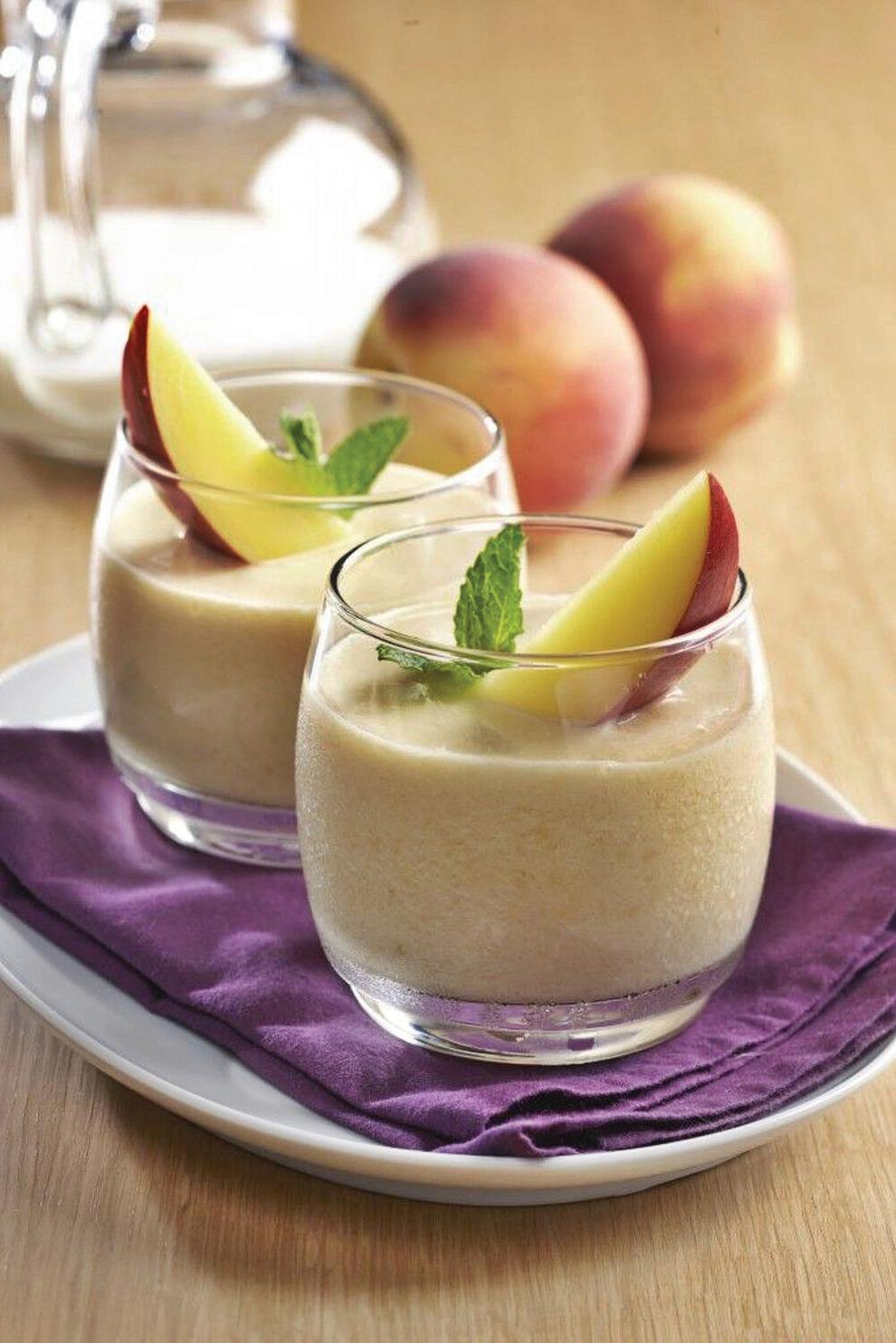 Peaches & cream smoothie
(Courtesy the Milk Life campaign)
Servings: two servings (4 ounces milk per serving)
INGREDIENTS:
1 cup low-fat or fat-free milk
1 cup frozen peach slices
1/2 cup fresh mango
2 tbsp honey
DIRECTIONS:
In a blender combine all ingredients.
Cover and blend until smooth.
Serve immediately. Enjoy!
Homemade Greek yogurt whipped cream
To make Greek yogurt whipped cream, start out by swapping one-quarter of the heavy or whipping cream to be used with low-fat or fat-free yogurt before whipping. For an even tangier taste, substitute one-half of the cream with yogurt. Just as you would make whipped cream, beat the cream and yogurt combination using a hand-held or stand mixer at medium to high-speed for several minutes until peaks begin to form.