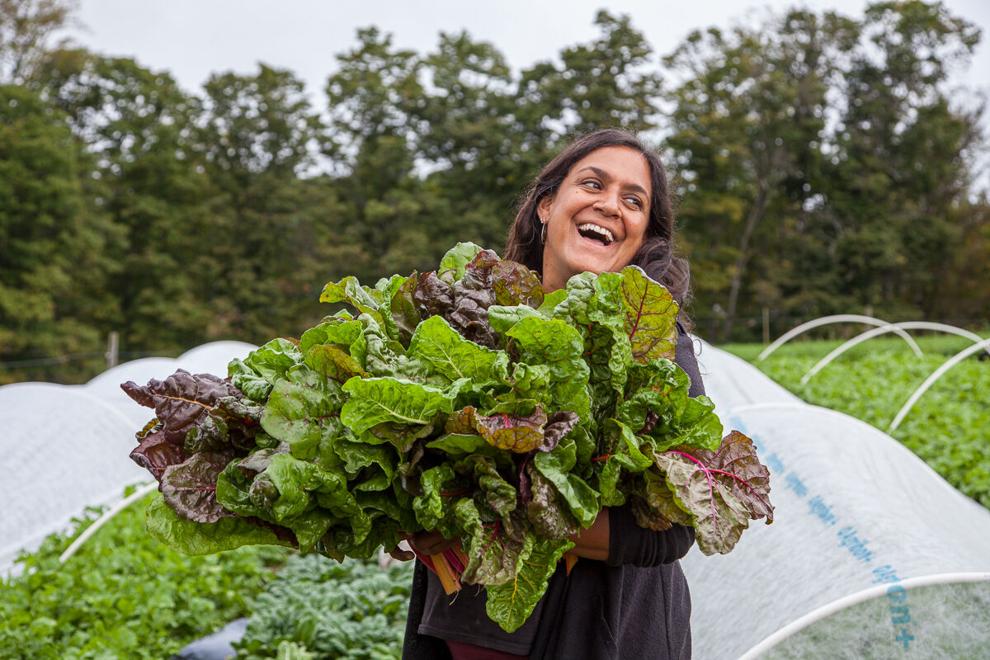 Do you know where your asparagus comes from? What kind of soil does it call home? How about the farmer who grows it?
Guido's Fresh Marketplace knows. Guido's is a partner of sustainable farms all across the region, which keeps your produce local, organic, and moving swiftly from the field to your kitchen.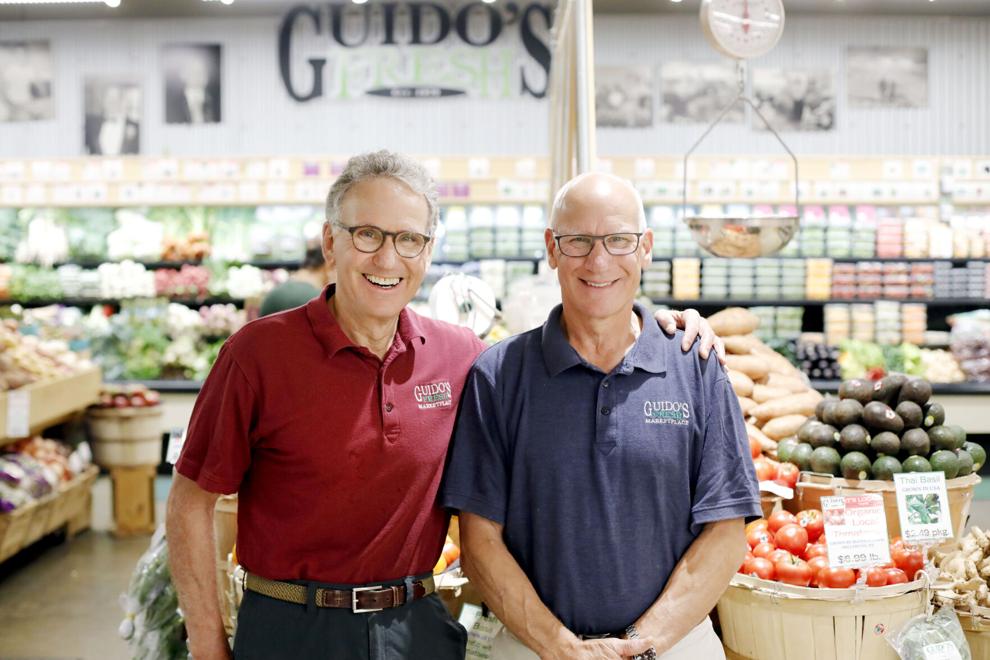 Tyringham's Woven Roots Farm, Left Field Farm in Middlefield, and Indian Line Farm in South Egremont are three of those small-scale ag operations that will soon be delivering spring's bounty to a Guido's near you.
At their most basic, these farms are food producers; more complex, however, are the roles that each is playing in our greater Berkshire ecosystem, economy, culture, and our daily lives.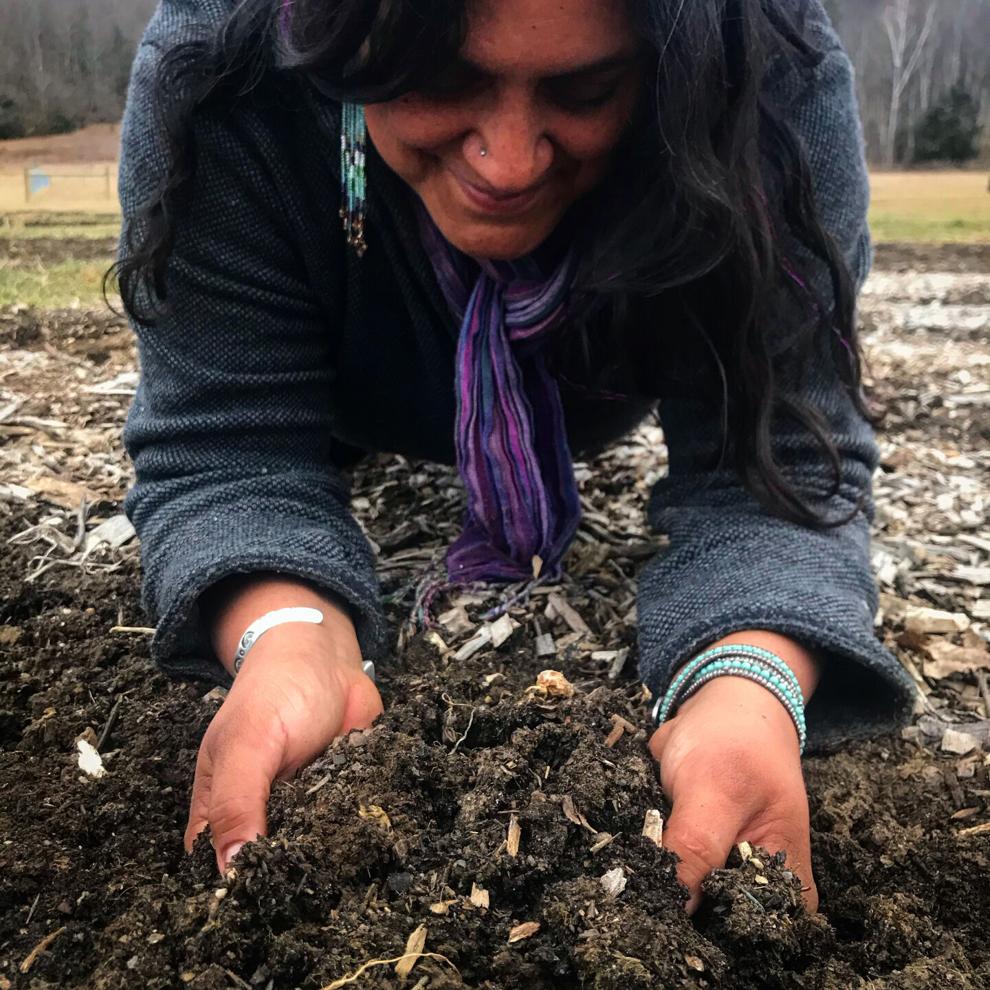 Woven Roots Farm
Even before her farm was a thing, Woven Roots co-owner Jen Salinetti says it was the talk of the table at family dinners. Guido's co-owner Chris Masiero is a cousin by marriage to Jen's husband, Pete.
"Chris in particular talked about what it would mean to be a commercial grower in the area, what kind of produce they were looking for, and how we could meet that need," recalls Jen Salinetti.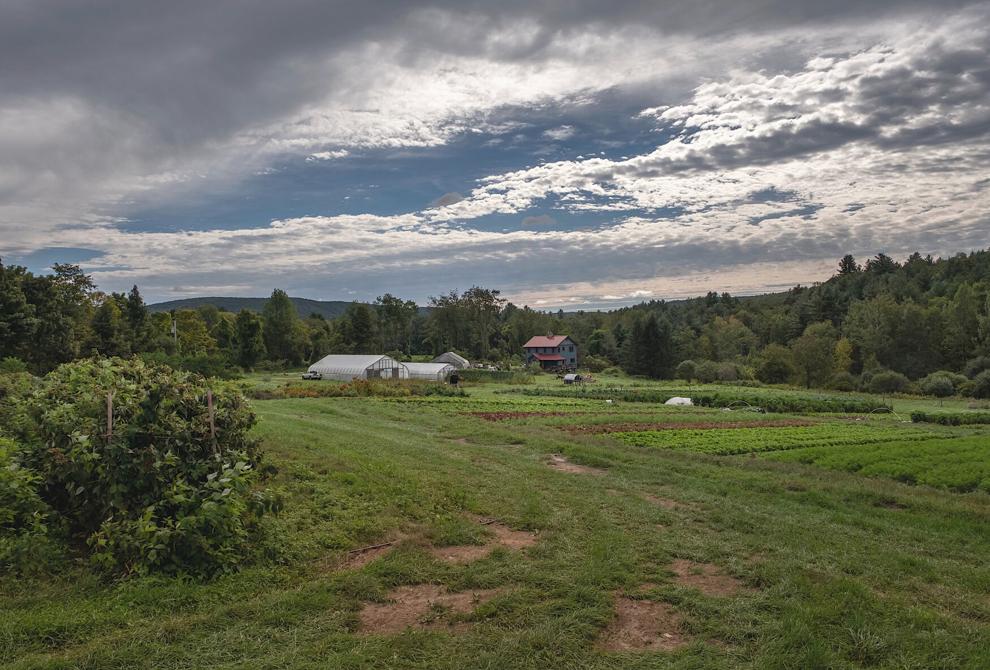 Back then, Woven Roots was an extensive home-garden aimed at making the Salinettis self-sufficient.
"We quickly realized that we had more food than we needed," says Salinetti.
The Salinettis decided it was both necessary — and helpful — to share with their neighbors, so they opened up a farmstand with an honor box.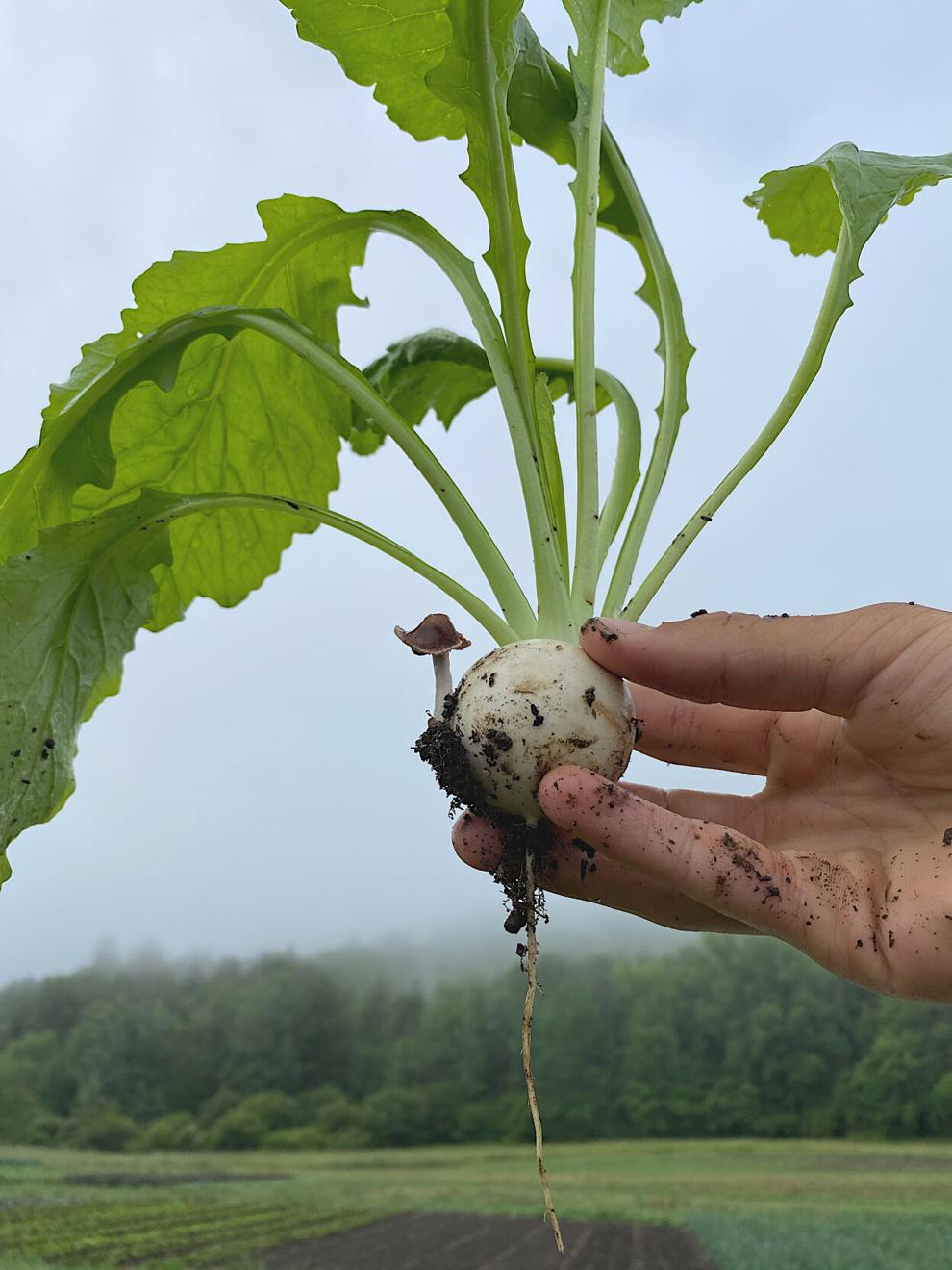 Twenty-one years later, with the past 16 dedicated to full-time farming, Woven Roots has grown from that humble, unattended farmstand to a Community Supported Agriculture farm with more than 200 members; the farm is a wholesale supplier to Guido's and also an agricultural educator.
"Between our CSA and wholesale, we feed an average of 1,000 people per week," says Salinetti. With less than 1½ acres under cultivation, "we're really growing on every square inch that we can."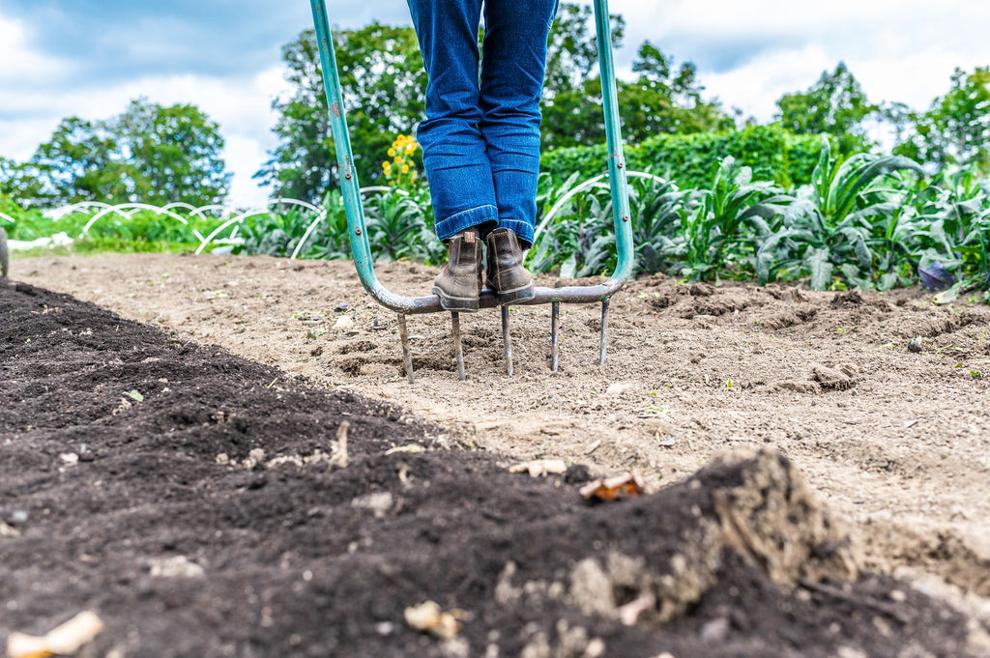 The farm's produce grows on about an acre and a third, using indigenous practices and flora, without the reliance of fossil fuels, says Salinetti.
The hope, says Salinetti, is that Woven Roots becomes a sustainable model for the future.
"Our scale of farming, it's small and purposeful. Since it's not reliant on large machinery, it's very applicable to not only farmers but home gardeners. We could have farms like this every 15 or 20 miles, and we could feed our community," she notes.
The farm employs a permanent bed system with no tilling. Once an area opens up for plantings, it remains a bed in perpetuity, says Salinetti. New planting holes are offset from the old to encourage maximum plant growth and simultaneous soil rehab.
Four growing cycles will pass before a bed is sown with the same crop, and the farm incorporates cover crops, leaves, and wood chips with native mycorrhizal fungi to restore and rejuvenate the beds. The process results in hardly any waste, Salinetti says.
Seconds, or produce not presentable to buyers, feed the farm crew, the Salinetti family, and the community through donations.
Woven Roots began its CSA 11 years ago, after deciding that selling largely to eateries was limiting access to its food to those people with disposable income.
"We acknowledged that eating at a restaurant is a privilege and something that, in reality, very few people have access to. We wanted to create more equitable ways for food to be more accessible to the community members," says Salinetti.
The CSA and wholesale models serve those purposes better, she says. For example, if someone wants a Woven Roots CSA share but is not able to afford the full price, the farm has a solidarity share fund, which can assist those in need without the barrier of paperwork or proof.
"It's something that has significantly helped people out and changes lives, and creates a reciprocal relationship with the community," she notes.
Active educators in the community for 15 years, Woven Roots opens up farming opportunities for rural and inner city youth, and has community partnerships and programs that serve everyone from toddlers through seniors. Home City Development Inc., a Springfield-based nonprofit affordable housing agency, regularly brings some of their youth leaders to experience the farm, notes Salinetti.
"What they learn, they bring back into their communities so they can all become better growers, more connected to their food, the land, and each other."
But what about the outstanding and ecologically grown vegetables? The farm produces them year round, with no supplemental heat, says Salinetti. These cold hardy crops grow in the Woven Roots greenhouse during the winter, which also maintain cold storage for other harvested crops, like root vegetables.
These days, Woven Roots is raising and finishing off crops that, in part, were started in the cold of winter. Deliveries of these organic delights will roll out soon: more spinach, salad greens, salad turnips, kale, radishes, pak choi, tatsoi, lettuce heads galore and, a little ways down the road, carrots, zucchini, summer squash, cucumbers, and cherry tomatoes.
The farm is planning to offer more soon, says Salinetti, and is readying for a barn build that will add a year-round CSA pickup area, a farm store, a dedicated wash station, and an educational space, says Salinetti. All this is expected to help expand Woven Roots' capacity to fully support a healthy and connected community, she says.
Indian Line Farm
Elizabeth Keen at Indian Line Farm is just coming off an amazing winter for vegetables, which, as Guido's shoppers know, included chard, three different kinds of kale, scallions, spinach, and cilantro.
Mid-April through late May is when the farm is transitioning from cold to warm-weather crops, and also the time of year where the farm produces the least amount of food.
"We transitioned all of our greenhouses over the last four weeks to primarily heat-loving crops," she notes, which will go to Guido's customers and also the farm's 300-household CSA program. "Tomatoes, cucumbers, basil, which I grow a lot of for Guido's. That's where we want to come in really strong with."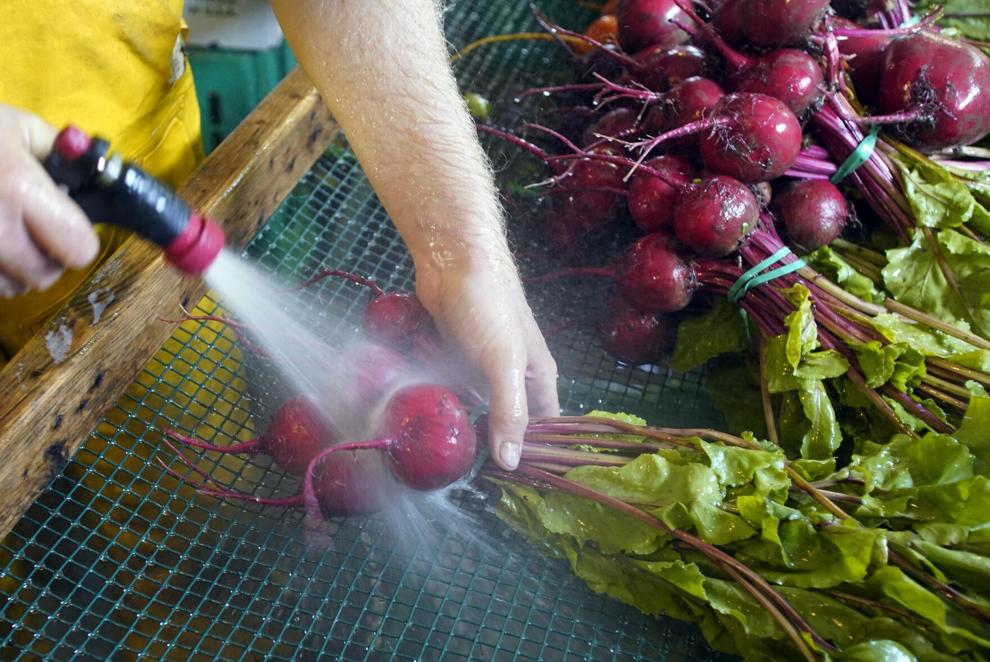 The farm is also producing small amounts of arugula and radishes, and in mid-May began harvesting carrots that were mere seeds in December.
"That's the big splash, getting carrots right now, which you can't do unless you seeded them last year," says Keen. Fun farming fact: Don't try to transplant carrots; her husband, an engineer, gave it a shot and failed.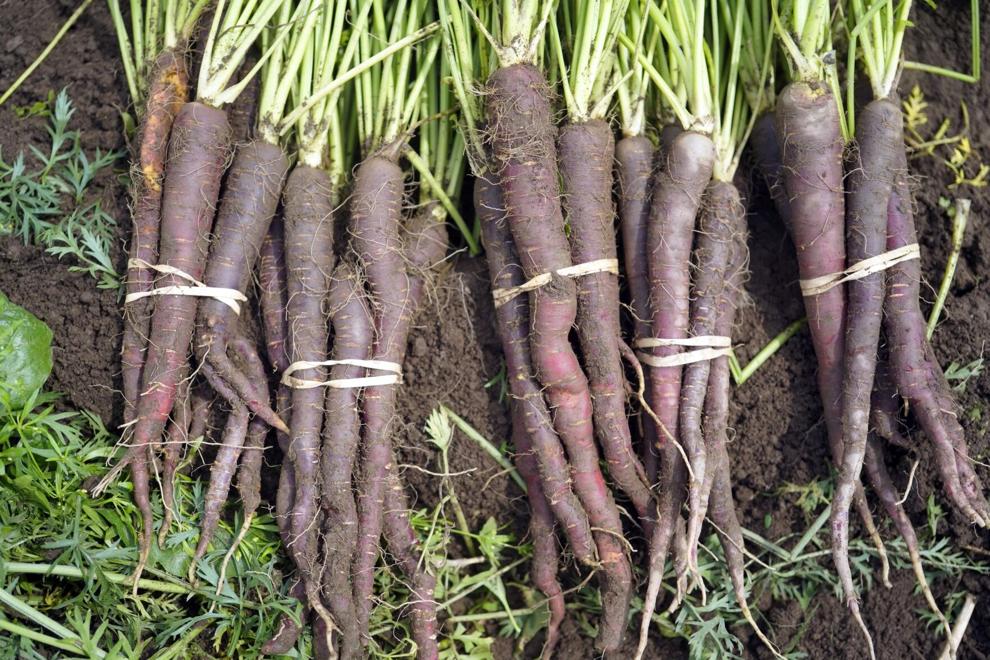 Indian Line is also cranking out seedlings for home gardeners. "We have a big plant sale every Friday in May, with the biggest one being Memorial Day weekend," she notes.
Guido's shoppers can expect to be seeing these veggies soon: chard, dandelion greens, a lot of heirloom tomatoes, beets, and Hakurei turnips (a Japanese white turnip "that's sweet and tender, best in spring and fall, golf ball size").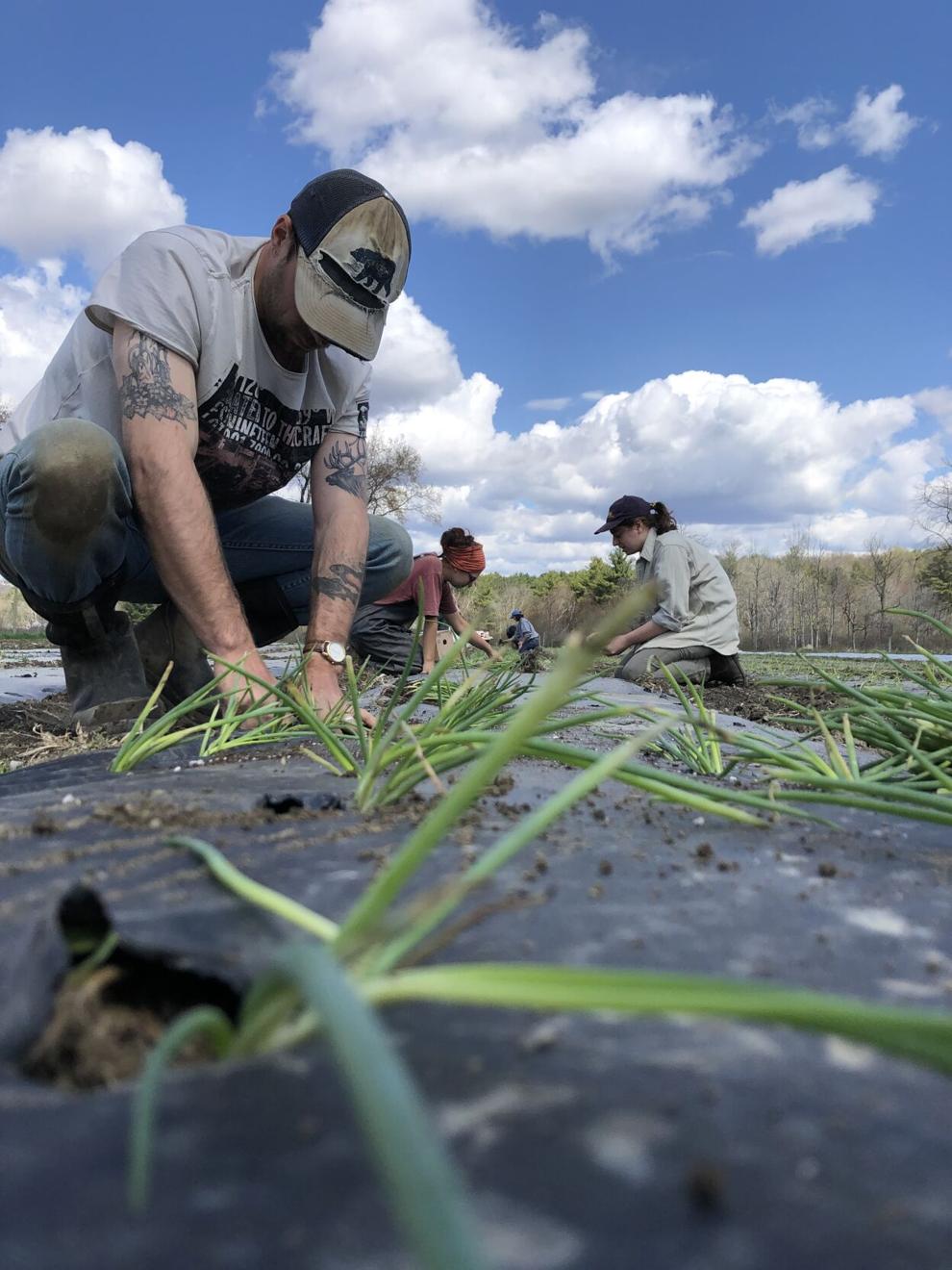 Keen notes how the Masiero brothers, Guido's owners, are particular about the quality of produce that lands on their shelves.
"The lovely thing with my relationship with Guido's is that they're very dedicated to supporting those of us locally who have been able to prove that we have reliable, high quality products," Keen says. "They've always been supportive, even early on when we did not know what we were doing."
Keen says the high expectations have made her, her employees, and the farm better at what they do.
The farm has three full-time employees with a number of part-time workers at the height of the growing season. Some CSA members trade farm work hours for a break on the fee.
"That's a lovely way for me to bring in more people. There are upward of 10 of those folks. Throughout June through October, there's a steady supply of people coming in and out," says Keen of the extra help.
Indian Line has been in operation for 24 seasons, with steady growth every year, Keen says. The farm is making substantial infrastructure fixes and major investments to its barn, thanks to the commonwealth of Massachusetts and CARES Act money, she adds.The planned enhancements have been her focus for the last five years.
Other upgrades include improvements to washing and packing, its winter store and storage, food safety, and employee workplace experiences.
"We've never had an employee bathroom; they've been coming into my house," says Keen, who sounds very ready to have her own living and work space rehabbed and upgraded. "These improvements will help me do my job better and make it a better place to work."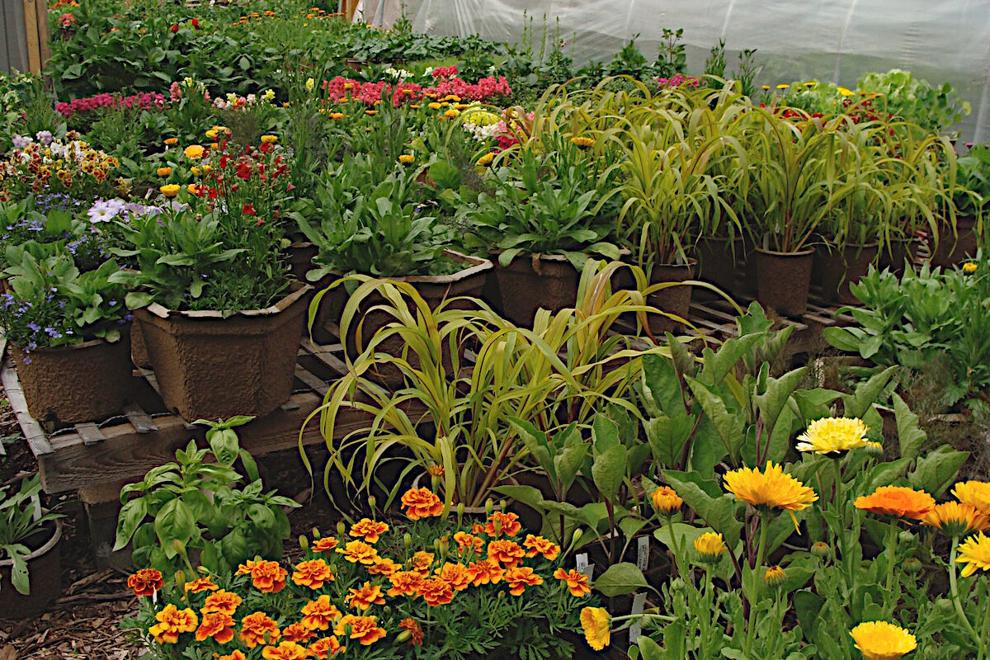 Left Field Farm
What kind of willpower does it take to be a farmer in Western Massachusetts?
Ask Maureen Sullivan of Left Field Farm, and she'll tell you a true tale of determined farmers who turned non-arable forest into a high-producing organic plot.
"After we bought this place, we discovered that the USDA considers our soil unsuitable for growing crops. Glad we didn't know that at the time," says Sullivan.
Certified organic since 1998, Left Field offers organic plants for vegetable, herb, and ornamental gardens in their greenhouses and organically raised vegetables in their market garden.
It's taken over 30 years to transform their formerly tree-filled and rocky patch of earth into a healthy, rich, and sustainable home for crops and plants.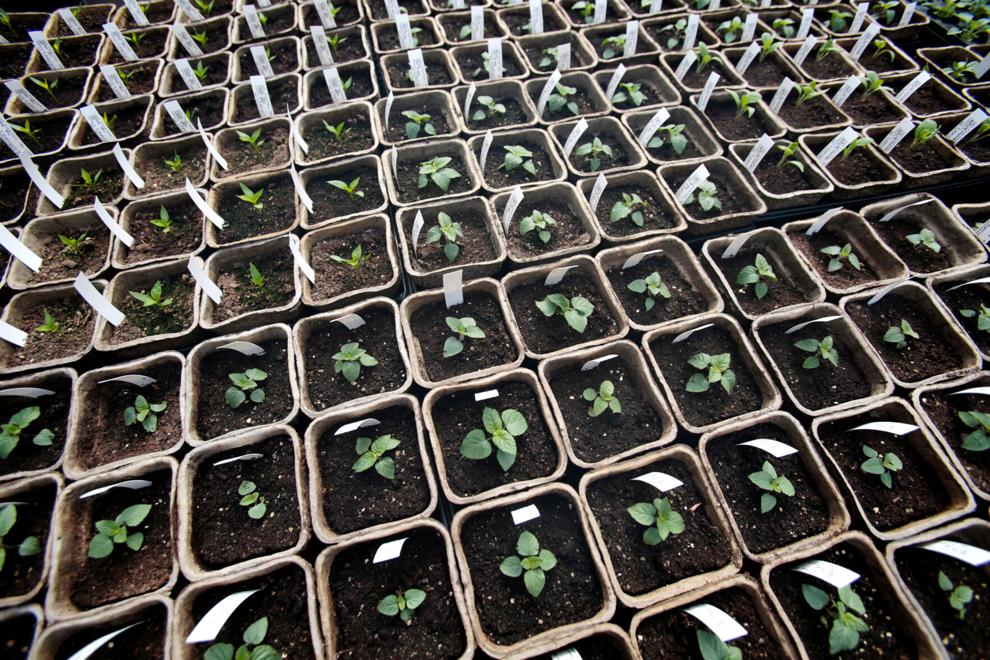 "We approached this farm as 'we'll see what the land wants us to do with it,' as opposed to coming in with a set agenda about what we were going to do. Rocky soils and ledge outcroppings dictated that we manage our 40 permanent raised beds with hand tools and build soil over the forest duff. We've made it work to the best of our abilities," says Sullivan.
Early on, Sullivan and her husband and business partner, Mitch Feldmesser, had to haul in the material to make the soil.
"When we started out, we would clean manure out of neighbor's barns, and bring truckloads of it here, let it age, and then apply that to the garden. As the garden expanded, we began picking up coffee grounds and juice pressings from a local restaurant, and incorporated that into our compost making regimen. Now, our compost is made of only crop waste and weeds," says Sullivan.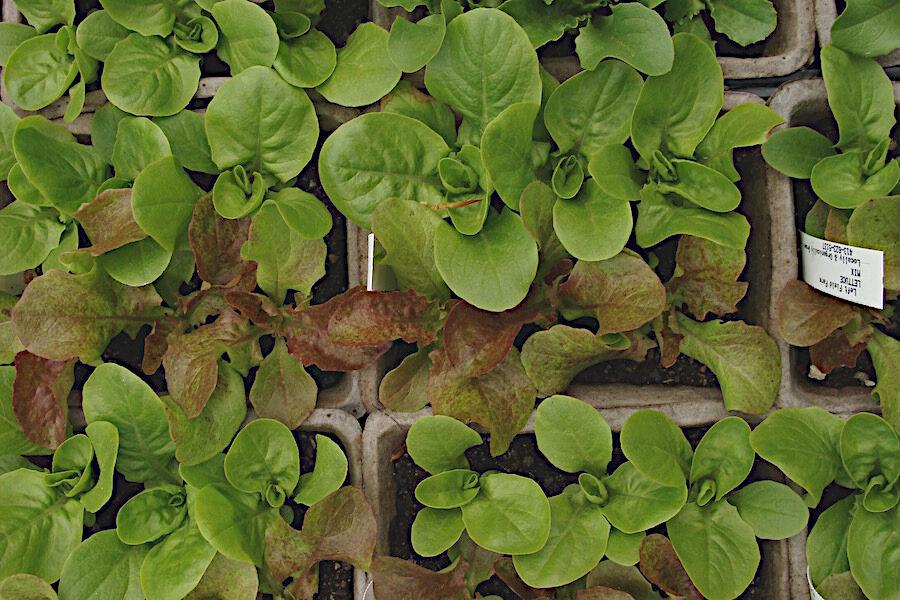 The farm has a very small footprint for its garden, about ¾ of an acre. But, having achieved fertile soil that is high in organic matter, along with using growing strategies that maximize crop output, the farm produces a high volume of mixed vegetable crops, says Sullivan.
"The actual growing area is only about a half an acre. The remaining area is dedicated to compost making, produce washing and packing, and tool storage. Almost everything we produce is sold to stores, although we are always happy to pick vegetables straight from the garden for those who stop by the farm," says Sullivan. Left Field sells to both Guido's markets and to a couple of other markets.
This time of year is busy for Left Field as the plant side of the business mashes up with the market garden.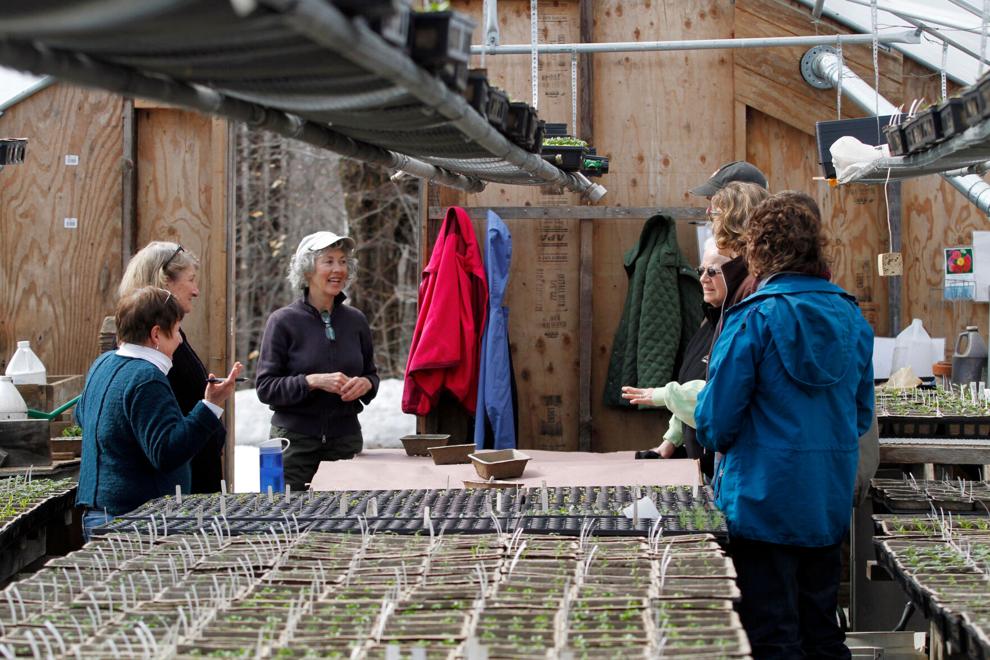 "There's a lot of time spent taking care of the plants, as well as making deliveries. All the while, our market garden needs to be prepared for planting and the actual planting itself, so May is a busy month," says Sullivan.
Left Field is located in Hampshire County, but because of its off-the-beaten-path location, it does most of its business in the Berkshires.
"Our market area is Central and Southern Berkshires. If you want to go to the bank, a grocery store or movie theater, you go to Berkshire Country from here. It's so much easier and quicker than heading to points east," says Sullivan.
Left Field began its relationship with Guido's in the mid-1990s, when Guido's opened its Great Barrington location.
"We actually started our relationship with Bella Flora," recalls Sullivan, of the independent florist that's in both Guido's markets. "And that same year, our market garden was just in the beginning stages of growing enough to sell. We brought in some things to show Matt and Chris, and they just opened their arms. They're very welcoming people."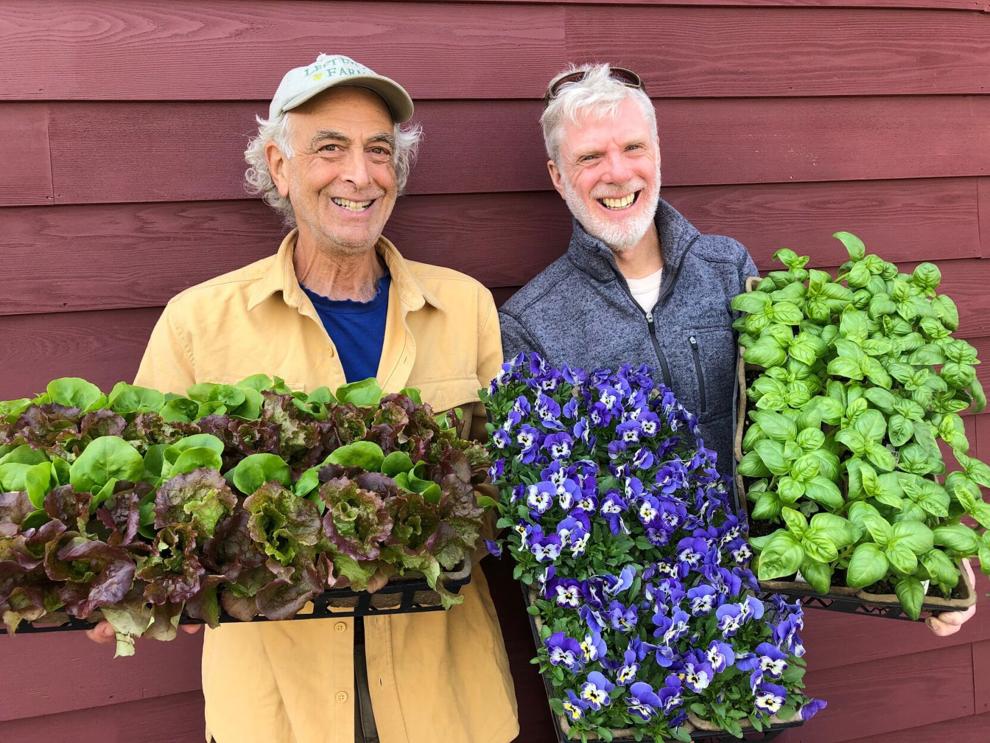 Today, Left Field strives to offer plants that are different from what you'll find at mainstream nursery outlets.
"We pride ourselves in trying to be diverse in every aspect of our operation and in our offerings," says Sullivan. "Since we start everything from seed, we're looking to select and grow varieties that you might not see in a garden center."
With the region's gardening season just getting going, young vegetable plants are what's hot at Left Field right now; later in this month, says Sullivan, comes the ornamentals.
To get produce from these farms and dozens of other local producers in an easy-to-access location, visit Guido's Fresh Marketplace at 760 South Main St. in Great Barrington or at 1020 South St. in Pittsfield. Check out guidosfreshmarketplace.com for more.