GREAT BARRINGTON — Keen on getting your bike to the beach this summer? Let the experts at Berkshire Bike and Board help hatch a plan. No matter the destination — be it the boardwalk, the bike path or some stellar single-track — your local bike shop will help you hit the road with bikes in tow for the Grand Tour of your design.
"People going on vacation with their bikes are not always quite sure how to do so," says Steffen Root, co-owner of Berkshire Bike and Board. Unless you're into bikepacking (long-distance cycling with gear on frame) or have a beater (an almost retired ride that's seen better days), it's well worth going the extra mile to transport your gear safely and securely.
The biggest hitch? "Bike transportation is a multi-step process, one that often requires more forethought than purchasing the bike itself," Root explains. Why? Transporting bikes requires a game plan tailored to your budget and your vehicle.
Four distinctly different options (plus pros and cons) make bike hauling a breeze. Here's the big picture, with a single goal in mind: to create the smoothest, most successful experience for all involved.
Strap rack
Simplicity, quick installation and affordability make strap racks a great option for hatchback-style vehicles and small SUVs. "It's the quick and dirty way to get a bike (or three) on the back of your car and rolling" says Jay Elling, the bike shop's manager, of the only quick-fix option available. In theory, the pros at Berkshire Bike and Board can put a strap rack on your vehicle, show you how to work it, and off to the beach (or bike path) you go. The downside? Strap racks can be cumbersome, and the risk of scratching your vehicle's paint job is high due to direct contact. Strap racks are not compatible with all vehicle makes and models and are the least secure of the four options.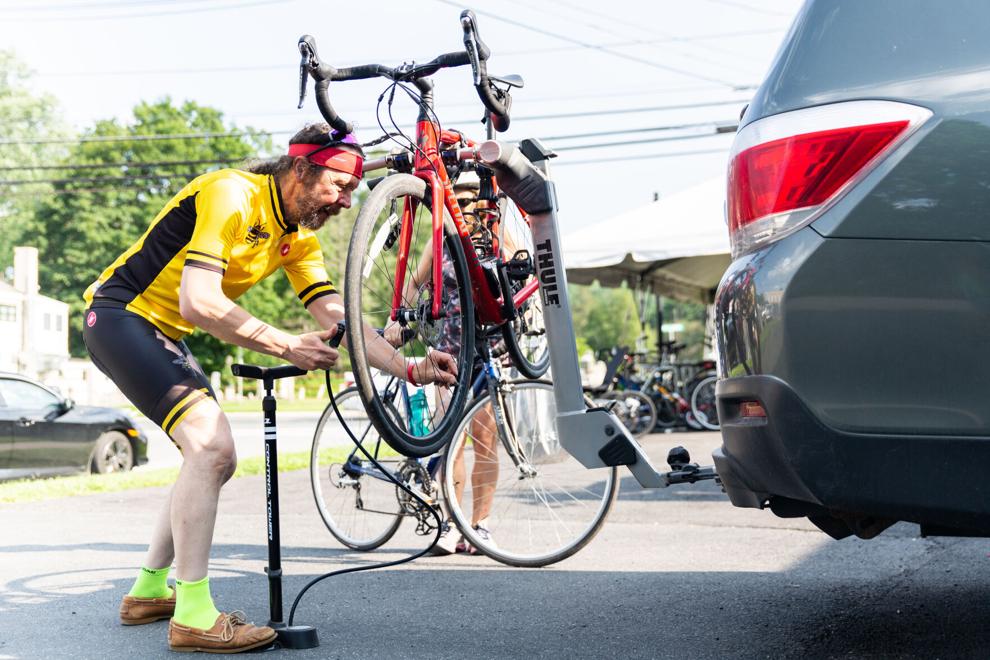 Hitch rack
This secure, robust system can carry up to five bikes utilizing a tow hitch. Plus, this option boasts zero vehicle contact making it a smart option for leased vehicles. Having a hitch installed is an added cost, one Elling calls, "a worthwhile investment that goes a long way toward protecting your vehicle and bicycle," (and likely saving you the hassle of buffing out dents or scratches down the road). Hitch receivers come in two standard sizes, 1 ¼-inch or 2-inches square, and can be installed by your local mechanic or at U-Haul. In the end, "it's all an investment," says Elling, "one that's going to enable you to bring your five bikes on vacation or across town — securely." Hitch racks lock to the vehicle, and bikes lock to the rack. Got an e-bike? The hitch rack is your go-to option.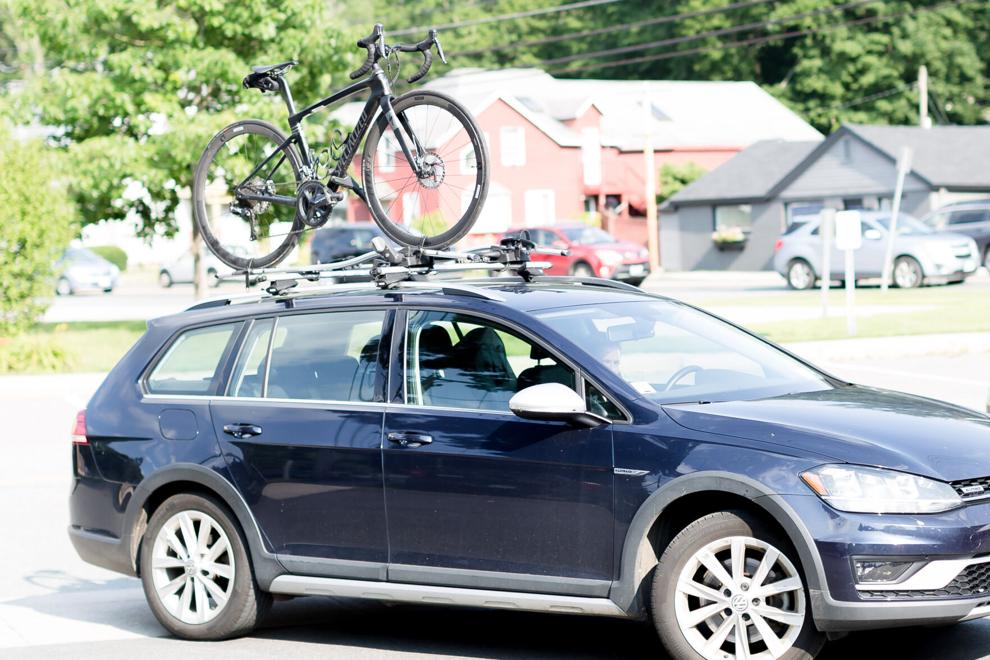 Roof-mounted system
This option ranks high with avid cyclists looking to transport lightweight road bikes. A vehicle-specific roof rack is a prerequisite for installing a roof-mounted system. Assuming you've got one (and you're not looking to transport an e-bike, for instance), this is an easy option to install. In other words, pop your bike up there and you're good to go. Elling's one word of caution? "Watch out for parking garages and other low-hanging fruit," when driving with a roof-mounted system.
Tailgate pad
If you are a biker who owns a pickup truck, the tailgate pad is the quickest and easiest way to carry multiple bikes. Thick, foam-filled pads that fold over the truck's tailgate allow the bike's front wheel and fork to hang outside the tailgate. Plus, the tailgate pad is mutually beneficial: "This mode of transport won't scratch your vehicle and won't scratch your bike," Elling says of the system's major pro. This popular option ranks high with mountain bikers and offers more security than simply tossing bikes into the bed of the truck. This is a great option for pickup truck owners looking to transport up to six bikes (including e-bikes).
Rooftop cargo carriers
Not a cyclist? Going on vacation with kids, dogs and gear presents an equally challenging issue. "If your car is already packed to the gills, and you've lost all your usable real estate in the trunk, you need to make up that space," explains Root, pointing to roof-mounted cargo carriers as a wise investment. A Thule box, for instance, can accommodate boogie boards, tents and strollers, "all the stuff that would normally be packed in the back of your vehicle" and allow families to gain valuable space back. One word of caution: there is no universal fit for all vehicles. "We have to order the exact part for your specific vehicle," Root says, pointing to the fact that every single vehicle and rooftop system has its own specifications.
Thule offers a customer-facing tool on their website (www.thule.com) that allows individuals to research the options for their specific vehicle before heading to Berkshire Bike and Board. From start to finish, plan on two in-person visits to your local bike shop (plus a week in between) to properly choose and install a rooftop cargo carrier that's compatible with your vehicle.
The time is now
No chance to escape the 413 this summer? Take your wheels for a spin on one of Berkshire Bike and Board's group rides — happening five evenings each week, departing from Pittsfield and Great Barrington — with options that run the gamut for all levels and terrain. "Participants are promised safety first, a chance to learn something and an opportunity to have fun," says Sweep Voll who, with her husband Bob Birkby, is an avid cyclist and veteran group-ride leader.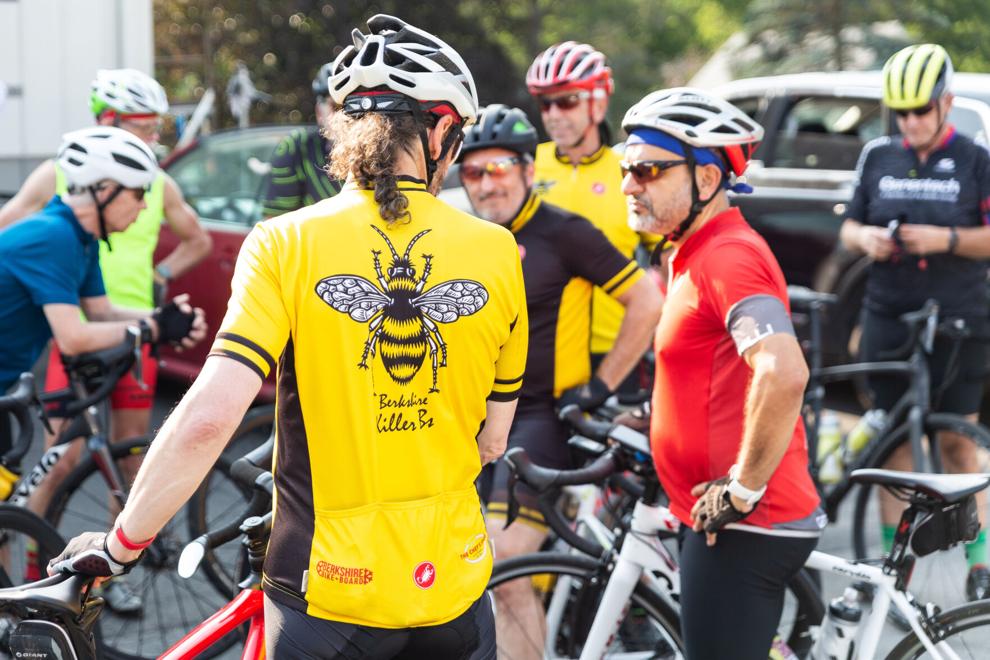 Group rides are a great way to get outside, enjoy the Berkshire landscape at its peak and support your local bike shop. "If you are shopping for bikes and cycling gear online, you don't get that personal support," says Birkby, of the free weekly rides or the group leader who points out that your front tire needs to be fixed. Pronto.
"We do get new riders to the group each week," says Birkby. He and Voll do an excellent job ensuring that each participant is placed in the appropriate group and is surrounded by fellow cycling enthusiasts. Wednesday evening road-rides happen at two paces (averaging 19+ MPH for 44 miles and 16-17 MPH for 36 miles) with an A and B group for each.
"We are a no-drop ride for Bs," Voll explains, making it the perfect spot for a cyclist new to group rides. The different rides, and routes, are posted online; downloading a copy before heading out is strongly encouraged. Monday evenings find Birkby and Voll at the base of the Pittsfield State Forest where there are two options for mountain bikers: one is to climb the mountain, the other is to stay at the bottom.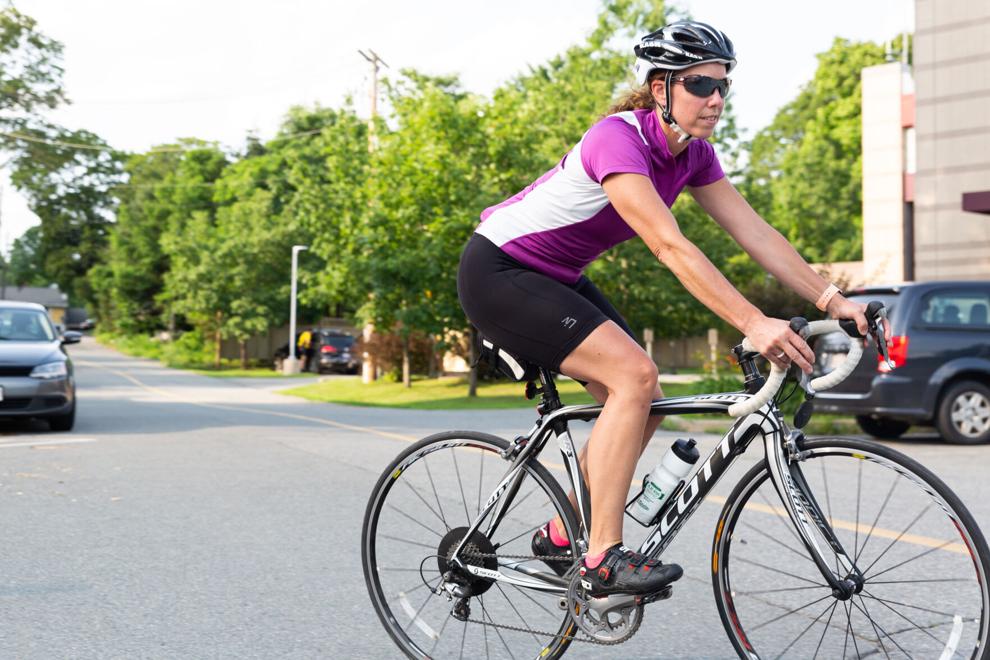 "Cycling is a lifelong sport, and it's an investment. You can start at any age, and you can keep going to any age," says Voll, who likens the group rides to a personal experience that's free of charge — and priceless for the local cycling community.
With summer in full swing, it's the perfect time to get back in the saddle. No matter where you're headed, prioritize making time and finding space to ensure your gear gets where you're going. Feeling overwhelmed? Berkshire Bike and Board is your one-stop local shop for all things cycling-related — from purchasing your bike and scheduling routine tune-ups to transporting your wheels safely and sourcing cool gear (roof-top tent, anyone?). What are you waiting for? It's all downhill — in a good way— from here.
Berkshire Bike and Board has two convenient locations: 29 State St., Great Barrington, 413-528-5555 and 502C East St.,Pittsfield, 413-445-8888. Or visit them online at berkshirebikeandboard.com