PITTSFIELD — I believe it was Marcus Aurelius who said: "Once you pop, you can't stop."
That, friends, is fat biking.
Addiction. Obsession. Call it what you want. All I can say is those 4.8-inch tires are rolling me and lots of other Western Massachusetts riders directly to cycling nirvana.
Note that I didn't say "winter cycling." My fat bike — a 2020 Rocky Mountain Blizzard 10 — has taken me seamlessly from fall to winter, with only two days washed out because of ice storms (if I had tire studs, I would've missed no days). I expect to be riding all year long.
Most avid cyclists hang up their little mushroom helmets, unitards and cargo shorts as soon as the ground becomes covered with snow. They switch gears to other winter sports, which they typically don't do with the same zeal or frequency as their spring, summer or fall cycling.
We cyclists can get a little chunky come winter, embracing microbrews and cheese platters instead of bike grips.
With fat bikes, the season of your discontent is about to change.
Alternative is becoming the norm
If you: Enjoy glade skiing but worry that you'll wrap yourself around a tree? Yearn for something more radical and speedy than cross-country skiing? Hate winter running because winter running is awful?
Fat biking is the answer. With their much larger tires, fat bikes are taking over the local trails near me and near you, giving riders four-season access to the wealth of nearly wild places that we have here in the hills.
On my home trails these days, the winter script has flipped, with cross-country skiers, walkers and snowshoers now a minority, and fat bikers making tracks to the deepest reaches of our state and town forests.
In ice-cold winter darkness, I've looked down from 2,350 feet on the city of North Adams, all lit up like a Christmas; I've surfed down giant berms in October Mountain State Forest without another soul in sight; several times, I've stopped and exchanged glances with a barred owl who hunts on my regular route, or matched speed with a goshawk patrolling over country fields.
Shock absorption and rolling
The most distinctive feature of the bike is its tires, more than double the width of an average mountain bike. Because of their size and squishiness, they absorb a ton of shock. Smaller obstacles that can stymie traditional mountain bike tires — such as rocks, roots, uneven ground — are either not noticeable or greatly reduced on a fat bike.
Bigger obstacles, like stone walls, boulders, logs and stream crossings, are infinitely easier, too. Instead of being scared, I now roll and glide over most things.
Generally, rolling is a big part of mountain biking: The more you can roll over obstacles, the more energy you can put into pedaling; and with more pedaling comes greater distances, as well as more opportunities to focus on conquering old and new challenges, to push yourself to improve.
The act of rolling, aside from being a building block or the means to an end, is also an end in itself. It has the feel of snowboarding, surfing, skateboarding or skiing: a flowing sensation of cranking and gliding, up and down, from one hill to the next.
Fat bikes further add to the sense of flow, because of their cushy tires, which you can hear like a low grumble when they track over hard ground.
Comes with free trail grooming
The treads on fat bikes leave trails in a groomed-like state. In most trail sections that I've seen, it literally looks like a tiny Snowcat or snowmobile has taken a pass over the trails. In other cases, snowmobilers have leveled out the trail, leaving it prime for fat bikers and backcountry skiers. On several days, I've been able to claim first tracks on fresh powder downhills and the windy trails that got me there; the visual of a forest blanketed in deep snow is a brass ring for many skiers, and it is for fat bikers, too.
Conversely, a hard snowpack is also much-sought after. After a trail gets compressed over days and weeks of use, it gets much faster. I recently hit 18.5 mph on a snow-covered downhill run, not much slower than an average ride on dirt.
In the fall when I first got the bike, I dealt with all conditions, from bone dry to swamp. The fat tires excel at grip, and they've taken an obscene amount of punishment with no leaks or punctures, even under my girth (230ish pounds with gear). An example of their toughness: a local professor took his fully loaded fat bike across mountainous Kyrgyzstan, and these bikes have taken on the Alaskan wilderness in a wheeled version of the Iditarod.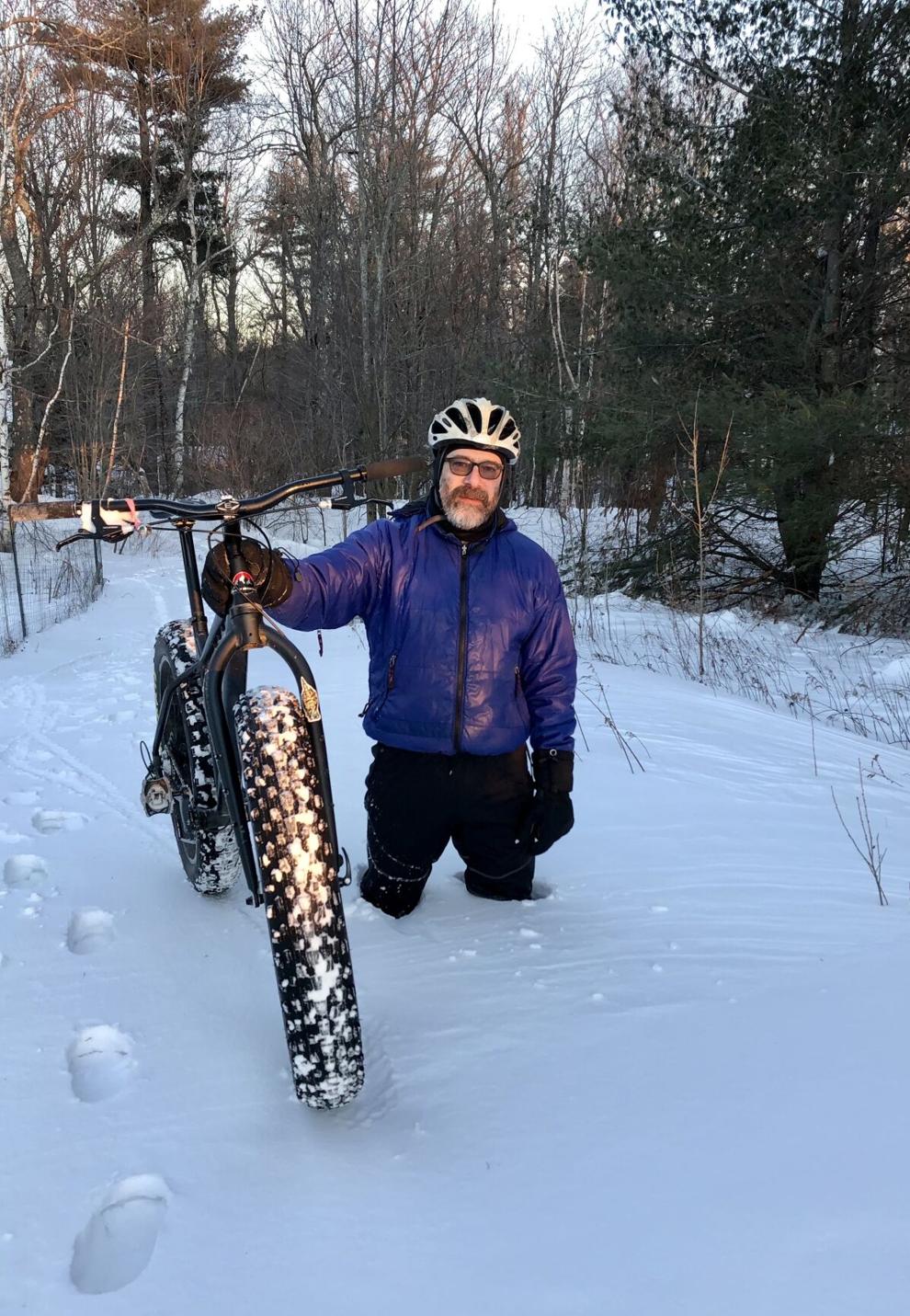 Not a huge fan of winter, like me?
Like many of you, I hate the cold and frozen extremities. With proper clothing and the energy output of pedaling on Berkshire hills through the snow, I have all-but nullified the bite of New England winters.
The trick is layering. Everyone's comfort level is different, so expect to do some experimentation. For a garden-variety winter day, where the temp is hovering between 20 and 32 degrees, I'll wear thick synthetic or wool socks, regular cycling shoes with overbooties (Bike and Board has C5 Gore Windstopper Insulated Overshoes, $110, with others from $60), two leg layers (padded bike shorts underneath long underwear and cycling tights or pants … the bike shop carries bike-and-weather mainstays Gore and Pearl Izumi), a windproof jacket (Gore C7 Gore-Tex Shakedry, an ultra-thin jacket that allows sweat to exit and prevents the elements from entering, $299.99), with a base layer and a fleece shirt. I'll do lighter gloves when the temp is around freezing, and then bone up with insulated gloves or bar gloves, which enclose your hands, brakes, shifters and grips (prices from $85 to $130), for the colder weather.
I use only synthetic or natural fibers such as wool, as these are great insulators, even if you get wet from sweat or an accidental dip in a stream; leave the cotton at home, as that just will soak you and leave you cold and miserable.
Because life is a hard climb
Downhill runs on a bike are thrilling, and I take them whenever they present themselves. But, for me, uphill climbs are what it's all about.
That's where I test myself, where I fight my personal fight against my own weakness; against disease; against death itself. In my mind, every hill I climb grants me another hour on Earth, ideally spent in good health.
These uphill challenges, I think, are what life is made of. My age group (Gen Xers) is realizing that we need to take steps now to make sure our road from age 50 to 99 is a good one.
I make mental notes of which trail challenges leave me sucking wind; when I return to the same place on a subsequent ride, I try to do it better.
As far as aging goes, fat biking is the last bastion of my youth, and I'll give it up only after my body is overrun with damage. When I lived on the Cape during the 2010s, I regularly saw old mountain goats who could barely walk or get out of their cars, get on their fat bikes and pedal away gracefully onto the trail. That will be me, if all goes according to plan.
Felt the chunky love years ago
I became smitten years ago with fat bikes after first setting eyes on them on the trail. I immediately began scouting for the best possible bike for the money, in hopes that, when the time came, I would be well-prepared to get one. I was a little disheartened at the price tags of some of them.
When I returned for employment at The Eagle in 2017, I made regular stops at Berkshire Bike and Board in Pittsfield. Lo and behold, the shop carried the Rocky Mountain line of bikes. At the time, I still had a functioning full-suspension 26-inch mountain bike, and I was still making-do with what I had until it would work no more.
That time came in the late summer, when a bolt broke in my bike's suspension. What followed was two months of fruitless looking for a replacement bike, new or used. All were out of my price range. In late October, I stopped into Bike and Board on a whim to see what they had in stock; I wasn't hopeful, as most bike shops are having trouble keeping up with demand after the pandemic kicked into high gear a global interest in health, the outdoors and cycling.
My lovey dovey: the Blizzard 10
But, somehow, there it was: my Blizzard. I locked eyes on it and knew it was to be mine. It was stealth black, unlike the Rocky Mountain I had originally fallen for in 2017 (an amazing white bike with front suspension and a slick Pacific Northwest native motif for a graphic).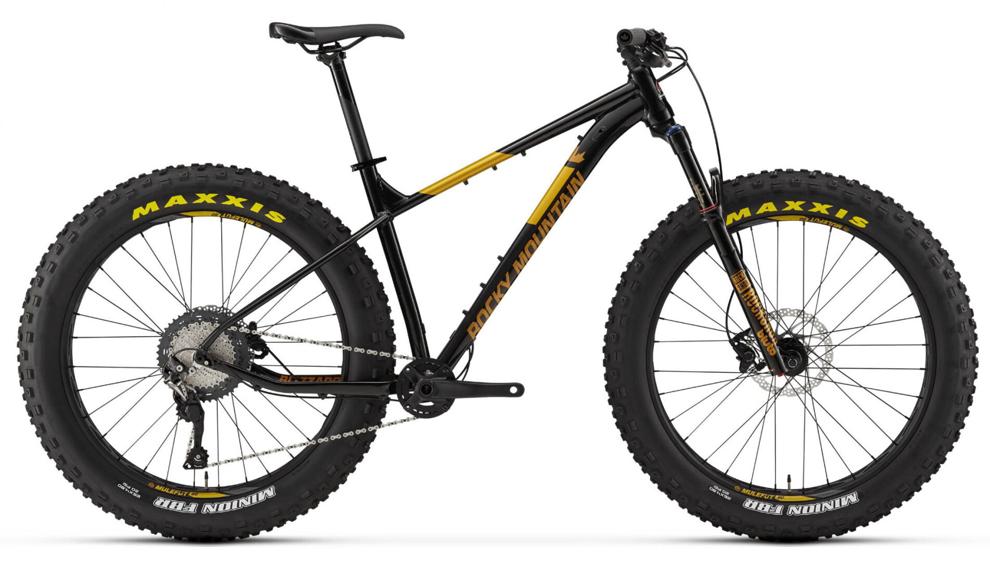 I didn't need to test ride it to know how it would feel; I'd spent years fantasizing and visualizing about riding one, and that was enough. All the sales chap had to do was ring me up. At $999, the 2020 Rocky Mountain Blizzard 10 represented the absolute best reach for the dollar. There is little available at this price point, with similar models by Trek, Specialized and others carrying much higher price tags.
There are also much cheaper fat bikes by Mongoose and Framed, but in my experience, low-end products deliver a low-end result. Moreover, with mail-order bikes like these, you're likely missing out on much-needed staff knowledge, and you could be setting yourself up for a customer service nightmare.
Shopping local
I buy local whenever I can, to support my neighbors who run businesses like Berkshire Bike and Board. Co-owner Dave Clark and his team have treated me like a champ, not because I'm a pro racer or VIP, but because they know we're all neighbors here in the Berkshires. And, when you buy a complete bike from Dave or his business partner, Steffen, at their Great Barrington location, you get free tuneups for the life of the bike (worth doing annually for safety's sake, that some guaranteed savings, a $129.99 value). They also guarantee to get you onto the right bike for you, based on your interests and body type.
Two weeks after getting my bike, I mashed my derailleur on a small stick, Dave and his tech crew had me rolling on the trail in no time with a new Box Two 9-speed derailleur and shifter ($109.99 and $49.99), which gave me faster function when pressing hard on the pedals.
Bike part performance is quickly apparent when you put them under pressure; most brands offer different price points, with better parts on the more expensive models. For interested cyclists who roll more deeply than me, I suggest going for the next Blizzard models up the food chain: the Blizzard 20 ($1,719), 30 ($2,249) and 50 ($2,819). The latter two are the 27.5-inch wheel size, which further adds to the ability to roll over objects. The 2021 Blizzard 10 has jumped about $200 in price from the 2020 model because of improved componentry; Berkshire Bike and Board occasionally has prior model years available, so make sure to ask. The team there can also help you upgrade to front suspension for your bike, if you want even more loft and softer bumps.
Sharing means caring
I have been possessed by fat bikes ever since they hit the market, and even more so now that I call one my own. I do it day and night, using bike lights (Lezyne handlebar lights, from 15 to 1800 lumens, $29 to $159) and headlamps (Lezyne 1000-lumen helmet lamp, with a battery pack that's stored in a backpack, $169) when the sun goes down and people are scarce. I love doing fat biking enough that I'm compelled to share it with you.
Chances are, if you get on the fat bike bandwagon, you'll end up obsessed, like me: I have checked on my bike almost every night that it's been under my roof. At home, in my troglodyte man cave, I stare at it longingly, maybe squeeze the tires a little, sometimes even give it a little wipedown or hit it with the hose. For comparison, you should know that I never wash my car. That's what the rain is for.
One of my best friends told me recently that whenever he sees an old guy on the trail, they're riding a fat bike. Maybe so. Perhaps it's because our own midsections are a little chunky. Maybe it's because we're a little slower with our roll. Maybe it's because we're proud Americans, and we like our portions big.
For my part, I've seen all ages on fat bikes. We know what it is and why we do it: It's a four-season cardio workout that's second to none. With its ever-so-sticky grip on dirt, rock, sand and snow, fat is simply the ultimate way to ride across the whole Earth.
Mountain biking since 1993, Noah Hoffenberg is the sponsored content and newsletters editor for New England Newspapers Inc. This column is sponsored by Berkshire Bike and Board, but the thoughts and opinions expressed are purely his own.