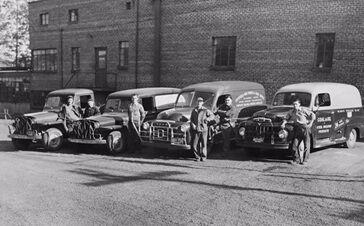 Recently I had lunch with Gerry Korkin, a Pittsfield childhood friend who lives in Ohio a few hours from me. We reminisced about growing up in our hometown in the 1950s.
Gerry was one of the first of my classmates to learn to drive. He was 13 years old when his dad taught him how to operate a stick shift Jeep pickup owned by Pittsfield Iron Works and Coal Supply. His grandfather started this business over 100 years ago, and although it has adapted to the times, it is still operated by his family.
The original company did steel fabrication and provided coal for home heating in its earlier days. Over the years it also provided oil for homes, sold and serviced furnaces, operated service stations and more recently operates convenient stores. This business is the familiar Lipton Energy Co. and is now owned by my friend's cousins.
Gerry's grandfather, Samuel "Sam" Lipschitz, had migrated to the U.S. in 1902 from Kiev, Ukraine, where he learned to be a blacksmith and became skilled at ornamental iron work. He settled in Springfield, and got employment as an iron fabricator.
In 1910 he moved to 101 Elm St. in Pittsfield and started his own fabricating business called Pittsfield Iron Works. The first items he made were saw blades, but soon he built fire escapes, balconies, stairways, gratings and window bars. He also become skilled at repairing a wide variety of iron items.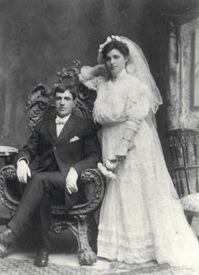 In his early days Sam would do repairs by bicycling to customers with a backpack of tools. He would even travel to distant towns such as Sheffield by taking his bike apart and carrying it on a trolley to Great Barrington. He would then reassemble it there and pedal to the Sheffield customer.
After moving to New York City for a business venture in 1920 for about five years, he returned to Pittsfield. He wanted to raise his family in the smaller community and found a house with a barn for his workshop at 12 Leidhold Place, off of Dewey Avenue.
Sam and his wife, Anna, had four sons and two daughters. In 1926 the oldest son, William, joined his father in doing iron work. Two years later Sam had purchased a house at 458 South St. for both a home and property for the Pittsfield Iron Works and future enterprises. The rear of the home had previously been the location of both a fuel and coal business.
Hence, in a short time, Sam added coal delivery services to his company which he renamed, Pittsfield Iron Works and Coal Delivery. During the 1930s, three other sons, Leon, Simon and Richard, and his daughter, Augusta, and her husband, Alfred Korkin, also joined the firm. In 1933 Sam opened Pittsfield Auto Supply at the South Street location and began selling wholesale and retail auto parts, accessories and oil.
Following World War II, Pittsfield Iron Works and Coal Supply expanded its offerings further to include the sale of Willy's Jeeps, the sale and installation of plumbing and heating supplies and the delivery of fuel oil for heating homes and businesses.
With the increasing prevalence of automobiles in the 1950s, Sam and his family saw an opportunity to get into the retail gasoline business. In 1958 the organization opened its first gas station on South Street offering some repair services and the sale of car parts such as tires.
Under the leadership of Simon, three more gas stations were opened on West Housatonic Street, at Linden and Daniels avenues and on North Street by Pontoosuc Lake. Two other stations were leased in Morningside.
In 1959 William took charge of the company's steel fabricating plant that then had 43 employees. With the addition of major machinery and a building expansion, the plant doubled in size by 1960. This branch of the company was responsible for the manufacture of large pressure vessels or tanks for the petrochemical industry.
With younger family members beginning to join the business, Sam's sons felt it important to identify the company under the family name and to reflect the changing nature of its business. In the mid-50s they had changed their own surnames to Lipton and by 1960 the business became Lipton's Pittsfield Iron Works & Coal Supply.
As patriarch, Sam approached retirement, William was fully in charge of the steel fabrication division and Simon was in charge of the fuel delivery and service station enterprise. Use of coal for home heating had all but disappeared in Pittsfield in the 1960s and the company name, identifying it as a coal supplier, was outdated.
The business was becoming better known locally as just Liptons. Not only were Sam's sons operating the various aspects of the business, but several of his grandchildren were now learning the company operations. In 1966 Sam sadly passed away at age 84, leaving behind a legacy with a solid and growing family business.
Simon's sons Leonard and Sanford joined the family business in the late 1950s and early 1960s and were being groomed to take over the fuel oil and gasoline side of the company. By 1980 the Lipton fuel business had separated from the steel business, resulting in two Lipton entities. The fuel business became Lipton Energy and the steel business became Lipton Steel and Metal Products, and shortly thereafter, Lipton Industries.
William's son Alan joined the steel entity to become manager in the 1970s. By 1980 Alan had successfully increased this enterprise's revenue five-fold. Unfortunately, within the next year the country began to experience the impact of the worldwide oil crisis with a significant drop in oil production. Lipton Industries lost its largest customers, petrochemical firms, as the market for the fabrication of its tanks dried up. The Lipton steel company struggled, and in 1988, closed its doors.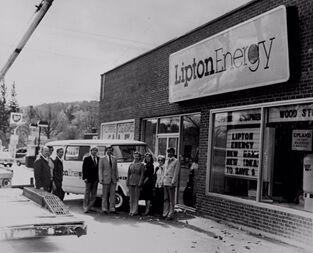 Meanwhile the Lipton Energy Co. continued its growth with the provision of home heating and air conditioning (installation and repairs), delivery of oil and propane gas and the operation LiptonMart Convenience Stores.
Over the next three decades Lipton Energy acquired a number of other businesses as Agway Energy Products and several competing convenience stores, some with franchises such as Subway. The convenience stores were soon located throughout the Berkshires and other locales like Greenfield, and Brattleboro, Vt. Several of the LiptonMarts had also obtained beer and wine permits.
The fourth generation of the family has not only joined the Lipton enterprise, but one member has a top leadership role. Sanford's son, Michael, is now serving as the president of Lipton Energy.
Michael's great-grandfather, Sam, would be both amazed and proud of how his descendants have kept the business in the family, and how it has evolved to meet today's marketplace beyond the early iron works and coal delivery. This family business has certainly come a long way since Sam took his bicycle to Sheffield to reach a customer.