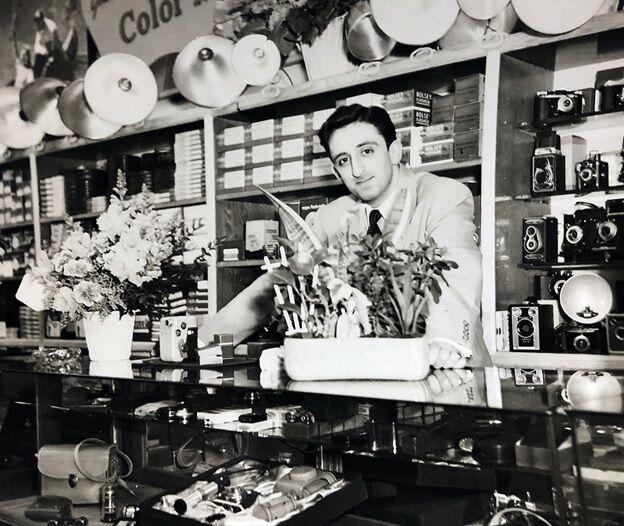 These days most mobile phones can be used to snap photos, edit and store them and send them to others at no expense — a far cry from those of us baby boomers who only had cameras and film for photos in our youth.
When I was a pre-teen in 1957, my parents bought me a Kodak Brownie Hawkeye camera with flash unit for a birthday gift. They got it at a small camera store on East Street. The store owner showed me how to load film and use flash cubes to take indoor photos.
I learned that I had to be very careful putting in and taking out film so as not expose it to light. He also cautioned me not to photograph moving objects, to keep the camera still, to avoid facing a light source, and to be sure not to put a finger in front of the lens when ready to snap a shot.
This helpful shopkeeper was Gordon Swirsky whose store was the Photo Shop located at 81 East St. across from the court house in Pittsfield. This business was the primary place in the Berkshires for baby boomers to get their first camera. And Mr. Swirsky was the most friendly and patient teacher of us young picture takers.
He was born in December 1932 and grew up on Backman Avemue. in Pittsfield. His parents gave him a box camera when he was 7 years old, and from then on, he became an avid and skillful photographer.
By the age of 10, young Gordon was in business, printing and developing films for neighborhood variety store customers. At 13, he became the youngest member ever of the Berkshire Museum Camera Club
In 1949, when he was 16, Gordon had an article published in Mechanics Illustrated magazine that gave readers the plans for constructing a homemade photo enlarger. The next year he had two more articles in national publications.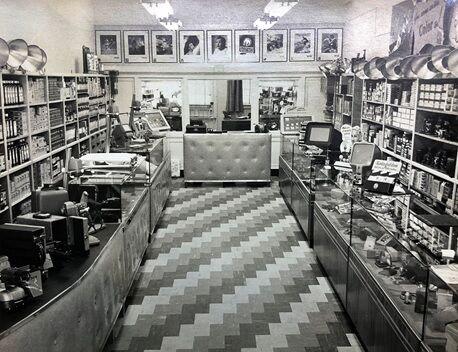 When he was a senior at Pittsfield High School in 1950, he was the photographic editor of the school yearbook and on the photo staff of Students Pen, the school magazine.
Three months after graduating Pittsfield High School in 1950, Gordon, still only 17, bought the Photo Shop at 26 South St in the Wendell Hotel Building. His father had encouraged this bright teenager to pass on offers to go to Harvard or Yale and instead, pursue his love for photography.
With the help of his parents, he bought the business from L. Leroy Phillips who established the Photo Shop at the hotel location two years earlier. The store had its own darkroom for the developing of customers' films. Gordon's mother, Sonia Swirsky, assisted her son in the business and worked in the store a good part of 40 years. As a teen owning his own business, Gordon in 1951 was featured on a national radio show produced by ABC that interviewed young people who were outstanding entrepreneurs.
In March 1952 he moved the Photo Shop to the East Street location, where there was more space to display larger equipment like slide and movie projectors. Besides the photographic equipment and supplies the new shop also stocked some items for youngsters.
At the store's opening my folks had purchased a hand-held View-Master stereoscope. My younger sisters and I had many years of fun viewing three-dimensional pictures of fairy tales, cartoons, far-off places and events, all on small cardboard disks that fit in the View-Master.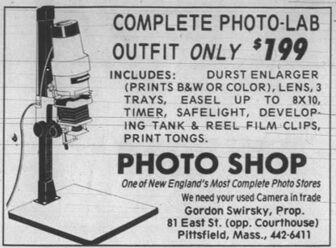 In July 1956 Gordon opened a second larger store at 397 North St. with 90 feet of shelving for display of more cameras and supplies. This branch store also had a projection booth, a photo text library and a layout allowing for greater self-service.
The developing and processing of film was still only done at the original store. However, with a direct intercom system and close proximity between stores for easy pickup and delivery, the Photo Shop was able to offer five-hour film processing.
As Gordon and an assistant operated the new store, his parents managed the East Street location. Ever the entrepreneur, the then 23-year-old businessman joked with the media that he hoped to have 20 locations by the time he was 40. But for the present he admitted that he had his hands full with the two locations.
In 1961 Gordon did open a third location in the new arcade section of the growing Allendale Shopping Center. This unique store presented a relaxed interior for shopping with comfortable chairs, display tables and indirect lighting, all modeled after European shops. The front window offered a rear projection screen for showing slides for potential customers to learn about photography.
Although all the stores were successful Gordon closed the satellites by the mid-1960s to focus on consolidation and expansion of his East Street location. Because so many customers wanted the personal service and expertise that only Gordon could give, it was not possible with so many locations.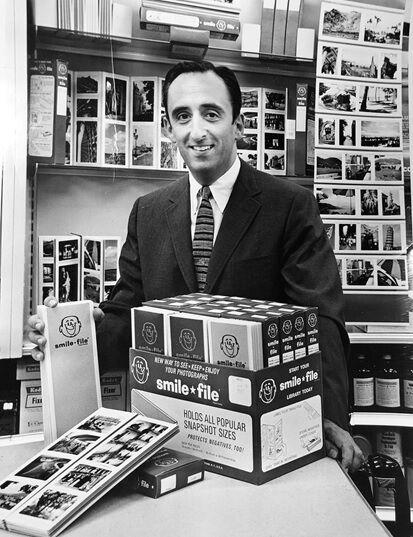 In 1954 Gordon had married Renee Mindell from Columbus, Ohio. Their son, Mark, was born in 1956 and similar to Dad, began his career in photography as a youngster.
In his teen years Mark worked at the Photo Shop and after graduating college in 1978, he joined the family business full time. He became vice president of the company in 1980.
Gordon worked with his son until retiring around 2013. Mark continued operating the retail store and after 62 years on East Street, he moved it to 123 Elm St. in 2014.
In 2020 he closed the retail business altogether. The advent of COVID resulted in people making online purchases and doing fewer face-to-face store visits.
Meanwhile Mark had found that the Photo Shop's video transfer work, that began in the 1980s, had become the store's most popular and lucrative business. And he could do this without a store.
The video work had also grown into the digitizing of videotapes, audio tapes, photos, and slides and transferring them to DVDs and computer (USB) formats. Without the time involved and overhead of a retail store, the work has kept him busier than in the past 20 years. He has been able to operate out of his home in the Berkshires and has continued this business as well as photo restorations.
The Photo Shop pioneer, Gordon Swirsky and wife, Renee, now live in the Boston area. They will be celebrating their 70th anniversary in 2024.
I am fortunate to have recently talked with Gordon, Renee and son Mark to reminisce about the Photo Shop. When I asked about his best memory of the business, Gordon's quick response was, "I loved it and it was because of all the wonderful customers."
He has always had a great memory and would surprise customers by remembering their names, even those who had not been in the store for as long as 25 years. He also shared that over the years he had many celebrities as customers that included Harry Belafonte, Marlon Brando and Paul Newman.
Gordon remembers them all as very cordial and appreciative of his advice on photography. He and the Photo Shop will be well remembered by many of us baby boomers for the same appreciation of his service.