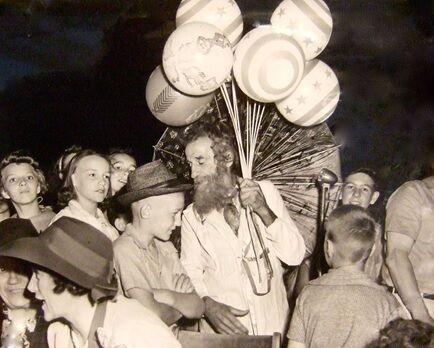 There was not a more recognized town character in the Pittsfield area during the early baby boomer days than octogenarian Albert Franklin Tyler.
Albert spent most of his life in the Berkshires and was best known by his nickname, Oh Be Joyful. In the 1950s, I would often see him on North Street, simply dressed and usually in loafers. He was bearded and had long, unkempt hair often held back with nails or chicken bones.
His unusual appearance, his vegetarian lifestyle and his reputation as a philosopher for over 50 years led me to describe him 10 years ago in the "Berkshire Memories" book as the "first hippie." He lived to the age of 89, passing away in 1961, just before the hippie movement began.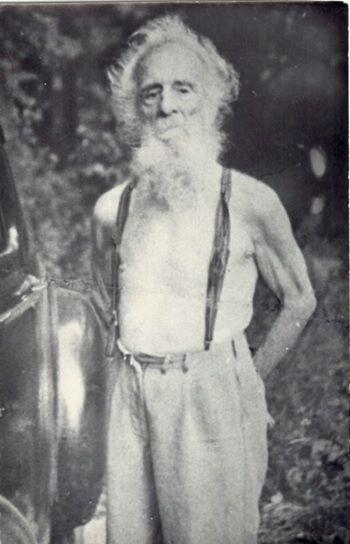 In the past 15 years, I located and spoke with several of his living relatives to learn more about their connections with him.
All described Oh Be as eccentric. He lived frugally in a shack on Irwin Street in Lanesborough. He swam almost daily in Pontoosuc Lake, even on some of the coldest days. He would usually hand out boiled peanuts to us young ones and peddled cider, fish and homegrown produce to older folks from his antique flatbed truck.
In 1922, Oh Be was paid $22.50 to give a 15-minute talk to 2,500 people. It was held at the Majestic Theater on North Street (which later became the Palace Theatre) and broadcast to two other theaters to accommodate the large crowds that were intrigued by him.
The subject was the greater beauty of males over females. Oh Be described numerous animal species where males were more attractive than females. Humorously, he ended his talk exhibiting himself as a prime example of such beauty.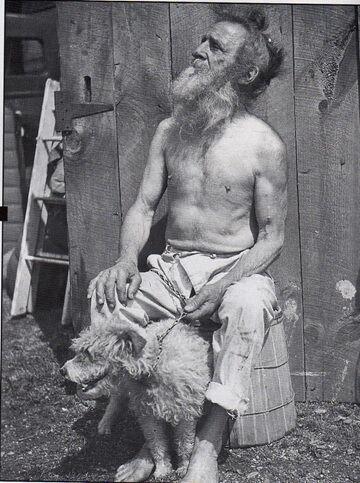 The irony about Oh Be is that he could care less about his personal appearance. He lived most of his adult life alone, and his once-trimmed beard and hair had become long, gray to white, and rather unkempt.
At age 50, Oh Be claimed he read a scientific magazine article that offered sound health reasons to let one's hair grow. So, Oh Be decided to end haircuts, claiming, "No tonsorial artist is going to spoil my looks and wreck my health — not for 65 cents!"
Oh Be prided himself on his appearance and, in the early 1940s, actually won first prize in Pittsfield's Independence Day Rag Shag Parade, competing against many of the city's "leading jesters."
Throughout his life, Oh Be always remained opinionated and also a scholar of the Bible. He was recognized for his intelligence. He claimed to have spent a couple of years at Harvard University studying mathematics, entering in 1891. However, the college had no records of his enrollment.
He always said that meeting with people, and learning their values and lifestyles, was better than a college education.
Despite the overwhelming enthusiastic response to his famed 1922 public talk, Oh Be did not capitalize on this opportunity to continue as a public speaker. His next public presentation occurred in 1948, when he was considered as a candidate for a radio program.
Life begins at 80 was his response when queried about why he hadn't had a public media engagement in 26 years. Oh Be commented on having good showmanship: "Don't let the public get sick of you!"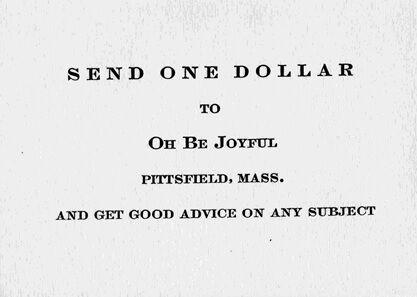 He was known to sing publicly in smaller venues and, in 1923, he was a soloist at a dance at the Summer Street Armory. His songs included "Yes We Have No Bananas," "Down on the Farm" and "O Gee, O Gosh, O Golly, I'm in Love."
Oh Be was never short for sharing his wisdom with others. In the 1940s, he had 10,000 cards printed that stated he would offer to answer any question for an investment of $1 per question.
The card read "Oh Be Joyful Tyler has driven the same Morgan horse from New Hampshire to California, using four different wagons and six mates. Stayed overnight and at dinner with two hundred ranchers."
On the back appeared "Valuable advice ONE DOLLAR on any subject. Oh Be Joyful Tyler. From the fellow who is free from dope. He never uses tea, coffee, sugar, salt, milk, tobacco, alcoholic liquor or eats dead animals." (His second printing of cards had much fewer words. "SEND ONE DOLLAR TO OH BE JOYFUL. PITTSFIELD, MASS. AND GET GOOD ADVICE ON ANY SUBJECT.")
He shared with others that this whole project was a way of making and keeping friends, more than for the money. Oh Be pointed out that most people fail to keep in touch with new friends they make on planes, trains, buses and Morgan horses. By giving them a card, it cannot only provide humor, but a way of keeping in touch, as his address was on the back. We don't know how many people took him up on his question/answer project. But, if he made a good living doing this, he never flaunted this wealth!
Throughout his life he was polite and friendly to most, despite his rather peculiar, scruffy appearance. No one ever complained of Oh Be being unclean, just unkempt. In the baby boom early years, he could often be seen on North Street, as he'd spend several hours at the library, stop in a luncheonette for a vegetable feast and then head to the YMCA for several games of checkers.
Despite the nickname of Oh Be Joyful, what most people who remember Oh Be did not know was that his earlier adult years were not the most "joyful." (Part 2 of this story will explain.)