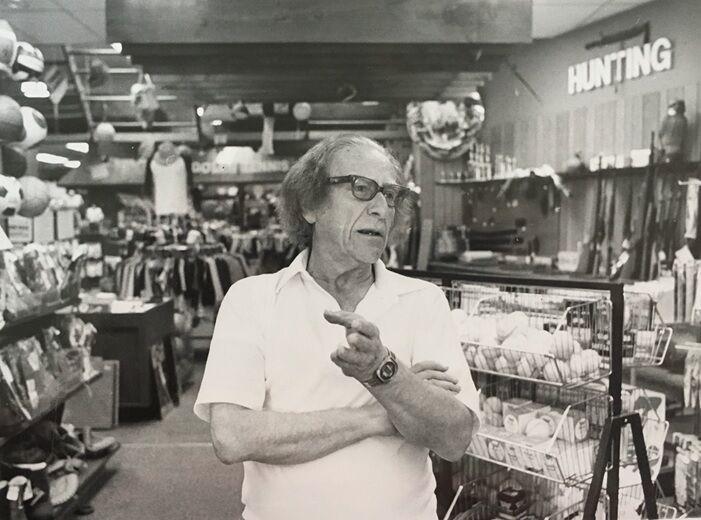 In the early 1950s one of my Sampson Parkway friends from childhood always had the newest and best sports equipment that he shared with neighborhood kids.
We mostly played baseball on the large grassy oval in the middle of Sampson Parkway for our entire childhood. Almost every summer day you'd find as many as a dozen of us playing ball there. Often one grumpy neighbor would summon the police to get us to play elsewhere. But we always came back after the police left.
The friend who brought the baseball, bats and gloves was Marshall Levey. His father, Charles "Charlie" Levey, owned Pittsfield Sporting Goods at 33 Bradford St. During the baby boom years of childhood, this store became the city's largest and leading sports store.
It was always exciting for me to visit the original store with my buddy, Marshall. We got to see and try the latest sports items and toys for the December holiday sales. We were good friends as kids, but when we were teenagers, the family moved to the Coltsville area, and we drifted apart.
I rarely saw Marshall after that. When I went to college and then moved out west, I did stop in the sports store on visits to Pittsfield only a few times to see him as he worked for his dad.
I had always wondered about the history of Pittsfield Sporting Goods and learned that Charlie and his younger brother, Fred, were originally from the Schenectady, N.Y., area. In 1938 the two brothers, in their 20s, settled in Pittsfield to raise families and to open a sporting goods store.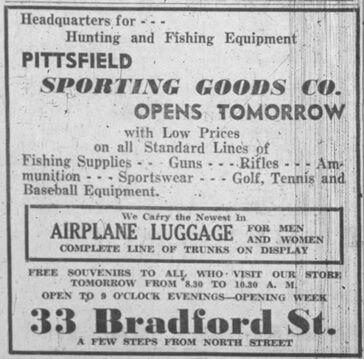 As part of their business they had planned to operate a pawn shop. However, local authorities did not approve licenses to do so. In 1945, Fred moved from Pittsfield to North Adams, where he opened his own shop called Center Sporting Goods.
Charlie continued operating Pittsfield Sporting Goods in the 2,500 square foot Bradford Street location that was literally packed to the ceiling with merchandise. In 1953 he moved to a larger space in the Bradford Building at 369 North St.
The store became a popular shopping destination for skiers, hunters and fishermen for supplies as well as those into team sports. Charlie kept expanding his business by adding a number of services that included an air rifle safety training course for youth, a marine/boat outlet, a ski shop, sales of tropical fish and a mail-order catalogue for summer camp owners.
In 1972 the store moved to 391 North St. when the Bradford Building was to be renovated. However, the biggest move occurred five years later to the Onota Building at 70 North St. This new location had 11,000 square feet, over four times the size of the original store.
Recently I spoke with Francis Butler, a 40-year employee of Pittsfield Sporting Goods. Francis shared with me that he was only 15 in 1959 when Charlie hired him.
I remember Francis as an easygoing, likable guy that customers trusted and found very helpful as their salesman. He always admired the entrepreneurial spirit of Charlie, and shared with me memories of the many years working for him.
Francis met a lot of interesting customers like U.S. Rep. Silvio Conte, and he once met future Vice President Bob Dole. Francis chuckled when he shared about a time in the early 1960s when the store's accountant overheard the young man ask a customer how he liked an earlier purchase of a fishing pole.
After the customer left, the accountant told Francis he should never ask how someone likes a previous purchase. The man said, "If a customer doesn't like something he'll tell you on his own. If you ask him, it can encourage him to think of something negative." It was good advice that Francis remembered over the years.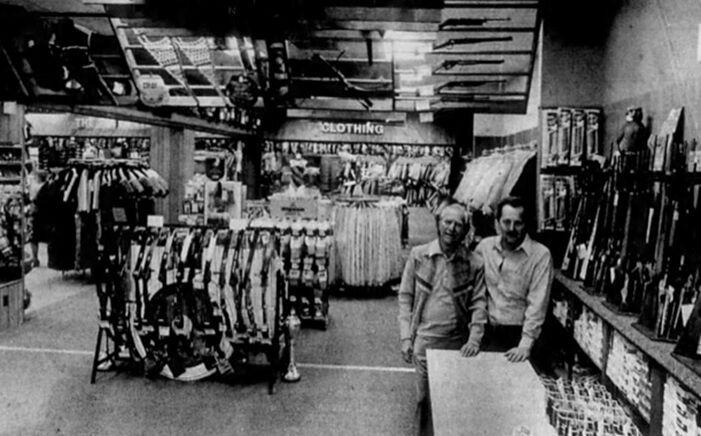 The 1977 with the store's move to the Onota Building, Charlie had much more space for merchandise and for the expansion of customer services. But he was now in his late 60s and ready to retire. Marshall, then 31 years old, stepped in to take over Charlie's leadership. (Charlie died in 1984 at age 76.)
At that time, Pittsfield's North Street shopping district was busy, but merchants began feeling the effect of the downsizing of the city's largest employer, the General Electric Co.
On the horizon three major shopping areas were being planned away from North Street, (the Berkshire Mall in Lanesborough, the Berkshire Crossing shops in Coltsville and the Lenox shopping centers on Route 20) that would adversely impact downtown business.
Over the next two decades, downtown Pittsfield would see the closing of most of its locally owned retail establishments. Pittsfield Sporting Goods had tried to run a second store at the Allendale Shopping Center in 1991, but was unable to compete with the nearby national chain discount stores and closed a year after opening.
In 1994, Marshall found it was not economically feasible to operate an 11,000-foot-store and moved the business to a much smaller store at 180 North St. A year later, this store had to close due to lack of business.
With the help of his wife, Carol, and son, Michael, Marshall had moved to several small locations that all proved short-lived. These included a North Adams store, a small store at 207 Elm St. in Pittsfield and then a location on East Street near Teo's.
By 1997, Pittsfield Sporting Goods closed altogether. Sadly, Marshall began a three-year battle with cancer that took his life in 2000 at the age of 53. Pittsfield Sporting Goods had been one of the city's longest running family owned retail businesses when it closed.
I often think about those early childhood days of visiting the Levey's original store and, of course, playing baseball every summer with Marshall and the equipment he shared.
In the 1960s the Sampson Parkway playing field became off limits for sports. The grumpy neighbors must have convinced the city to plant trees in the infield. When I last visited the oval, I did like the towering trees, but I had to shake my head when I saw our former play area now only used by people walking their dogs. I wonder what the grumpy neighbors would have said about that.