MONTEREY — This was not an evening to quibble about who out there might have put the junky old printer on the swap shop shelf. This was not an evening to cast blame about who snuck in the open paint cans along with a pile of construction debris.
This was an evening to celebrate two people joined by the twin convictions that trash and recyclables shall solemnly be separated and that two people in love shall not.
Town elders, friends and family all came together Friday evening in the pavilion behind the firehouse to listen in as Dave Gilmore and Beth Parks exchanged wedding vows that included the promise "to build a house of love on the foundation that was first cast at the Monterey Transfer Station."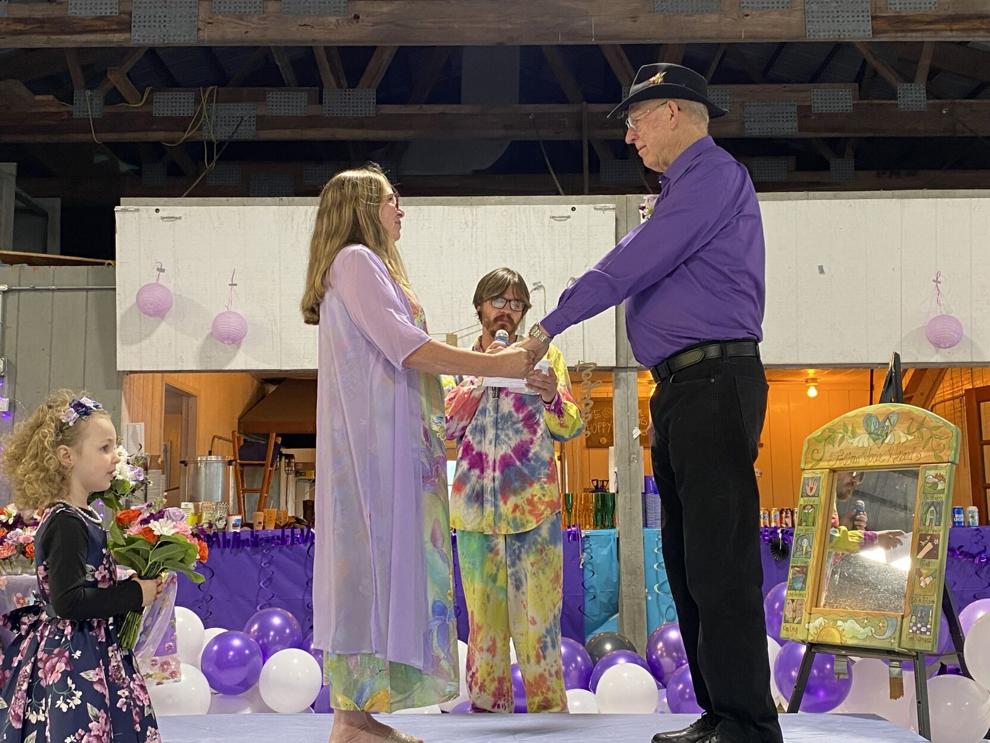 By the power vested in him for one day and one day only by the commonwealth of Massachusetts, a nephew of Parks', Daniel Goewey, wearing a tie-dye outfit he made himself, declared Gilmore and Parks husband and wife.
And then the whole joint erupted in a standing ovation.
The Makucs were there. The Solomons, Oppenheimers and Epsteins, too. Bonner McAllester, Marc Gordon, Barbara Dahlman, Mark Little — they all were there. About 150 people in all.
They had read in the monthly Monterey News what had amounted to an open invitation. Dave and Beth are getting married. Come!
"Beth and Dave are the heart and soul of Monterey," said Kenn Basler, a former chair of the Select Board. "They are the first people and sometimes the only people with whom residents come in contact who represent the town, and they present such a good image and such positive energy."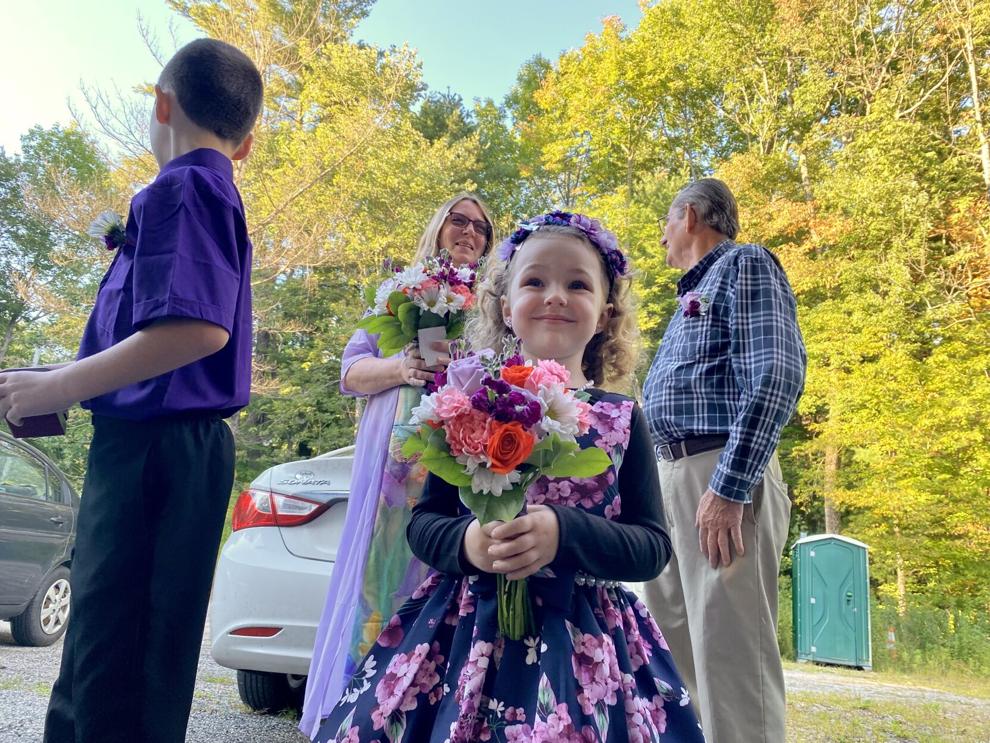 Over the span of six years, townspeople had watched as a romance bloomed between these two employees. Gilmore, 74, and Parks, 58, both divorcees, each dressed for business in town-issued, high-visibility lime green shirts, had taken a liking to one another as they managed the deposition, consolidation and aggregation of Monterey's solid waste.
Where the town rids itself of the things it no longer wants, Gilmore and Parks had developed a relationship they couldn't live without.
The two were playing cribbage one Friday evening several months ago — margaritas had been poured and imbibed — when Gilmore hadn't so much popped the question as he did pop the statement.
"You know," he said, "we ought to get married."
Parks recalled that her head started spinning. She had been wondering if he ever would ask. Moments went by. Points were registered along the crib board. Finally, Gilmore said, "You do know I just asked you to marry me, right?"
That weekend, she called him and asked, "Did you really mean it when you asked me to marry you?"
He really meant it.
"Yes, of course I'm going to marry you," she said.
They first met in 2015, right there at the transfer station.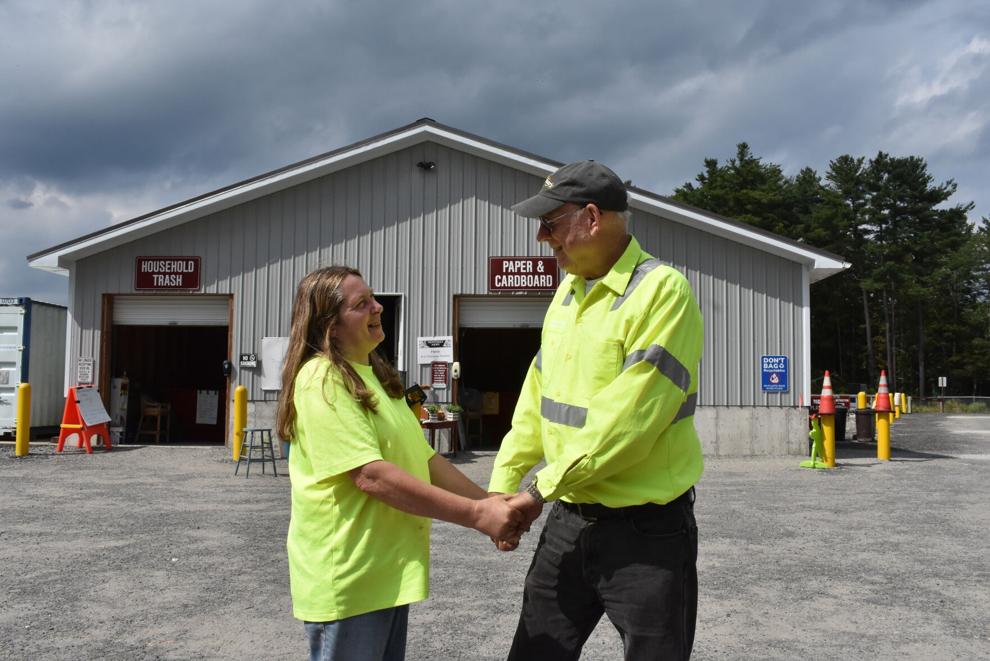 Beth, a mother of four grown children, a professional housecleaner, had been a part-time town employee there for a year. She had earned the job after taking it upon herself to clean up the swap shop, which had become a mess, filled with fallen-apart books, broken toys and dubious electronics. Basler was impressed with her initiative.
"You want a job?" he asked.
The next year, Gilmore drove onto the scene in a pickup truck bearing the vanity plate "Lenox," where he was born and bred. Tall and striking, especially when wearing that Western-style hat, Gilmore had answered an ad to work part time at the transfer station. Though he had retired years earlier from a company that made stainless steel machine parts, he discovered he couldn't afford retirement.
"Once in a while he'd walk over to the swap shop, see what I was doing, pretend to be looking around," Beth recalled.
"I was — I was looking around," Gilmore said, both of them laughing.
Yeah, he liked her. He liked her a lot.
On a cold, wet, late winter day in 2016, Gilmore took off his coat and wrapped it around Parks. They hugged. He kissed her on the top of her head and then walked away.
She went home later that day to consult with her two daughters.
"What now?" she asked them.
"Do you like him?" they asked.
"Yes."
"Well, then go for it."
With a trip to Fenway Park early that summer to see the Red Sox, the two began dating.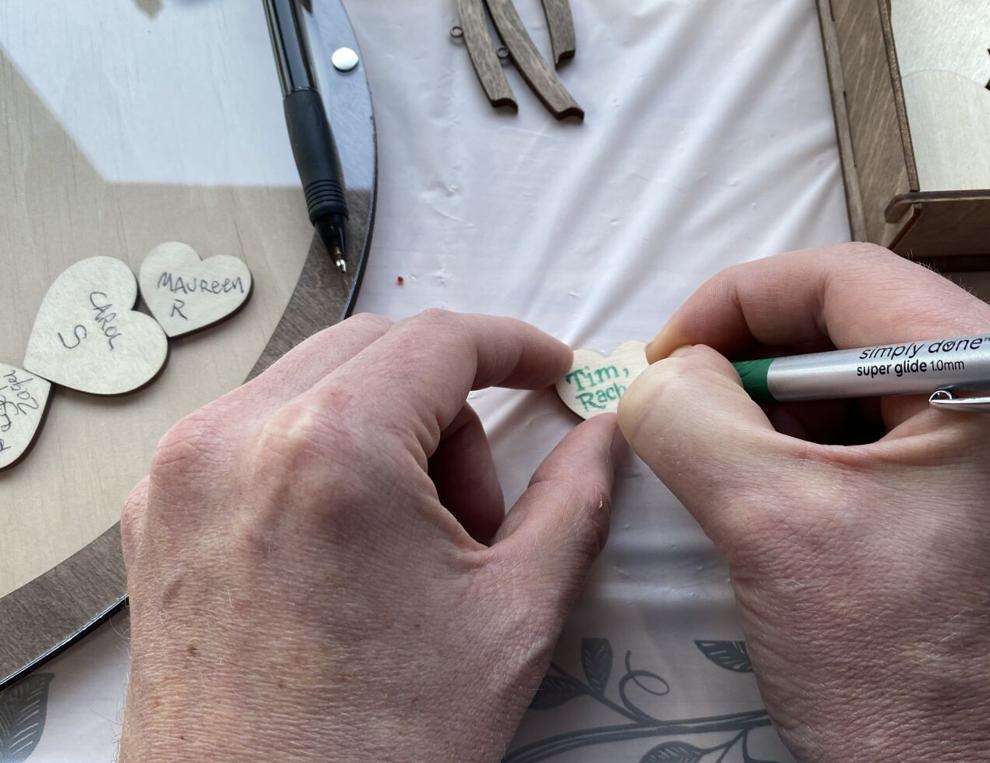 She fell for him — for his kindness, his even temper, that he loved her children, that he has taken her to so many ponds to fish that she now actually likes to fish.
He fell for her. She's cheerful. Her kids are fun. She loves listening to records. She never hollers at him. She puts family above all else.
"Dave is always there for my mom, always there for me and my siblings," said Dayla Ziegler, Beth's daughter. "He's a great guy. They're great for each other. They're happy together. She deserves it, you know?"
Gilmore just recently sold his house in Lee. The newlyweds live together in the home in Monterey in which Beth was raised. Someday they might buy a trailer, hitch it to his pickup and hit the highway, the radio tuned to a country music station.
For now, the two run the transfer station. All the while, townspeople have appreciated the manner in which they combine neighborliness with no-nonsense insistence on proper transfer station etiquette. Keep the paper out of the glass and the glass out of the paper. If it looks like trash, it probably is, so, don't put it in the swap shop. That sort of thing.
"First of all, they help you get your garbage out of your car. They actually lend a hand," said Charles Johnson, a part-time Monterey resident who teaches at the Isenberg School of Management at the University of Massachusetts in Amherst.
Townspeople came to the wedding Friday bearing gifts, some in wrapping paper, others, like the fresh pickles, in bell jars. For weeks leading up to the wedding, the joke around town was that the wedding registry was at the swap shop. On Friday evening, it was too soon to tell if any of those wrapped gifts included chipped ceramic vases, not-so-gently-used sconces or sets of musty encyclopedias.
"This is what Monterey is all about," said longtime resident Cheryl Zellman. "These two have brought us all together. ... It's a beautiful, beautiful thing."
The moments before Parks would become a Gilmore, her father, Walter, walked her down the aisle. At the end of the line, family members created a welcoming arbor out of purple light sabers. Purple is her favorite color, and her future husband obliged, wearing a purple shirt.
After the vows, Mr. and Mrs. Gilmore danced to the Jim Croce classic, "Time in a Bottle."
By late Friday evening, Mrs. Gilmore's daughters, Dayla and Rae-Anne, were on party cleanup duty — bottles separated from paper. They know, they know, they know.