LENOX — As a record-breaking tourism season winds down, what's the plan to keep the lodging tax revenue flowing?
That's Jennifer Nacht's mission as executive director of the Lenox Chamber of Commerce since June 2019. After helping lodging, retail and restaurant owners navigate the challenges of the coronavirus pandemic while forging closer ties with Town Hall, she is scoping out strategy for the winter and the next "high season" from May through October.
During a conversation with The Eagle this week, Nacht pointed out that, despite staffing shortages, the approximately 130 chamber members (85 percent of the town's businesses) have profited from the busiest warm-weather season on record.
Even though prime cultural attractions are operating on reduced schedules and capacity limits, the town's repositioning as a virtually year-round magnet for outdoor recreation has paid off.
Town Manager Christopher Ketchen recently reported that lodging revenue for May through July totaled $1,161,000, far above the $619,000 taken in during the same pre-pandemic period of 2019. That puts the town on pace potentially to collect at least $2.5 million in room occupancy taxes for the full fiscal year, holding down annual property tax increases.
Excerpts from the conversation with Nacht follow, edited for length:
Q: What have you heard from your members about the past season?
A: Restaurants were packed to capacity whenever they were open. Many took a hit with the lack of staffing, so they couldn't be open seven days a week. That was problematic for tourists, finding a place on Mondays and Tuesdays.
Retailers had their best June ever, and the art gallery sector is growing. People in all sectors have done better this summer than ever — though maybe not lodging, since eight inns have changed hands and were in transition — even with Tanglewood only being at 50 percent capacity and open six weeks.
We've turned a corner, with younger people coming in, being reached by social media. We've seen an overwhelming change in visitors asking about the outdoors; they want to go hiking, kayaking. During the winter, they ask where they can go snowshoeing. Our big push has been outdoor recreation; doing that during COVID saved us.
Q: How has the pandemic affected tourism here?
A: With the delta variant, people who might have thought they were going to hop on planes, they didn't. Not until everything settles down, and that bodes well for us. We've seen a lot of people come in from places like Texas for foliage.
Q: What is your focus for the "off-season" and for 2022?
A: We're going to build on the Christmas Tree Walk, lighting up a portion of Main Street in a very artistic way; we have 20 white trees to be decorated and lit up. Light Up Lenox will be the weekend after Thanksgiving. Maybe we can bring back the Santa Pub Crawl, if the restaurants are able to do it.
We kick off the Farmers Market in late May, then we have Lenox Loves Music [Sunday afternoon performances] and the Lenox Art Walk in June and September. We hope to do Apple Squeeze next September, scaled back, for sure, and I want to bring back a classic car show.
Q: What are the prospects for positioning Lenox as an apres-ski dining destination?
A: The inns, being a little more upscale and updated, will bring people here who want to be downtown and walk around, and they can go over to Bousquet Ski Area; it's going to be awesome. I'm Team Mill Town Capital [the company developing the area] all the way. And the Apple Tree Inn [under new ownership] has such a cool vibe, and there's the Church Street Inn and their group [Lenox Collection LLC] that also bought the Birchwood Inn and Rookwood, and they're looking at other property in town.
Q: Town government leaders already are planning an outdoor dining policy for next summer. What's your take on how that has been working out?
A: Certainly, I'm in favor of it, I think they'll come up with rules, it's the alcohol in public spaces that was the issue. You could bring a bottle of wine and have a picnic, but there was no drinking in public properties after 9 p.m. As the police chief has said, we don't want it to be like New Orleans!
Q: How do you see your biggest challenge going forward?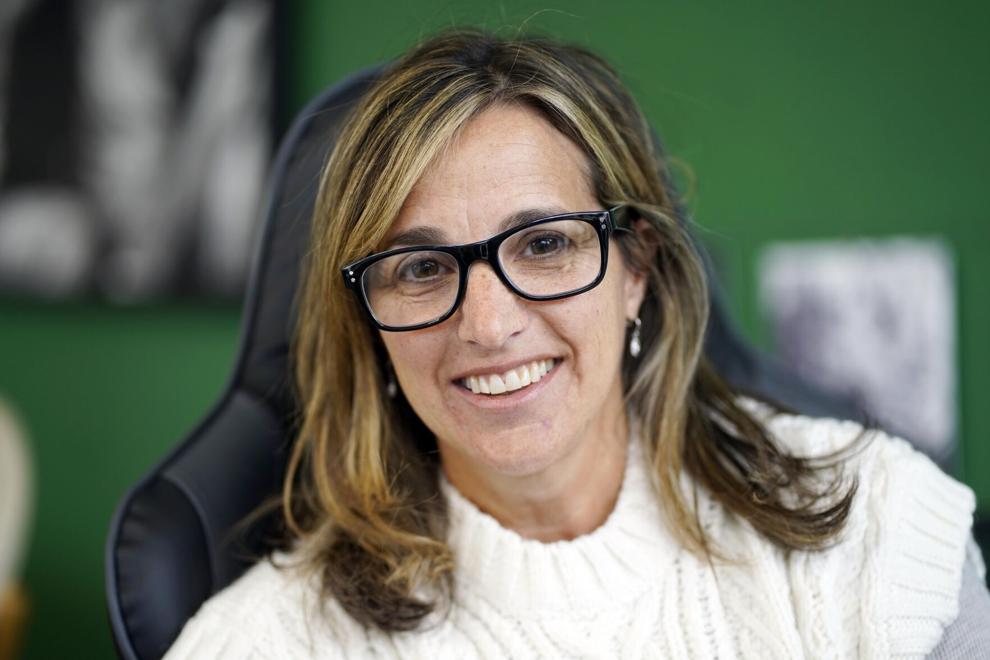 A: There are so many different stakeholders with different goals, and for me it's to come up with a common goal. We promote different sectors so nobody feels left out. And we also have the support of the town and the Select Board, and that's hugely important.
Deirdre [McKenna, the chamber's creative services manager] and I have really rebuilt the confidence in the chamber, because there was a crisis of confidence. The partnership with Town Hall is great. Obviously, the end goal for the town is to bring in more residents, and so that is our overarching goal, to get people to visit so they fall in love with the place and see that they can live here. There's such a sense of community, and we keep building on that.