RICHMOND — Berkshire Superior Court Judge Michael Callan has declined an immediate ruling on a Richmond Shores neighborhood group's bid for an injunction to shut down events with music at Balderdash Cellars.
Instead, the judge set a pretrial conference Oct. 14 to schedule a trial date for the group's lawsuit against the town and the business, incorporating the injunction.
"We can get this [case] tried well before the end of the year," Callan said.
The winery off Route 41 hosts weddings, private gatherings and regular wine tastings, live music performances and food truck stopovers open to the public Wednesdays through Sundays.
The request for a preliminary injunction was submitted by Alex Rosenblum, on behalf of the four-member neighborhood group suing the town of Richmond, the Select Board individually and as a group, and Balderdash Cellars' owners. The other neighborhood parties to the lawsuit are Alison Cole, Peter Miller and Miles Garfinkel.
The attempt to win a preliminary injunction was "a last resort" for the neighbors, said their attorney, James F. Martin of Robinson Donovan, based in Springfield and Northampton. He cited "constant and insufferable noise" that his clients "have been forced to endure" since the revised special permits for the winery were approved by Select Board members Alan Hanson, Roger Manzolini and Neal Pilson.
Martin told the court that the neighbors suffer "continued interference with the quiet enjoyment" of their homes.
"They have exhausted all their efforts to have any [town] officials or representatives of Balderdash to deal with this issue," he argued.
Describing Richmond as "a rural, quiet small town," the attorney said the neighbors living near Balderdash have resided at Richmond Shores for many years to enjoy "quiet, country-style living."
Martin said the prolonged legal tussle erupted after Balderdash Cellars, previously based in Pittsfield, acquired its scenic Richmond site off State Road (Route 41) in 2018 "as an event venue."
Martin questioned whether the business is really a farm, stating that the company buys 85 percent of its wine from California and plants 2 acres of grapes on its land.
"It's a bottling facility," he claimed.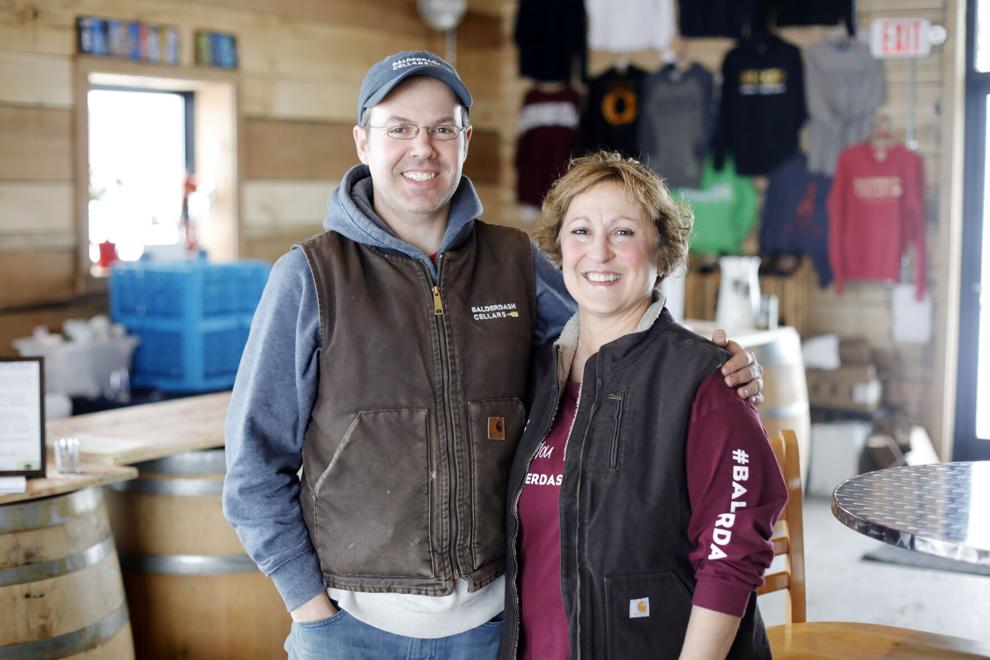 Balderdash owners Christian and Donna Hanson have a pouring permit application pending before the Select Board to pour spirits at the small state-approved distillery they operate at 81 State Road, part of the two-parcel, 23-acre property overlooking Richmond Pond. The permit would allow alcohol, beer and wine to be served during weddings, but spirits would not be poured during regular public wine tastings.
Martin contended that the town's farm function bylaw, approved in 2018, was designed by the Planning Board to accommodate Balderdash. He told the court that his clients are not trying to put Balderdash out of business or prevent the owners from producing wine and using the property.
Their goal, Martin said, was to stop the company from not complying with the state's legal rules and regulations allowing the quiet enjoyment of the neighbors' homes.
"The noise is incessant for these folks," the attorney said. "They just can't take it anymore."
Martin argued that the underlying purpose of the town's bylaw is to support the functions of a farm, "but here, the farm is a fiction." He stated that the bylaw does not open the door to operating "a venue for entertainment, for special events, for 150-person weddings, baby showers, bachelor parties and anniversary parties with music, and with selling wine, beer, liquor."
The attorney also told the court that the entertainment venue aspect of the site has "overtaken anything that possibly could have been imagined under the farm function bylaw."
That bylaw, approved by special town meeting voters Oct. 30, 2018, covers concerts held on farms, and events such as weddings, family celebrations and other functions requiring an admission charge.
The events held on farms of 15 or more acres in residential and agricultural zones require a Select Board special permit but are not allowed in the commercial zones or the shore-residential district. Electronically amplified sound is permitted from 10 a.m. to 11 p.m.
Martin listed provisions of Balderdash's original three-year special permit granted by the Select Board in 2019, allowing "unlimited public events from noon to 11 p.m. seven days a week, a dozen special events of up to 175 people annually, including amplified music, a tent, and a volume reduction by 10 p.m." The special events, primarily on weekends, can run from 6 to 11 p.m.
The plaintiff's lawsuit dismisses the "basic, introductory" sound study conducted by the town last year because it did not include crowd noise "from up to 175 people hooting and hollering."
"Balderdash continues to hold events and generate all the noise that they do," Martin said at last week's 15-minute Superior Court hearing. Citing a lack of enforcement, he described the neighbors' efforts to win a preliminary injunction barring music from events until the business complies with sound barriers that Martin said had not been constructed.
Instead of an immediate ruling on the requested injunction, Callan's suggestion of a speedy bench trial to resolve the dispute was greeted by attorney Alexandra Glover, representing Balderdash, as "a great idea." With the additional agreement of attorney Dennis LaRochelle of Cain Hibbard & Myers, representing the town of Richmond and the Select Board, a pretrial conference is scheduled for Oct. 14, in order to set a trial date soon thereafter.
The farm's business plan includes up to 35 weddings a year, as well as wine and food tastings with live music. The Balderdash property includes 2.5 acres at 79 State Road and nearly 21 acres at 81 State Road.
The plan has been reviewed at multiple Planning Board and Select Board meetings over the past three years.
The town's original bylaw allowed a winery as an agricultural use, but not the presentation of outdoor events. The Planning Board's revised bylaw regulates various events and concerts as "farm functions" providing additional income "to promote the sustainability of farming, enhance our community and preserve open space."
According to the Select Board's revised special permit approved Feb. 24, exterior amplified music is limited to 10 a.m. to 8 p.m. Thursday through Sunday. Drums, bass guitars, electric guitars and horns are not allowed.
Outdoor performances require noise-limiting "acoustical curtains" at the stage.
Once a historic barn under renovation off-site is reinstalled, the revised permit allows interior amplified music, behind closed doors, from 9 a.m. to 11 p.m., seven days a week.