PITTSFIELD — When it came time each holiday season to give a full accounting of that mean one, Mr. Grinch, the naturally shy man with the deep, booming singing voice, Paul Houston, never failed to deliver.
Houston, an actuary by trade, a history buff, old-school do-it-yourselfer, and arts promoter on evenings and weekends, was killed from injuries suffered when the car he was driving struck a tree in Malta, N.Y., on June 20. He was 59.
"He was a treasure," said Laura Rosenthal, who first met Houston in 2009, when he had moved from Michigan to Pittsfield to take a job at the Berkshire Life Insurance Co.
Rosenthal, a fellow actuary, was the one responsible for "dragging" Houston to a cabaret workshop at the Berkshire Music School. His initial reluctance soon subsided, evidenced by his willingness to wear a beanie and perform "Hello Muddah, Hello Fadduh!"
"There's nothing negative anyone can say about Paul Houston other than that he's not here anymore," said Sherri James Buxton, of Lee, who leads the cabaret workshop.
Houston, born in Detroit on June 13, 1962, and raised in the nearby suburb of Rochester Hills, loved music and sports. As a boy playing hockey, he once broke a femur — and it was nearly worth it. After all, the great Gordie Howe of the Detroit Red Wings signed his cast, recalled Houston's one sibling, Joyce Ifkovits, who lives in Charlotte, N.C.
Houston played the baritone and trombone.
"He was a great musician," his sister said.
The graduate of Michigan State University would remain a passionate Spartan sports fan throughout his life, taking the good with the bad.
After moving to the Berkshires in 2009, he eventually volunteered at Hancock Shaker Village, where he would perform songs for visitors. He became a board member of the Berkshire Music School. He served as treasurer of the Berkshire Art Association. He gave generously of his time and his money, friends and colleagues said.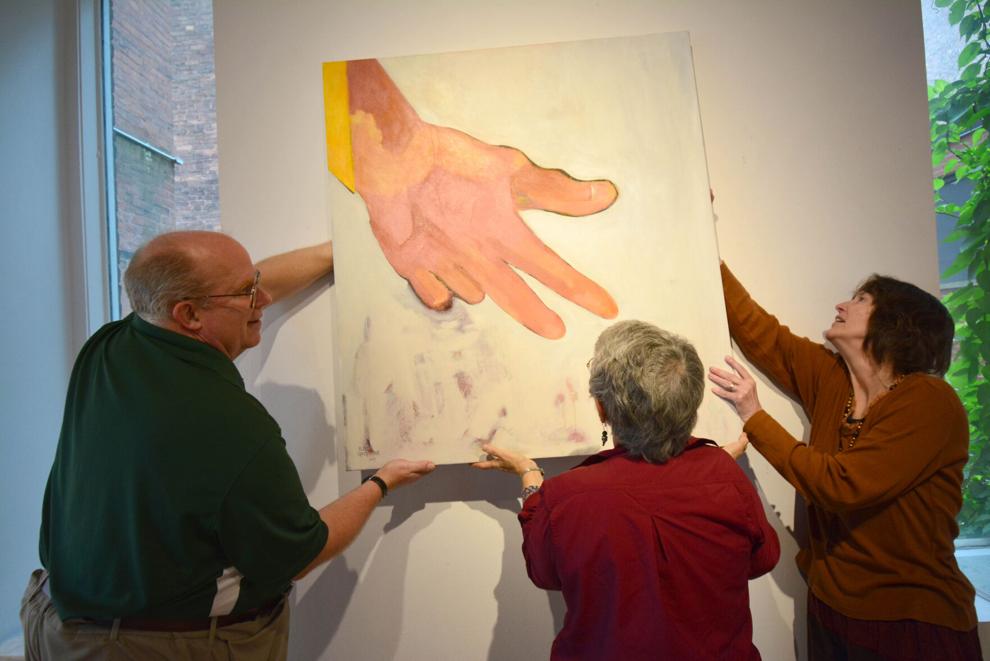 "It's a huge loss. He was a generous, warm, loving person," said Mary Rentz, past president of the Berkshire Art Association, who first met Houston at an art opening. "He often bought pieces from our fellowship show. He gave amazing validation for the students. That's the kind of man he was."
"He always was smiling when he talked to you," said Anna Gershenson, a neighbor of Houston's at the Clock Tower in Pittsfield. "That was so endearing."
"Paul was single, and the arts community was like his local family," said Edward Bride, of Pittsfield, in a letter to the Eagle. "Many of us feel that we have lost a family member."
Houston, never married and without children, visited most, if not all, the national parks in the United States, his sister said. He would return to some of the parks if he felt he had missed something the first time.
He would travel to Old Sturbridge Village to learn skills such as historical cooking over an open fire. He would visit Mystic, Conn., to study whaling and to learn sea shanties. Somewhere along the way he learned how to make tin pots.
Last fall, he attended a nephew's wedding while wearing leather shoes he had made by hand. His nephews and niece called him "Maverick" from the film "Top Gun." They adored him.
His parents, Roy and Alice, said their son had a special interest in the Revolutionary War.
"He could teach this period of history without notes," said Roy Houston, who lives with his wife in Myrtle Beach, S.C. "It was amazing that he seemed to know something in every general subject."
"Almost every weekend he was off doing something," Rosenthal said.
Friends recall that the cabaret class had boosted his confidence and brought out his playful personality. He eventually would learn "every song ever written about Michigan," Rosenthal recalled with a laugh, including Irving Berlin's "I Want to Go Back to Michigan." And, yes, for the annual holiday performances at assisted living facilities and other venues, he would delve deep to deliver "You're a Mean One, Mr. Grinch."
On the morning of his death, he was returning from a basket-weaving workshop in Saratoga Springs, N.Y., his sister said.
Authorities said Houston was driving south on Interstate 87 on June 20, about 5:53 a.m., when his 2016 Jeep Grand Cherokee "drifted off the eastern shoulder" and struck a tree in the median. Houston later was pronounced dead at Albany Medical Center. Houston was the sole occupant of the Jeep. The crash remains under investigation.
Friends and colleagues in the Berkshires are planning a memorial service. A date and venue have not yet been set.
"There are so many people who feel they need to express their grief together and celebrate his life," Buxton said.
A private funeral will be held this month in Charleston, S.C., yet one more place whose history enthralled Houston.