PITTSFIELD — Berkshire Pride returned from its pandemic hiatus to host what attendees from the Berkshires and beyond called a banner year for the festival. With a new parade, a roster full of drag performers and more than 100 vendors, Berkshire Pride filled the Pittsfield Common Saturday with what can only be described as a whirlwind of love.
Pridegoers said the in-person celebration was a much needed reminder of the amount of support available to LGBTQ people living in the Berkshires.
Teenage friends Schuyler, 17, Ari, 17, and Jace, 16, met up in the shade of one of the Common's trees. The trio was giddy at the turn out.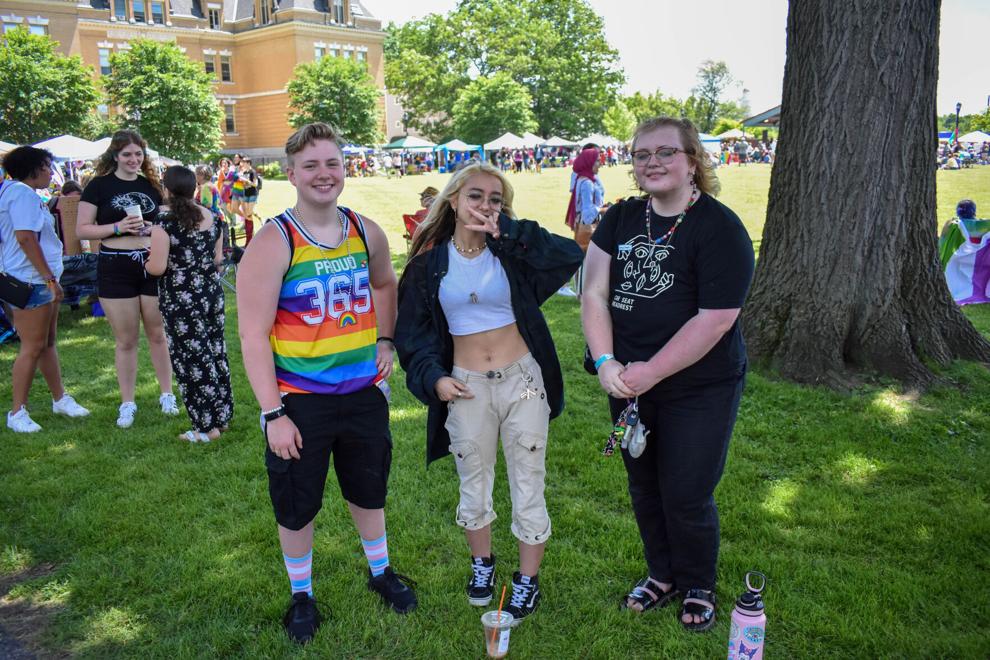 "You kind of forget that there are a lot of people like you and you're not completely by yourself," Ari said. "It's nice to see people you know and people you've seen around — even if they're not part of the community they're still here [to] support it and it's nice knowing that support is there."
The teenagers counted off the list of people they'd run into: The doctor who runs the trans healthcare system Schuyler attends, Jace's employer Biggins Diggins, volunteers from one of Ari's parent's employers and family, friends and classmates from Berkshire Art and Technical Charter Public School which they all attend.
"We're in a good place," Schuyler said.
"There's always work that can be done," they said, but the fact that things like trans healthcare are available locally is "something that you could not imagine in a place like Texas."
"I love it here basically."
Under the shade of a nearby tree, Zelda Stern and Ralph Bradburd babysat their 8-month old grandson Solomon while his father worked at the booth set up by the Elizabeth Freeman Center.
"I think it's even more joyful [this year] because after the pandemic people are so happy to gather and celebrate together," Stern said. "We're just so glad to live in a time and a place where this festival can happen."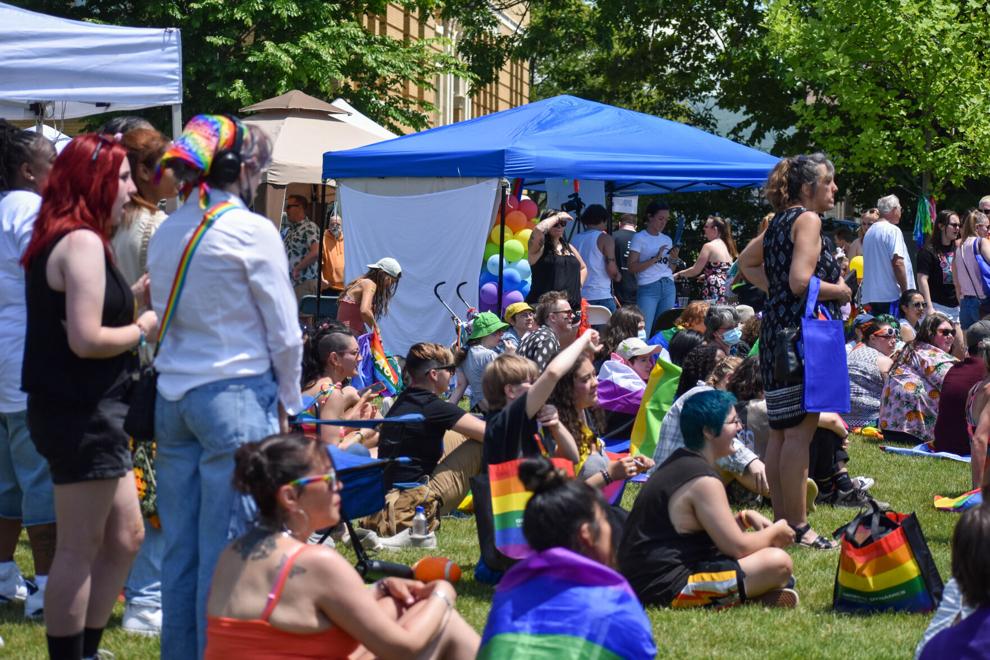 Bradburd said he and Stern grew up in a time before Stonewall — the 1969 uprising that took place at the Stonewall Inn in Manhattan against violence and discrimination against the LGBTQ community. The events of the uprising catalyzed the modern LGBTQ movement and are commemorated by Pride month every June.
"We remember times when it was not at all accepting," Stern said. "I hope we can continue these kinds of events. I hope we don't go backwards"
Tammi Haines grew up in the Berkshires. She said she remembers how hard it was for some of her close friends to live closeted lives, sharing only with a handful of people the truth about their sexual identity.
On Saturday she caught up with a cousin who was working as a vendor at Pride. They talked about how time had transformed the county.
"[My cousin is a] lesbian and she said that she could never imagine that something like this would happen in her hometown," Haines said. "This would never happen and was never going to happen."
"She's just so proud." Haines added. "I'm proud for her too."
For this trip to Pittsfield, Haines came prepared with a homemade sign: Free mom hugs. In the span of several minutes talking with The Eagle, two people approached Haines for a quick embrace.
With a deep hug, an "I love you mom," and an "I love you too" from Haines, the strangers parted ways. She said it's been like this during the afternoon and that over the course of the day people have shared more than just a hug with her; they shared their stories.
She heard from people who had lost their mothers in recent years, whose mothers weren't accepting of their identities or pronouns and people who told her they just really needed a hug.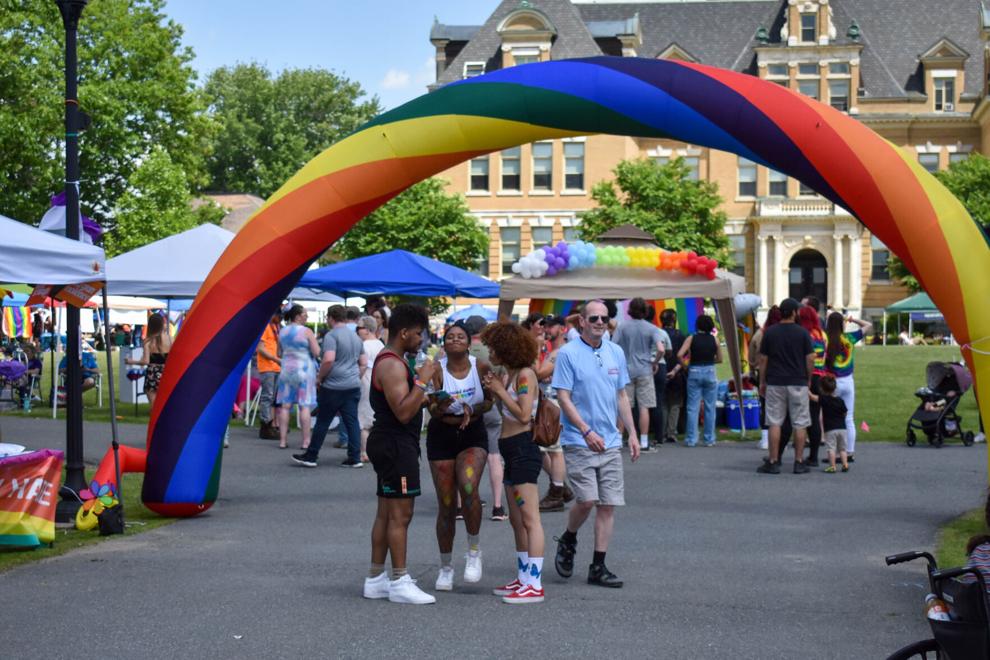 Haines said she understands why people need the moment of connection and a little boost of free love. In the last year, there's been a wave of legislative attacks made against protections of LGBTQ rights and equality.
Conservative representatives in states across the country have ramped up efforts to ban transgender athletes from sports, block access to gender-affirming medication and ban books that have sex-positive messages and the experiences of LGBTQ people from schools.
In Florida, the governor and legislature have passed a law that restricts public school teachers from even discussing gender identity or sexual orientation with students.
Those efforts haven't made their way to the Commonwealth, but the fact that Massachusetts' hard-won progress could be less secure is something that many Pride attendees said they were concerned about.
"Pride in Massachusetts is a reminder of what's at stake," Jordan Evans, an activist and board member with MassEquality said.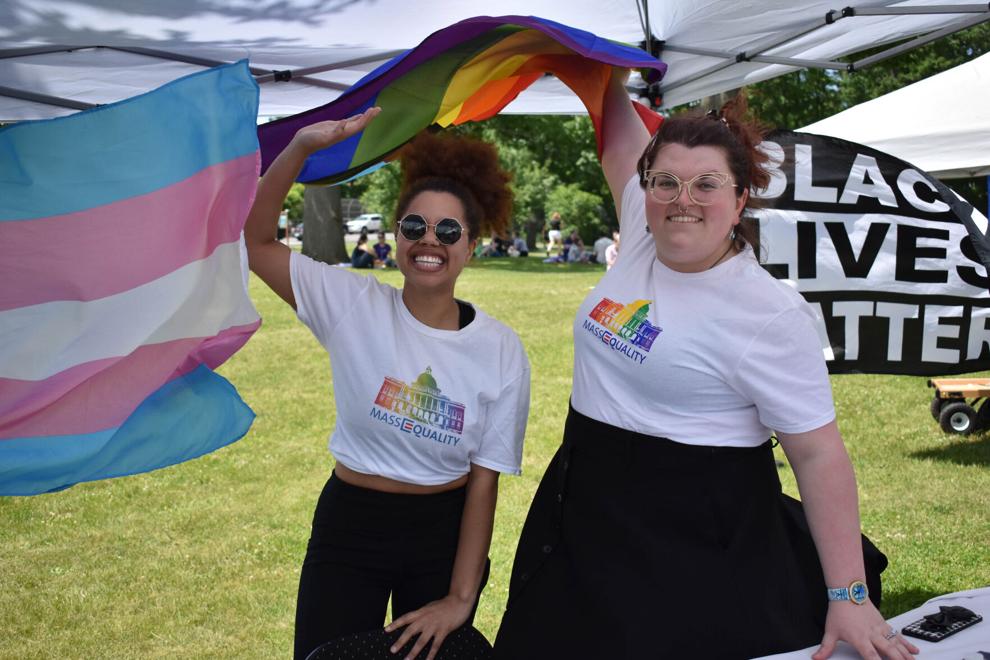 MassEquality is a grassroots organization working on advocating for equal opportunity and support for Massachusetts residents regardless of their sexual orientation, identity or expression.
Looking across the Common, Evans said "look at all of these people here today authentically living their radical truth and living their life with joy."
"This is what Pride has always been for me and why I'm an advocate for these organizations," she said. "I want people to feel this way and not the way that so many of us felt year[s] ago when we were still fighting for basic things like public accommodations for trans people and marriage equality."
Evans and MassEquality community organizer Zoe Armstrong said while there's a lot of work happening in the Commonwealth to support gender identity and sexual orientation equality, it can be easy to take what has become the norm in the state for granted.
"A lot of the time people in Massachusetts think that we're a very liberal state, [that] people already agree [on the issues], so it doesn't matter [if they] go out and fight for things," Armstrong said. "But a lot of the time that means the dominant opinion gets drowned out by people who are angry and make a lot of noise and [who] show up."
The organizers said the best way to defend LGBTQ rights is for people to show up and stay engaged with and be aware of what's happening in their communities.