PITTSFIELD — At a community center in downtown Pittsfield, a man tries to make sense of the English word in front of him. "Yo," he says finally, pronouncing as he might in Spanish.
"Yo? 'Yo'" (the Spanish pronunciation of the of the English spelling of Joe) "is my cousin!" jokes Louis Perez, the bilingual teacher.
Kindly and patiently, he then explains to his student how to pronounce the ubiquitous English "you," using the whiteboard behind him.
Perez turns to another one of his students, a woman who is here to learn Spanish.
"I cheated a little bit with Google translate," she confesses.
"OK — let's see how bad Google did," Perez says.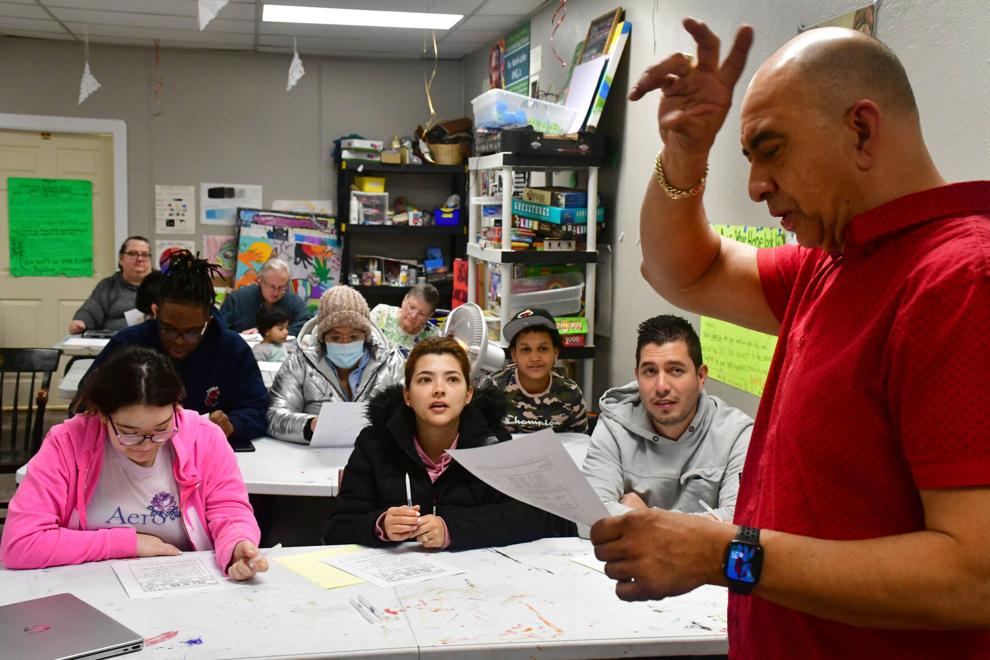 Manos Unidas (United Hands), a Pittsfield cooperative that aims to create community through mutual aid by working especially with low-income, immigrants and youth, has been offering free bilingual classes at 5 Melville St. since early February. While such organizations as Literacy Network of Southern Berkshires and Berkshire Community College also teach English, an increase in the pace of Latin American arrivals has led to waiting lists. English-speaking members of Manos Unidas said they also wanted to learn Spanish.
Perez jumped on the opportunity. "I am not a teacher," he told the group before their first language lesson. "My Spanish is bad, and my English is worse. But if there are groups of people who are interested and want to come, I will prepare a class and see if it works and see what happens."
The class can border on confusion. Sometimes, Perez gets his wires crossed, giving Spanish instructions to the English-speakers, and vice versa. Children accompanying their parents are often restless and distracting.
But Perez more than makes up for it with his energy and willingness to celebrate any progress. He uses the sometimes chaotic energy to his advantage though, keeping the atmosphere light and even silly. He moves across the room, his gestures helping his jokes land and his explanations be understood. He chases away his students' lack of self-confidence by frequently applauding them. "Don't tell me again that you don't speak English," he says with a smile to a Latina woman who gave the correct answer.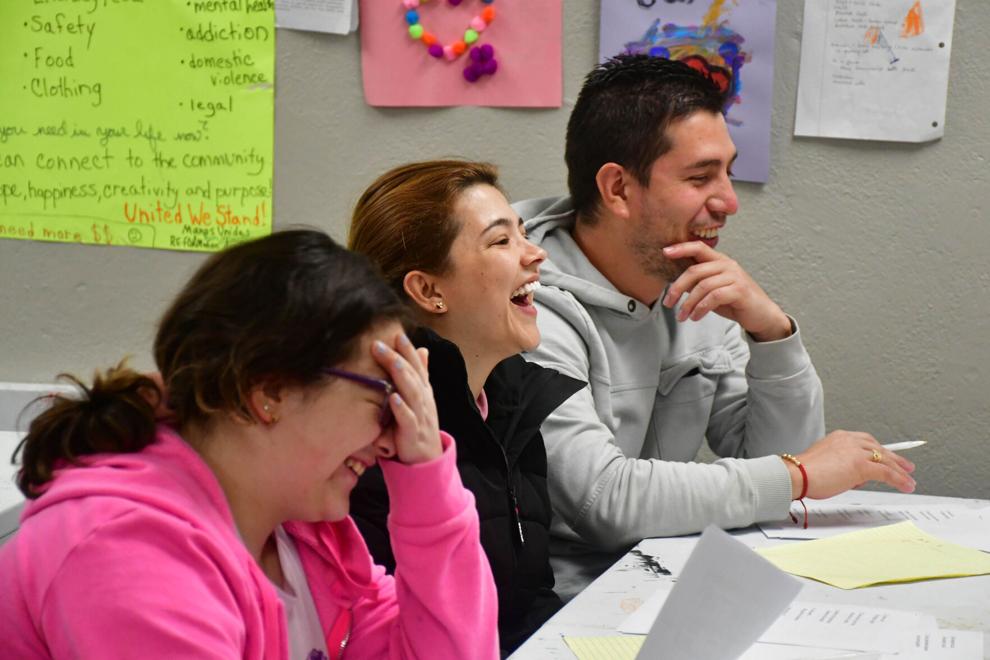 On a recent Monday only eight students, in casual clothing, were sitting at classroom-type desks, but Perez says sometimes it goes up to 15, which is more complicated. If the group grows beyond that, he hopes to divide it into two sessions.
He understands that bilingualism is not about perfection. Born and raised in the Bronx, N.Y., he grew up surrounded by Spanish, but did not speak it himself. At age 11, his Puerto Rican grandfather said that was unacceptable. He made Gomez spend that summer on the island. Perez says, "I came back 'lulululu' speaking Spanish with everyone," making a sound like a talkative turkey.
He preaches that they key to learning a language is not feeling self-conscious. "You can't feel shame, because we are all here to learn," Perez tells his students. That balancing act never stops. Sometimes he can't remember a word from the top of his head. "I never said I knew everything," he says, another tease. Perpetually nimble, he always finds one student who does know the answer.
Not a teacher by trade, Perez says he has always seized opportunities to transmit what he knows and make people feel welcome, whether it was in the military, when he was a pastor, working for the Massachusetts Department of Transportation, or coaching his daughter's basketball team. His focus is less about individual improvement and more about creating a team of learners.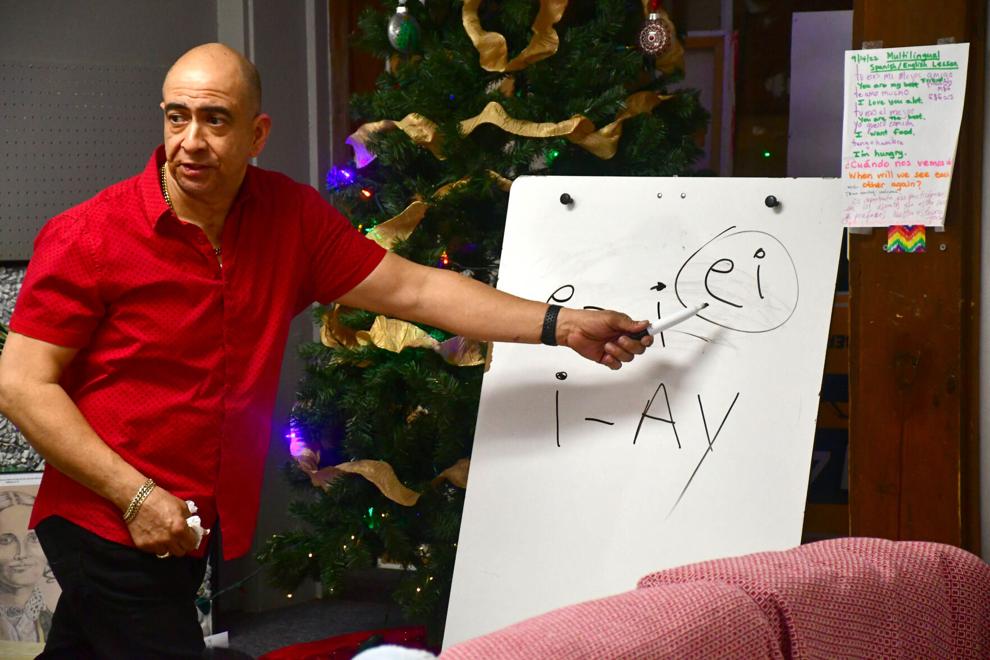 That's what his students most appreciate. Cristian Andres Gordon Giraldo, of Pittsfield, attended with his wife and daughter for the first time on March 7. The family came from Colombia just last month. "The class is great because it's like a mirror," he says in Spanish, "because [the Americans] also want to learn Spanish. So that also adds motivation for us to learn English."
In her fourth class so far, Renee Singh says in English, "I like the social aspect. I like meeting new people. People are very friendly and willing to help you."
Singh, who used to work for Working Cities and volunteered for the Tyler Street Lab, says that not knowing Spanish has prevented her from being able to connect with people. "I missed out on being able to build relationships, assist them and get to know about their culture and experiences," she says.
That is something she is set to change, together with her boyfriend, Danny Schopfer, who is also attending the class. The couple's retirement plan is to travel across Mexico, the United States and Canada in a van. Learning Spanish seemed like a good way to plan for it, but their Duolingo App lacked human interaction.
Just a few classes have already made a difference for Schopfer. The other day, while he was at his job as an accountant for Goodwill, someone who spoke Spanish came by. "They could tell I didn't know Spanish, but that I was trying to help them," he says. Trying to explain his response to that client, he told the Eagle, he had said, "¿Tu eres trabajo?"
That translates to, "Are you work?"