RICHMOND — When Thor Berg went outside his Rossiter Road home Thursday, he noticed something was amiss with his vehicle.
Turns out, the neighborhood black bear, fond of burglarizing trash cans, had become more ambitious and daring in the dark of night.
"He managed to slide the back panel off my Jeep, dragged himself inside it and tore it off," Berg told The Eagle, supplying photographic evidence of the incident to refute any skeptics who might suspect that he was telling a tall tale. "The doors were locked, so he popped the back windshield off."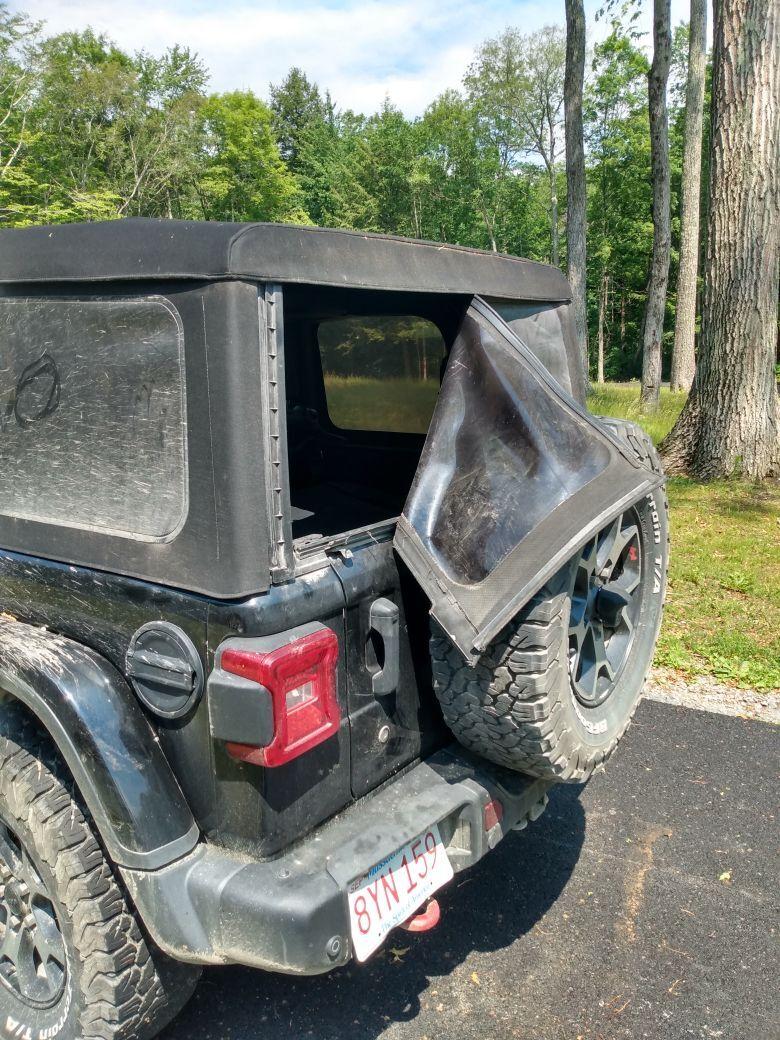 The bear is well-known to neighborhood residents who view him not as a danger, but as a nuisance. But, a raid into a vehicle is a break too far, Berg acknowledged — "new behavior, increasingly bold. He took a good chunk out of the center console."
After offering assurances that there were no edibles inside or anywhere near the vehicle, no bird feeders in the vicinity, Berg offered some cautious respect for the bruin.
"He's getting more and more courageous, lost his fear of people, and seems willing to come up to my front door," he said.
"Everyone on the road is aware of this bear," Berg added. "He's certainly got gall, being more than willing to walk up to the house and scrounge around."
Berg, a former New Yorker now semiretired from an administrative job in education, moved to Richmond five years ago. No stranger to wildlife in the town's bucolic rural environs, he has seen coyotes, foxes, raccoons, deer and wild turkeys.
"But, this was my first close encounter with a bear," he said.
For practical reasons, such as covering the cost of repairs to his Jeep, Berg intends to file a report with wildlife officials, police and, of course, his insurance company.
Meanwhile, he awaits the nocturnal visitor's next appearance.
"He knows when the trash is brought out on Mondays, he knocks the can over and tears it apart at his leisure," Berg said. "He's such a courageous bear."
According to Mass Wildlife, bears live not only in rural settings like the Berkshires, but also in and near densely populated areas and roadways throughout the state. The agency estimates there are about 4,500 black bears living and raising their young from Interstate 495 westward to the Berkshires.
Bear visitations have become more common this year in Western Massachusetts, for reasons yet to be explained.
"They have fantastic memories and they have fantastic sense of smell, so, if you see a bear, there is a good chance it's going to come back," said Patti Steinman, education coordinator at Mass Audubon's Arcadia Wildlife Sanctuary in Easthampton.