DALTON — At the Central Berkshire Record Show in Dalton, it's a collector's effort.
"I've been a collector for 40 years," said Adrian Sicam, a vendor selling records out of his home in Greenfield. "I started when I was 12."
It was a collection that started with a lot of Beatles records, he said. Sicam has two turntables in his home, and a basement chock full of records. He estimates that all told he has about 3,000 vinyl records in his collection, and about 500 on display with him at the Stationery Factory, 63 Flansburg Ave., in Dalton. He likes being able to share his collection with others.
Among his more prominent wares, Sicam shows an original UK press of The Beatles' album "Revolver," listed for about $100. Getting your hands on a press like that isn't too difficult if you're plugged into a network of vinyl collectors, he said. Events like this are good for meeting some, he said.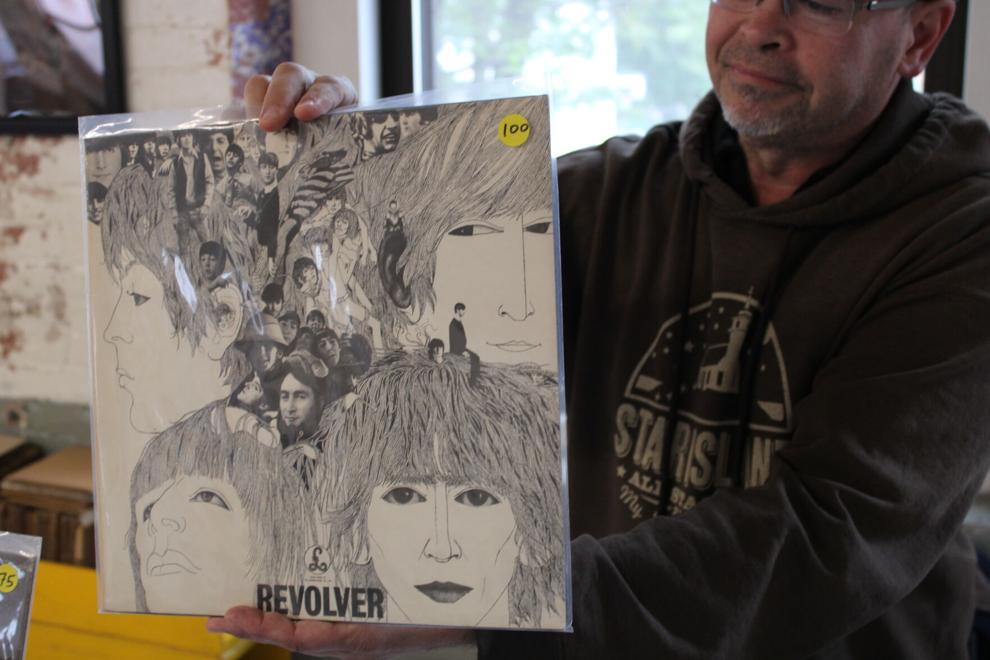 Sicam is set up across the way from Justin Cohen, better known by his stage name, Studebaker Hawk. Cohen is a vinyl-spinning DJ and record merchant who sells the discs online and at record shows like this one. He's based out of Springfield, and organizes record shows in Northampton.
In its heyday, his collection of vinyls was about 13,000, he said. He's since culled it down to a moderate 5,000.
"I grew up spinning records," he said. "I've been into records my whole life … I just like digging for them."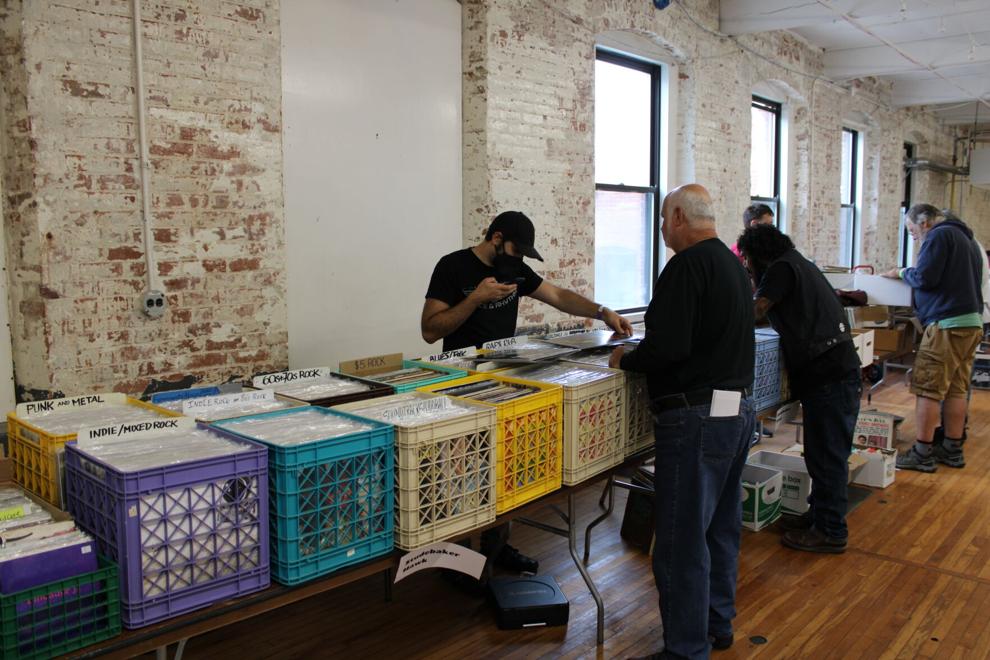 Cohen rarely meets with a stack of vinyls he doesn't like — he gestures to a box of 45 RPM records on the floor that he bought shortly after arriving at the Central Berkshire show.
For Cohen, the line of work can lead to some busy weekends — he was in Dalton on about 4 hours of sleep, he said. That's not uncommon, when he's spinning records as a performer into the wee hours of the morning, then setting up a table at a record show by 8:30 that same morning.
But setting up shop at record shows is often worth the time: sellers get to see real people. Vendors can strike up conversations with customers about music and life, if there's a difference between the two. A key part of the record shop experience that can't be replicated online suddenly becomes real.
"The goal is to build a community around music," said Andrew Garcia, the event's organizer.
For Garcia, there's no better place to build that community than the Stationery Factory. The space on the factory's first floor is a near- perfect fit for the record exhibitions at their current size. He also owns Berkshirecat Records, a shop on the factory's second floor.
This is the second Central Berkshire Record Show of 2022, coming about five months after the event's debut in May. Garcia said the plan is to have a record show at the beginning of the summer and fall of each year; ergo, the first weekend of May and first weekend of October, just like this year.
The show had 21 vendors in this go-around, and has expanded its reach geographically.
Being there really makes a difference. Sicam recalls a sale he had made earlier in the day. A visitor to his stand came looking for the Talking Heads album "Talking Heads: 77," the band's debut record featuring the hit song "Psycho Killer" — as Sicam put it, "one of the great rock albums." Naturally, a conversation ensued.
"It's not just 'Oh yeah, we have this, thanks,'" Sicam said. "We actually have a conversation. I talked to him about his love of music, how he plans on spending his retirement. He's 16 months from retiring."
Matthew Crennan, a record vendor from Pittsfield, had a similar experience while he was selling records at a show in Albany, N.Y., when a fan cleared him out of all his Harry Belafonte records. For Crennan, a self-professed Iron Maiden fan with plans to see the metal band in Worcester and Newark, N.J., in the coming weeks, the lesson was that everyone's looking for something different.
"You learn a lot about music by talking to other sellers," Crennan said. "And shows like this give you an idea of what people are looking for, too."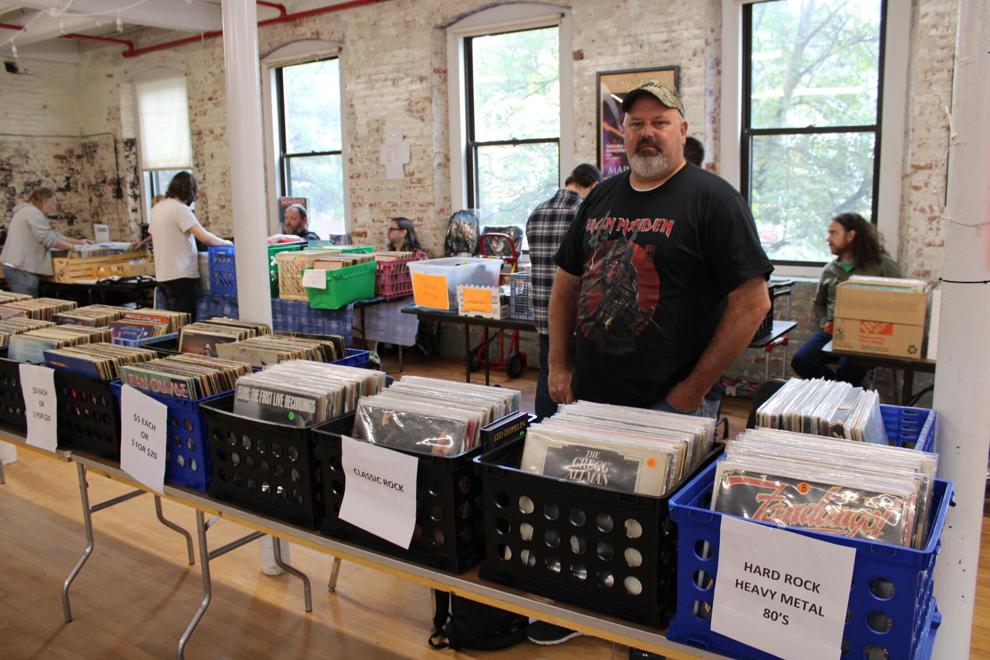 That's often what keeps people coming back to the vinyl crates; looking for something they've lost, or something they love. Garcia describes people sitting on the floor that very morning sifting through 45s "finding that thing they've been looking for for 50 years."
"It's the idea of the find," Garcia said. "That nostalgic thing that someone remembers from way back when."
But Garcia is even more excited to see the next generation of vinyl-lovers pick up their first LPs, as opposed to the grizzled veterans. As a long-time music teacher at Nessacus Middle School, passing the love of music on is more than just thrifting vintage.
"It means so much to see them pick up something tangible," Garcia said. "To be holding something physically … they grew up with bits and bytes."