DALTON — The Dalton Police Department might never have issued as many APBs (that's Adorable Poodle Bulletins) in one night.
After acing a temperament test, the department's newest member arrived Monday to meet his public, coming through a door at the Dalton Senior Center in a child's arms to a chorus of ooohs and awwws.
"I'm so shocked he's a big hit," Lee Kohlenberger, who runs Berkshire Poodles with his wife, Kaitlyn, said with a smile. On Wednesday, the couple will give the yet-unnamed 8-week-old black standard poodle to the department, the second of what they say might be a string of comfort dog donations to public safety departments in the Berkshires.
The Pittsfield Police Department already has accepted its comfort dog, Winston, as a gift from the couple. Lee Kohlenberger said Monday that the business is willing to provide a free comfort dog to all local departments.
"Obviously, I can't do that all this week," he said.
As in Pittsfield, Dalton's new recruit will be used not for traditional K-9 tasks, but to help people, particularly young people and seniors, find a sense of calm and warmth in a dog's simple affection.
The department is inviting people on its Facebook page to suggest names. Chief Deanna Strout said members of the department will pick a name, with Officer Tyler Miller perhaps getting more than one vote, since he stepped forward to be the dog's host, handler and official lap.
That includes Miller's plan for Thanksgiving Day.
"We'll be watching some football and spending the day together," he said.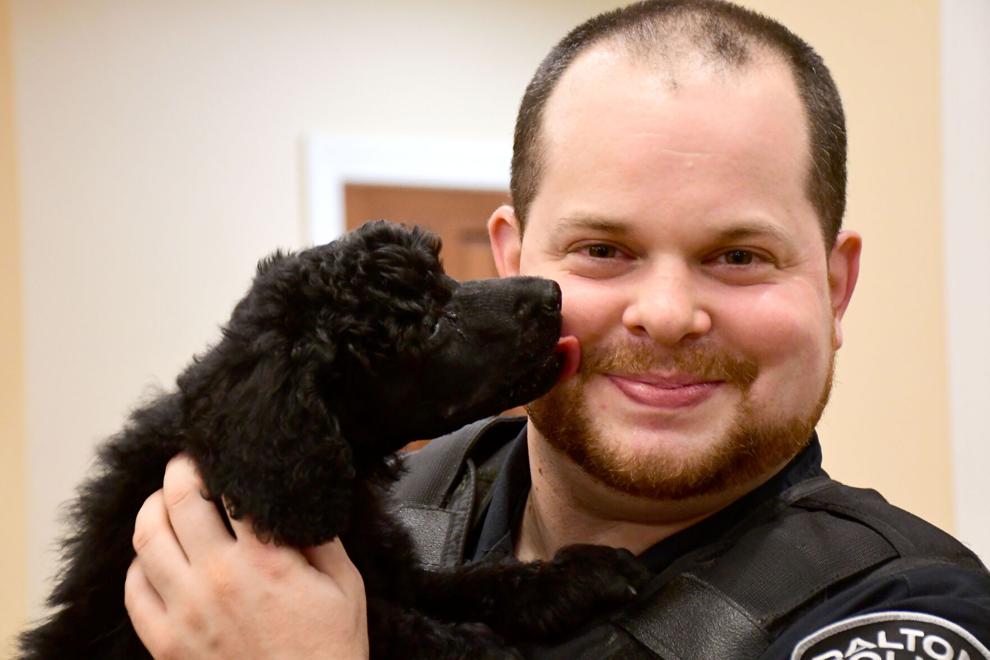 Miller said he already is partial to the name Fenway, prompting Kohlenberger to warn that Berkshire Poodles might impose a preemptive ban on the dog sporting Red Sox apparel.
The Kohlenbergers, who also run Berkshire Dogs Unleashed, make about 40 puppies available a year, normally selling them for $2,500 each. He is a former Pittsfield firefighter who retired after 10 years to pursue the couple's breeding business; they selected poodles because Kaitlyn is allergic, and poodle fur doesn't trigger a reaction.
The welcoming crowd thinned Monday evening as the Select Board got a scheduled meeting underway at the other end of the meeting room. Strout stepped within sight of the Dalton Community Television camera to introduce the pup.
"You may find him asleep in my office," she said.
"I think it's going to be a great asset to the Police Department," said Robert W. Bishop Jr., a member of the board.
Until this week, Dalton's comfort dog was going to be one of two males from a recent litter. The choice came when the Kohlenbergers had both dogs undergo what's known as Volhard's Puppy Aptitude Test, which helps reveal aspects of their underlying nature, and indicate how they are likely to respond, even when grown and trained, to an unfamiliar setting.
To be a comfort dog, after all, these poodles can't get stressed. The Kohlenbergers work to encourage that quality in the dogs they breed, steering toward what might be called the lovable end of the poodle spectrum and away from qualities representing the breed's hunting instincts. Though some might think of poodles as pampered and ornamental, the breed is used for hunting; poodles have webbed feet that enable them to swim well.
But, that's not the sort of poodle placed as a comfort dog.
"Those are black Labs in poodle bodies," Kohlenberger said of the hunting dogs.
"If we can't live with them, we're not breeding them," he said.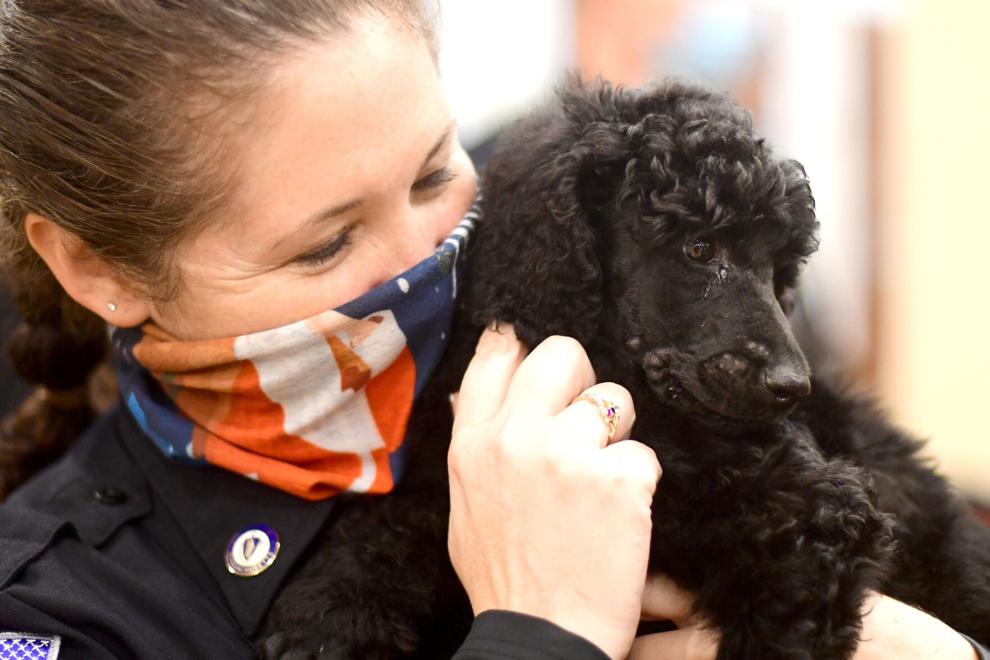 Kaitlyn Kohlenberger said their goal, with comfort dogs, is to provide animals that slow people's heartbeats, not raise them, particularly when they are associated with the work of police and fire departments. The Dalton P.D.'s new dog will be a regular at community events, and will travel with Miller to schools and gatherings.
"To help with critical-incident stress," she said.
Sgt. Bustin Buzzella said the puppy will be a big help at Nessacus Regional Middle School, where students have been acting out more — as is the case with all middle schools at this stage of the coronavirus pandemic.
One of the aptitude test's elements checks to see whether a puppy will retrieve a wadded ball of aluminum foil, which dogs normally resist picking up. This one did.
He also nailed an even harder test: when an open umbrella is dropped near the puppy. It's considered acceptable, in a temperament test, for a puppy to resist running away.
"This puppy got into the umbrella," Kohlenberger said. "There's not much that can faze him."