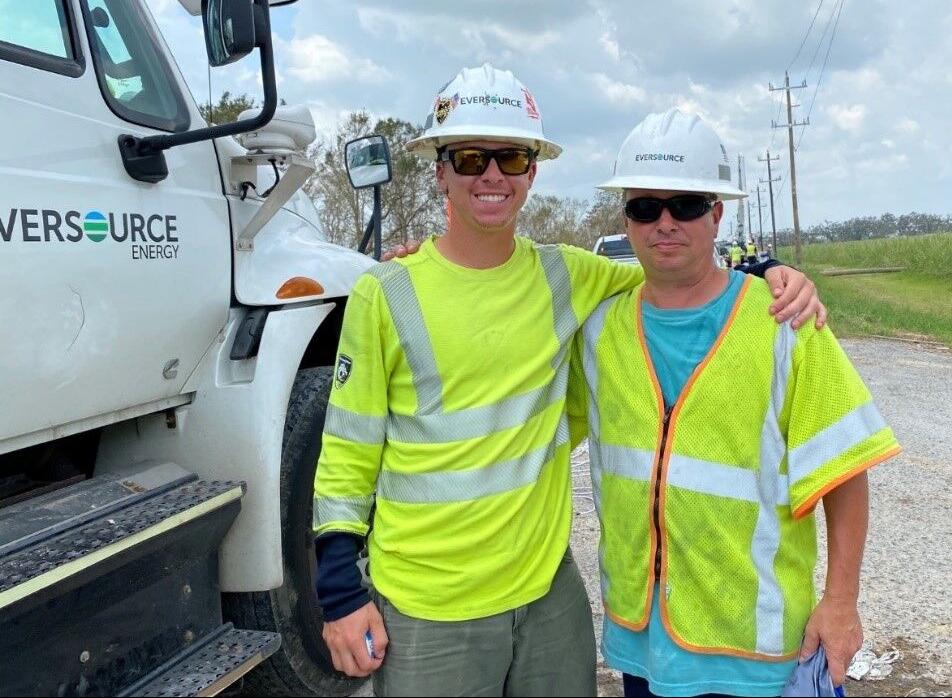 PITTSFIELD — As a child, Chris Ferrarin liked to follow his dad over to the Eversource shop on West Street in Pittsfield on off hours, marveling at the giant spools of wire, the trucks, the tools.
At age 12, he listened to his dad, Matt, talk of deploying to restore power after Hurricane Katrina, in 2005.
Today, at 28, Ferrarin is doing more than dreaming.
For the first time since he signed on with Eversource as a lineman, he is on the ground in a storm-battered region, alongside his father and a hundred other Eversource workers from New England, rebuilding the power grid after Hurricane Ida.
On Wednesday, Chris Ferrarin celebrated his birthday with a cake topped with Oreos — on the back of a truck in Louisiana. It's one birthday, Ferrarin said in a video interview Thursday, he never will forget.
Before heading out for another long day in the field, both Ferrarins, joined by Glenn Posey, Eversource's operations manager for the Berkshires, gathered in a mobile command center to talk about what they've done to help Louisianans recover from a storm that cut power to more than 1 million people and took down 30,000 utility poles, more than twice as many as damaged 16 years ago, during Katrina. The work is going to take weeks, the local power company estimates.
Matt Ferrarin's stories about Katrina have new meaning for his son.
"I've never seen anything like this," he said. "It's a little overwhelming at first."
The Eversource team is part of a 41-state nationwide response to Louisiana, through the mutual aid agreements in which utilities help one another after disasters. In all, Eversource says, it supplied 40 line crews made up of more than 100 people from Massachusetts, Connecticut and New Hampshire, along with another squad of contract workers. Their service is open-ended, according to an Eversource spokeswoman; the Massachusetts crews say they expect to spend three weeks in the field.
In a separate deployment, four members of the Dalton Fire Department this week joined a team of firefighters sent to provide respite coverage for crews in Louisiana.
The Eversource convoy arrived Sept. 2, after making the 1,500-mile trip and set up in Galliano, south of the company's assigned territory around Raceland, about 50 miles southwest of New Orleans.
"This was a very devastated region. I think we'll be here for the duration of our stay," said Posey, who works out of Pittsfield and is leading the Massachusetts crews deployed last week.
Raceland is one of the state's hardest-hit areas, the crew members said.
"Everything that was in the air — billboards, everything, just everything — was ripped down and it is just scattered all over the region," Matt Ferrarin said. "I've never seen anything like it."
Any utility line that ran north-south is gone, the men said, while the hurricane left east-west lines standing.
During the first of the team's three weeks, the focus has been to replace substations and to rebuild three-phase circuits to places that need power most urgently, including hospitals and nursing homes, and to municipal services like fire and police stations and water departments.
"To get as many customers back as we can," Matt Ferrarin said.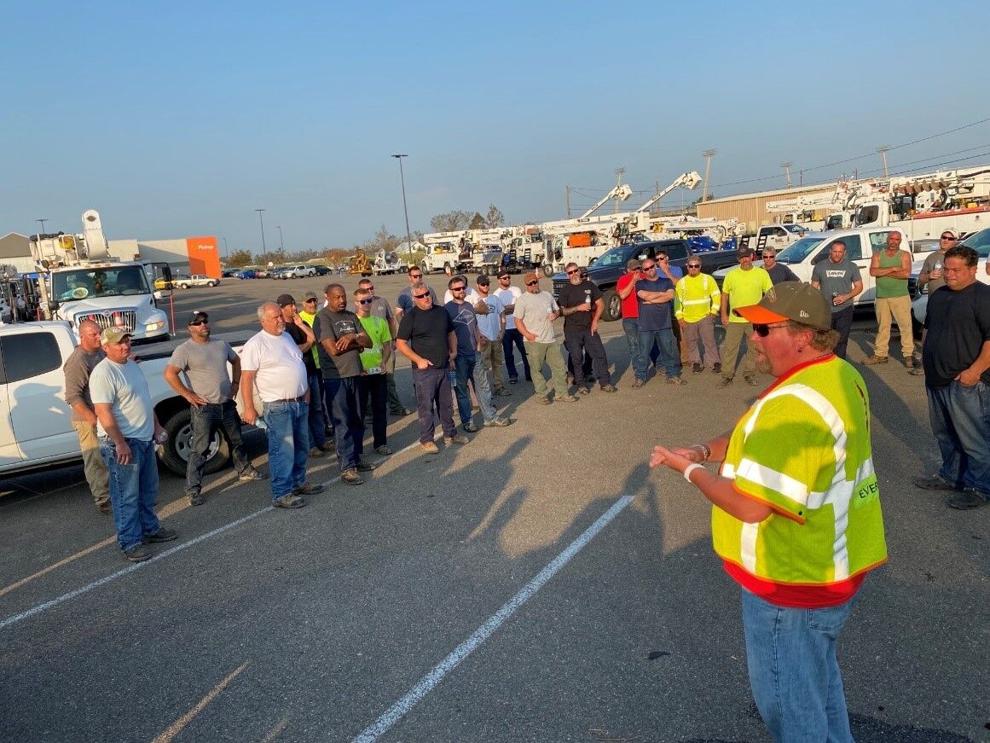 For crews, workdays start after early breakfasts under a tent, loading up with water and snacks, and heading out, after safety briefings and updates on the heat index, to yet another place where Entergy's infrastructure lies in ruins along roadsides. Those briefings include cautions about alligators, king snakes and insects, including at least one particularly fierce spider.
As crews drive the 26-mile trip each morning up routes 3235 and 1 from Galliano, Posey said two-thirds of utility poles pulled down by the storm, many brutally snapped by winds that hit 185 mph in places, still are on the ground.
The work is pole by pole out on those roads, Chris Ferrarin said, each one taking from an hour to five hours to replace. The task is complicated by a severe shortage of replacement utility poles.
Posey said the region needs about 30,000 new poles, far more than the 12,000 that were destroyed during Katrina. The area around Raceland alone lost 14,000 poles.
"There's not enough supply in the United States," Posey said. "You don't normally have a 30,000-pole stockpile sitting somewhere in the country."
"The supplies are showing up hourly now," Matt Ferrarin said. "It was kind of tough in the beginning."
As the work day began Thursday, crews were eager to "re-energize" lines rebuilt over the past week, bringing power back to customers in one area for the first time since Ida came ashore Aug. 29 as a Category 4 hurricane. That juice will flow one day earlier than Entergy predicted.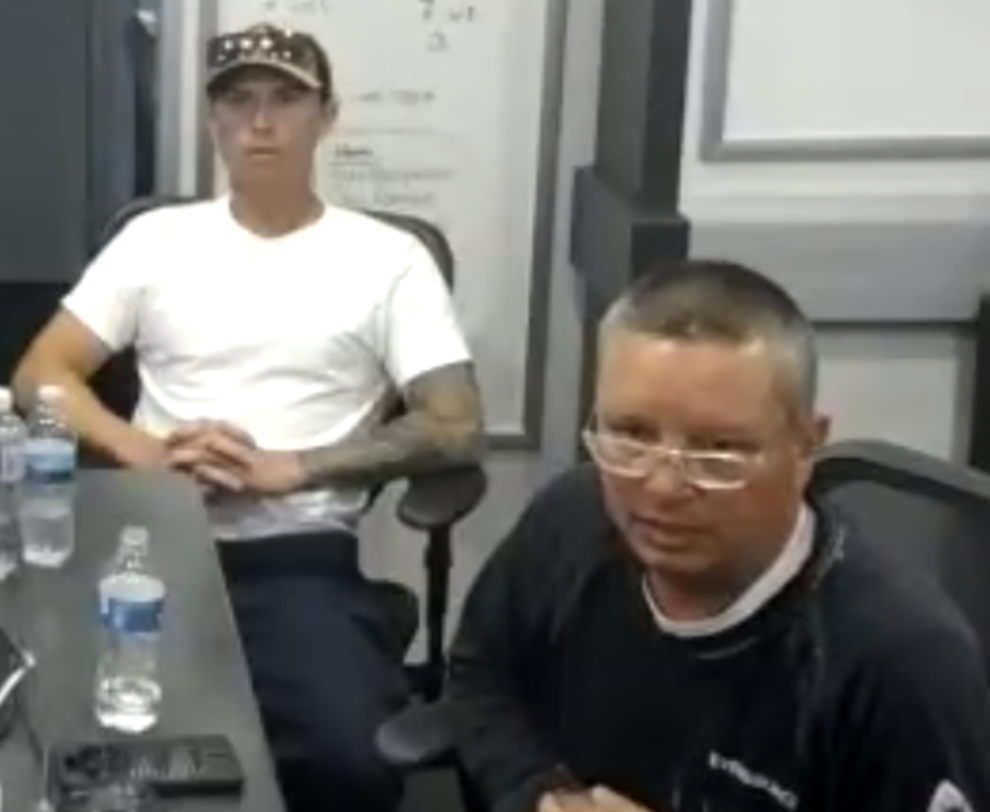 The three men all nodded when asked whether that's a significant moment for them. "It's ahead of schedule," Posey said.
Chris Ferrarin has been with Eversource for five years now, working out of a base in Cheshire, Conn. Make that 35 years of service for his dad, who is 54. As they prepared for another 16-hour day in the field, the younger Ferrarin had caught up with his father on at least one thing: the experience of being part of a national rescue effort.
It was Sunday before last, as the hurricane hit, that he got the call about going south — and phoned his dad with the news. Chris knew how to repair utility lines in New England, but hadn't been mustered out after a hurricane. Turns out, the basics up in the bucket truck are the same after any major storm. Yet, the challenge of mopping up after a hurricane is a world apart, he said, given the circumstances.
"The first couple days it was hard getting into that routine," he said. "But, it's chugging along now."
Whether up north or in bayou country, the linesman's goal is clear, Chris Ferrarin said. "It's a very satisfying job … when people are without power. ... You can hear cheering inside the house when the lights come on."