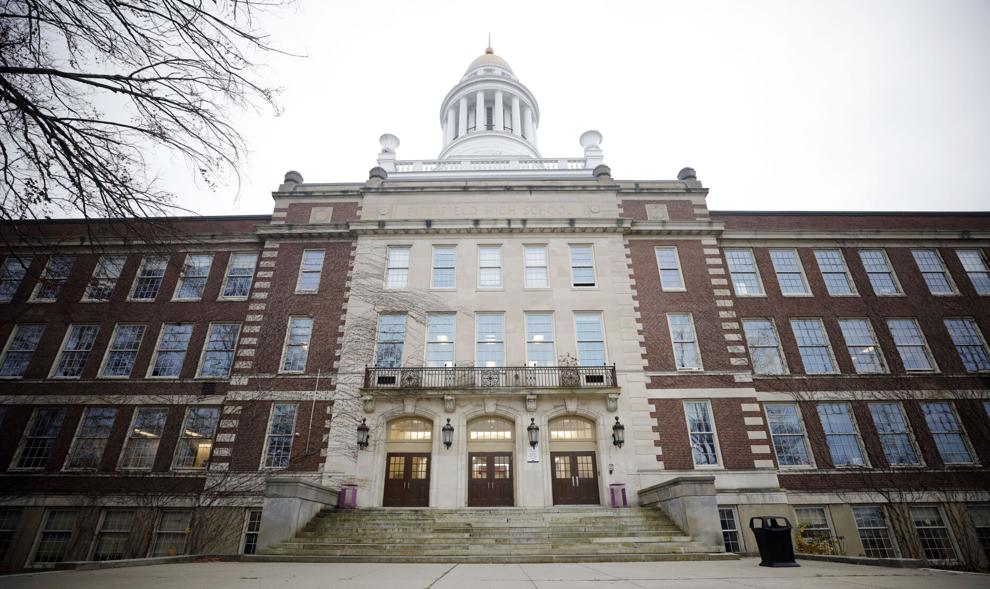 PITTSFIELD — Four people are interested in filling a School Committee vacancy due to the abrupt departure of Dennis Powell, whose resignation letter was deeply critical of the committee.
They include two candidates who pulled papers to run for School Committee in this fall's municipal elections, Karen Reis Kaveney-Murray and Kate Lauzon. Also putting their names in are former School Committee member Kathleen Amuso, and Nyanna Slaughter, the central Massachusetts regional director for Sen. Elizabeth Warren.
The School Committee and City Council are expected to choose one of them to serve out the remainder of Powell's term at a joint session at 6 p.m. Wednesday. Such a session to fill the vacancy is required by City Charter, according to City Council President Peter Marchetti.
The session comes after Powell, who is president of the NAACP Berkshire County Branch, resigned publicly last month after the board voted 4-3 to hire Joseph Curtis as superintendent. In his April 29 resignation letter, Powell said he tried to make a difference in the school district for more than three years, but felt brushed aside.
"I've been disrespected, ignored, and at times made to feel that my voice meant nothing! How the Superintendent process was handled and based on the outcome; was abundantly clear to me; this school committee is not committed to diversity equity and inclusion. Every child is entitled to receive a quality, equitable education!," he wrote.
Officials are expected to figure out how they'll proceed, then debate the candidates. Officials will likely debate whether they want to choose someone who plans to run for a full term on the School Committee.
Marchetti has said doing so could give those candidates a leg up heading into municipal elections, though Katherine Yon, chair of the School Committee, has noted that nothing prevents whoever is appointed to the vacant seat from going on to run for a full term.
The four hopefuls submitted letters of interest. Avi Dresner initially submitted a letter, but City Clerk Michele Benjamin said Tuesday he withdrew from consideration.
Kaveney-Murray is a part-time Portuguese and Spanish translator and interpreter for the city's public school system and customer service representative for the Registry of Motor Vehicles. She has more than two decades of experience in the finance industry, according to her letter and resume, and finished a Leadership Institute for Political and Public Impact at UMass-Amherst last year. She is a parent of a Morningside Community School student who is on an individualized education plan, giving her experience navigating the system, she wrote.
"I am quite eager to serve our community as a member of the School Committee. While this opening on the committee came unexpectedly to us all, I will be prepared to engage as a contributing member as we enter into the budget process and other issues coming before the School Committee," wrote Kaveney-Murray.
Lauzon is a commercial account executive for Cross Insurance Agency and U.S. Navy veteran, according to her letter and resume. She wrote about her community ties and said her experience homeschooling her children during the pandemic to minimize disruptions to the education received by her son, who has a disability, has informed her perspective.
"I am currently parenting three children, working full time, and actively volunteering. I have overcome obstacles and built a sustainable life fueled by strong character and perseverance," wrote Lauzon.
Amuso, in her letter, noted her history on the City Council and the School Committee, having served on the committee from 2003 to 2013, more than half of that time as chair. Now a member of the Licensing Board, Amuso said she has all the qualifications to take on the role temporarily, and stated she "will not be taking out papers to run for School Committee this fall."
"I have worked collaboratively with several mayors, including Mayor [Linda] Tyer, state and local elected officials, as well as many business and community members," she wrote.
Slaughter is a former Taconic High School athlete who said she is one class shy of earning her MBA. In her letter, she highlighted her strong community ties and seven years experience with the Marilyn Hamilton Sports and Literacy Program, the free camp for kids her family organized for decades. She has worked for Sen. Warren for two years and described herself as a "Black educated woman who is a confident, passionate, determined, organized leader and team player" ready to enhance the lives of all PPS children.
"When I was in the school system my family and I personally faced many racial, social, and economic injustices. As a member of the school committee I will be committed to advocating and ensuring best practices and policy for the equality of all students," Slaughter wrote.