GREAT BARRINGTON — U.S. Rep. Jamie Raskin, D-Maryland, became a household name during one of the most difficult moments of his life.
Raskin served as the lead House manager for the second Senate impeachment trial of former President Donald Trump. The trial kicked off in the days following the Jan. 6 insurrection and mere weeks after the death of his son, Tommy Raskin, by suicide.
The loss of his son, and the threats to the nation's democracy, could have been enough to overwhelm the three-term congressman. Instead, Raskin told The Eagle, in the last year he's become even more determined to uphold democratic ideals. He continues to serve on the House select committee investigating the Jan. 6 attack. The committee will begin public hearings June 9.
Raskin's new best-selling memoir, "Unthinkable," serves as the basis of the memorial Mona Sherman Lecture he'll deliver for the Osher Lifelong Learning Institute on Saturday at 5 p.m. at the Mahaiwe Performing Arts Center. The event is sold out, but available in real time online.
Raskin spoke with The Eagle about how he's made it through the last year, how he's preparing for the coming midterm elections and the obstacles before the nation.
Q: I want to start by talking about the basis of the lecture which is your new book "Unthinkable." It's about deeply personal and difficult moments. Why did you decide a book would be a good way to work through these moments?
A: I've written several other books before, but this one was completely different because it's far more personal. I feel like the book chose me more than I chose it. I had been through these extraordinary traumas of losing our beloved Tommy and living through the violent insurrection and attempted coup on January 6 and then leading the impeachment managers in the Senate trial of Donald Trump.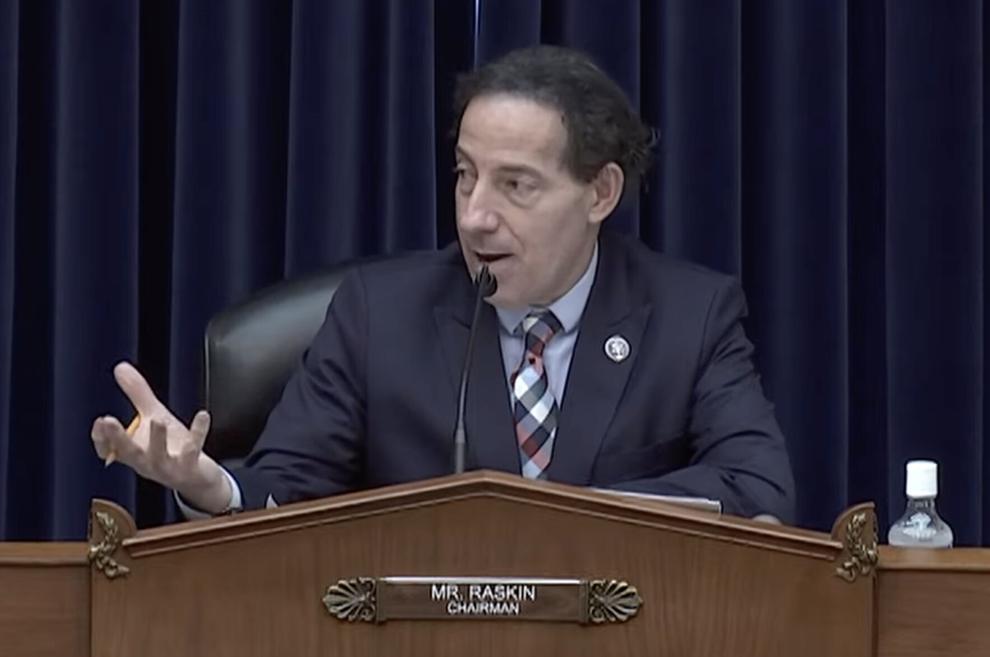 I was experiencing kind of an emotional whiplash from all of these events. I couldn't really sleep anyway and so the book was written in several months of a fit of insomnia. I would come home from the Hill and have dinner with Sarah [Bloom Raskin, his wife] and anybody else who was around and then everybody would go off to sleep and I would pretty much start working through the night. I wrote the book in five months. It was basically a love letter to our son and then it became a love letter to America.
Q: Tell me more about Tommy.
A: Tommy was just a dazzling boy and a remarkable young man. He was hilariously funny. He was a poet. He was a playwright. He was a jazz and blues pianist. He had the qualities of a great empath and a moral and political visionary. He was an anti-war activist. He was a great champion of human rights, and also animal rights and animal welfare. He was a passionate vegan, who converted more people to the practice of not eating meat than anybody I've ever met — including me, and lots of people in our family.
He was just pure magic. We miss him painfully every single day.
I think of him as a messenger from a future none of us will ever get to see. He was just centuries ahead in terms of his thinking and feeling about the world. He saw that there could be a time when we live without war, violence, racism, cruelty, animal slaughter and the infliction of needless pain on fellow beings. I miss him more all the time.
Q: After Tommy's death did you have difficulty deciding to step back and go back to the Capitol and continue working?
A: I felt that Tommy was with me the whole time and I felt him very much in my chest and in my heart through January 6th. He left us a note on the last day of 2020, which is recorded in my book, which said "Please forgive me. My illness won today. Look after each other, the animals, and the global poor for me. All my love, Tommy."
It felt like an instruction manual for the rest of my life. I want to live in a way that would make Tommy proud.
Q: You're in the middle of your next reelection bid. What you think is a good game plan for your party as we approach the midterms?
A: We need to articulate that we are in the fight of our lives to defend democracy all over the world. All of the dictators and demagogues are standing with Donald Trump and are cheering for the destruction of democracy in America.
Everything is on the ballot. Democracy's on the ballot, the right to vote is on the ballot, climate change is on the ballot and the quality of life for our people is on the ballot.
My party is not perfect by a long shot, but we are the only party of democracy left at this point. It's the party of democracy versus what used to be Lincoln's party — which has now become a cult of authoritarian personality. The stakes are extremely high.
When I go out, I tell people that they should teach their children that everything they need to know about voting is everything they need to know about driving. If you want to go forward, you put it in D. If you want to go backwards, you put it in R. That's how I would boil it down.
Q: A year and a half later, do you think people still understand what it means to have Trump and Trump politicians in office?
A: The problem is that we have devolved into rival realities. There is a fact-based and reality-based party in the country and there is a conspiracy theory and disinformation-based party. I view it as a race between the majority of people who vehemently reject attacks on constitutional democracy and our elections, versus a minority party which increasingly operates like an authoritarian cult and has this rule-or-ruin belief system.
Q: Is your goal to convince more people of this fact-based reality that you're talking about? Or is it just to get the people already there, more energized?
A: No, we have a responsibility to tell the whole country what happened [during January 6] and we have a responsibility to try to speak to everybody's fundamental capacity for reason. We have a responsibility to speak to history, too. We need to commemorate with precision the events that took place.
Q: You've articulated some of the obstacles that you see our democracy facing. How do you keep fighting in light of all of the many obstacles you see? What pushes you forward?
A: My dad used to say to us growing up when everything looks hopeless, you're the hope. I grew up with an intense sense of responsibility, or you might say guilt, about having to act when I perceive wrongs around me. There are clearly a lot of problems out there that we need to address.
My field of study and teaching has been constitutional law with a focus on voting rights and democracy. Everybody knows one thing and my ticket has come up. I've been working very hard to try to pass the John Lewis Voting Rights Act and pass the For the People Act and get statehood bills passed for Washington, D.C., and Puerto Rico.
I derive a lot of hope from the young people in my family — Hannah, Tommy and Tabitha — and all of the dreams that they've articulated for themselves and for their friends, their generation. I derive a lot of hope from other young people I meet, like the young people who come work with me in the Democracy Summer Project, which is for high school and college students to come and learn about the history of social change in our country and then to participate in politics.
The state of democracy is always a rough draft for what we can become. I'm involved in the process of trying to address the problems that we've got. The GOP holds a bag of tricks, like voter suppression statutes, gerrymandering of our state and federal districts, right wing court packing, and judicial activism and manipulation of the Electoral College.
Against that bag of tricks, what we have is a massive majority expression of support for democratic institutions and continuing democratic progress. That's what gives me a lot of hope.