DALTON — Drive along Pleasant Street here, through a middle-class neighborhood of well-kept houses, and you'll eventually come to the home of a man whose very name covers a lot of American terrain.
Meet Jesse James Brown, neither an outlaw nor a founding father of funk, but certainly a mashup of passions.
He lives in a large, white house. Again, that's "white" and "house."
Lowercase.
For now.
Go ahead and look him square in the eye and he'll tell you the very thing you might be interested in knowing. "I will be the next president of the United States," he says.
Like, 100 percent certain?
"Yes, 100 percent."
While supplies last, he may offer you a hat and a bumper sticker, each emblazoned with an uppercase "ACCOUNTABILITY" followed by "BROWN FOR PRESIDENT 2024" and the name of his newly minted website, votejessejbrown.com.
He's 58. He's married to Darlene, and they have three daughters, ages 17 to 23. He feels obligated to explain that he never wanted to live in this big house of his.
He wanted to flip it, make some money, and remain in the small, split ranch they had lived in on Renee Drive. But, he was outnumbered by the four women in his life. He says this house is a fancy "façade" that doesn't represent who he really is. He was raised by frugal parents who shopped at Goodwill, he says.
Whatever the case might be, the house now includes a running fountain in the driveway with two Renaissance-style white statues of curvy women, one hauling a water container on her shoulder, the other holding an arrow to her abdomen.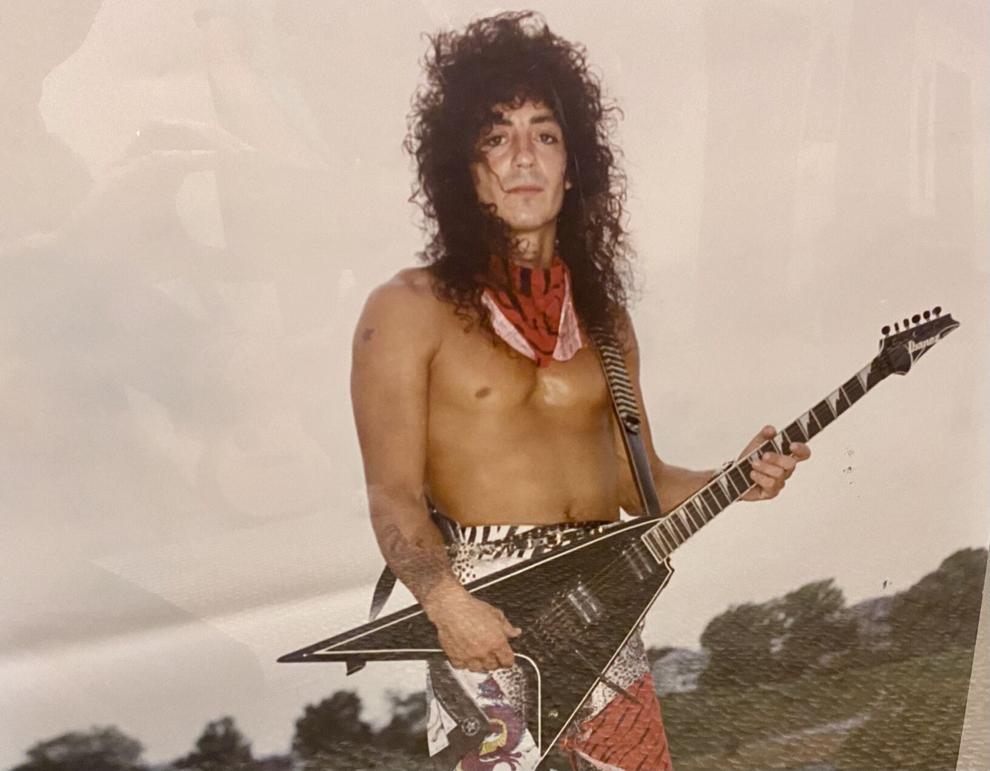 Step inside the white house and you come face-to-face with the mounted head of a caribou. Brown says he got it at a tag sale. He says 90 percent of the objects in this white house were purchased at tag sales. That doesn't include a framed and certified clump of Elvis Presley's hair that he owns.
In the 1990s, Brown toured in a Kiss tribute band, greasepaint and all. He filled the role of the star-eyed lead singer and guitarist Paul Stanley, and it was "a top-shelf national touring act," he says.
If you ever meet him, Brown might, at one point, invite you to feel his calloused hands. The creases have deep-seated grime that would require a stiff-bristled scrub brush to remove. They are hands of a common man. They are his calling card.
He takes the plunge
Brown announced his candidacy in July, by means of a YouTube video. In it, he is dressed in a presidential blue blazer and a tie and he is bookended by American flags and a quantity of fresh flowers usually reserved for funerals and Easter Masses.
He labels himself "a concerned citizen who has observed bountiful dismay, and therefore I fear for the state of our country and world at large." For the record, he is tired of "career politicians." He wants to be the first president in modern times who cuts his own lawn.
Jesse James Brown is running for president. And he is serious.
"Yeah, this is for real," said Brown, who has lived in Dalton his whole life.
He is running as a Republican. Though he equates an endorsement from Donald Trump as "a kiss of death I'm not ready for yet," he said he voted for Trump twice.
"I've been asked to join the movement," he says, "but I have my own movement."
That movement opposes a good portion of the taxes levied on the citizenship. It opposes the teaching in public schools of critical race theory. He believes that the examination of race as it intersects with U.S. law has gotten out of hand and now pits Americans against one another.
"As far as I'm concerned, racism was over a long time ago," Brown says. "I mean, I think people need to wake up and see that this is an agenda that's being pushed to keep us divided."
He speaks confidently about solving the nation's Southern border crisis. He said he would do so by assisting those countries from which refugees are fleeing. Since he believes that the United States needs to rein in spending, he is not clear on what that foreign assistance would look like.
He said he will "bolster green policy," "bring back 'Made in the U.S.A,'" and "revive the American Dream."
His favorite presidents were John Kennedy, Thomas Jefferson and Abraham Lincoln. He is adamant that those elected to the office of the presidency be afforded respect, and that includes respecting President Joe Biden, whom he'll be pleased to replace on Jan. 20, 2025.
Brown and his family are regular visitors to Disney World, where, he says, he makes his fellow travelers "suffer through" patriotic attractions that include the Hall of Presidents, The American Adventure and Carousel of Progress.
"Walt Disney, Americana, you know?" he says. "There are so many great things about this country that need to be highlighted and brought back into people's minds. And we need to know that, you know, it was never about Democrats or Republicans."
He calls the insurrection on Jan. 6 at the Capitol in Washington, led by right-wing supporters of Trump, a "humiliating moment in American history."
Said Brown: "I don't want us looking weak. And that's what everybody thinks now — we're divided, we're weak."
He never has run for public office. He has worked at Williams Stone Co. in East Otis for 22 years. He loads trucks and keeps track of orders, among other duties, he says. He has sold real estate on the side.
So far, he has invested $8,500 of his own money into his campaign — for the hats, the bumper stickers and the website.
In order of importance, Brown says his biggest accomplishments are being a good husband, father, sibling and son; being a hard worker; and having played in that Kiss tribute band.
He says he wishes to go down in history as the man who has prayed the Our Father more times than anyone.
He implies he's specifically suited to direct the nation back to a simpler, more sensible time of apple pie, unity, God and country. Though he wasn't born until 1963, he calls himself "Mr. 1955."
"Oh, no. Here we go," Darlene says.
Yes, he leads the way from their kitchen to the first-floor bathroom. It's wall-to-wall Elvis memorabilia. Elvis' autograph. Records. A photo of Brown at Elvis' grave. And that certified clump of Elvis' black hair, collected in 1972 by the barber Homer "Gill" Gilleland.
"Elvis was a patriot," Brown says. "People don't know that."
'A workaholic'
Who has heard of Jesse James Brown?
Donald Griffin has. He worked with Brown for more than 20 years at Williams Stone.
"If I was ever to start a business, he'd be the first guy I'd hire, because he's a workaholic," said Griffin, of Westfield. "He's in, full tilt, with everything he does."
The Rev. Peter Gregory, former pastor of St. Charles Borromeo Catholic Church in Pittsfield, has known him since Brown was born.
"Being a clergyman, I can't take any political sides," said Gregory, who now serves as full-time chaplain for Soldier On. "He's a very astute, honest person. He is the model of a perfect gentleman. His gifts of intellect were given to him, and he uses those gifts for others, which we're all put on this Earth for."
Robert Ciempa, deputy sheriff at the Berkshire County Jail and House of Correction, knows him.
"It didn't surprise me in the least bit," Ciempa said, referring to Brown's campaign announcement. "I knew that he was going to do something big with his life. He's one of these guys who gets a thought in his mind that he's going to help somebody, and this is the ultimate help, the help not only for his fellow man, but for this entire country."
Named Jesse James Brown by parents who had a good sense of humor, Brown is the seventh of 14 children born to Justine Pricilla Kelly Brown and the late Alfred Michael Brown. He grew up on Main Street, across from the town hall. He attended schools in Dalton.
His Catholic creds include having his knuckles rapped by the ruler-wielding nuns at St. Agnes. He learned to play guitar. He played in bands during high school. He skipped college and opted to work for his father, who owned the lumber company Dalton Hardwood.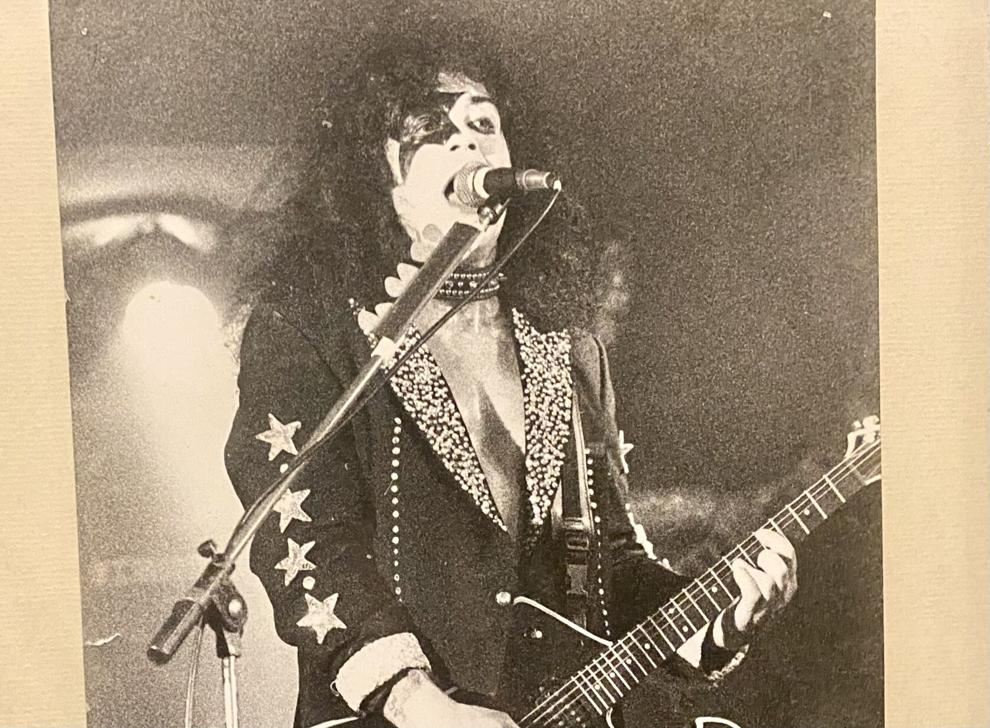 In the meantime, Brown spent more than seven years in the late 1980s and 1990s playing music for various acts, including the Kiss tribute band Cold Gin, billed as the "hottest Kiss tribute in the world." They had the fake blood, the pyrotechnics, the smoke and the sound.
But, his father eventually told him it was time to make some important decisions. Brown opted for Darlene and Dalton. He says his father, who died of heart failure at age 63, was his greatest hero.
"I learned everything I needed to learn from him," Brown says. "He told me you always need to have 360-degree vision, and he told me, 'I don't care if it takes a roll of duct tape, failure is not an option.'"
He also taught the younger Brown how to live on a budget. "Believe me, like 22 years ago, I was broke, and now, I don't really want to put a number on it, but believe me, I'm doing very well these days, and I don't owe the world a dime," he said.
He finally launched his presidential campaign this summer, after reading an article online that explained the "easy steps" to run for our nation's highest office. Those steps include being a "full-blooded American," he said, and being at least 35 years old.
"It gets harder from there," he admits.
He has "had some amazing meetings with some very powerful people," he says, but he'd rather not disclose who those people might be. He is not accepting campaign contributions just yet. He has one part-time campaign employee.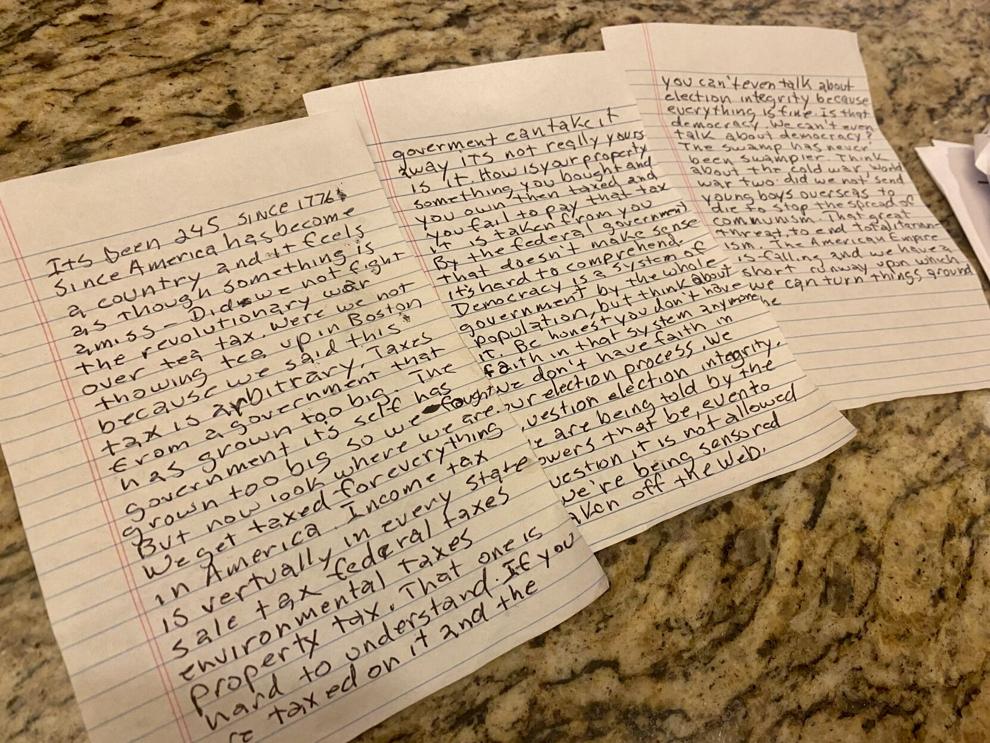 He keeps a notepad to jot down thoughts for future stump speeches. Several are brewing — on the First Amendment (he is a big fan); on the Second Amendment ("Gun awareness classes should start at a very young age so that everyone in our country knows the dangers of a weapon," he said); and on supporting the police.
His wife of 24 years, Darlene, who works at Crane Currency in Dalton, imagines, someday, her husband being skewered by "Saturday Night Live," and she'd be OK with that.
Both of them have been surprised by how emotional he's been getting lately. "I've just been so blessed," he says, wiping tears from his eyes.
His candidacy has made him more introspective than either of them are used to. Campaign signs out by the driveway were vandalized several weeks ago, but since then, most people have been politely curious about his political ambitions, the Browns say.
Darlene is reluctant to give her husband a 100 percent chance of becoming the next president of the United States.
"Come on, baby," he says, trying to encourage her.
"Well, it's America," she says, sounding more hopeful.
"Yes, there you go," he says. "I don't ever fail."
"I know him the best," she says, "and he really doesn't ever fail."