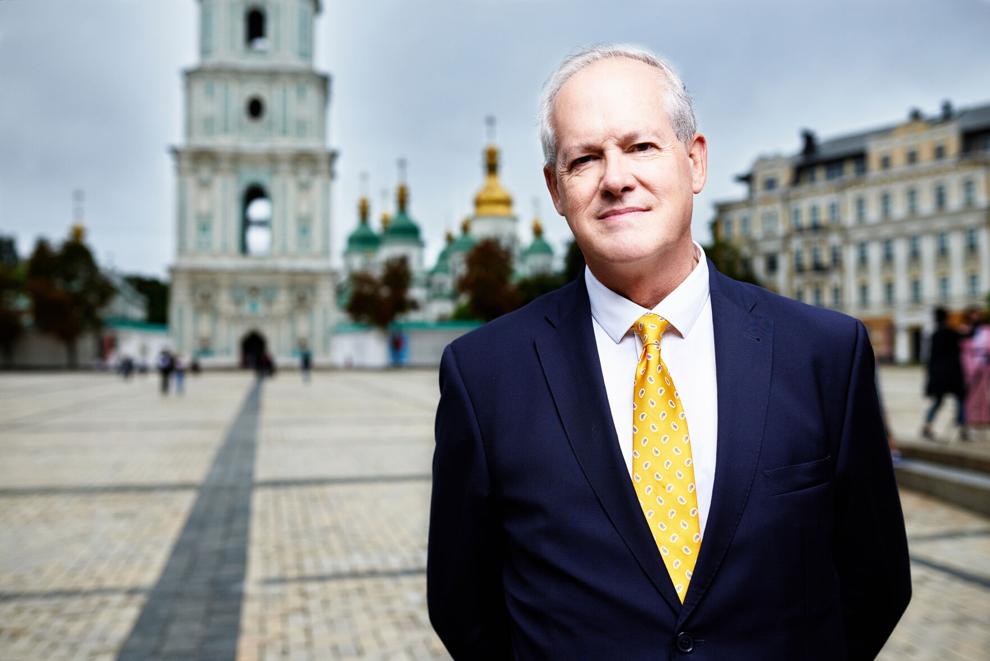 LENOX — " 'Locked out in Lenox' may be where we are," says town native and international journalist James Brooke, who decided Monday to forgo his scheduled talk this Sunday at the town-owned library.
Brooke had been the scheduled attraction for the November installment of the the seasonal, monthly Distinguished Lecture Series. But, he backed out upon learning that his presentation would be offered only via Zoom, without an in-person audience.
"To be clear, the library did not cancel Jim Brooke's event," Library Director Katherine O'Neil said.
Instead, he will present his topic, "Ukraine: The Gates of Europe, Besieged by Russia," at the Stockbridge Library's Distinguished Speaker series at 3 p.m. Nov. 27. In person.
In Brooke's place, at 4 p.m. Sunday, the Lenox Library will present a substitute Zoom lecture, by Eugenio Menegon, associate professor of history at Boston University, on "The History of U.S-China Relations — 1776 to Today." Details: lenoxlib.org.
Appeals to present his talk with an audience or hybrid were not successful, Brooke said.
He listed recent events he has attended in Lenox and Stockbridge with vaccination cards required and masked audiences ranging from 40 to 250 people.
"It became crystal clear to me: Zoom has gone in 18 months from cool to an event killer," he said.
But, Jeremy Yudkin, founder, curator and presenter of the Lenox Library series, said it was best to remain cautious.
"The town, the library and I have decided to keep all our lectures on Zoom," he said. "Jim Brooke didn't like that decision and decided to cancel."
O'Neil said that when the Tri-Town Health Department issued its latest directive in September, "the library consulted with the Town Manager and Select Board and decided to conduct the series virtually (as we did last year) until restrictions lessened. This enables us to offer the lectures to a much larger audience, including those patrons who may live elsewhere during the winter months, in the safest manner possible."
She expressed hope that "by doing our part to slow the spread of COVID-19, we will hasten the day when we once again can gather together in person for these lectures inside the library."
She pointed out that the Distinguished Lecture Series typically is held in the reading room which, with social distancing in place, accommodates only 12 attendees in that space.
"I can certainly appreciate the diversity of opinions and comfort levels when it comes to in-person versus virtual programming," said Lenox Town Manager Christopher Ketchen. "I hope everyone can understand that we really are trying to make the best decisions we can for our entire community.
"Lenox's Distinguished Lecture Series is similarly fortunate to have secured a speaker on U.S.-China relations," Ketchen said. "I think the upshot is that the Berkshires will benefit from two organizations offering two compelling foreign policy topics — each in a format and venue that can work for everyone."
Brooke, a Russian speaker, worked as a journalist for eight years in Moscow. In September, he completed six years of reporting and living in Kyiv, Ukraine. He will talk about Ukraine's chances as a frontline state, facing Kremlin expansionism from the north, south and east, and will field questions on how Hunter Biden was perceived in Kyiv.
Brooke grew up in Lenox, attended Berkshire Country Day School, graduated from Yale University and reported at The New York Times for 24 years. After taking a buyout from The Times in 2006, he worked for Bloomberg News as bureau chief in Moscow, then as Voice of America's broadcast correspondent for the former Soviet Union.
After eight years in Russia, he moved to Phnom Penh, Cambodia, to run a newspaper, then to Kyiv, where he founded and edited the Ukraine Business News. After six years in Kyiv, Brooke recently moved back to Lenox with his family. He is a member of The Eagle advisory board.
In Stockbridge, Library Director Wendy Pearson said the in-person event next week would follow all Tri-Town Health protocols.
"For in-person events, we are requiring proof of vaccination at the door and masking for the entirety of the talk," she said. "We are delighted to be hosting foreign correspondent Jim Brooke's lecture on Ukraine and look forward to an engaging discussion of Ukraine-Russia relations."