PITTSFIELD — In an emotional, purposeful return from what he describes as "the other side of sanity," Luke Fitzgerald seized a windy, rainy evening at Park Square on Tuesday. He was there to confirm what can happen when even just a little light shines amid a whole lot of darkness.
Fitzgerald, 32, had his speech ready to go, typed up and folded neatly into his pocket. His friends who, like himself, are recovering from addictions, had helped set up the temporary tents and tables. Other friends showed up with the sound system and the candles.
By 6 p.m., about 100 people had gathered to listen in to this man who, only five years ago, felt his primary decision each day was to either get high or kill himself; who five months ago arrived at the home of his mother, Teresa, to hug her for the first time since the coronavirus pandemic began and instead found her dead body. She had taken her life.
The neighbors on Euclid Avenue in Pittsfield could hear his screams. They poured out from their homes. They called 911.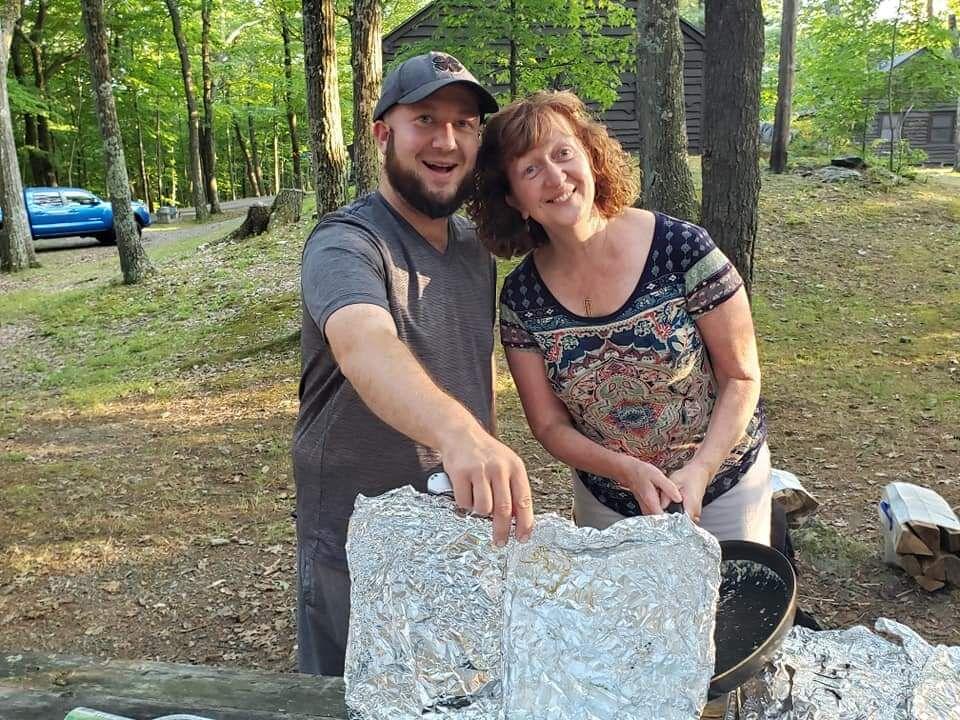 Her name was Teresa Fitzgerald. She was 59, the mother of three, a wife for 40 years to Michael, a friend to many and "the glue that kept everything together," said Fitzgerald. Everyone affectionately had called her "T."
Tuesday, in Park Square, Fitzgerald did it: He lit a candle. He launched a community service foundation, Love of T, created in his mother's memory to promote access to, and address gaps in, behavioral health care services and housing in Pittsfield.
His mother's death came as a shock. His foundation serves as his rejoinder — to addiction and mental health problems left in the darkness and to the silent cries of those who desire to die.
"This is day one," he said.
Love of T, which has seven board members and has filed for nonprofit status, is raising money to enhance the city's services for those in need and to create new ones, Fitzgerald said.
"My generation, we talk about the needs. We shed light on the problem," he said before the start of the vigil. "Past generations didn't talk about it. What happened with my mother is, she didn't talk, and she died."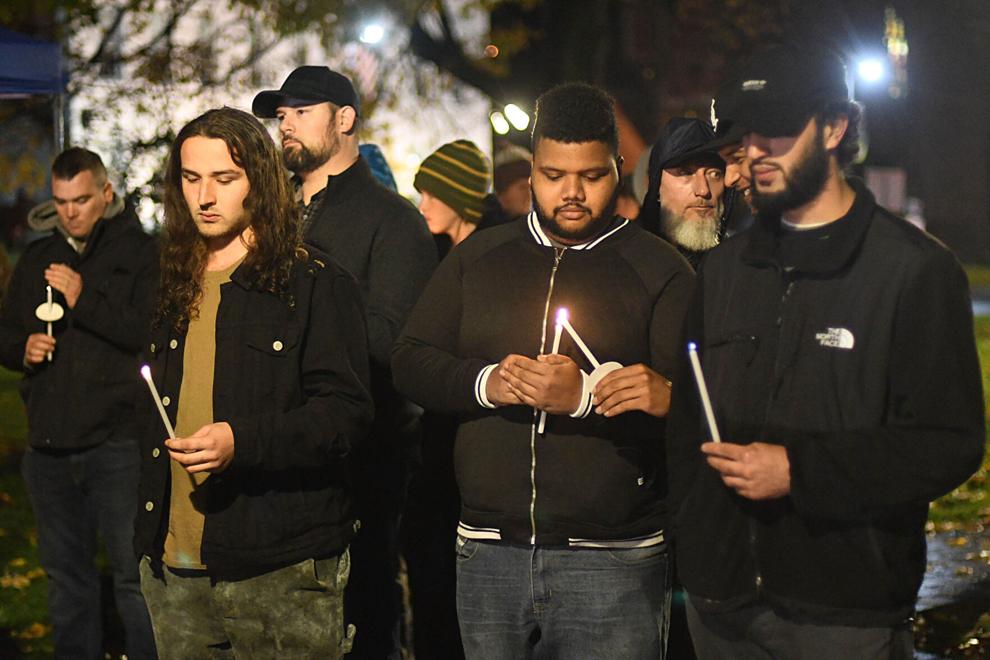 Day one was a celebration of life and of the lessons learned through tragedy. The vigil included music, a moment of silence and speeches from those who have been to the emotional brink, including Joe Breault, of Pittsfield. A friend of the Fitzgeralds, he, too, traveled a crooked mile on the way toward truth, health and goodness.
Some years back, he crashed his motorcycle on purpose in an attempt to kill himself, he told the crowd.
"I thought it would be better for everyone," Breault said. "I look at all of you kind and generous people that want to be out there helping people like me who don't feel like they have a place to be or have a person to talk to. Today, I am grateful that I wasn't successful."
The man whom Fitzgerald credits for guiding him toward psychiatric treatment five years ago, Dan Landry, of Pittsfield, also spoke.
"God has a purpose for each one of us, whatever it might be, and now here we are talking about this," said Landry, who also has suffered from depression and suicidal thoughts. "Times have changed, right? There's no shame in coming out and saying, 'Hey, listen, I need some help.'"
Volunteers for the Berkshire Coalition for Suicide Prevention and the National Alliance on Mental Illness were on hand to show their support for Love of T.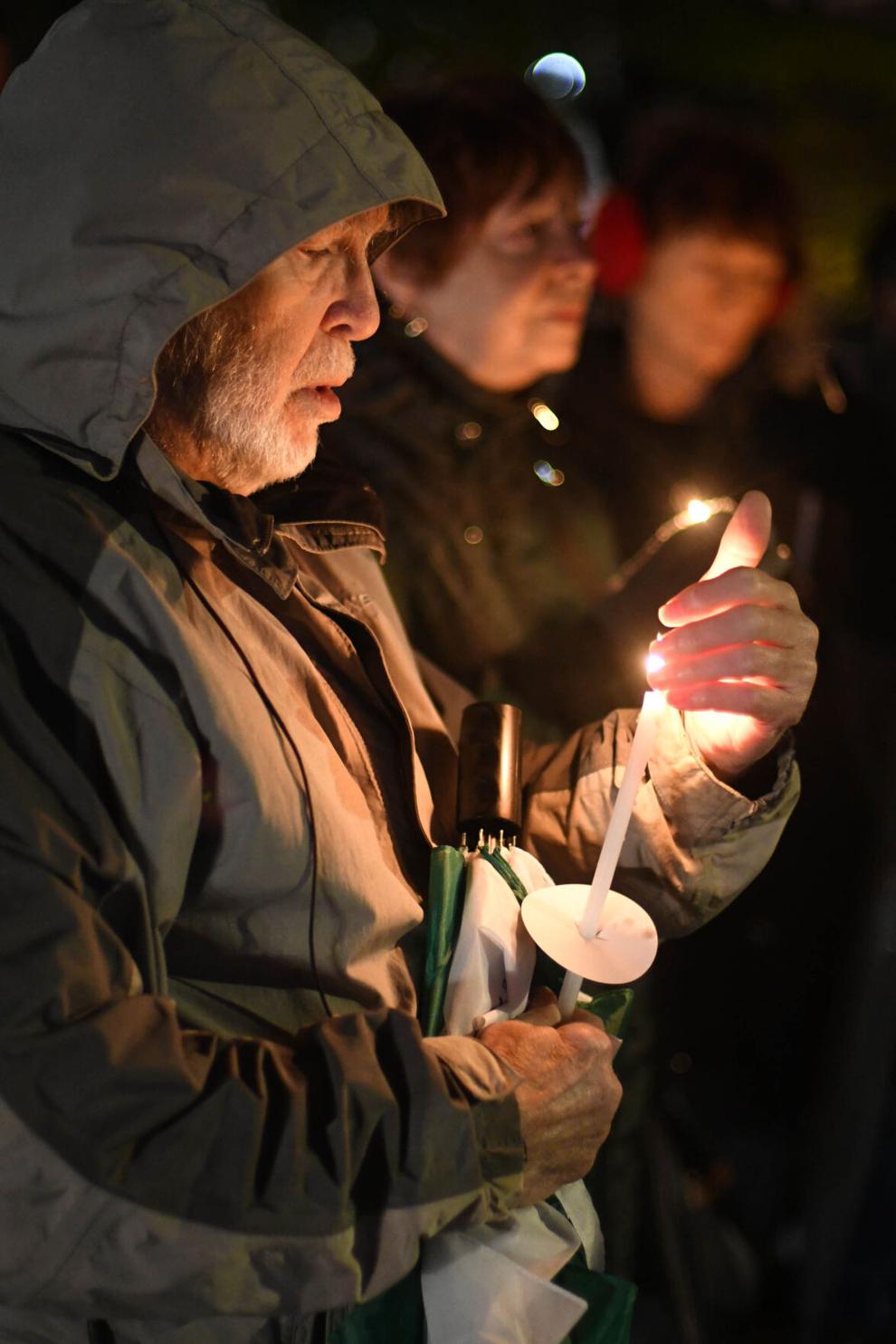 "There are so many people who work so hard in this field of addiction, of behavioral health, of suicide prevention, but we are all underfunded and overloaded," said Fitzgerald, who, since June, has been working his "dream job" as an outreach case manager for the Berkshire County Sheriff's Office. Specifically, he helps with those who have been released from jail and who struggle with addiction.
Tuesday evening, Fitzgerald greeted new and old friends alike. Among those was Lori Diego, who knew Teresa since the two were 14 years old. Their lockers were adjacent to each other at Chatham High School in Columbia County in New York.
"That red, Irish hair of hers, it bounced when she walked, and that's how she walked — with a bounce," Diego recalled. "She was the kindest, sweetest, most generous person."
"We miss her," said Jim Guzzo, of Pittsfield. "Everybody misses her."
Fitzgerald, of course, misses her. He had been diagnosed with bipolar disorder years ago.
"She was always there for me," he said. "I put her through hell, and still she was always there.
"While I was growing up," he continued, "she'd host the whole football team at the house for sleepovers the night before the game. Make us breakfast in the morning — pancakes for 15 boys."
This past May 2, he said, "She just broke."
He said she left a long note that made little sense, other than offering an apology and final words of love for her family and friends.
Dennis Bates, a clinician for the addiction treatment group Alternative Living Centers in Pittsfield, has become one of Fitzgerald's dearest friends and mentors.
"I want to commend Luke for being as courageous as I've seen anybody in my 24 years of working in this field," Bates told the crowd. "To experience what he experienced and still live in the solution is inspiring to me."
Dozens of candles threw light against an oak tree that still held firm to its autumn leaves. Fitzgerald took out his speech. It was a call to action — for a collaborative effort to put "more boots on the ground in the community" to serve people in need. It was a call for more crisis intervention workers, therapists, outreach workers, and transitional and supportive housing programs.
Pittsfield needs this, he said, "because we are dying."