Wind sent piles of fresh snow into tiny flurries in the Saturday sun of downtown Pittsfield, past vivid balloons, decorated storefronts and sidewalk singers. Passerby hurried with full bags through the cold air, ducking into shops and cafes to eat and shop local for Small Business Saturday.
On the morning after the region's first snow, The Eagle stopped by North Street to hear from the people forming the city's small business engine.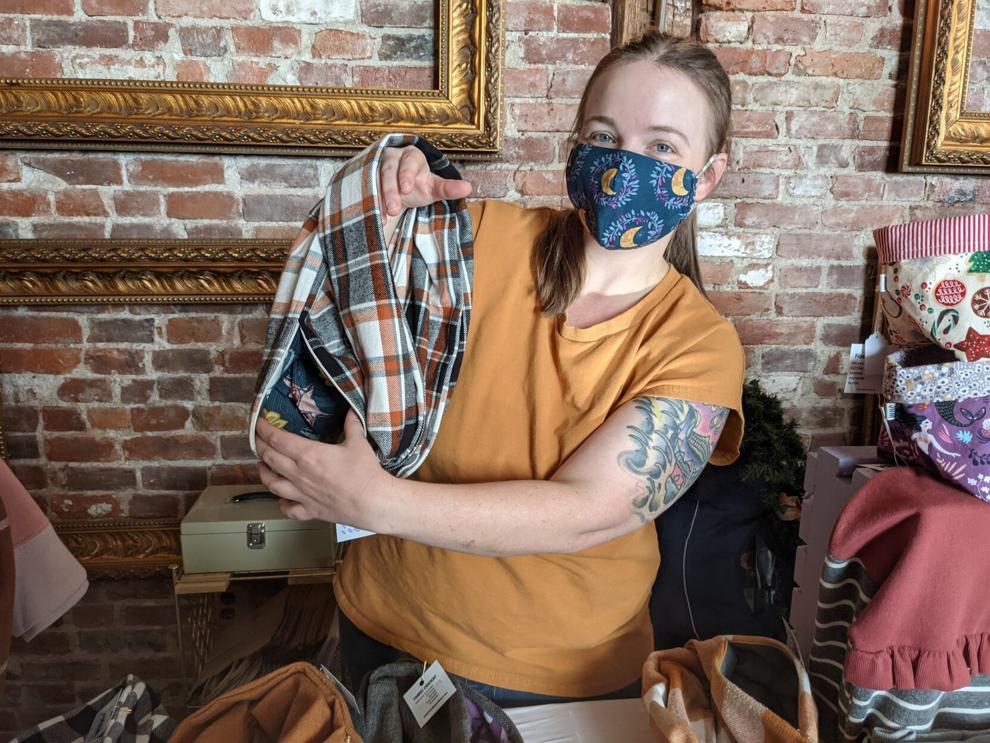 The mom entrepreneur
Jordan Boska runs her business from her infant daughter's bedroom. That means, when the baby naps, she has to slip the sewing machine quietly back out into the living room.
"That is really tricky," she said with a laugh, from her table at the crowded holiday market at the Hotel on North. "But I love doing it."
She started Jordan's Hobby Mart when she became a stay-at-home mom and found herself sewing clothes for her kids. Now she has three kids, all younger than four, and three sewing machines.
"Sewing has been my hobby ever since I was little," she said. "My grandma taught me how. And people kept asking me for things, so I thought, I'll start an Etsy."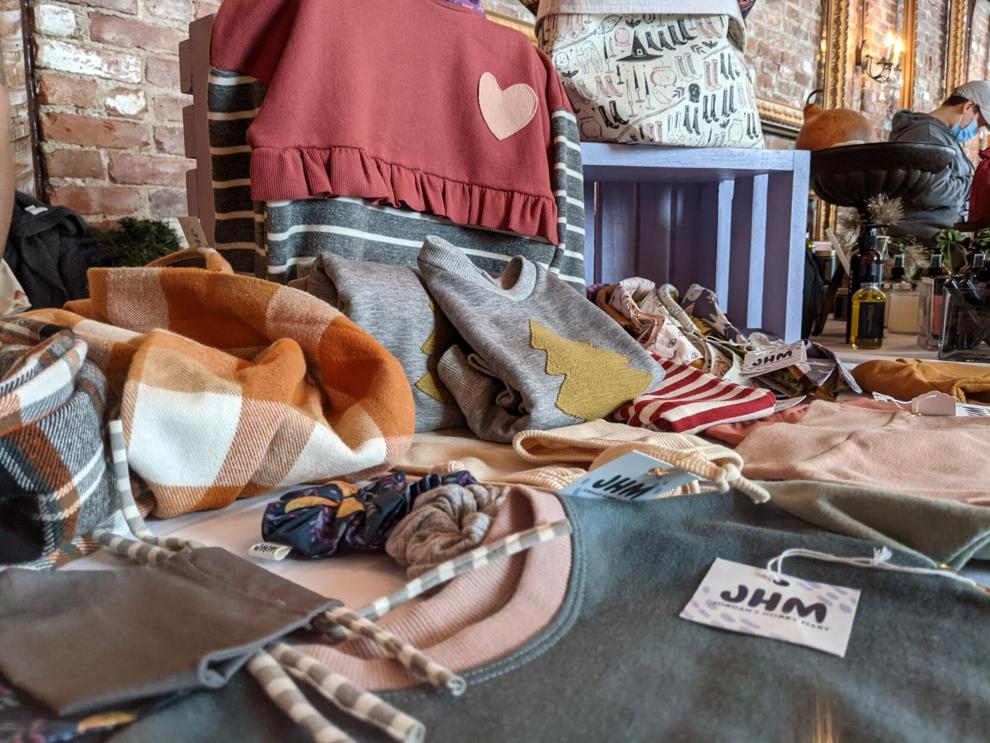 The Etsy became a website, then a table at various fairs. Selling masks propelled the business, and her infinity scarf with a hidden pocket was featured on Buzzfeed. Most of her products, though, are clothes for kids: tiny sweaters with ghosts and mushrooms, soft pink overalls, cheerful striped pants.
"I've always wanted to own my own business," she said. "My mom owned her own business. My dad. My brother. My grandmother. I didn't think it would take off, but the masks, those really helped fund me to do other things. I really want to grow more, and do more things. But I've got three kids at home so it's a little hard."
Those kids, of course, help out as models for a new pattern and get they get their first pick on the clothes. The clothes, in turn, offer up something to Boska too.
"It gives me a piece, as a stay at home mom, a piece of something of myself to have."
The longtime vendor
A 5K race tied up traffic outside of Steven Valenti's Clothing, but the doors opened at 10 a.m. to a flood of customers.
"Small businesses tend to give a lot of service," he said. "We wait on people one at a time. It's a reason we've been here almost 40 years because it's a store where we take pride in our product, and we take a lot of pride in the knowledge we have. We're able to transfer that to each and every customer that comes in through the door."
For Valenti, the pandemic has been a greater business threat than anything he had faced, new mall openings included. But his savings kept him afloat through the first year of the emergency. Last summer, after shots had gone into arms, his older customers began to come back in full force.
"We had problems getting certain things, such as white shirts," he said. "All of a sudden, they became very difficult to get. Everybody needs a white shirt to go to something, like a wedding, and they came in droves."
One supplier flew in the shirts, at great cost, he says. Now the store is bustling again, as customers prepare for the holidays.
"We have a lot of loyal customers that live in Berkshire County and elsewhere," he said. "Thank God for them, they've really helped us out."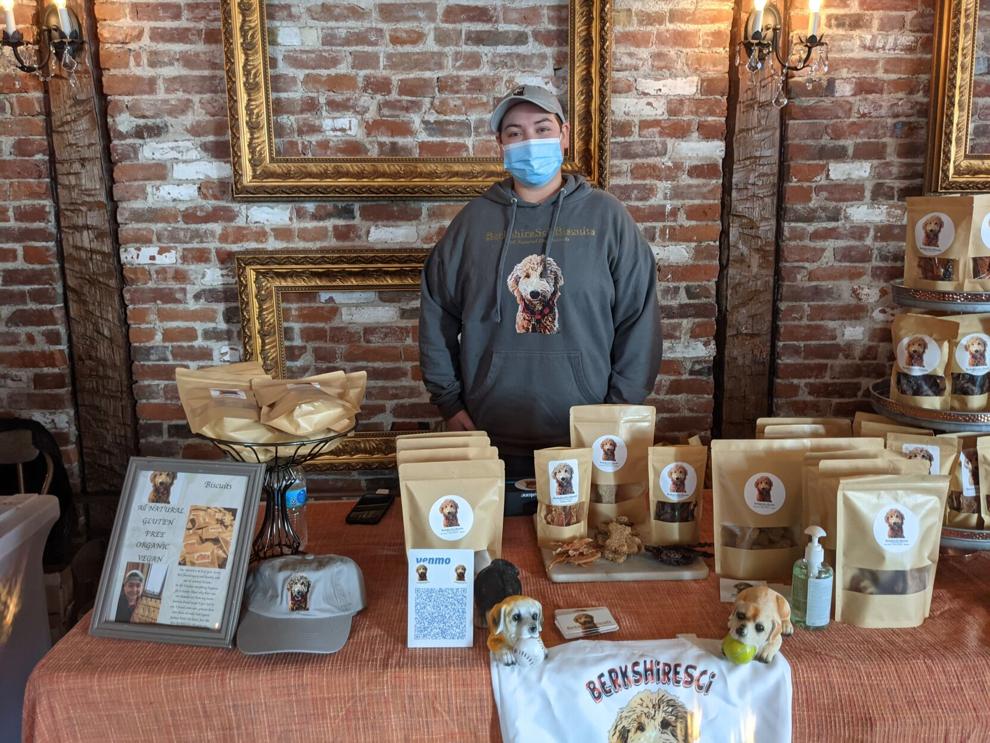 The side business
Last pandemic winter, Christa Sciola of Pittsfield brought a new puppy home (to her mother's surprise) but discovered that the new pup refused to eat Milk-Bone treats. The family had bananas, peanut butter and leftover oats on hand, so she mixed those together and accidentally started a business: BerkshireSci Biscuit Co.
That was one of more than a dozen businesses on display at the Hotel on North on Saturday.
"I just came up with the recipe on my own," she said. "I was going to start with the Kitchen Aid, but I'm faster than the Kitchen Aid, so I just rail 'em out all day. I get on the granite countertop, knead the dough, and keep the oven going on about eight hours."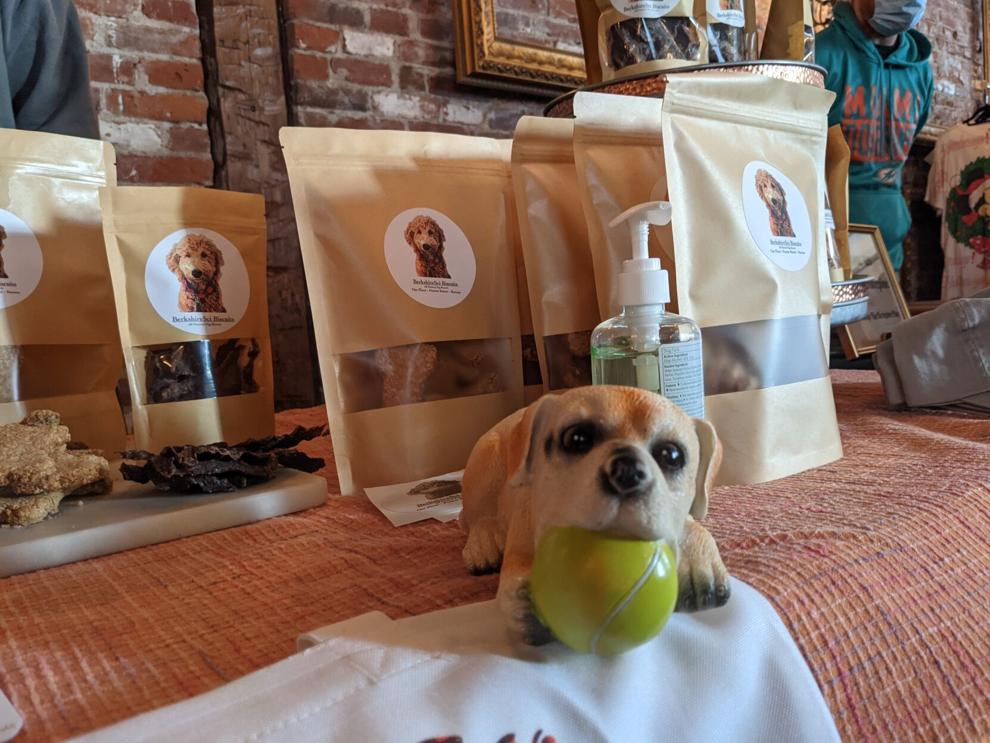 She kept her full-time job at a restaurant but started selling online in her free time, to rave reviews – particularly from her own satisfied customer, her golden doodle Julia.
"I have to hide the bags," she said. "People tell me they also have to hide the bags from their dogs because the dogs will start doing circles, jumping up on the counter."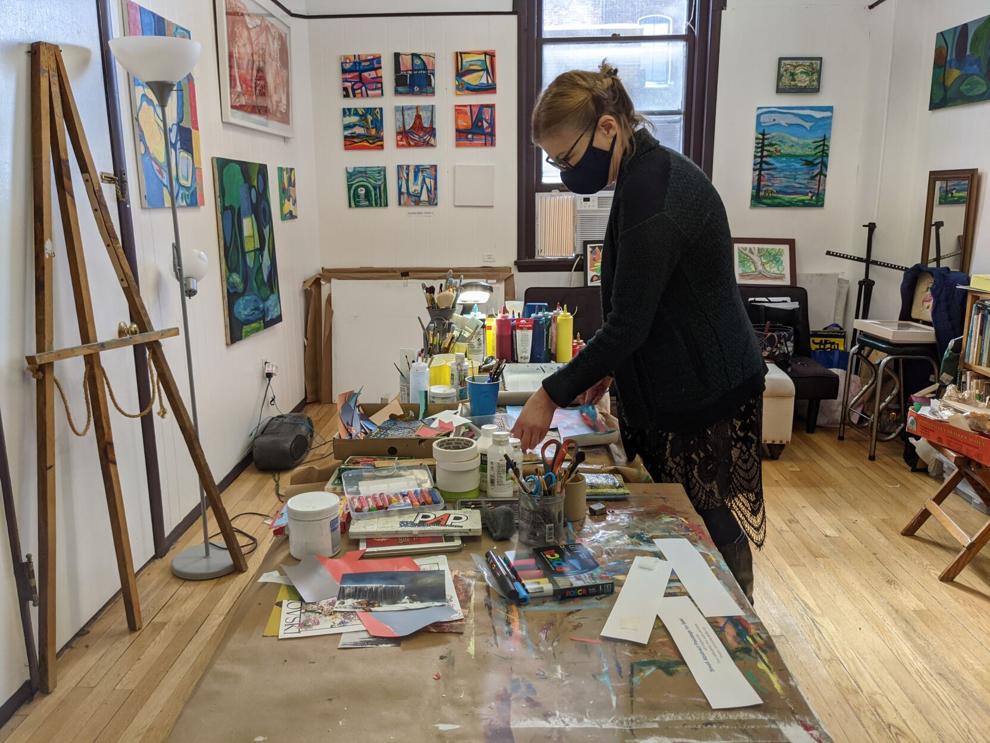 The artist
As Caroline Kelley tidied her studio, bright light poured onto her table, complete with a tiny laminated sheet offered up her Venmo information. In the hallway, she had placed $10 prints for anyone exploring the open house at NUarts Studios & Gallery.
"Not everybody always thinks of art as a gift, you know, for Christmas," she said. "But we put out smaller works, it's very affordable."
Larger abstract paintings lined the walls of Kelley's studio. An incomplete set of nine semi-abstract paintings – eight finished, one blank – hung on the wall opposite the door.
"I call the series, 'Transportation paintings,'" she said, pointing to the planes and trains. "I did them during the pandemic. That's sort of like, fantasies of flying away, or getting away in a boat or a train."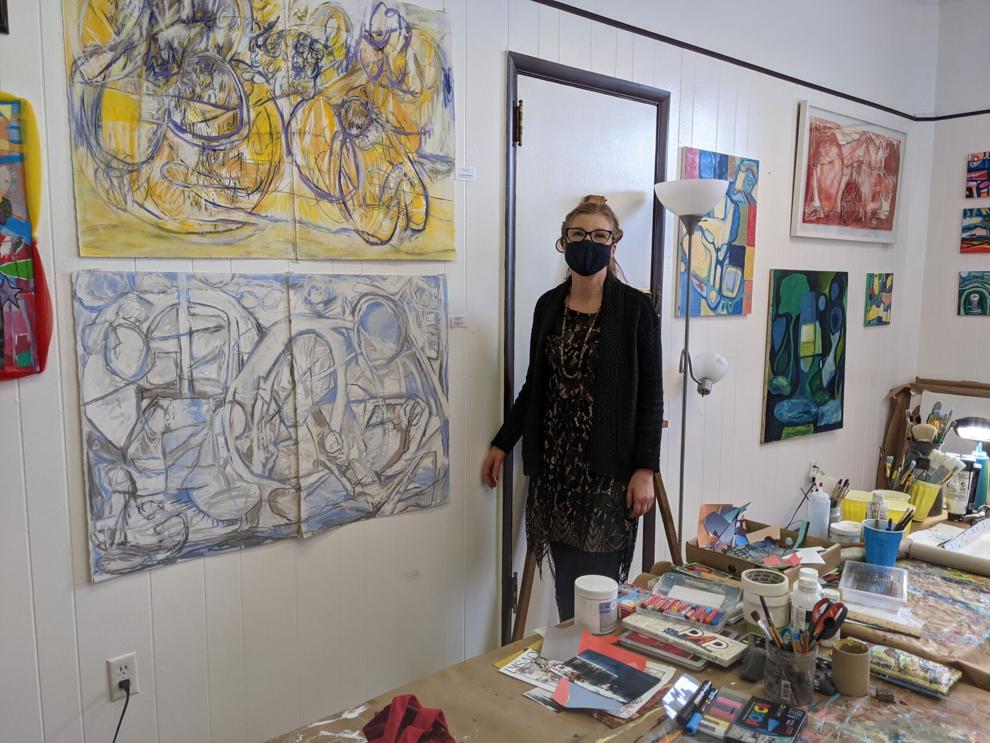 Unlike some of the artists in the building, Kelley has a full-time job outside the studio, but she has been an artist her whole life and has had a space in the building for several years. During the pandemic she holed up inside her small studio and found the process healing amid the emergency.
"The world got quieter," she said. "I usually take the winters and kind of shut myself in my studio, and the pandemic was like a longer version of that."
After she finished showing her work at the open house, she said, she planned to hit the streets and do some of her own holiday shopping locally.