PITTSFIELD — Gov. Charlie Baker praised local vaccination efforts as he met with Berkshire Vaccine Collaborative leaders and local officials at a site tour and news conference Thursday.
More than 5.3 million total doses have been administered in Massachusetts, with more than 49 percent of Berkshire residents receiving at least one dose, slightly above the state average of 48 percent.
Baker called the state's phased distribution plan "quite successful" in its ability to administer doses efficiently, and he pointed out that the state ranks first in the nation for total doses administered per capita among states with more than 5 million people.
Baker's remarks came after a tour of the Berkshire Community College vaccine clinic, the field house-based distribution site that can deliver up to 2,000 vaccines each day and one of the three major public clinics in the county.
"We've been successful because we've built significant distribution capacity filled with quality, qualified and capable people who've been able to administer far more doses than they've been able to receive," Baker said. "The simple truth of the matter is, we could be doing two or three times as many doses here in the commonwealth on a daily basis as we actually had supply for."
The state received 348,000 first and second doses as its state allocation this week, "basically flat" from the previous week, Baker said. He attributed part of the slowdown to increased federal efforts to send more doses to pharmacies.
Of the week's allocation, 76,000 doses went to regional collaboratives and local boards of health. The Berkshire Vaccine Collaborative received fewer than 1,000 first doses, and local officials pressed Baker during the tour on why he had not sent more doses.
"We can't [use all our capacity] if we don't have the doses," said Tricia Farley-Bouvier, D-Pittsfield, addressing the governor during the first minutes of his visit, as coordinators argued that they wanted an allotment more proportional to the county's population.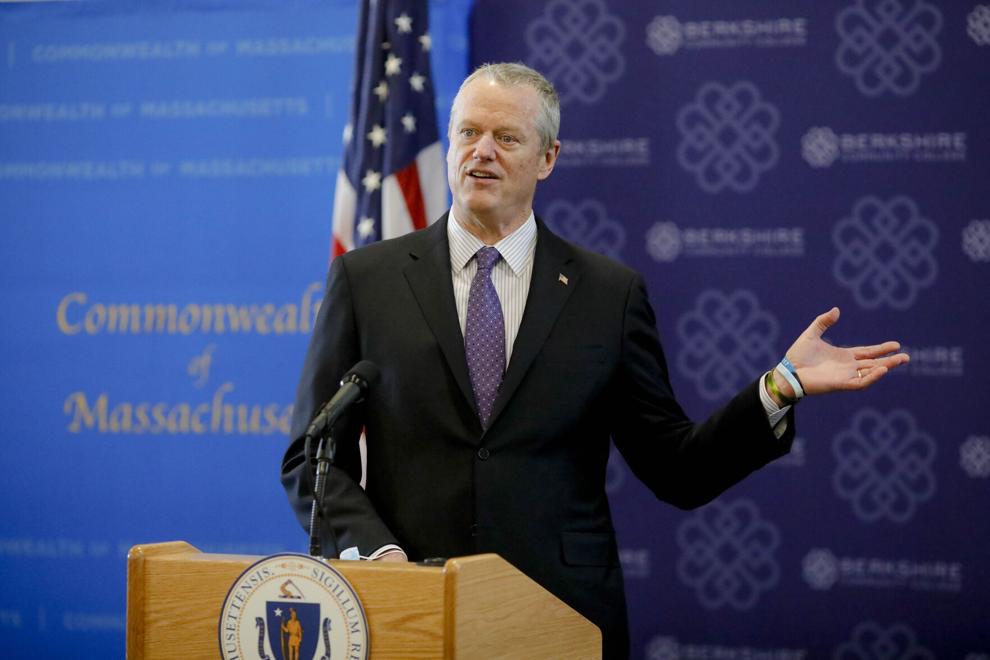 "Yeah, I hear that a lot," Baker responded, without giving a direct answer.
Berkshire County continues to lag behind state averages in almost every age group, except for people 19-and-younger and those 75-and-older, according to state data. As of Tuesday, 79 percent of the county's 65- to 69-year-olds and 84 percent of its 70- to 74-year-olds had been vaccinated with at least one dose, compared with rates of 84 and 87 percent, respectively, for those same groups statewide.
In her introductory remarks, Darlene Rodowicz, executive vice president of Berkshire Health Systems and a collaborative leader, spoke about the collaborative's capacity to administer 200 shots each hour, or 2,000 vaccines a day, if supplies were available.
"As we all know, there's not enough vaccine at the time to be able to hit those numbers," she said. "But, whenever they do free up, be sure to know that you should come here and look for the vaccine because we're going to be ready."
Coordinators also pointed out to Baker during the tour that the collaborative has been successful in allotting slots for Spanish speakers, vaccinating people with severe disabilities and administering doses to people in low-income housing, homeless shelters and other locations through the Community Health Programs Mobile Health Unit.
Baker, who long has praised the regional collaborative model spearheaded in the Berkshires, said once again that the county was one of the first areas to put such a plan in place. Berkshire and Barnstable County, which rely on regional collaboratives, have reported among the highest first-dose vaccination rates in the state, Baker said.
"These collaborations, as you know, pool resources from local health care providers and health departments to create highly efficient operations that can vaccinate residents across a wide geographic area," Baker said. "That's especially important here in the Berkshires, and the incredible work this team has done has paid off."
Statewide, regional collaboratives and local health boards have accounted for more than 500,000 doses administered, he added.
Baker also said that several sites on the Cape had been added to the preregistration system. Berkshire County is unlikely to join that system, vaccine collaborative leaders told The Eagle. Switching to a preregistration model would require technology changes that would increase costs, among other issues.
Laura Kittross, director of the Berkshire County Boards of Health Association, cited low dose supply and the technology costs as some of the reasons that the collaborative decided to stay out of the preregistration system.
"Our message to people generally is, if being in the preregistration system is a place you want to play, we'll help you figure out how to get there," Baker said. "We'll work with people to set up models that work wherever they might be in Massachusetts, but we're not going to presume that what works for some is going to work well for others."
He also said the preregistration system had served as a "safety net," with at least 300,000 people dropping out of the system after getting an appointment elsewhere. About 1.5 million people are carried in the system every day, but the makeup of the waitlist changes each day, he said.
Farley-Bouvier, state Sen. Adam Hinds, D-Pittsfield, and Pittsfield Mayor Linda Tyer were among the local officials who spoke with Baker.
Leaders of the vaccine collaborative also were in attendance, including Kittross, Rodowicz, Leslie Drager, Amalio Jusino, Heather Barbieri, John Meany Jr. and Dan Doyle.