PITTSFIELD — They gathered here Sunday to share in a grief that couldn't get any more complicated.
Luke Fitzgerald, of Pittsfield, was there. In May, he arrived at the home of his mother, Teresa, to hug her for the first time since the coronavirus pandemic began 15 months earlier. Instead, he found her body. She had taken her life.
"She was just an amazing person," Fitzgerald said. "I miss her so much."
Also among those gathered was Abigail Hunt, of Lenox, who lost a dear friend, Aaron Coty, to suicide in 2015. He was only 18. Aaron was "a shining light," Hunt said. "He would not leave your side until he knew you were in a better head space."
Hunt still struggles to make sense of it all.
Mary Clark, of Great Barrington, was there as well. A work colleague of hers named Marc took his life in April, at age 30. He was a gifted writer and wonderfully sarcastic. When things got stressful at work, he was the glue that kept everyone's spirits high.
More than 250 people gathered Sunday at The Common on First Street for the Berkshire County Out of the Darkness Community Walk. Part fundraiser, part show of support for those who are grieving and part public bullhorn to destigmatize mental health disorders and suicide, the 5-kilometer walk was hosted by the American Foundation for Suicide Prevention.
By Sunday morning, organizers said, they had raised about $52,000. They will continue to collect donations at AFSP.og/BerkshireWalk through Dec. 3, and hope to reach $60,000. The money will be used for research, education and advocacy at the local, state and national levels.
The foundation was instrumental in lobbying the Federal Communications Commission to establish 988 as the new, nationwide, easy-to-remember three-digit phone number for those in crisis to connect with suicide prevention and mental health counselors. Phone service providers are required to direct all 988 calls to the National Suicide Prevention Lifeline by July 16, 2022.
Suicide is the 10th-leading cause of death in the United States. In 2019 — the latest data available — 47,511 Americans died by suicide, and there were an estimated 1.38 million suicide attempts, according to the American Foundation for Suicide Prevention.
"Suicide loss is different than other kinds of loss," said Lee Watroba, of Becket, a board member of the AFSP's Massachusetts chapter and past president of the Berkshire Coalition for Suicide Prevention. "There are a lot of emotions that you have. It's different than if someone dies of a heart attack or cancer because, in this case, people blame themselves. They think, 'What did I miss? What could I have done?' You don't necessarily do that if someone dies another way."
Watroba lost a cousin to suicide. She was among those participating in the walk, which began at 10 a.m. with speeches and then proceeded in a loop on the east side of downtown.
"For me, it's a way of just honoring him and trying to help other people," Watroba said. "He didn't win his struggle, but maybe by supporting this cause, I can help someone else."
"They say pain shared is pain lessened, and I fully believe in that," said Fitzgerald, whose mother was 59 when she took her life.
"She was always there to be an ear on the phone, to listen," he said. "You just couldn't find anybody who didn't love her. And, obviously, when I found her, it was the biggest tragedy I hope I ever, ever have to deal with.
"She had just taken the second dose of the vaccine, and I had hoped to go hug my mom and things were just going to be back to normal, and then that's when my life changed forever."
Clark joined with co-workers to honor their colleague, Marc, and to show their support for his family. All those whom Marc left behind remain devastated.
"I want to bring more awareness to the need for better mental health care for anyone who might have or develop suicidal tendencies," Clark said. "I think our health care system is lacking in that area."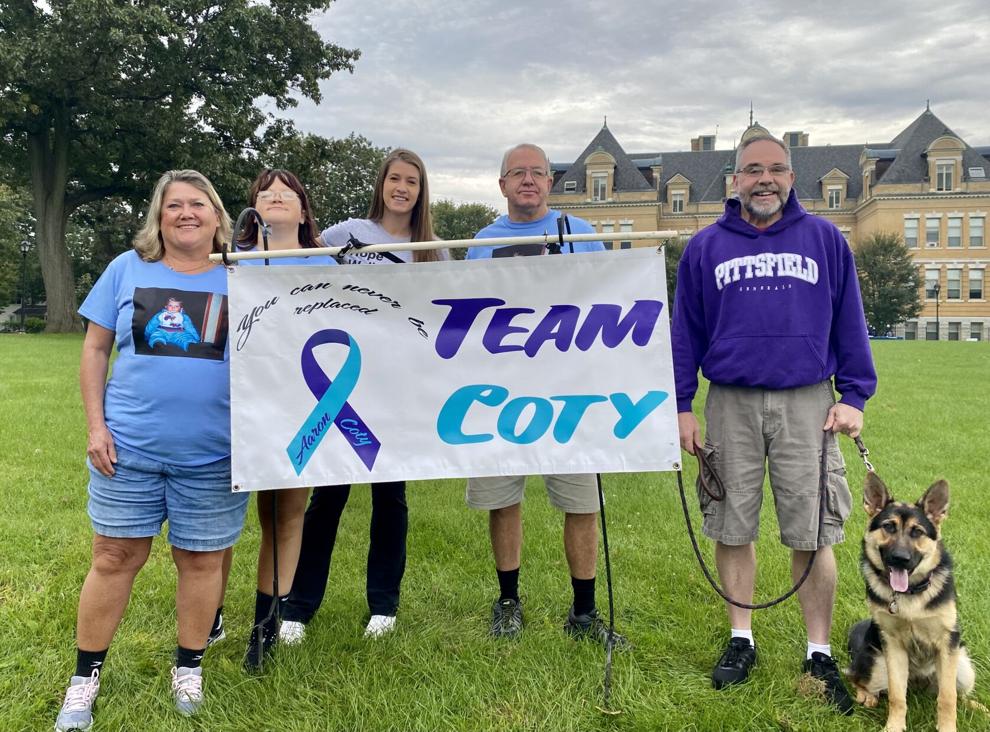 Hunt joined the walk as part of Team Coty, which included Peter and Judy Coty, of Pittsfield, whose son, Aaron, took his life in 2015.
"He was beautiful," Judy said. "We just had no clue he would do this. No clue, and that's often the case."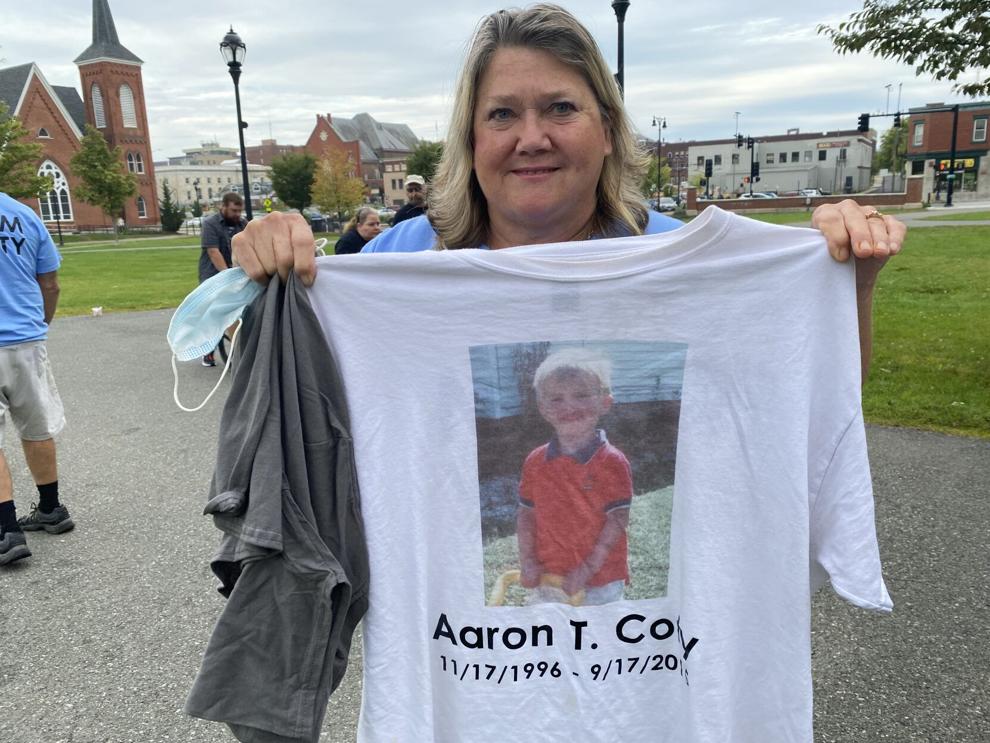 Hunt said that she has struggled with depression through the years, an experience that might shed light on those who have ended their lives seemingly without warning.
"I struggled to reach out and tell people when I'm having a bad day because, you know, you don't want to bother and drive away people," Hunt said. "Events like this bring awareness, and they bring people together, and they kind of teach people that there is a whole community out there that wants to help you through whatever you're going through."