PITTSFIELD — Like so many events last year, the Moby Dick annual Read-A-Thon at Herman Melville's Arrowhead was forced to go virtual because of the coronavirus pandemic.
One bright spot was that it opened the event, which takes place over four days, to the entire world. That meant that fans of the American classic could log in at odd hours from places like Japan, Brazil or Ireland to participate in 10-minute readings of the novel.
This year, with COVID restrictions easing, Arrowhead organized a hybrid read-a-thon, with some participating in person at the home and others logging in to Zoom to read. Arrowhead, located at 780 Holmes Road, was a farmhouse built in the 1780s where Melville wrote some of his most famous works, including "Moby-Dick."
Once again, people from around the world signed on to the Zoom event, including one person with the screen name Paul Giamatti.
Yes, that Paul Giamatti, the actor and star of the popular Showtime series "Billions." It turns out, according to event organizers, that he was given an illustrated copy of "Moby-Dick" when he was a kid and is a lifelong fan.
The read-a-thon started July 29 and wrapped up Aug. 1. Giamatti signed up for a 10-minute slot July 31.
"I showed up on Zoom in my whale shirt for my designated slot ... and noticed 'Paul Giamatti' in one of the Zoom squares — just his name with his camera off," local author Lara Tupper wrote in an email. "I thought, 'That's funny. Someone has the same name as the actor.'"
But, when it was his turn and the screen came on, it was, indeed, the Paul Giamatti.
"Paul's reading was just so good," Tupper said. "So powerful. He read in the voices of both Ahab and Ishmael and it was clear that he had a deep sense of who these characters were."
When Giamatti's 10 minutes were up, Jana Laiz, education coordinator and writer-in-residence emeritus at Arrowhead, rang her cowbell. It's the customary way to let a reader know that their time is up, even for a gifted orator like Giamatti.
"Interrupting Paul Giamatti with a cowbell was embarrassing," Laiz admitted to The Eagle. But, rules are rules, and Giamatti was a good sport.
And then, of course, the next person had the challenge of following him. That reader was a little intimidated.
"What, you couldn't get Gregory Peck to read next?" the reader said to laughs, according to Tupper. Peck played Captain Ahab in the 1956 adaptation of the film.
Laiz invited Giamatti back to read the conclusion to the novel, and he accepted. The next day, after about 28 hours of combined reading from a group of 40 to 50 people, Giamatti returned to read the end of "Moby-Dick."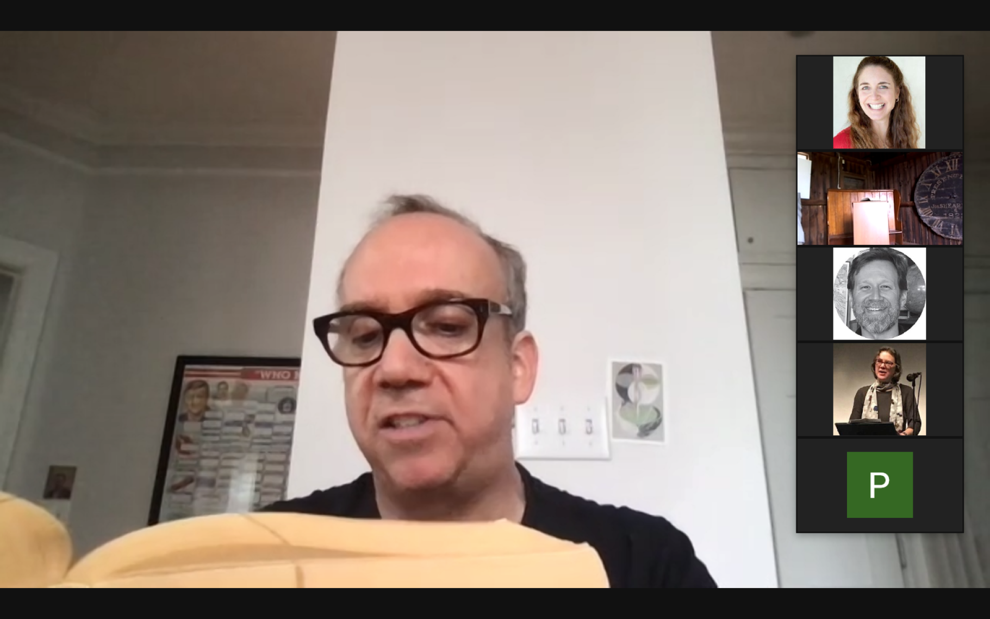 "It was a stunning way to close," Tupper said.
Many of the participants were in tears, including Laiz. Still, she managed to ask Giamatti if he would come back next year and revisit one of his childhood favorites.
To her delight, Giamatti said he would love to.