PITTSFIELD — Polling places hummed quietly with activity Tuesday afternoon, as voters committed to weighing in on local elections selected their representatives for City Council and School Committee during what many predict will be a low-turnout election.
One of the city's election wardens, Catherine Van Bramer, held court in the Ward 5 polling place at the Berkshire Athenaeum, where she predicted somewhere between 20 to 25 percent of registered voters would cast ballots Tuesday.
She hoped, though, for turnout to be "as high as possible" as voters select politicians whose choices will impact their lives on a granular level.
"Here locally, that's where all the day-to-day decisions are made. You're not calling up the president and getting him to fix something in your neighborhood," said Van Bramer, who also serves as executive assistant in the mayor's office.
By 1:30 p.m., 240 of the 2,213 voters registered in precinct 6A had stopped by Columbia Arms to vote, said warden Pat Walton. He expected the pace of citizens through the doors would quicken after work.
But he said turnout so far had been "higher than expected" at the polling place that draws supervoters from the two housing developments off of Columbus Avenue, residents he said "tend to vote 99 percent of the time."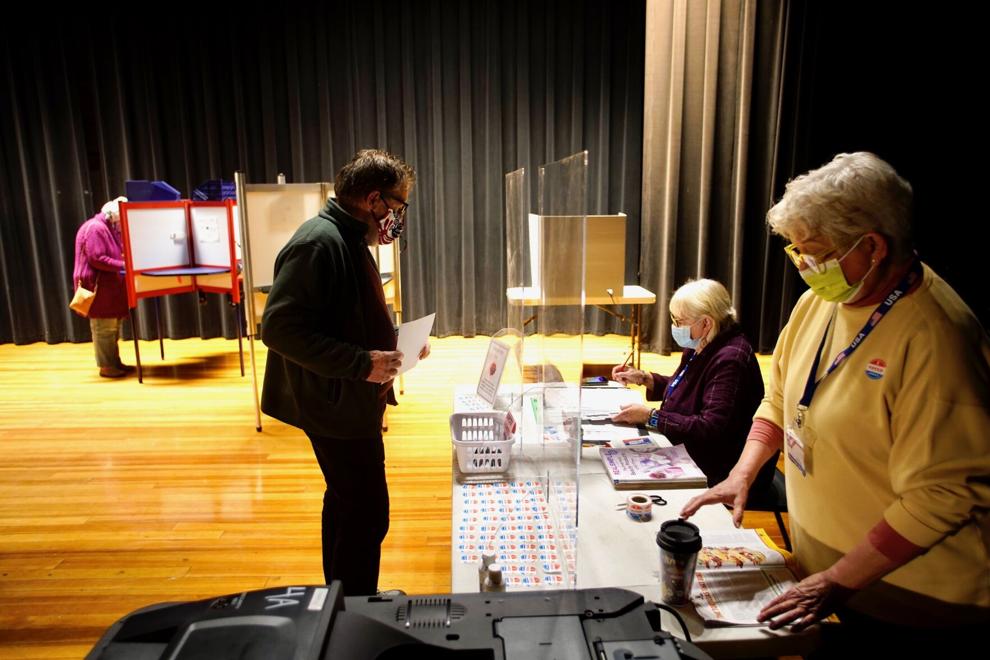 "Maybe the weather has something to do with it," he said on the brisk afternoon, as sunshine peeked through the clouds.
Poll workers in Ward 2 and Ward 4 — two of the four contested ward races this election cycle — said they weren't expecting many people at the polls.
"It's slow — it's an off year and there's not mayoral race, no state races," said Pat Bassi, a poll worker working the Ward 2A precinct at Morningside Community School. "This is going to be a very slow day. I'd guess we'd probably get around 100 voters."
By 8:30 a.m. the precinct had served four voters and collected two absentee ballots. Across town at Herberg Middle School, the Ward 4A precinct, a slow but steady crowd of dedicated voters trickled through the polls. By 9 a.m. about 30 voters had cast their ballots in the precinct.
Ward 4 residents Mark and Marie Matthews said they can remember lines wrapping around and filling the Herberg Middle School auditorium that has been their polling place for countless elections. This year, the Matthews' said, "it's a sparse crowd, unfortunately."
Marie Matthews said that she feels like the city is "doing pretty well here compared to other areas of the country and I'm grateful for that." But at the forefront of both of the Matthews' minds as they entered the polls Tuesday morning was the city response to the pandemic.
"I hope [the council] sticks with their covid precautions, all the things they're pushing to make people get vaccinated," Marie Matthews said. "I think it's important and necessary."
Last December, Marie Matthews lost her sister to the coronavirus. Her husband said they're "still very sensitive" to the impact the pandemic is having on lives across the country.
Dick Marchetto, holding a sign for at large candidate Craig Benoit at the Ward 2A precinct at Morningside Community School, said he's focused on safety of another kind this election cycle.
"Definitely police protection in the neighborhoods," Marchetto said. "To me safety is one of the first things I would be concerned with."
Joe Cimini, a sign holder for at large candidate and council President Peter Marchetti, agreed with Marchetto but added that candidates' stances on the streetscaping on North Street and Tyler Street and the bike lanes were impacting his vote as well.
Marchetti is among many familiar names voters find on their ballots.
In Ward 4, Ann Brennan said her finished ballot was "pretty much incumbents."
There are six people vying for the council's four at large seats: Karen Kalinowsky, Benoit and incumbents Yuki Cohen, Earl Persip III, Marchetti, and council Vice President Pete White.
Ward 6 Councilor Dina Lampiasi is the only incumbent ward councilor in a contested race this election cycle. Lampiasi is up against Ed Carmel, a member of the city's Homelessness Advisory Committee and Pittsfield Housing Authority Board of Commissioners.
A new ward representative is a sure thing for residents of Ward 1, Ward 2 and Ward 4, where councilors Helen Moon, Kevin Morandi and Chris Connell have decided not to seek reelection.
Ken Warren and Andrea Wilson are vying for the Ward 1 seat. Charles Kronick and Matthew Kudlate hope residents will vote them in the to Ward 2 seat. Andrew Wrinn and James Conant, the chair of the Conservation Commission, hope to represent Ward 4.
Residents in three wards have uncontested races: Kevin Sherman is running unchallenged to fill Ward 3 Councilor Nicholas Caccamo's seat, and Ward 5 Councilor Patrick Kavey and Ward 7 Councilor Anthony Maffuccio are unopposed.
Four of the candidates for the six School Committee seats are incumbents: William Cameron, Mark Brazeau, Alison McGee, and Daniel Elias. Challengers Vicky Smith, Sara Hathaway, Karen Kaveney Murray, and Bill Tyer are hoping to win a spot among the group.
The ballot also includes the names of two candidates who have left the race: Nyanna Slaughter and Kate Lauzon.