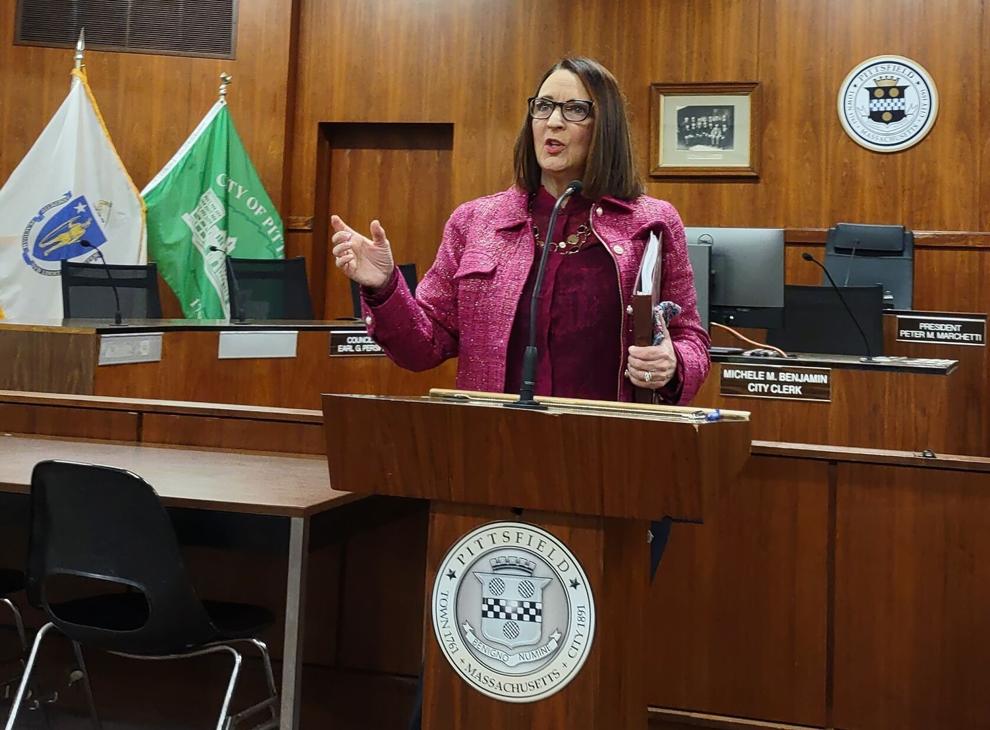 PITTSFIELD — The city of Pittsfield on Monday formally invited city residents, businesses and organizations to apply for an additional $6 million in American Rescue Plan Act funding.
The city won't officially begin accepting applications until Feb. 28, but an "invitation for proposals," a document that includes the categories under which proposals will be accepted, and other guidelines, has been posted on the city's website, Mayor Linda M. Tyer said Monday at a news conference at City Hall.
Tyer referred to the official release of the invitation for proposals as a "significant milestone in the life of the ARPA here in the city of Pittsfield.
"After months of study and community engagement we are very excited to join up with our trusted community partners and commercial leaders to put these funds to work for the people and the places in our city that need it the most," Tyer said.
The information can be accessed on the ARPA page on the city's website at tinyurl.com/27jwabwy.
Applications will be accepted on a rolling basis after Feb. 28. Each application will be reviewed as it is received and city officials expect that process to take from 30 to 45 days. There currently is no deadline for submitting applications.
"I think what we will do is assess as we go along," Tyer said, referring to an application deadline, "because we don't know how much demand there will be."
City officials have already announced how they plan to spend at least $7.35 million of the first ARPA installment of $20.3 million that they have already received.
Big-ticket items the city plans to fund through the initial allocation include major repairs and updates to the city's Ashley Water Treatment Plant, upgrades to the Berkshire Family YMCA's child care center, and a second round of funding for the At Home in Pittsfield renovation project.
The new application process involves how the next $6 million will be spent. Another $7 million is expected to be spent on city-led projects, such as housing partnerships, the mayor said.
City officials learned in August that Pittsfield was slated to receive $40 million in total ARPA funding, but that second $20 million installment isn't expected to arrive here until probably May, Tyer said Monday. Federal guidelines stipulate that the city of Pittsfield will receive its total amount of ARPA funding by Dec. 31, 2024, and is required to spend it by Dec. 31, 2026.
The city's "guiding principle" in disbursing what Tyer referred to as a "once in a lifetime infusion of funds" is that the ARPA funding "can transform Pittsfield into a city of social and economic resiliency for everyone especially for people who have been historically underserved, marginalized or have been adversely affected by racial inequity and generational poverty," the mayor said.
This will allow city residents to be able to "live up to their potential, and achieve prosperity and health, well-being and joy," she added.
Applications for the ARPA funding that the city plans to disburse through the invitations for proposals that was released Monday will be addressed through a two-pronged approach.
The first application type seeks to address both pandemic and pandemic recovery needs in five specific areas: childhood development, including day cares and youth intervention; mental health and substance abuse disorders; disabled elderly and veterans; community-based initiatives; and cultural organizations. More information on the city's principles, goals, strategies and evaluation criteria is included in the ARPA investment guidelines link on the city's website.
"Within these guidelines that we're focused on we welcome ideas that are either programs, services or capital investments," Tyer said.
The second way to apply is through a concept application, where the guidelines aren't as clear cut. This application method was added when members of the city's nine-member ARPA advisory council suggested that someone could have a "transformative idea" that doesn't meet the requirements of the American Rescue Plan Act, the mayor said.
"We don't want to discourage people from applying," Tyer said. "So the concept application is really, 'I have an idea, do you think that this is viable?' Our goal is to find ways to make connections, build that network, help that person, maybe collaborate with a nonprofit organization to help really accelerate the concept. It's really just another pathway for people to submit an idea."
The five categories and the concept application format were chosen based on the feedback that officials and the ARPA Advisory Council received by conducting its own study, the implementation of a community survey, four community forums across the city and community stakeholder meetings. The specific categories also reflect specific areas of focus that were already included in the American Rescue Plan, Tyer said.
"This funding provides a once-in-a-lifetime opportunity to help Pittsfield's residents, cultural organizations and businesses recover from the pandemic and achieve greater prosperity and resiliency in the future," said Deanna Ruffer, the city's Community Development Director, in a prepared statement. Ruffer co-manages the ARPA application process with Gina Armstrong.
City officials will be available to help those interested in applying "navigate" the application process.
"We welcome questions, and your need for clarification, and we will offer guidance as needed," Tyer said.
Feedback from the community will also allow the city to eventually post a series of frequently asked questions on its website for those interested in applying.
"We encourage applicants to be creative," she said, "and to consider collaborations that will strengthen ideas and maximize opportunities."
This story has been modified to correct the amount of funding available through the next application phase.