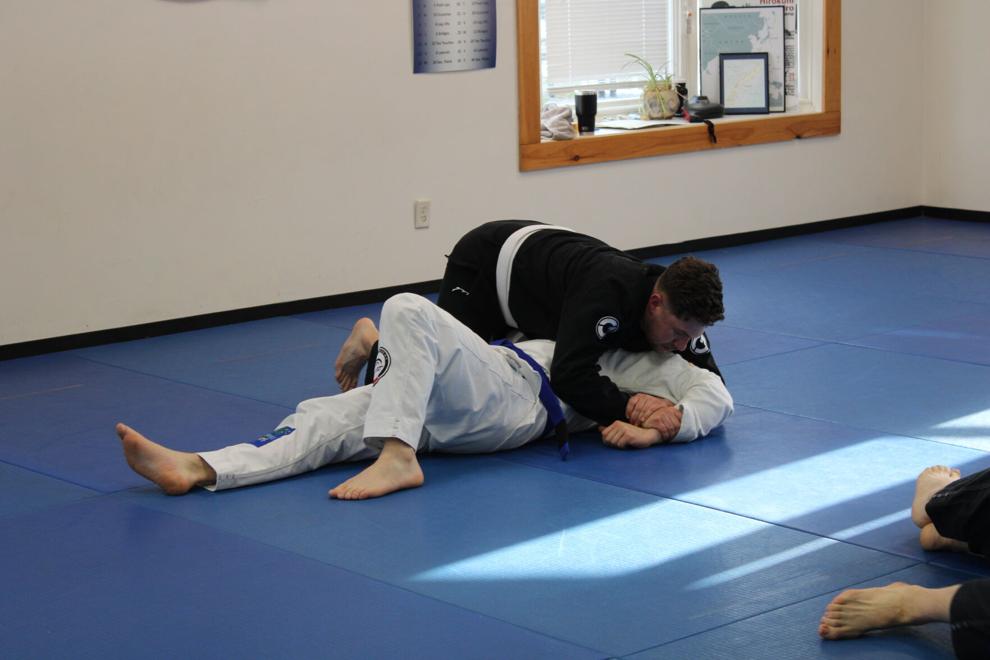 LENOX — Pittsfield Police Officer James Ladd is convinced that practicing jujitsu has given him a new set of skills to make arrests safely.
Because of his training, Ladd says he's more confident dealing with potentially combative people in the public, which could make him less inclined to reach for the baton or pepper spray on his belt.
"We can handle situations, go right in and put them in a handcuffed position," Ladd, a three-year veteran with the department, said after grappling for minutes-long sessions at ZenQuest Martial Arts in Lenox.
Ladd is a participant in a jujitsu-training pilot program offered to Pittsfield police officers. At a session Monday, he wore a nonuniform belt, a white one with stripes reflective of his skill level in the defensive martial art that originated in Japan and developed further in Brazil.
In the training, pairs of Pittsfield officers tangled on the mat, with one trying to bring the other's hands together before a buzzer sounded.
Pittsfield police is one of a number of law enforcement agencies offering jujitsu training to officers. The goal is to reduce the level of force used by officers, said Police Chief Michael Wynn, who started his own jujitsu training in 2006.
Wynn said he started because around that time, the public was catching on to the mixed martial arts competitions.
"We started coming up against more people who had ground fighting and grappling skills," Wynn said.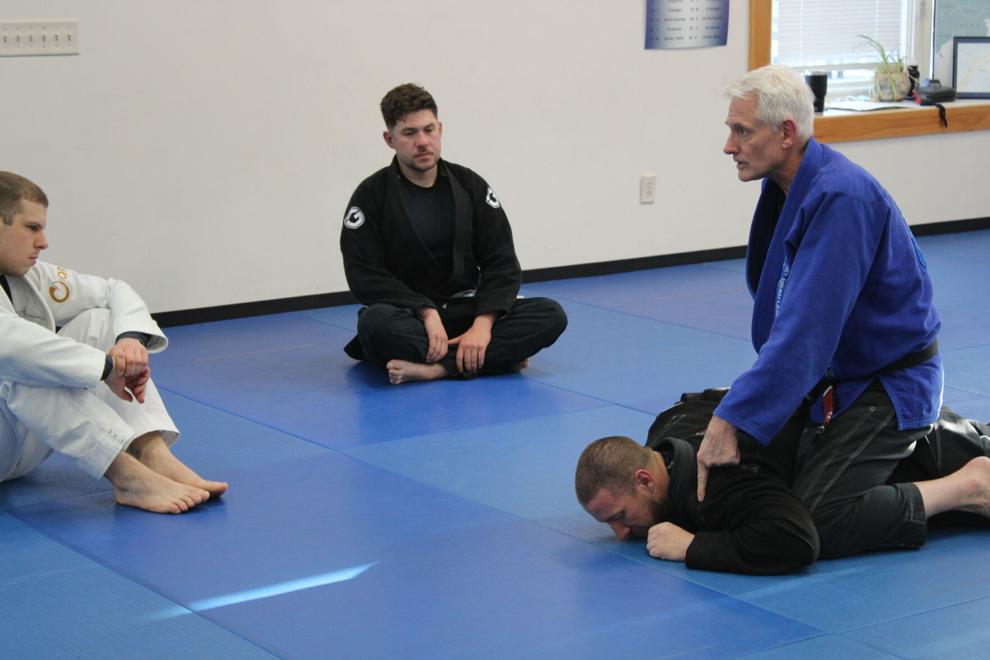 He launched the Pittsfield program based on data collected by the Marietta, Ga., Police Department, which required jujitsu training in 2019, and since has shown an apparent decline in use-of-force incidents.
The Pittsfield sessions were developed by Connie and Mark Flynn, owners of ZenQuest. Known as "The Professors Flynn" on the mat, the pair said they train officers to use their body weight and movement to restrain suspects.
"You do the things you need to do to keep yourself, and the person that you're dealing with in the community, as safe as possible, but under control," Connie Flynn, a black belt in Brazilian jujitsu, explained.
There is no striking or kicking, and Wynn said the grappling tactics taught to Pittsfield officers don't include any "choke submissions." Police chokeholds were banned in Massachusetts after the May 2020 murder of George Floyd by police in Minneapolis.
"The more you exchange blows, the more things escalate," Connie Flynn said. "So we're about de-escalation."
So far, 29 members of a department with 90 sworn officers have received some form of jujitsu training.
Officer Craig Jones, one of three blue belts (it signifies more advanced proficiency), along with Jake Doyle and Jeff Slater, practice three to four times a week, Wynn said, which amounts to vastly more than the eight hours of defensive-tactics training officers are required to complete annually.
"It's the confidence level," Jones said, "being able to handle whatever we might encounter on the street."
"By utilizing the grappling and control techniques," Wynn explained, officers "can overcome resistance without having to rely on techniques that have a high degree of injury."
Wynn said officers who train in the martial art increase their abilities to keep a level head when interacting with potentially physically antagonistic people in the community.
Although Wynn doesn't have official statistics for the on-the-street use of jujitsu, he said data collected since June show that "the level of force utilized by participating officers appears to be lower than their [non-jujitsu] peers."
Jujitsu training isn't required, but officers earn compensatory time for practice sessions, and Wynn said the department is looking into a system of pay incentives to officers who reach training benchmarks and continue practicing.
The program got a buy-in from the city's insurance carrier, which reimbursed $15,000 of the $20,000 spent on the program so far.
Dennis Powell, chair of the Berkshire branch of the NAACP, citing the fatal shooting of Miguel Estrella by a Pittsfield police officer last year, questioned what might have happened if the officer had used a less-lethal option.
Powell said he supports the program if it helps officers use the lowest level of force during confrontations, though he further questioned whether officers will receive the ongoing training needed to be effective with the tactic.
He stressed the importance of officers receiving training on dealing with people who have mental health problems.
"Anything," he said, "is better than pulling a weapon and taking a life."