PITTSFIELD — Before the bishop had even arrived, the man of the house, Jim Hager, had showered and shaved and pulled on a maroon polo shirt, not a wrinkle on it. If Hager had two hairs left on his head, he would've neatly combed them.
By the time the bishop rang the doorbell Thursday afternoon, Hager already had been married for 54 years; raised a family of four children; become a deacon; formed a bereavement support group; and brought comfort to countless inmates, and countless ailing and lonely people in hospitals and nursing homes.
He had been the dad whom neighborhood children would equate with Mister Rogers, the cardigan sweaters, a G rating in all things. His jokes had been corny and his jokes had been prolific. He had been the man who would ask, "How are you?" and it wouldn't be idle chatter. He'd want to know.
And when the car was packed for a family adventure, how many times had he climbed into the driver's seat singing, "This is the day, this is the day that the Lord has made …"? As the children got older, how many times had that lavish joy been confined to the front seat? And as the children got even older, how many times have they thought to themselves, "We've been so lucky to have Dad."
When they woke up from nightmares, he'd tell them that the best trick when confronted by monsters and demons is to laugh in their face. Monsters and demons hate that. It neutralizes them.
When one of his daughters, Lisa, had come home from school crying after having learned about how some slaves in the South weren't told they were free after the Civil War, he would sit with her, holding her hand, sharing in the sorrow.
He had been the guy who would counsel married men with the following advice: "The best thing you can do for your kids is to love your spouse."
He first met that pretty girl from Abbott Street in 1965, at the key punch machine at General Electric, where he worked as a computer analyst and she worked as a mechanization clerk. On their first date, they went to the movies, "The Sound of Music."
He was a farm boy from Stephentown, N.Y., tall, strong, a perfect gentleman. She, Pat, would wonder on their first date if this man, Jim, might also be just a little bit crazy. On their second date, she wouldn't have to wonder any longer: He flat-out told her that someday he would marry her.
"Who does that?" the girl from Abbott Street would say 56 years later.
By the time the bishop arrived at his door, Hager had, for years, shared the story of how, when he was a teen, he would take care of the little fieldstone shrine that his father helped build in New Lebanon, N.Y., that was dedicated to Our Lady of Lourdes. Hager often would arrive at the little shine and find crutches left behind — evidence, he said, of miracle healings, evidence that the good lord was at work in the world.
He would read the greatest theological works, keep abreast of the latest scientific research and fail to see how the two ever contradicted each other.
In 1983, he was a member of the first class of deacons ordained in the Diocese of Springfield, which meant that Catholic parishioners would, for the first time, hear a man tell a powerful story from the pulpit about being in the delivery room when his children were born.
"Do you remember?" Pat asks him this week, sitting at their kitchen table, her hand on his forearm.
He thinks and thinks and finally shakes his head no.
"I've forgotten so much, it's amazing," he says with a smile.
The diagnosis is mild cognitive impairment.
In 2016, when he began to get confused up at the altar, he and Pat decided it was time for him to retire. Parishioners at Sacred Heart, where he served for 31 years, packed into the church hall and threw a party to honor him — "Deacon Jim" — the man who had spent decades visiting grieving souls and convincing them that the days would get better. The man who would pray so long and hard for others that, afterward, he would appear physically drained.
The man who would welcome people into his home for long periods of time — family members left homeless after a house fire and exchange students. Herman, from Central America, still calls 30 years later.
They honored the man who, after a surgery years ago, lost vision in his left eye and yet found no reason to grumble — his right eye still worked perfectly.
He once was robbed of $6,000, which led to him having to file for bankruptcy. He and Pat would sell their beautiful house on Arlington Street and downsize.
His reaction: "Worse things can happen."
Hers: "A lot less vacuuming."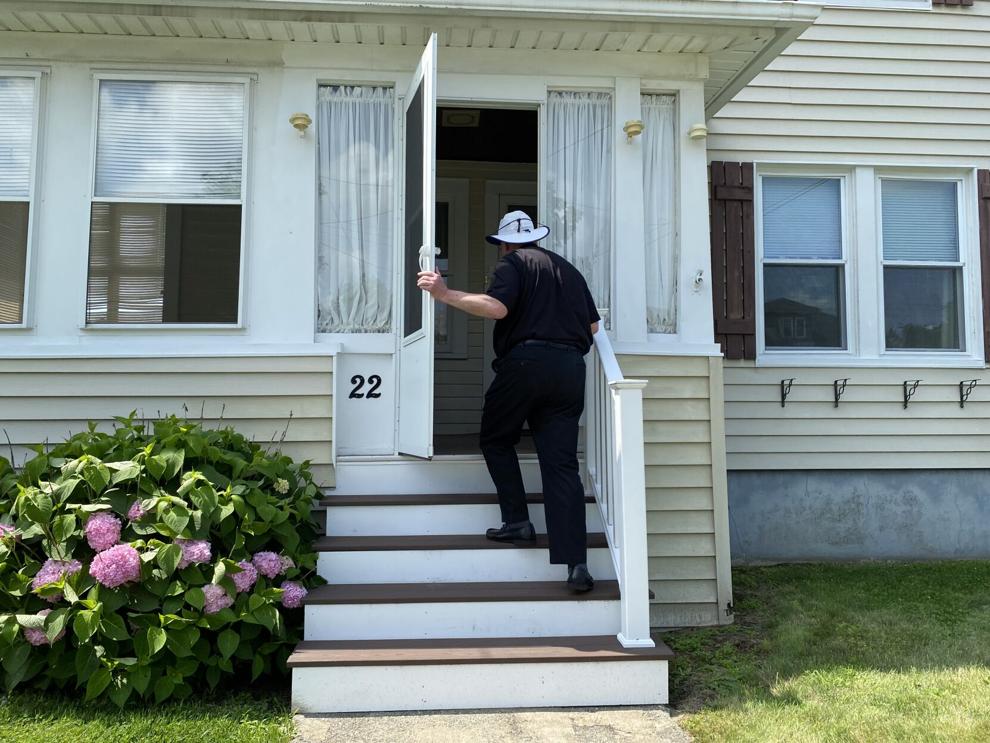 By the time the bishop rang the doorbell, Hager had recovered from a grievous injury. Last October, he fell off a ladder he shouldn't have been on. He fractured his skull. There was bleeding in his brain. After three weeks in the hospital, he returned home and set his alarm clock to 6 a.m.
"Good morning!" he said to his wife the following day.
"Mr. Sunshine," she calls him.
He walks with a shuffle now. He keeps a pen and paper in his breast pocket. When he recalls the names of certain people, he writes the names down so that he later can ask about them.
On June 3, Pat had sent a letter requesting a visit with the newly installed bishop of the Diocese of Springfield, the Most Rev. William D. Byrne. Jim had seen him on television. He was impressed. Pat said in the letter that she gladly would drive Jim to Springfield whenever it might be convenient for the bishop.
She soon heard back from the bishop's office, but it was not at all what she had expected. Turns out, it was the bishop who wished to meet Jim.
And so here he is, the bishop, his excellency, on a sweltering Thursday, pulling up to 22 Hazelwood Terrace at 1:58 p.m., two minutes early, to visit a man who perceives from one eye the scope of goodness in the world, a man who can neutralize demons.
The bishop climbs the steps and rings the doorbell of Unit #1.
"Deacon!" the bishop says, upon entering the living room.
Hager, standing tall, grabs hold of the bishop's hand.
"Thank you," Hager said.