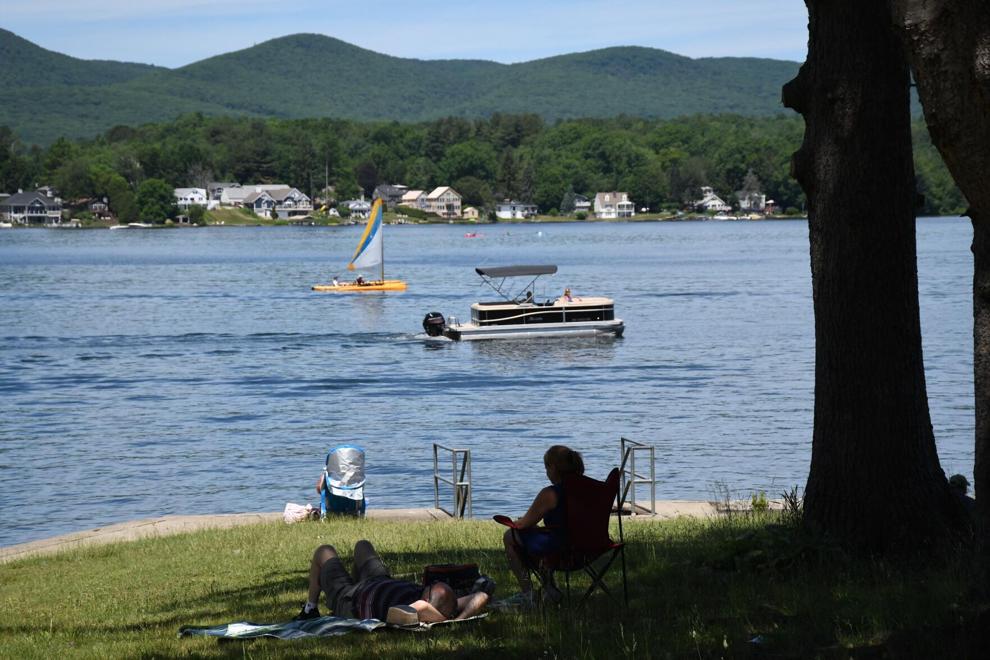 PITTSFIELD — It's been a long time since there was a sandy swimming area at Pontoosuc Lake Park.
With a little luck and a lot of hard work, in a few years a new swimming beach could be a popular feature at the lake once again.
The city earlier this week released new conceptual designs for the project, including beach and other amenities proposed for the eastern end of the lake, both on the northern and southern shorelines.
The concept includes a sandy swimming beach bordered by a U-shaped floating dock surrounding the swimming area, and a floating platform just outside the floating dock, just east of the Rusty Anchor marina. Other proposed features include enhanced walking paths, canoe and kayak launching area, open lawns, shoreline walking paths, picnic tables, an outdoor shower, changing rooms, and porta-potties, all on the north side.
On the southern shore, the proposal includes a couple of new swimming access points, a new plaza and pier, restoration of a small wetland, more benches, a 10-foot wide promenade, more picnic tables, handicapped-accessible parking lot and picnic tables, and a new dock for fishing and boat launching.
The designs are conceptual, said Jim McGrath, the city's parks and open space manager. They were based on responses of community members during an extended public outreach phase, during which more than 400 people provided input through a survey, several public meetings, personal conversations and email comments.
The designs included many features people would like to see, McGrath said, and were released to gather further reactions from the public on the project.
So far, he said, the response has been positive.
"What we heard from the community is that there is a lot of love for Pontoosuc Lake Park and for its history," he said.
There are three main goals for the project: improve handicap accessibility, create a family swimming area and capitalize on "one of the most iconic views in Pittsfield," McGrath said. "We think we have a great master concept, and we see that a lot of folks are really interested in what we're doing which reflects the love people have for this park."
While there is no cost estimate yet, McGrath said it will likely exceed $1 million.
The city will seek grant funding to pay for the final design phase.
Once the final designs and construction documents are in place, a cost estimate will be compiled, and the city will seek funding for the project through state and federal grants. That process will probably take a couple of years before construction can begin, he noted. He said there are likely to be several layers of grant funding sought to pay for the project.
"There are no hard timelines yet," he said. "We will continue to move the project forward for the next couple of years. And we are well-versed in how to execute large improvement projects in park areas."