PITTSFIELD — No matter the weather, life is bright inside Ready Set Play.
Saturday saw temperatures reach the 60s, but it featured a downpour of rain that put a damper on outdoor activities. But for the dozens of children, families and friends that filled the indoor playground at 675 Merrill Road, the elements outside might as well have been a world away once inside.
Raincoats and boots were quickly discarded so kids of all ages could clamor unencumbered over two-story jungle gyms and playground sets. Storm clouds didn't paint gloom over the chorus of happy birthdays coming from the facility's three party rooms. Children swam through orange and green ball pits as if they were diving into a real pool on summer break.
Owner Melissa Fawcett said from her station at the front desk, it's part of the effect Ready Set Play has on kids.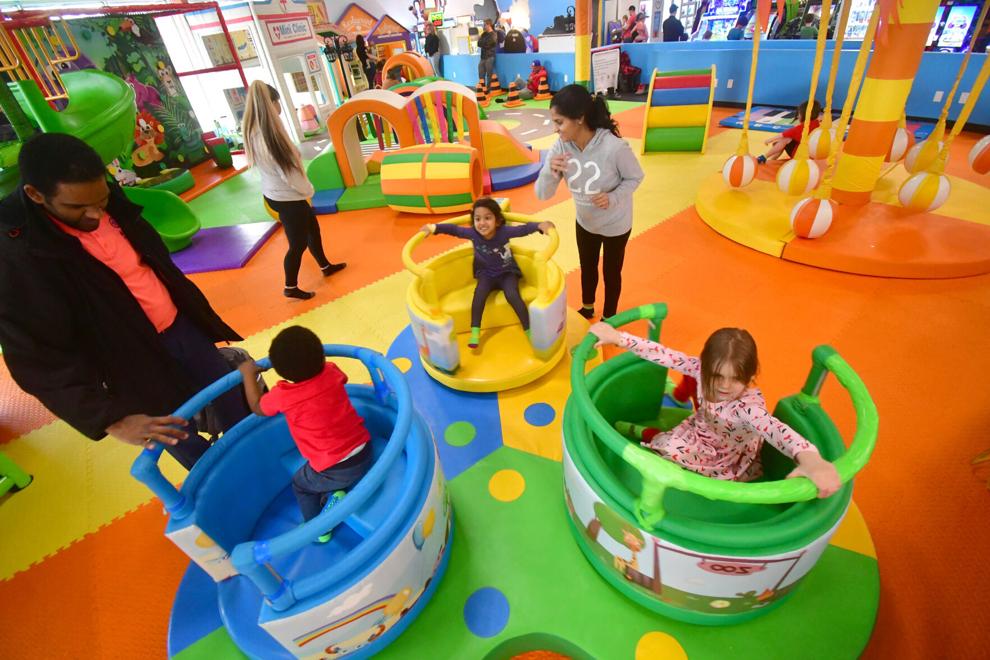 "When kids come in for the first time they're just like [wow]," Fawcett said, eyes wide as she mimicked the look of awe she sees regularly on the faces of her young customers. "Their eyes get big and they're just so excited."
Fawcett said as a parent of three she knows how hard it can be to find a place in Berkshire County that will produce that kind of result in children time and time again.
Like many local parents, Melissa Fawcett and her husband, Kenneth, have lost track of the number of times they made the hourlong drive to the Holyoke Mall for a trip to Billy Beez or Get Air Trampoline Park in Albany, N.Y.
For years the Fawcetts daydreamed about having something similar in the Berkshires. That dream coupled with the family's dream-it, build-it attitude put the Fawcetts on the path to create Ready Set Play.
"We've been talking about an indoor play space for a long time but it's really hard to find a space big enough for lease in Pittsfield," Melissa Fawcett said.
For months, Melissa Fawcett kept her eyes on local lease listings. She tried to move into the space left by Price Rite on Dalton Avenue but lost out to Big Lots. Then she considered moving into the former Big Lots space in the Allendale Shopping Center but thought it would be too small for her plans.
One day she saw friends reacting to the news that Retro Fitness at the Shops at Unkamet Brook was closing. She called the leasing agent for the gym so quickly, he hadn't even heard the news. The Fawcetts signed the lease on the space in July and got to work building the kind of indoor play park their kids would have loved.
Family and friends helped the Fawcetts unload cargo trucks full of equipment that arrived early in August and crews put the final touches on the kid-focused renovation in late September. When the play area opened its doors in mid-October of last year, they were already all booked up with parties.
Since then the business — and playtime — has been nonstop.
"My mom and aunt Barb are always here and they talk about how there's regulars," Melissa Fawcett said. "I wouldn't expect it to have regulars like a bar, but there are families that come in every Monday or Friday."
She said it's a sign that the Berkshires really needed what Ready Set Play was offering.
For Julie Fruscio, that's absolutely true. Fruscio, her parents and her daughter Gianna, 2, and Alonzo, 5, were making a day of it at Ready Set Play on Saturday.
Fruscio, who lives in Chicopee, knew her weekend visit to her parents in North Adams called for rain and wasn't sure how she was going to entertain her kids during the trip. Then she heard about Ready Set Play.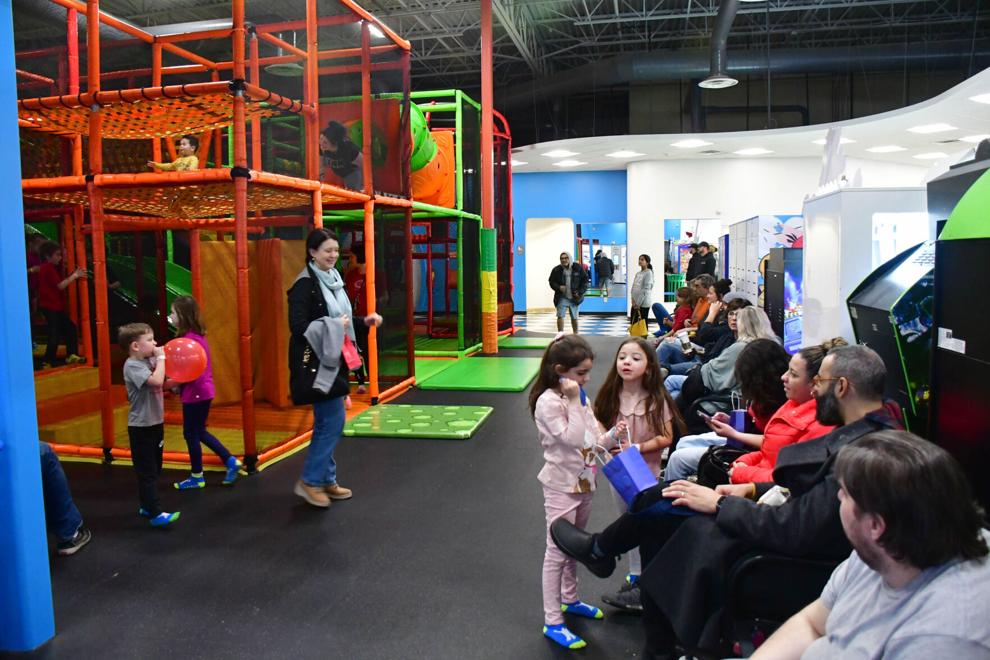 "They're loving it," Fruscio said, from a corner of the toddler ball pit. She watched on as her daughter Gianna scrambled up and over climbing obstacles to jump into the red and green balls.
"It's a blast, it's safe and it's clean," Fruscio said. "It's a low-stress place for parents to bring their kids and everybody seems to be smiling so that's a blessing."
According to its website, Ready Set Play is open seven days a week. Its hours are Monday through Thursday from 10:30 a.m. to 6:30 p.m., Friday through Saturday from 10:30 a.m. to 8 p.m. and Sunday from 10:30 a.m. to 7 p.m.