PITTSFIELD — A case centered on the Fourth Amendment rights of students drew a full crowd to a Berkshires courtroom Friday afternoon.
Hon. Richard Simons, the first justice of the Berkshire Probate and Family Court, presided over the hearing. Members of the Berkshire District Attorney's Office, local public defenders and civil defense attorneys filled the courtroom in the falling golden light of the late fall afternoon.
But this case was anything but typical. In fact, it wasn't even real. What drew dozens of lawyers, school officials, parents and teachers to the Central Berkshire District Court was an opportunity to watch Pittsfield's mock trial student attorneys in action.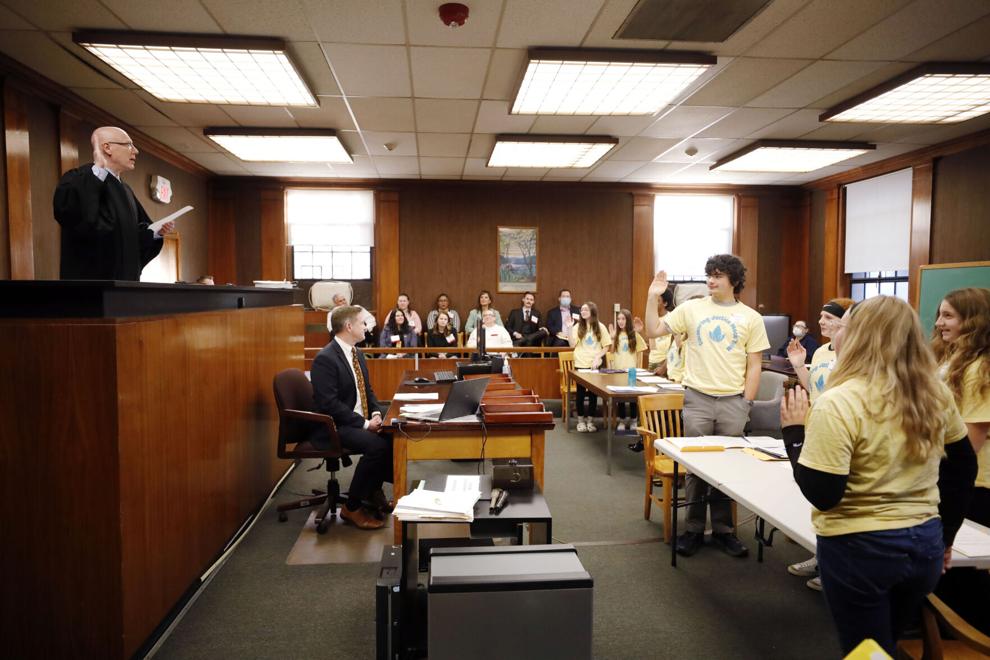 Over the last semester, 11 students from Reid Middle School have joined more than 300 students from 29 schools in the Commonwealth in studying a justice system program from the nonprofit Discovering Justice.
"I like to say that this is as close as you can get to being in the courtroom without passing the bar [exam]," said Luke Matys of Discovering Justice.
The civic education outfit paired 10 seventh graders and one eighth grader from Reid's student council with three local attorneys who served as their legal mentors throughout the program: Jennifer Carpenter, a partner at Cain Hibbard & Myers PC; Ryan Cummins, an attorney with the Committee for Public Counsel Services; and Miriam Maduro of Maduro Law.
For 10 weeks, the students gave up their Tuesday nights to spend time in Reid's library learning about the law and what it takes to examine the facts and make a good case for a client.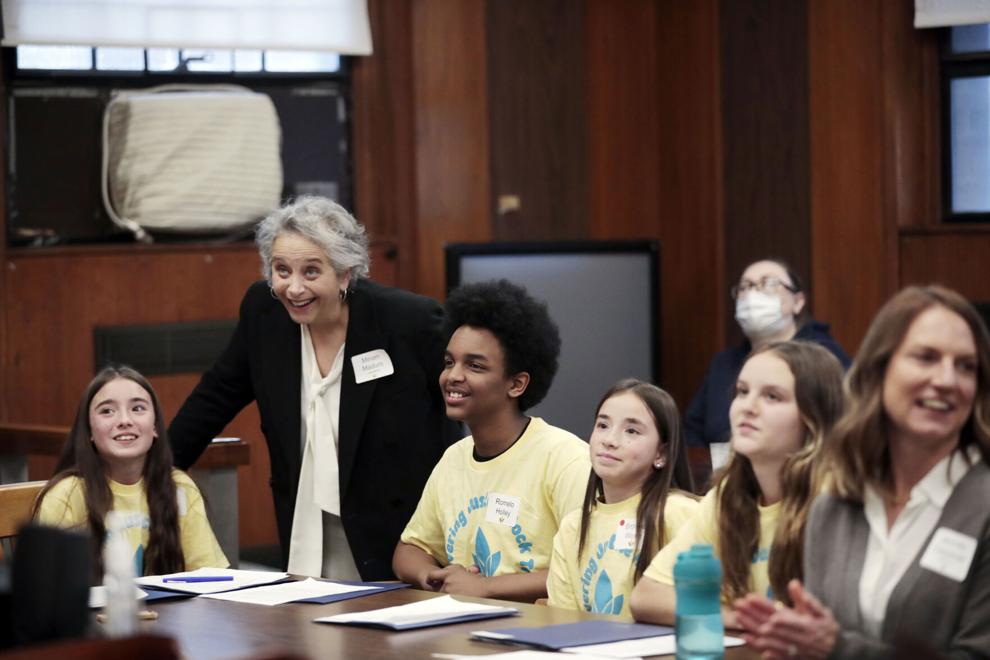 "As a Pittsfield native myself, who also graduated from Reid, this was an incredible opportunity for me to be able to work with these seventh graders," Carpenter said. "They started on Oct. 4 as seventh graders and they've transformed over the course of the last 10 weeks into trial attorneys."
For an hour, the student attorneys litigated whether the hypothetical search of a student's cell phone by their high school principal constituted a violation of the student's Fourth Amendment rights — which guarantees personal protection from unreasonable searches and seizures.
Plaintiff attorneys Nora Tierney, Abbey Wong, Romelo Holley, Brooke Wong and Madison Renzi presented a nuanced argument that the simulated search of a student's cell phone had been unjustified and unreasonable from its inception.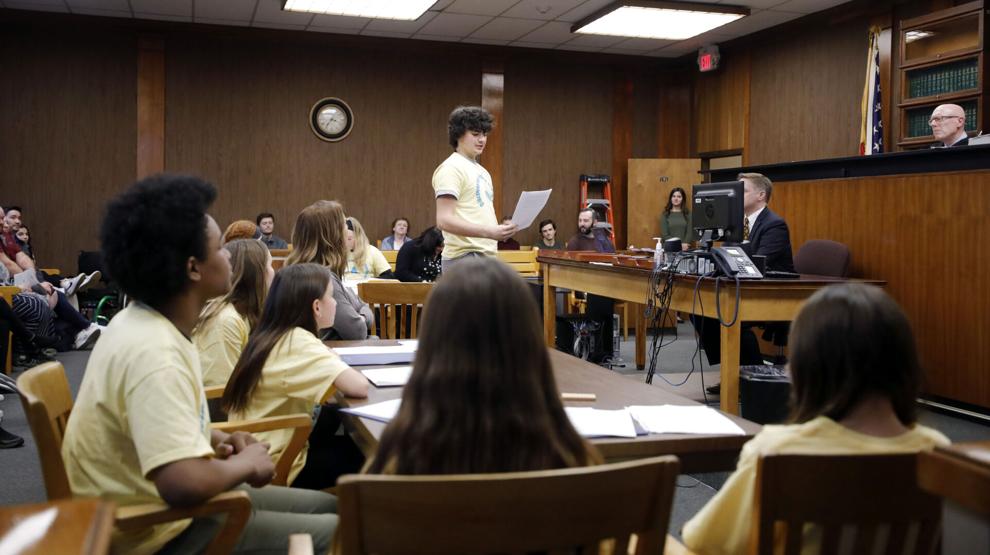 Defense attorneys Brennon Zahn, Lilyana Ferris, Caylee Wong, Meghan Tommey and Mackenzie Boody argued that the principal had gathered enough evidence in the investigation leading to the search to meet the measure of a reasonable search.
Reid Guidance Counselor Kristen Shepardson, who helped select students for the program, said she felt overcome as she watched opening arguments, cross examinations and closing statements.
"It's unbelievable — I had tears in my eyes watching them," Shepardson said. "I knew they could do it, I had no doubt from watching them practice. But you never know how things are going to go when they're in a real court situation. I felt like a proud mom."
The emotions — primarily pride and excitement — were palpable in the courtroom as parents, teachers, attorneys and community members who acted as jurors left to reach a verdict. Students smiled and bounced on the balls of their feet as they waited.
When Judge Simons read the verdict — the jury found the search unreasonable and a violation of the Fourth Amendment — a round of applause broke out.
"It was like an adrenaline rush," Renzi said afterword, still all smiles from her first win in court. "It was super fun."
It's a moment that may have planted a seed for school officials and students alike. Renzi, Tierney and Abbey Wong all said they're now considering a future in law. Shepardson said she's in talks with Discovery Justice over the possibility of a spring program focusing on an appellate case.
Speaking to the crowd at the close of the case, Judge Simons had this to say to the attorneys gathered: "I think if you need associates in the future — you know who to hire."