WINDSOR — When the weather turns rainy, Windsor celebrates anyway.
The town kicked off its 250th anniversary celebrations Saturday as new and longtime residents huddled under tents in Windsor Town Park, amid a drizzle, to recognize the milestone.
"It was touch-and-go with COVID, followed by this weather," said Kim Tobin, chairperson of the town's Select Board. "We just decided to carry forward, to carry on."
As a largely maskless crowd milled about in the early afternoon, exploring the vendors and booths set up by town officials and volunteers, Tobin was thrilled to see everyone vaccinated and in public again.
"We were really insistent on doing this today," Tobin said. "It wasn't just about the 250th. It's about the community, and celebrating all of the stuff we did, from the beginning of the pandemic."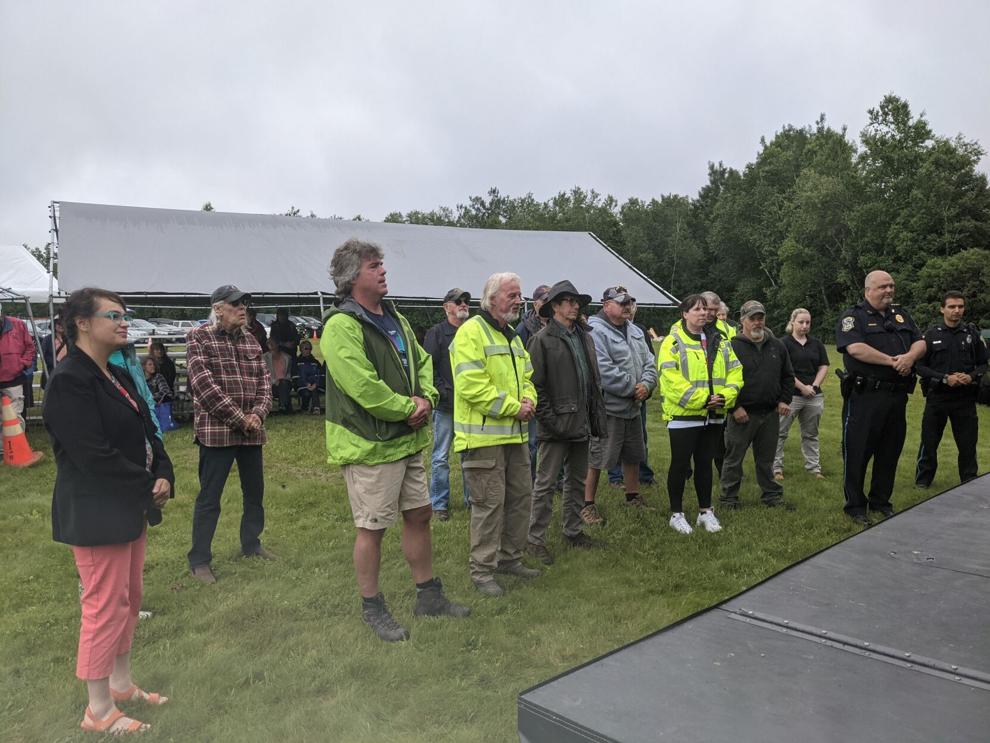 Tobin moderated the opening ceremony, pinging the crowd with trivia questions and noting locals' endurance in the face of bad weather.
"Less-than-ideal weather is a relative term in Windsor," she said, to appreciative laughter, before pivoting to a more serious example of the town's resiliency — the coronavirus pandemic.
"This past COVID year isn't the first hard time in our history, and it won't be the last," Tobin said. "In fact, in the face of adversity, Windsor, with all our bumps and bruises, shows what a community is and how a community comes together."
Tobin also introduced speakers, including state Rep. Paul Mark, D-Peru, and state Sen. Adam Hinds, D-Pittsfield.
"The past year has been so poignant in reminding us that we really need each other," Hinds said. "We really rely on folks; we rely on each other."
The legislators revealed a gift to the crowd — a print of the town's original charter.
"Every time a town has an anniversary like that, we go down to the archives of the state and ask, 'Can we get a print of the original town charter?' " Mark said. The catch, he added, is that the state often has to restore the charter. In this case, the two had paid $2,000, out of their own pockets, to ensure that the charter was restored.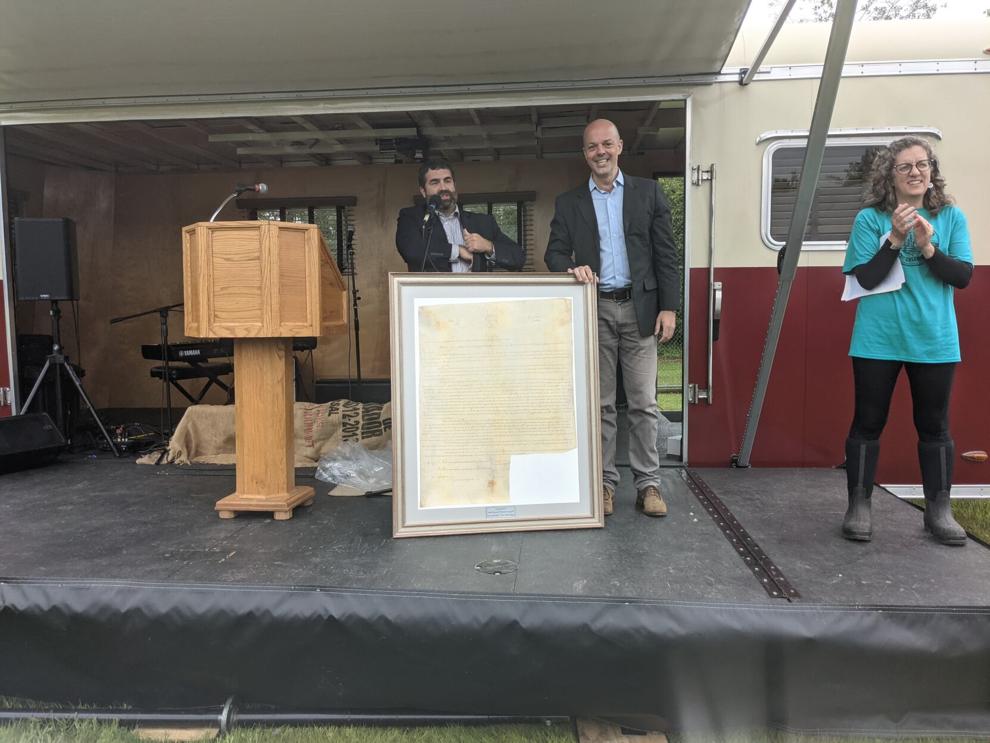 Historian Bernard Drew, who grew up in Windsor, was pleased to see the town gathered to celebrate its history. Drew is the last surviving founding member of the Windsor Historical Commission and author of two books on town history, "The Colonel on Skis: And Other Stories of Notchview Reservation in Windsor, Massachusetts," about the former Ely estate where he grew up, and "Charles H. Ball: Berkshire's Biggest Smalltown Industrialist," about a 19th-century entrepreneur.
"It's gratifying to see that people are still turning out and taking an interest in history," he said. "It's a small town, but it's rich in stories."
The crowd included families, children sporting hula hoops from a Council on Aging booth, dogs, first responders, town officials, volunteers, longtime residents, pandemic transplants and more. Some residents arrived from just down the street; other visitors had come from as far as North Carolina.
Megan Anello, who arrived with her husband and sons, has lived in Windsor for seven years.
"It's so great," she said. "It's small, but everybody's community-minded, and it's a nice place to bring our kids up."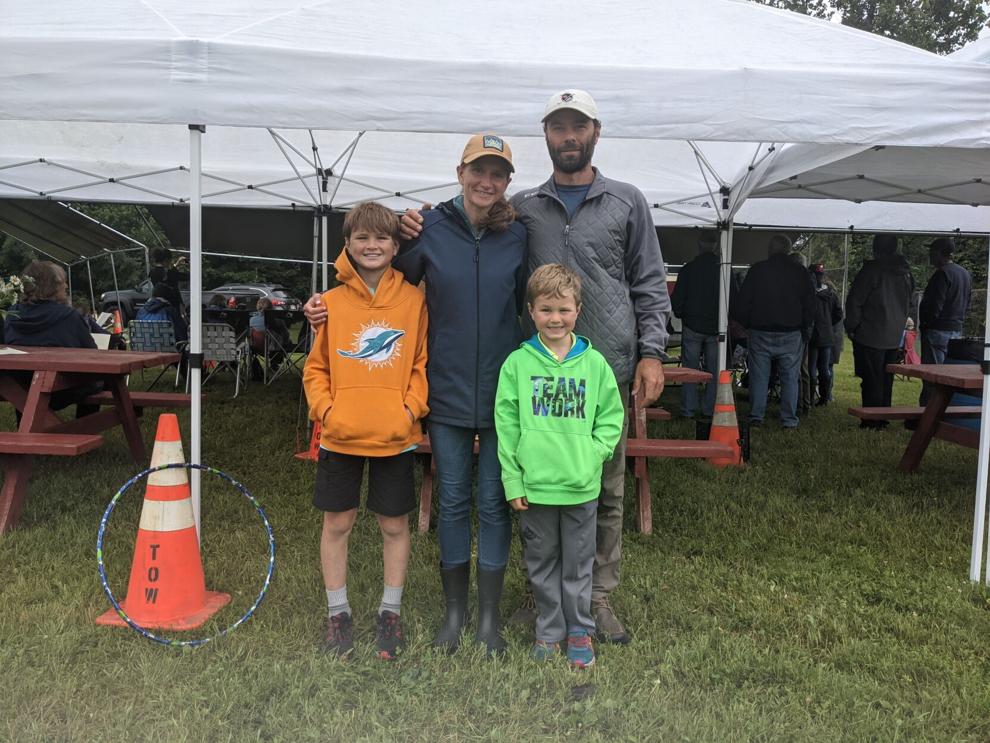 Several weeks earlier, Anello had been part of a volunteer effort to clean up the park and put down mulch. Also on Saturday, the town kicked off a fundraiser to renovate the playground and park, an effort for which Tobin hopes the town also will be able to secure grant money.
Saturday's celebration marks the start of months of events, including a nature walk, car show, historical programs and the town's fall festival.
For a full schedule of events, visit windsormass.com/250.