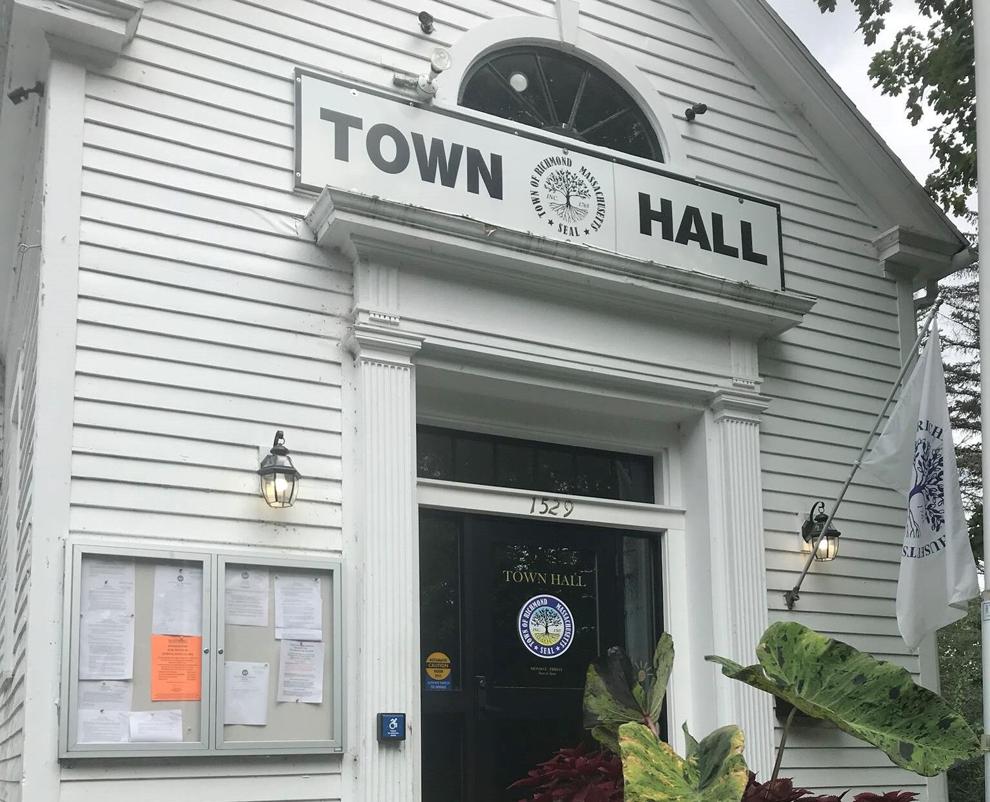 RICHMOND — Residents will see a hefty increase in their annual property tax bills for the current fiscal year, not only because home values have escalated, but primarily because of an increase in the amount of revenue needed by Town Hall.
And officials are considering giving full-time residents some relief by shifting some of the burden to second-home owners.
At the Select Board's recent tax classification hearing, regional assessor Harald Scheid pointed out that the town's tax levy — that's the amount raised through property taxation — comes to $5,933,898, an increase over last year's total of $5.4 million.
The total budget approved by voters at May's annual town meeting was $7,660,000, with the difference funded by state aid, local excise taxes and municipal fees.
The projected tax rate, subject to approval by the state Department of Revenue, is estimated at $12.74 per $1,000 of assessed valuation, an increase of 2 cents from last year's rate.
"Even with that, we're looking at a sizable tax increase," Scheid said.
The owner of an average-priced single-family home assessed at $448,000 (up from $406,000 last year) can expect an annual property tax increase of $544 for the current 2022 fiscal year.
The average tax bill for the town's 751 single-family homes will rise from $5,166 to $5,710 — an increase of about 10.5 percent.
Much of the hike in tax bills, Scheid said, is because of the $500,000 increase in tax revenue over last year that needs to be raised to fund the town budget.
In addition, since the average home value has increased by $42,000 compared with last year, the tax bite will be deeper despite the slight increase in the tax rate.
"It's no secret to anybody that the market has really surged in the last couple of years," said Scheid, the owner of Regional Resource Group. Richmond's assessed values have increased by 10.4 percent, on average, based on market conditions in 2020.
Since the pandemic-fueled real estate boom continued in 2021, he noted, another increase in home valuations is likely to impact tax bills next year to reflect the price surge.
In response to questions raised by Finance Committee Chairman Robert Gniadek, Town Administrator Danielle Fillio explained that state aid for outbound school choice students came in at $74,000, but the actual cost is $112,000, so, town taxpayers have to make up the difference.
She also cited lower-than-expected excise tax collections for motor vehicle owners, and nearly $29,000 in fees for tax-title attorneys hired by the town to auction off town-owned properties.
With the tax burden soaring, Gniadek urged the Select Board to start considering a residential tax exemption plan to ease the pressure on full-time residents.
Other South County towns, including Great Barrington, Lenox and Stockbridge, also are planning to consider the exemption, which is permitted by state law but has been adopted by only 16 of the 351 cities and towns statewide.
The residential exemption, which can discount tax bills by 10 percent up to 35 percent for locals, shifts the tax bite to second-home owners, some of whom own the more expensive homes in the town.
"That can make some sense," said Scheid, since it would benefit the owners of lower-valued homes. "I'm certainly willing to explore with the town what those numbers might look like," he added.
"We have a significant percentage of second-home owners driving the price of real estate up," Gniadek said. "In my opinion, in order to make Richmond affordable for residents so they're not being priced out of the market by people moving in to be residents, we ought to consider that [a residential tax exemption]."
Selectman Roger Manzolini noted that the Select Board has promised Gniadek it will explore the idea through a "meaningful discussion" based on specific numbers and projections.
Under state law, the exemption offering discounts on property taxes is available only to full-time legal residents of a town, so, part-time homeowners would see larger tax bills. That's because the program does not alter the amount of revenue through taxation that a community has to raise in order to finance its municipal operations.
The decision on whether to adopt the exemption is up to the Select Board and does not require a vote at the annual town meeting.