RICHMOND — Who's a town with no police force going to call when chronic speeding gets out of hand, as it has this summer?
State police is the obvious answer, town leaders agreed, and they now have a promise of help from troopers.
Sgt. George M. Hamilton III of the Unit B-1 Lee barracks told officials last week he and other troopers are available to help control speeding in Richmond. "Every town has speeding issues," he said. "We do try to address those as best as we can."
The Lee unit patrols 16 towns — seven of them with part-time police forces or none at all, such as Richmond.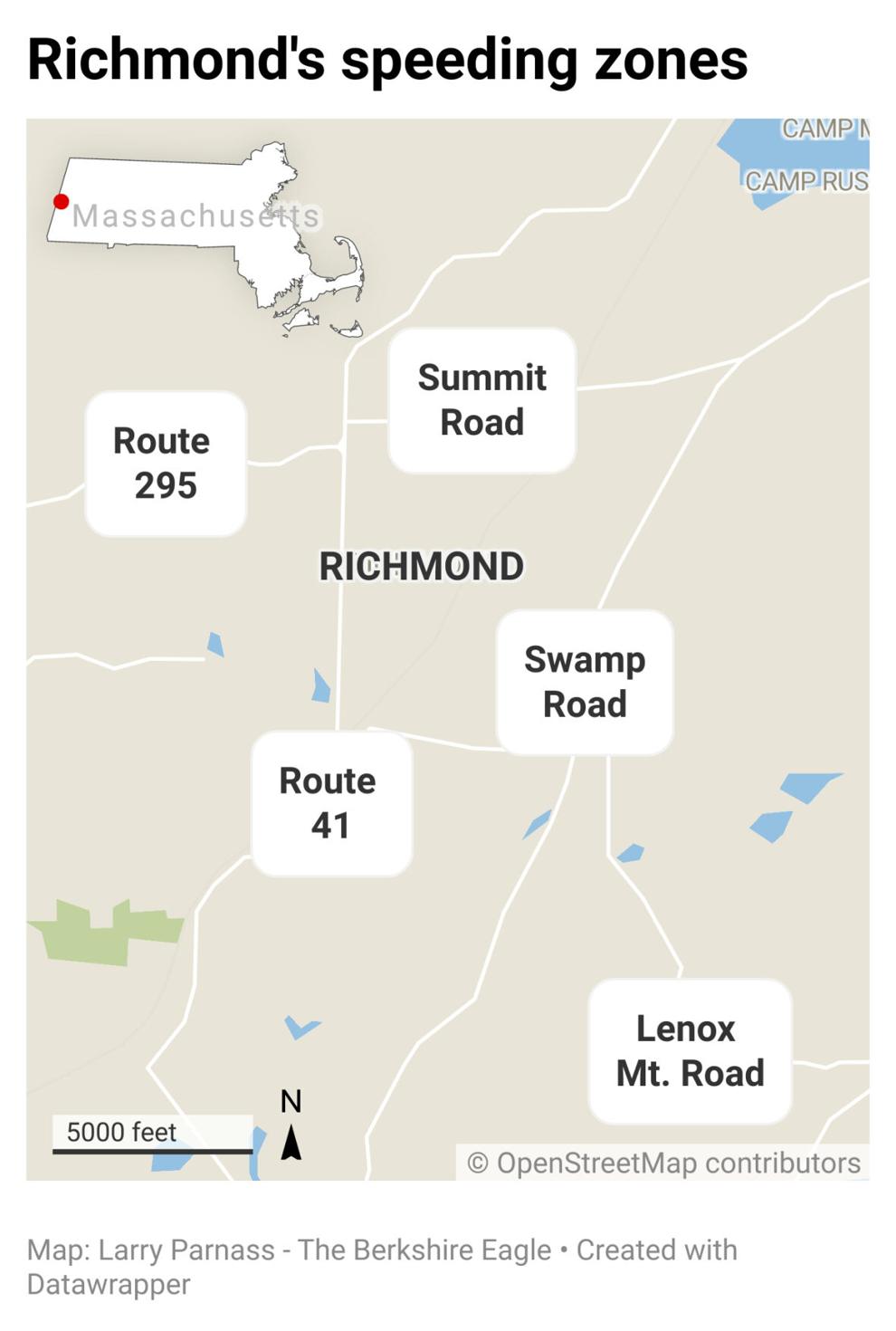 Hamilton agreed to consider not only a stepped-up state police presence on Richmond roads, when possible, but also increased communication between the town and the Lee barracks. He suggested town leaders contact the barracks to pinpoint speeding hot spots, but suggested the locations won't come as a surprise.
"We know where the speed concerns are," Hamilton said.
Five roads through Richmond are the prime problem areas, Select Board Chairman Roger Manzolini said.
The hot spots include:
• Route 41 (State Road), connecting West Stockbridge to the western end of Pittsfield, has been the scene of multiple accidents, including two fatal crashes at the intersection with Dublin Road before the state worked with the town to enhance signs.
• Route 295 connecting Canaan, N.Y., where the speed limit is 55 mph, into Berkshire County through Richmond, where the limit drops to 40 mph.
• Swamp Road, another north-south shortcut between West Stockbridge and Pittsfield, where it becomes Barker Road, passing the city's airport bound for West Housatonic Street (Route 20). "A regular racetrack at times," Manzolini said. The route includes a once-notorious intersection with Lenox Road, before signs and travel sight lines were enhanced.
• Lenox Mountain Road, a major connector to and from Tanglewood, Lenox and Stockbridge, where the town implemented safety measures in 2018.
• Summit Road, a popular, recently resurfaced east-west shortcut between Swamp and State roads with a 40-mph speed limit. It is popular among motorists using GPS maps and software for navigation. The intersection of Summit and Dublin roads is "an accident waiting to happen," Manzolini said. A speed limit reduction may be warranted, he said.
Manzolini also advocated enhanced state police patrols, when possible, on the problematic roads.
East Road is especially dangerous, said Selectman Neal Pilson, a resident there. He cited heavy use by pedestrians as "the Broadway of our town because it's relatively straight, shaded and gravel, with ample parking." The road shows up in several Berkshire County guidebooks as a scenic destination for a bucolic walk in the country, he said.
Speeding is a townwide problem, Pilson said. "We need more protection for the pedestrians, since some people think the center of East Road is the best place to walk. They tend to forget there's car traffic as well."
He suggested a simple cure — signs at key intersections with Swamp and Reservoir roads warning drivers of pedestrians ahead. Pilson also urged consideration of a yellow sign recommending a 25-mph speed limit. Such signs do not require state approval.
"As much as I vehemently oppose signs, I agree with the suggestion," said Manzolini. "It's a done deal." The Select Board agreed to go forward with the proposal.
Pilson said he would prepare a list of five locations most deserving attention in state police patrols.