PITTSFIELD — With the ding of the elevator at the fifth floor of the Medical Arts Complex here, Giovanni Lynch wheeled himself out into a new reality six years ago. It didn't go well, for anyone, not at first.
"I thought he was the meanest son of a b---h I had ever met in my life," said Joe Racicot, of Pittsfield.
"I thought he was just going to bring the group down into a fiery, like, hell," said Naomi Clark, of Ashfield.
"Scary Gio," they called him. His manners sharp, his attitude disheartening, he clearly wasn't keen on the premise that people going through similar trials and torments could help one another.
He still simply wanted a do-over.
But, didn't they all?
A group to which no one ever had hoped to belong, except for those who eventually find it, gathers here in a makeshift meeting room inside Berkshire Medical Center the first Thursday of the month.
If each member could have a do-over of one single, ludicrously brief, unreasonably significant moment in time, of course they would take it.
Lynch, 40, would choose a moment 16 years ago. He would stay put in his apartment, instead of hopping on his motorcycle to go speeding up Center Street with alcohol in his system.
Racicot, 67, would've first checked the water level of a hotel pool before diving into it one evening nearly 40 years ago while horsing around with friends.
Clark, 37, would've eased up on the throttle of an ATV as she ripped along the slopes of her family's apple orchard 16 years ago.
John Serridge, 28, would've slowly entered the ocean that day 10 years ago, instead of charging headfirst into the deceivingly shallow water.
With the ding of the elevator, each of them wheels or walks with assistance into the Spinal Cord Injury Support Group of Berkshire County. The group, founded in 2015, is part bull session, part social club, and part informational session with guest speakers. Mostly, it's a dose of cold, hard reality that, in itself, comes with a solace that's not insignificant.
There will be no do-overs. But, there is this: Without the horrifying tragedies that have shaped many of their lives, those who gather here likely would not have one another. And that would make for a cruel bargain.
An accident and its aftermath
In 2015, Lynch still was convinced that a broken body meant a broken life.
He hadn't yet realized that his life, in many ways, had been broken long before May 22, 2005, long before those wee hours when he stepped out of his apartment on West Housatonic Street, climbed onto his Harley and sped north along Center Street.
He had been a wild child. He had gone through foster care. His mother, who led a complicated life, died when he was in his teens. Lynch reckons that a random sampling of his peers at Pittsfield High School back in the day would have declared him either scary or good-hearted.
"Fifty-fifty," he said, "and both would have been right."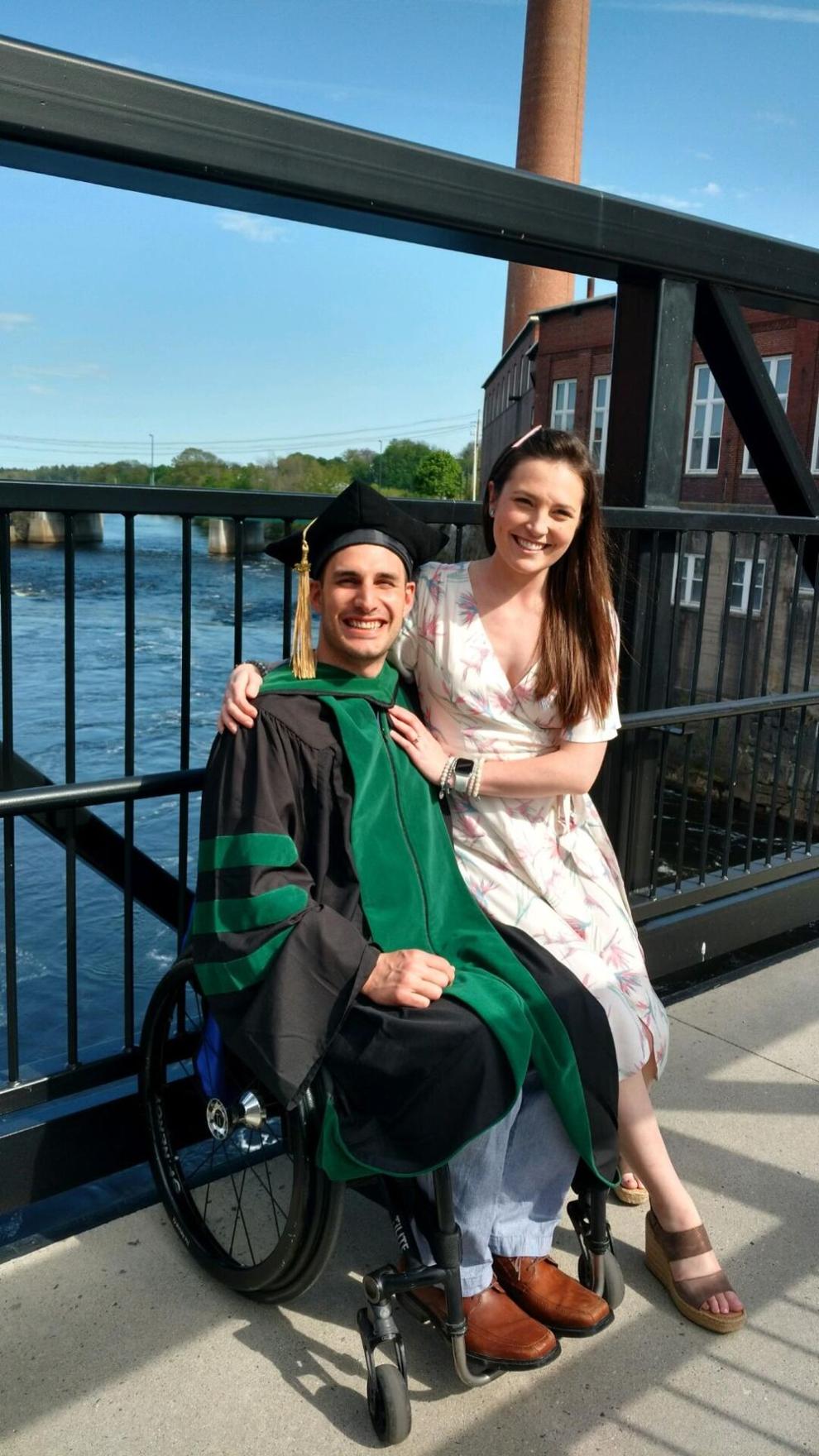 He had been drinking in the hours before his accident, and it was raining. Still, around 1 or 2 a.m. he sped off to meet a young lady. At Bradford Street, Lynch swerved to avoid an animal that had run into the road. In doing so, he lost control of his motorcycle. The front wheel hit a curb. His body launched over the handlebars, sliced through a small tree and then smacked into a street sign.
Forty days later, he woke from an induced coma. His left leg was gone, just above the knee. His right thumb, too. From his sternum down, he couldn't feel a thing and never again would. From his sternum up, scary Gio evicted good-hearted Gio.
He was 24.
He would abandon his pursuit of a plumbing profession and instead collect $1,000 a month from Social Security. Sentenced to life in a wheelchair, he shuttered himself in his apartment, where the rent remained affordable, since the building is owned by his father. For the better part of 10 years, he neither wanted to live, nor wanted to die. His boyhood hockey trophies still lining a hallway shelf, he self-medicated with illegal narcotics.
Eventually, through his physical therapist, he met another paraplegic, Steve Ferro, of Cheshire. Ferro, himself a 2007 Hoosac Valley High School graduate — he was a 2006 Western Mass. Division II cross-country champion — would have chosen a do-over. A motorcycle accident in May 2012 left him paralyzed from the chest down.
Lynch recalls the first time he met Ferro.
"He was all amped to meet me, and he said to me, 'Oh, you have a spinal cord injury. Great!'"
"No, not great," Lynch recalled thinking at the time. "Definitely, not great."
Pure, jarring honesty
Ferro wasn't rejoicing in Lynch's misfortune. He simply was glad to meet someone like himself. Ferro was helping to start the Spinal Cord Injury Support Group. Maybe Lynch should come. Well, maybe Lynch would.
One Thursday, he wheeled himself out from his apartment, made his way up North Street and presented himself before all those gathered.
"Angry Gio" listened in to the pure, jarring honesty shared by group members — about the friends who don't come around anymore, the yearning for independence, the chronic pain, the complicated logistics of going to the bathroom, the sores that develop in the parts of the body permanently shut down by trauma, the rewards in continually moving those parts of the body that still can move.
On the fifth floor on the first Thursday beginning at 5 p.m., no one dares declare the simplistic bromide that everything will be just fine.
Yet, a surprising number of things evidently can be made much better.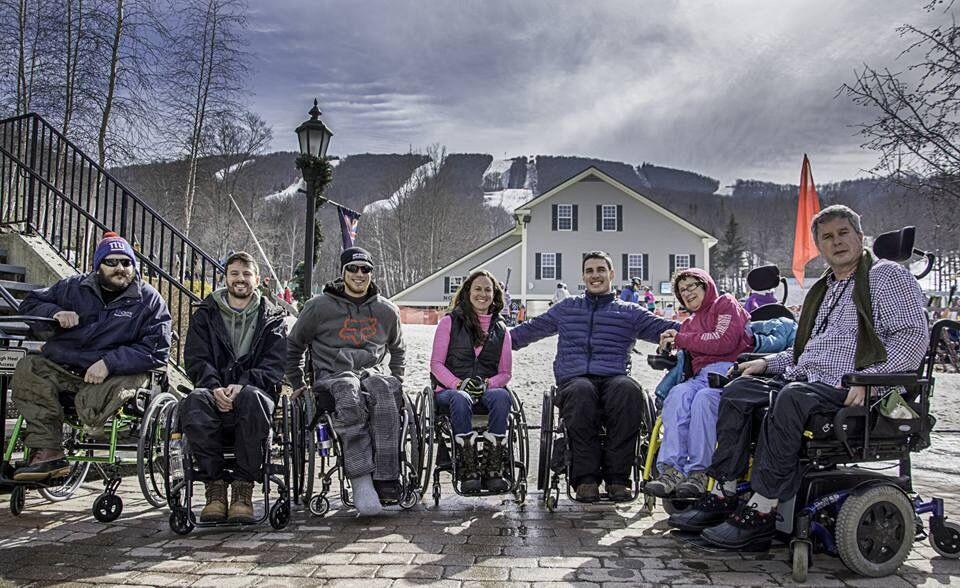 Serridge, for instance, is earning his associate's degree at Berkshire Community College. He has found peace through his faith, retrofitted a van to his limited physical abilities and now drives himself to work. He is on the sales team of the Pittsfield-based information technology company Anteris Solutions.
Racicot enjoys his family life and coaches the Pittsfield High School girls' basketball team.
Clark married a man named Craig on the anniversary of her ATV accident. She continues to work at the family farm, Clark Brothers Orchards. Last month, she completed a 100-mile hand cycle ride in Vermont.
And Ferro, the man who started all this, graduated medical school last spring and is a doctor in residency at Kent Hospital in Warwick, R.I. Now 31 and engaged to be married, he has delivered babies and performed lumbar punctures, intubations and whatnot, all from his wheelchair.
The group has a mailing list of about 80 people. The age range is 18 to late 80s. Many of the members play sports together, including skiing. They check in with one another via text and social media.
In Ferro's absence, Clark runs the group. But, she has a helper: Not-so-scary-anymore Gio. For more than three years now, Lynch has been sober — and hopeful.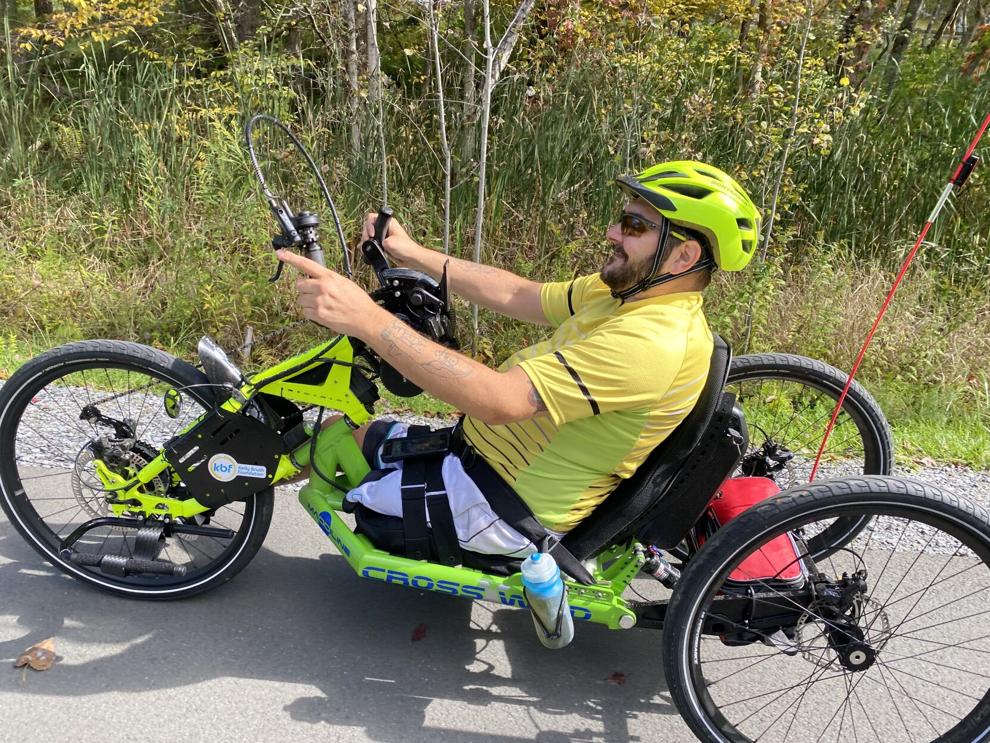 He attributes his change to the group and to the specific advice to get a hand-operated bike and start moving. He now rides every day, often 30-plus miles. On cold or rainy days, he rides a stationary bike.
"You either grow or you stagnate," Lynch said during a ride last week along the Ashuwillticook Rail Trail, one of his favorite places. "I'm not going to stagnate."
In attesting to the change, Racicot can't help but to tease.
"I see a more compassionate man who's basically starting to feel comfortable in his own shoe," he said. "He's only got one."
The conversation the evening of Oct. 7 turned to why it is that some friendships fade after a tragedy. Clark has come to understand that some people simply don't know how to be a friend to someone who suddenly is paralyzed.
She gets it. She once knew a guy they referred to as "scary Gio."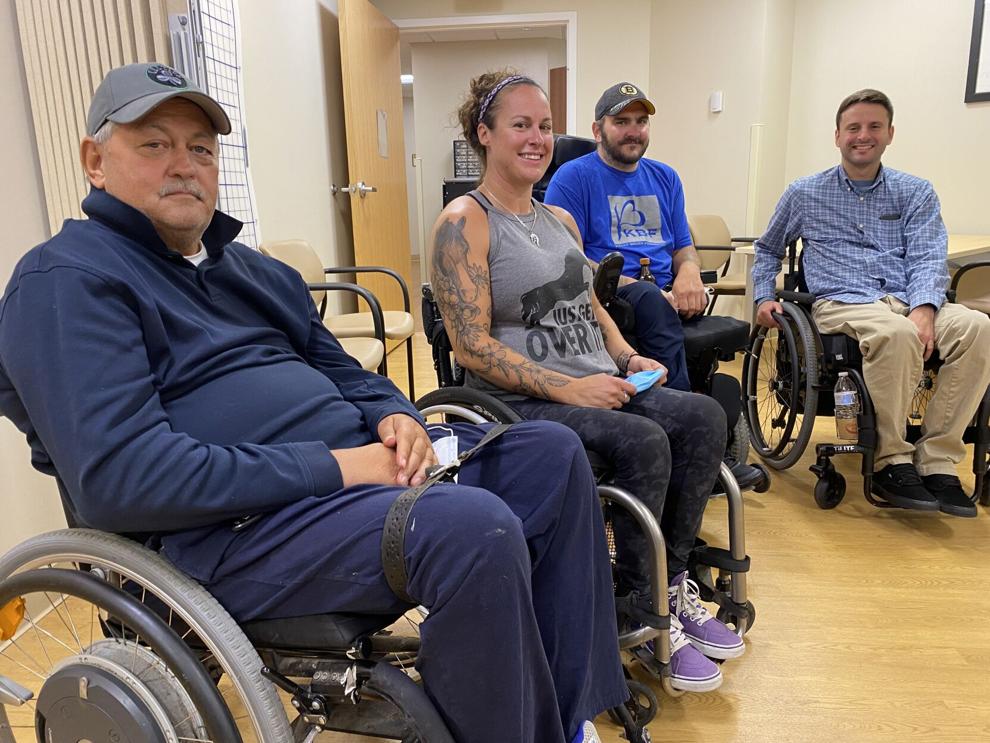 "Correct me if I'm wrong," she said, "but we didn't have to give him answers. Sometimes you can just sit in the uncomfortableness. You can just sit in the pain and not say anything."
Lynch, who has given up old dreams and who still is conjuring new ones, nodded.
"Yep," he said. "All you have to do is be patient, be there."