LENOX — Early birds by the dozens flocked to Tanglewood's Main Gate box office Thursday morning. Their mission: To snag prime seats for the entire summer lineup of concerts.
The public sale of tickets began in person at 10 a.m., with nearly 100 people in the queue, and many more trying to buy seats online. Opening the West Street box office for three days in late winter was promoted by Boston Symphony officials as a convenient benefit for area residents.
The first arrivals, Linda Moses and Evan Soldinger of Dalton, showed up at 8 a.m. "It makes so much sense," Moses said, "and it's so friendly letting Berkshire County people come. I love the openness of it, welcoming the community."
They came well-prepared with a homemade, unofficial signup list so people could "reserve" their spot in line and retreat to their cars until the magic hour approached.
"I figured we wanted to be polite to each other," Moses explained.
Soon, they were joined by an eager crowd, many seeking seats for the Robert Plant-Alison Krauss show on July 2. Several told The Eagle they preferred not to take their chances on an internet logjam.
But some were surprised that because of conditions set by the Plant-Krauss tour management, physical tickets are not being issued for that show. Electronically delivered tickets will be available several days ahead of the concert.
Stockbridge resident Tim O'Brien, another early arrival, said he joined the line because he had "some difficulty with the online experience in the past."
Joanne Quattrochi of Pittsfield, another Robert Plant fan, acknowledged that "being of a certain generation, I don't have the savvy or the patience for the online queues. Opening the box office is really appreciated by the residents because we're here year-round and it's nice to have an early shot."
Seeking tickets for BSO performances of Gustav Mahler's symphonies, Dan Thornton of Hinsdale had an obvious reason for turning out in person.
"It's because I don't have a computer," he confessed. "You come here, get tickets and you can't get scammed."
The line moved slowly, with some purchasers reporting a long wait until they reached the heated ticket booth with two windows.
"It took me 3 hours to get my tickets, 10:20 a.m. to 1:20 p.m.," said Laurie Gaherty of Dalton. "But I scored the Shed tickets for Krauss/Plant that I wanted and had great visits with other Berkshire natives in line with me, reminiscing about the 'old days.'"
As purchasers emerged, some waving their tickets in the air, they were greeted by cheers and applause from others patiently waiting their turn.
"Internet ticket sales were a convenience at first, but now it's a hellscape," said Susan Phillips of Windsor, waiting to enter the ticket booth.
A Lee resident, Brenda Gates, pointed out that buying tickets online can take hours "because everybody's on there all at once."
Kellie Keplinger of Cheshire was in line to buy tickets for Robert Plant.
"I absolutely love him, I'd come out any day in the freezing cold for him," she said. Keplinger called internet sales "atrocious, I don't want to give it to a scammer, I want to give it to Tanglewood because I've been coming here since I was in seventh grade."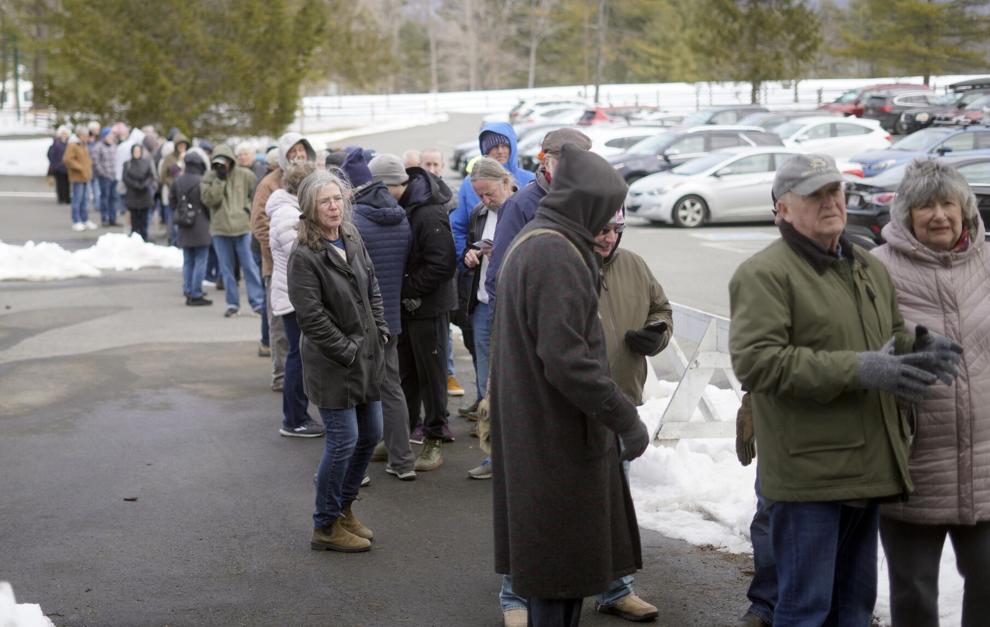 By midday, the mostly good-natured crowd was moving slowly but steadily, buoyed by sunshine brightening the landscape as temperatures rose.
"I think this is great," said Kevin Horner of Richmond. "I hope they do it every year. I prefer this, even in March, over sitting in front of the computer trying to do it."
Will the late-winter opportunity for in-person local ticket sales become an annual tradition?
Box office manager Dave Winn said he had been wondering how many people would show up on a cold March morning.
"We didn't know what to expect, so this is pretty great," he said. Winn noted that as an experiment, the local box office had opened briefly in February 2020, just before the COVID-19 pandemic hit.
"We are very pleased with the first-day response," said Jan Devereux, the BSO's interim senior director of public relations and communications, by email from Boston. "We will evaluate people's experience and the demand for in-person sales over the full three-day period and use the information to inform our planning for next year."