WEST STOCKBRIDGE — The man has a silver curse. He'll explain in a moment.
But, for now, his metal detector sounds possessed. It's bleating like an injured lamb. It's chuckling. It's catcalling like a mischievous R2-D2. It's doing a fine imitation of an old inkjet printer, of pins incurably striking an ink-soaked ribbon.
"I've got something here, and it's definitely different," says the man, dirt fishing on old farmland here Friday.
His name is Ole Andersen. He lives in an apartment in Housatonic. He's 52, originally from Denmark, divorced, a father of two girls, and he wasn't always so nosey about objects unseen. Then, two years ago, fishing on the banks of the Housatonic River in Stockbridge, he lost his footing and slipped 30 feet down the embankment and into the drink.
Since he already was wet, he thought, "I might as well see what's here." He soon spied something curious. He reached into the water and pulled out an old medicine bottle with embossed lettering. Forget fish: He's been searching for and discovering products of human workmanship, bits and pieces of the Berkshires' hidden history, ever since.
And now here he is on a Friday afternoon, just another day in the new life of Ole Andersen. Upon the invitation of landowners on Cross Road, he's about to deprive the earth of yet another silent occupant.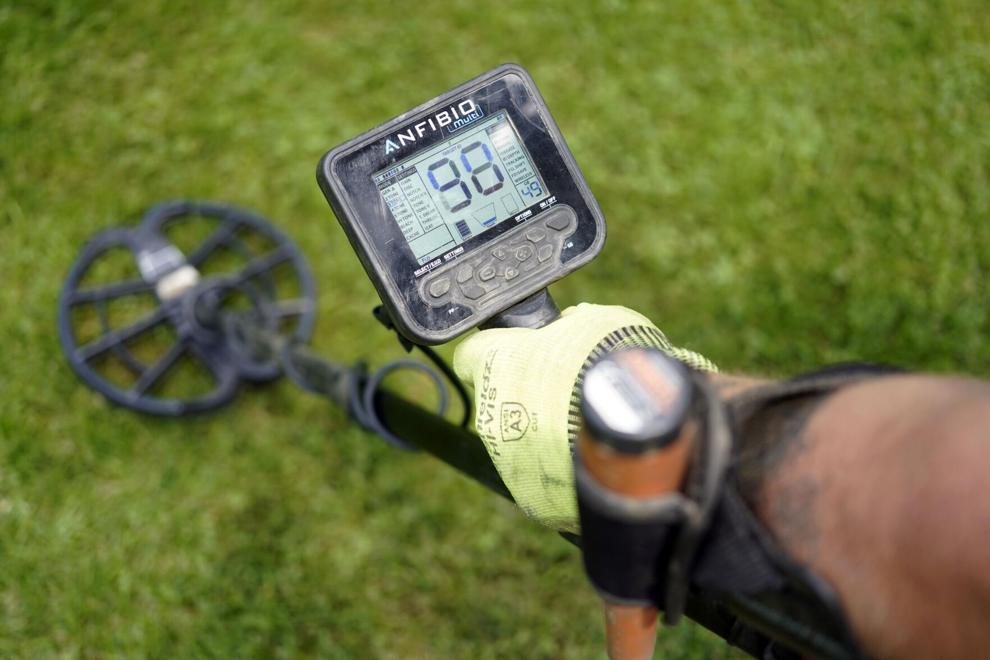 He's in a field beside the home of Peter McCormick and Patricia Hickey, who live in what's known as the old Arnold House, which dates to the 1700s.
"It's an old house," Hickey says. "Maybe he'll find some cool stuff."
A mere 10 minutes into his hunt, Andersen's impetuous, hand-held metal detector — in a past life it might have been a weed wacker — finally has settled to a comparatively soothing, midfrequency coo, which means (not to get too technical): Dude, dig right here, right now.
With a spade, he scores a circle into thick grass. He then drops down to his kneepads and folds the green toupee of grass over to reveal dark earth. He whisks the dirt hole with a small, flashlight-size metal-detecting instrument known as a pinpointer. Then, finally, both hands reaching in with care — with attentive, doulalike deference to things that are fragile — he delivers:
Mrs. Hickey, it's … it's … a bell.
The deal he struck with these landowners is, they're just interested in what Andersen might discover. In other words, whatever he finds, it's his to keep, if he wants it. "But," Andersen insists, "if it's jewelry, rings, that's the homeowners. That's only fair. That's how I do it."
As for the bell, it's probably brass, maybe from a sleigh? For now, Andersen only speculates. He sets it into his pouch, his first bell.
He replaces his divot.
Andersen is not an expert in bells. He's not an expert in old bottles, either. For that matter, he's not an expert in brass buttons, or bullets, or pocket watches; or Boy Scout neckerchief rings, or tin condom boxes, or trolley wheels.
He's found such objects on public land, in the Housatonic River and on private property to which he's been given access. Andersen doesn't claim expertise in anything but his day job, which is as a senior technician specializing in the manufacturing of medical equipment for Becton, Dickinson and Co. in Canaan, Conn.
Still, by land and by water, the man is an intrepid locator of concealed objects. He loves history, he loves being out in nature, and loves the idea of someday discovering some silver coins — not necessarily all in that order.
In Great Barrington, some watchful residents refer to him as "the river rat," a term of endearment, believe it or not. He's one of the few, the proud, the slightly revolted willing to wade into that notoriously impure stretch of the Housatonic River in downtown, a dumping ground decades ago for any and all things once deemed unwanted.
"They tell me, 'No one in their right mind goes into that river,' " Andersen says. "Good. Then I have it all for myself."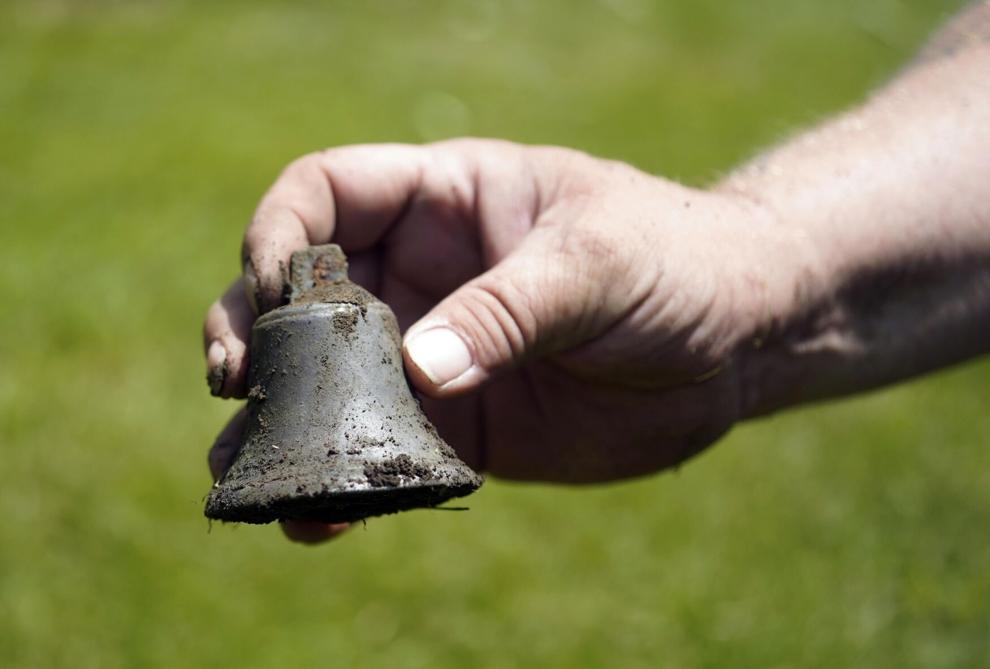 What he does is photograph the objects he finds. He posts the photos to any number of online message boards and awaits feedback from those who might know better than he. (He's learned that the bell, by the way, probably once was attached to a bracket that arched from the collar of a draft horse. In other words, it was a bell of a workhorse.)
Not long ago, he had hoped against hope that those brass buttons he found in the little park across from the Cumberland Farms in Great Barrington were from a Colonial-era British military uniform. After all, look at them: embossed with a crown and lions. Certainly, these were not symbols associated with us swamp Yankees of Western Massachusetts.
Sadly, a few online smarty-pants swiftly relieved Andersen of any notion that he was at the brink of untold wealth. The buttons likely had come from a common suit jacket, albeit probably vintage 1920s, probably British.
In the Housatonic River, near Eisner Camp, he once found a submerged shotgun. He pulled it out and called the cops — all great content for his fledgling YouTube channel, The Berkshires MA Treasure Hunter. The cops located the owner. The owner explained that he had fallen out of a boat while duck hunting in 1972.
Andersen also has unearthed a buckle from a Colonial-era ammunition bag. Determined not to imagine crimes committed, he's found countless knives. Behind the old racetrack of the Great Barrington Fairgrounds, he once discovered the full skeleton of a horse.
This year alone, he's unearthed about $600 worth of common U.S. currency. Gas money, he calls it.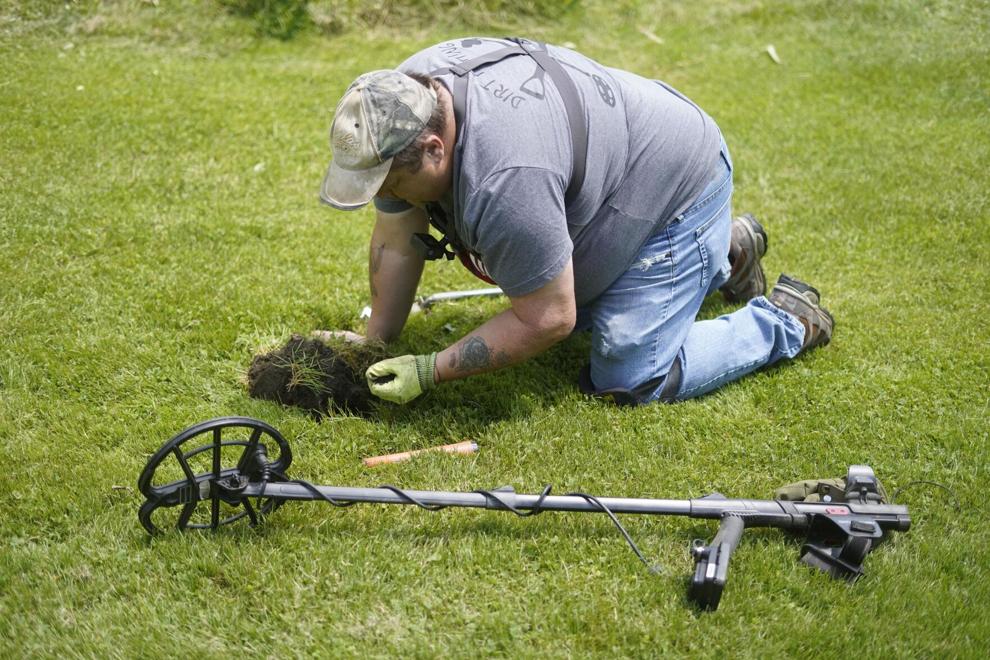 Among his most prized finds is a British copper coin known as a cartwheel penny; a Revolutionary War-era musket ball; a pocket watch counterweight; and an arrowhead dating back 1,000 years.
In a safe, he keeps what might be an extremely rare bottle. It's from the Berkshire Brewing Association in Pittsfield. He found it in the Housatonic River in Great Barrington. It might be one of six test bottles that never made it into production.
But, what he really wants is silver, a silver coin, a Liberty coin.
"I have a silver curse," Andersen says with dismay.
Every time his metal detector gives a telltale squawking for silver, it turns out to be a measly, valueless pull tab.
On Friday, in West Stockbridge, his losing streak continues.
"Ahh, the ever-so-popular pull tab," he says, pulling from the ground yet another sullied, silverish object that's not a silver coin.
"Someday," he says.
Until then, he'll keep digging, still tickled to find, say, a Flash Gordon pistol like the one he now displays on his apartment wall.
"It's old," he said.
It dates to the 1940s.
Old?
Curious, coming from a Dane. Andersen grew up in a home built in the 1500s. One of his boyhood friends lived in a castle — built in the 1200s.