PITTSFIELD — Remember how the holidays used to be? Birthdays? Weddings? Going out to eat?
While we're talking about it, when was the last time you shook someone's hand, or gave or received a much-needed hug?
These are some of the simple things, little bits of everyday joy, that we can get back, says Pittsfield Mayor Linda Tyer, if and only if we all brace up and do the right thing.
Today, the city is launching its Bring Back the Joys of Life campaign, a six-week awareness effort that's relying on everyone's personal responsibility to take care of their community during the coronavirus pandemic.
"We want to get back to things we cherish, but we're just not there yet," says Tyer.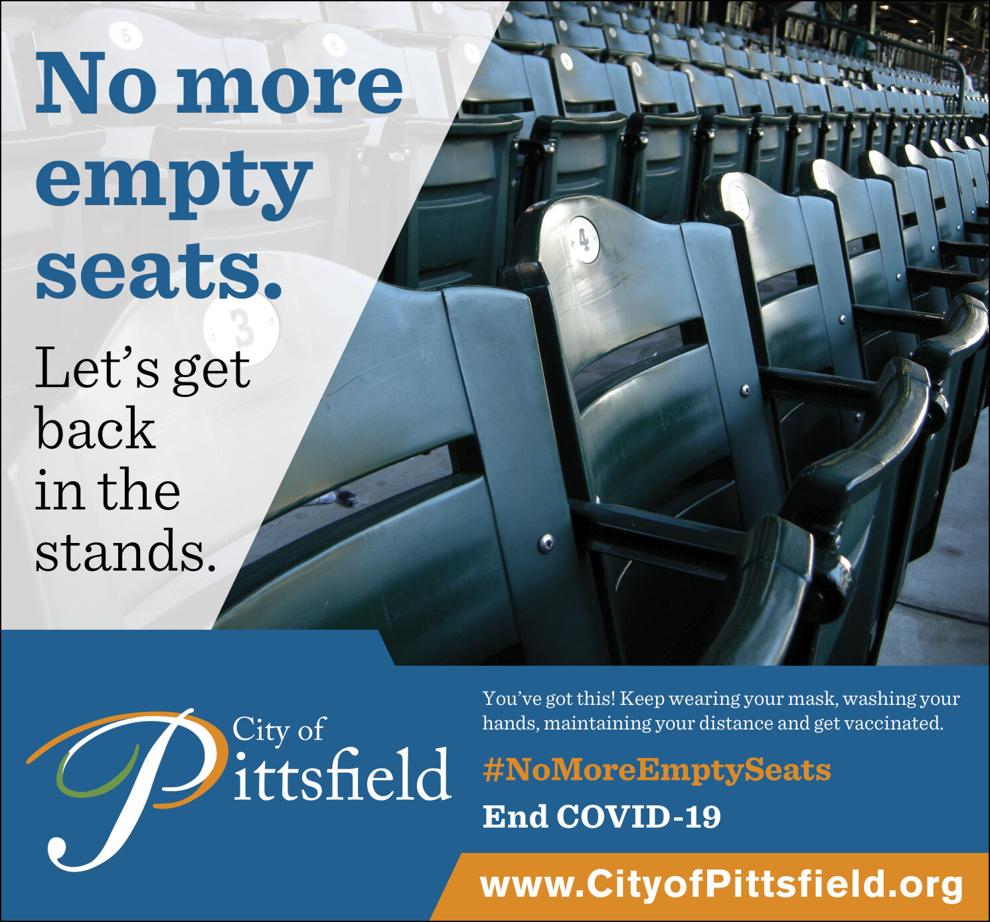 A six-week public awareness campaign
Bring Back the Joys of Life will be broadcast on billboards around the city, and in advertisements in The Eagle, on berkshireeagle.com and online elsewhere, which residents will notice as they surf the web starting today. The mayor says the concept emerged from state guidance after Pittsfield was declared a COVID-19 hotspot late last year; the effort is being paid for via the CARES Act, designed to mitigate fallout from the pandemic.
The billboard messages are clear and aspirational, says Tyer, depicting the better times that we all recall: smiling, unmasked faces of people enjoying one another's company, theaters, downtown celebrations. No one should be doing this right now, notes Tyer, but it is what we want to get back to.
"The campaign perfectly expresses what I think we've all missed in this last year, which is the joy of living in this beautiful place, the joy of being together. This reason is why this campaign is so important, to remember and get back to the joy, and we will, if everyone does their part," says Tyer.
New year, renewed commitment to community health
It's a brand new year, so the campaign's timing is great, notes Tyer.
To get to where we all want to be, we need to recommit to "stay in the fight. Mask up. Social distance. Wash your hands. Get vaccinated," says Tyer.
Tyer says residents should maintain their sense of hope, especially with the vaccine rollout, but urges not to let it lull you into complacency.
"Soon, kids will be able to go back to school, and we'll be able to go to the theater again, and we'll dine at a restaurant with our friends. We all want to get back to the things we cherish, but we're not there yet, and we have to stay vigilant."
There was so much lost in the last year, notes Tyer: Kids didn't feel the pomp and circumstance of graduation; Berkshire wedding ceremonies, grand and small alike, got scrapped; no giant Fourth of July Parade or Third Thursdays, or any event that formerly took over the entirety of North Street.
Get creative while staying healthy
There are plenty of safe activities in the city. Tyer encourages residents to tap into their creative sides — and the wealth of outdoor opportunities that Pittsfield has to offer, from Springside Park to October Mountain, the largest in the state's park system.
"You might have to have some new traditions, but there are ways to inspire hope: You can go for a hike, ski at Bousquet, go ice fishing. There's a lot available to us that we can turn to in our time of distress," says Tyer. "We can enjoy things safely."
She notes that Downtown Pittsfield Inc. curates a newsletter highlighting city events that can be enjoyed safely, such as a livestreamed comedy show; you can sign up for the newsletter at downtownpittsfield.com. You can even make a family appointment for a safe tour of the Berkshire Museum, Tyer says.
Don't loosen up yet
The concern, of course, is that as the pandemic wears on, residents will loosen their personal restrictions that they've been living with since March, and different households will get together before COVID-19 is sufficiently stamped out.
"That's when the risk of transmission increases. Stick with your family, stick with the people you live with, and enjoy what Pittsfield has to offer," the mayor says.
If you must be near people other than those you live with, please make sure to observe CDC-recommended practices, notes the mayor. This is crucial during the next several months as Massachusetts residents begin to get vaccinated
These days in the city, there has been an increase in positive tests, with more residents in the hospital and in intensive care, and deaths.
"We're not looking at this through rose-colored glasses," says Tyer. "Based on the data that I've gotten in the last couple days, we're in a real serious predicament, and it's so much worse than when it started in March. We haven't recovered since a Halloween surge."
City stepped in when feds didn't
With the lack of a national strategy, it was up to local and state government to handle the outbreak. Now, the city of Pittsfield is asking those who live here to do the same: to help handle the outbreak by continuing to mask up, wash hands, social distance and getting vaccinated.
Tyer encourages visitors from nearby towns, whether for skiing, food shopping or work, to exemplify the meaning of being good neighbors and to keep their eyes on the prize of getting back to normal through vigilance. She says the same holds true for tourists who are passing through.
"We're all neighbors in Berkshire County. What happens in North Adams and Great Barrington happens in Pittsfield. We're bound together by geography. We owe each other the respect to do the right thing and protect each other from transmission," says Tyer.
Keep sticking to rules and recommendations
A statewide mandate for mask-wearing in public places still holds, as does a 9:30 p.m. curfew for non-essential businesses to close and for workers and patrons to head home.
"We are still in the midst of fighting this highly infectious virus, and now we're fighting human fatigue and nature, and that's where we put ourselves in harm's way when we don't stay the course. This entire thing is temporary, and it will be eased, if people do the right thing," says Tyer.
Tyer asks us all to not lose sight of the grave times and struggles of others, such as those who are grieving the loss of family or friends to the deadly disease.
"And especially health care workers, who are completely and utterly exhausted. We will always owe a debt of gratitude to them, showing up every day and delivering help to those who need it," says Tyer.
There are our friends and neighbors who are emotionally devastated right now, struggling with the deaths of loved ones in city nursing homes because of the spread of COVID, she notes.
"We're never going to get back to joy if we don't rein this situation in," says Tyer. "It's a call to action: Stay in the fight. End COVID-19."
Get more information
To learn more about Pittsfield's coronavirus response and resources, visit cityofpittsfield.org. Tune into PCTV for Mayor Linda Tyer's weekly COVID-19 update on Fridays, or watch them on the city's and Tyer's Facebook pages. Broadcast times vary, based on the release of state guidance and data, but often air around 3 p.m.