Grant programs are laced with cumbersome red tape. The high cost of housing makes it difficult for laborers to live in the communities where they work. Smaller farmers have a hard time accessing capital.
Those are among the challenges some Berkshire County farmers say they routinely face. And Wednesday, they'll have a chance to talk about those issues with the state's top agriculture official.
Agricultural Commissioner John Lebeaux will visit three farms in the Berkshires: Holiday Brook Farm, a multi-generational family farm with a revived vegetable operation in Dalton; Robinson Farm in Becket, a livestock farm focused on beefalo breeding for direct meat sales; and Woven Roots Farm, a diversified vegetable farm in Tyringham with a vibrant focus on community engagement.
With him will be Deputy Commissioner Ashley Randle, state Rep. John Barrett III, D-North Adams, state Rep. Smitty Pignatelli, D-Lenox, and a representative from state Sen. Adam Hinds' office.
In anticipation of this visit, The Berkshire Eagle stopped by each of the three farms on Tuesday to talk about the challenges they are facing and how the state might help alleviate some of those obstacles.
ROBINSON FARM
Farm owner David Robinson squinted through the bright sunshine and peered at his herd of 10 beefalo (a hybrid species of cow and buffalo), pointed to a calf and said, "I lost two calves last night. Yesterday I had three."
He attributed the lost calves to local predators — either wolves, bobcat or mountain lion. While the state denies the existence of mountain lions, Robinson is sure he's seen several on his land.
He noted that each lost calf is a loss of $5,000 in income.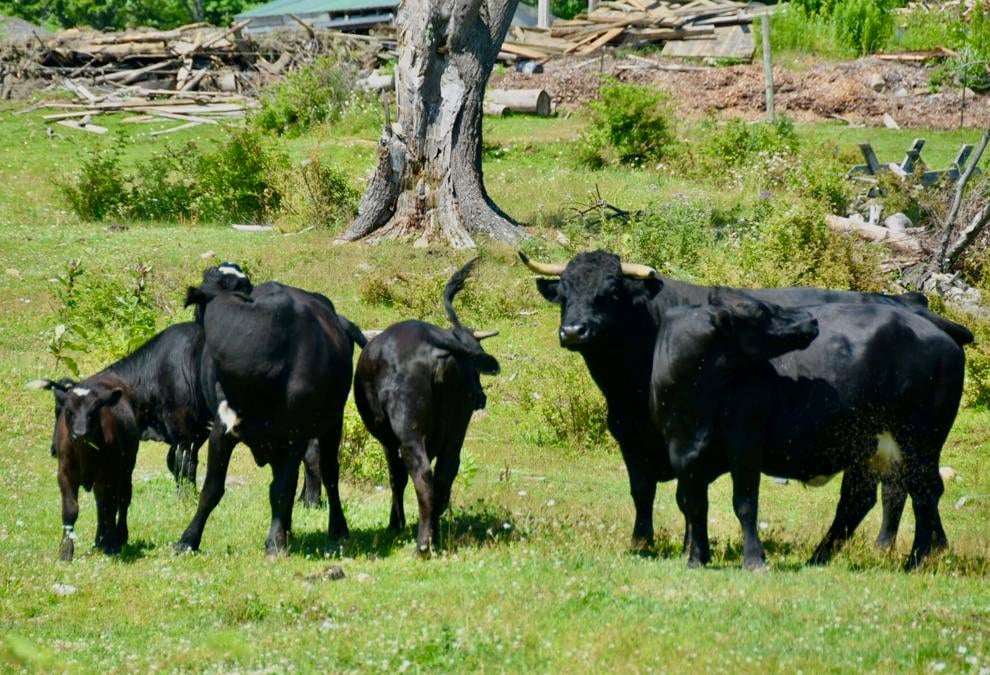 His great grandparents founded the farm in 1906, and it's been in the family ever since. Today, Robinson, 62, has about 70 acres of pasture, with wooded land bringing the total to about 160 acres. He makes money through meat sales, pumpkin farming and harvesting his wooded land for firewood sales.
He is the only farmhand, and there is lots to do, so he works every day from sunrise until after dusk.
He said his toughest challenge is applying for grants that will help him keep his farm afloat.
"For a guy like me working 160 acres all by myself, the hardest part is applying for grants," he said. His other challenges include keeping the fencing intact, a plague of equipment failures and wild predators tracking the herd.
But his biggest worry is applying for grants.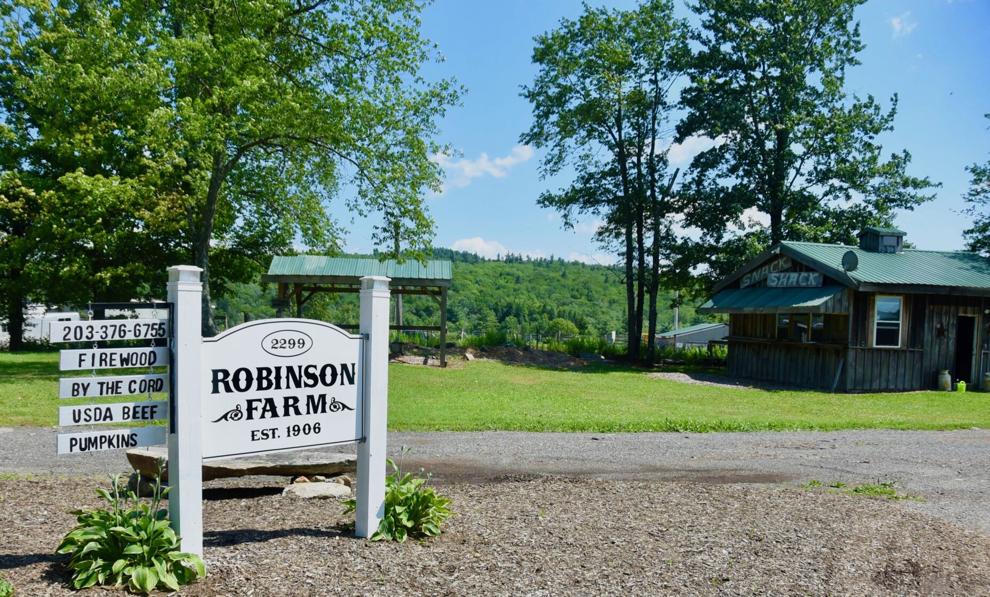 One type of grant in particular is worrisome because if he wins it, the grant will only pay out by reimbursing purchases he makes with the promise of grant funding. The problem is, he has to have the cash flow to make those purchases before he gets the grant money, which is a difficult challenge for his operation.
"You got to have money to get the money," he said.
Another issue is timing. One grant issues the funding for infrastructure improvements in April, and the work has to be done by June. But in April, most of the contractors are already busy, and it is the busiest time on the farm as well. So it is hard to get the work done on time. But if it's late, the grant is nullified.
Then there is the paperwork of the grant applications. It is time consuming, and for a guy like Robinson, time is money. He is not a grant writer and can't afford to hire one.
"It's paperwork on top of paperwork," he said, shaking his head. "Work comes first. You got to pay the bills."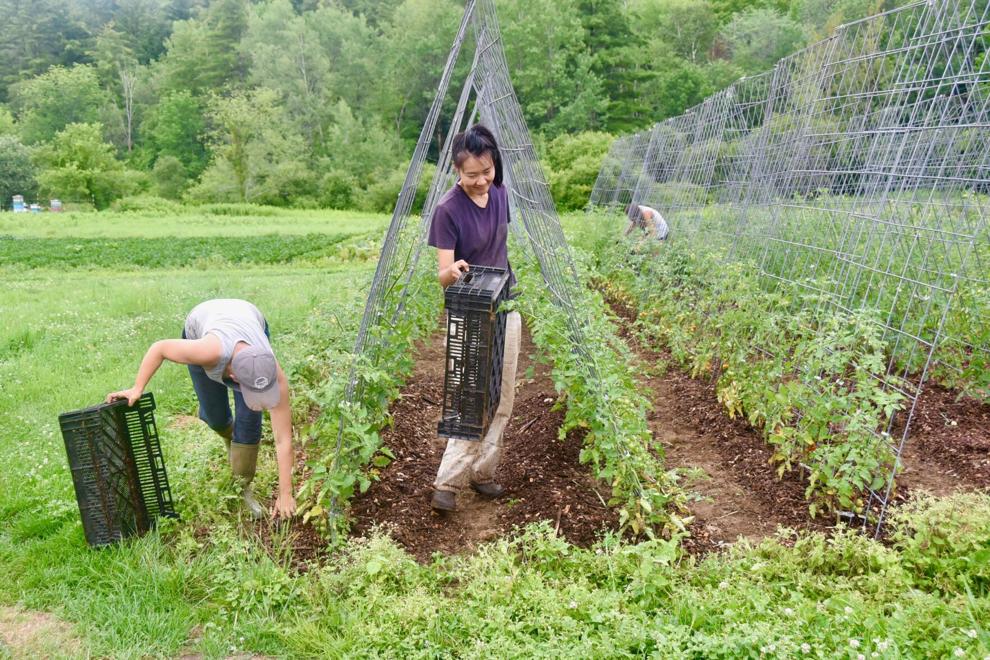 WOVEN ROOTS FARM
On Monday, Jenn Salinetti, co-owner and co-founder of Woven Roots Farm in Tyringham, was in a hurry to "batten down the hatches" around the farm, along with her husband and business partner Pete, and three other farmhands. There was a storm expected to sweep through in a few minutes, so greenhouses needed to be closed up and crops protected.
The farm cultivates 40 different types of crops, serves about 200 community members who subscribe to the farm's Community Supported Agriculture program, and sells food wholesale to places like Guido's and the Berkshire Food Co-op. The farm supports seven full-time employees.
Salinetti laid out her biggest challenges to keep the farm progressing.
"Infrastructure is the biggest barrier," she said. "That, and affordable housing."
It's hard to find people to work the farm at the hourly rate the farm can afford, and even harder if they can't find housing nearby, Salinetti noted. And equipment like tractors and needed structures like their new barn, which is still under construction, are expensive and need maintenance.
Then there are the constant systemic challenges brought on by a dominant farming industry abetted by government programs that enhance the factory farms' ability to overwhelm the marketplace, she said.
"The system winds up suppressing the cost of food through uneven management of the food production system," Salinetti said.
She pointed out that in the early days of American agriculture, the system was founded on stolen land and forced labor, which established inequities, some of which still exist.
"So it's about making the system right, it's about establishing equity and new pathways to food security and knowledge," she noted.
Like Robinson, Salinetti hopes that the grant programs for farmers can be made a bit more user-friendly.
"We need more grant programs that aren't set up as reimbursement grants," she said. "That would open up access to smaller farmers who don't have the funds to make the upfront purchases. Getting access to capital is painful at times."
She said a system of support to help farmers draw up or alter business plans, set up accounting systems and help with grant writing would go a long way in making small farms more sustainable.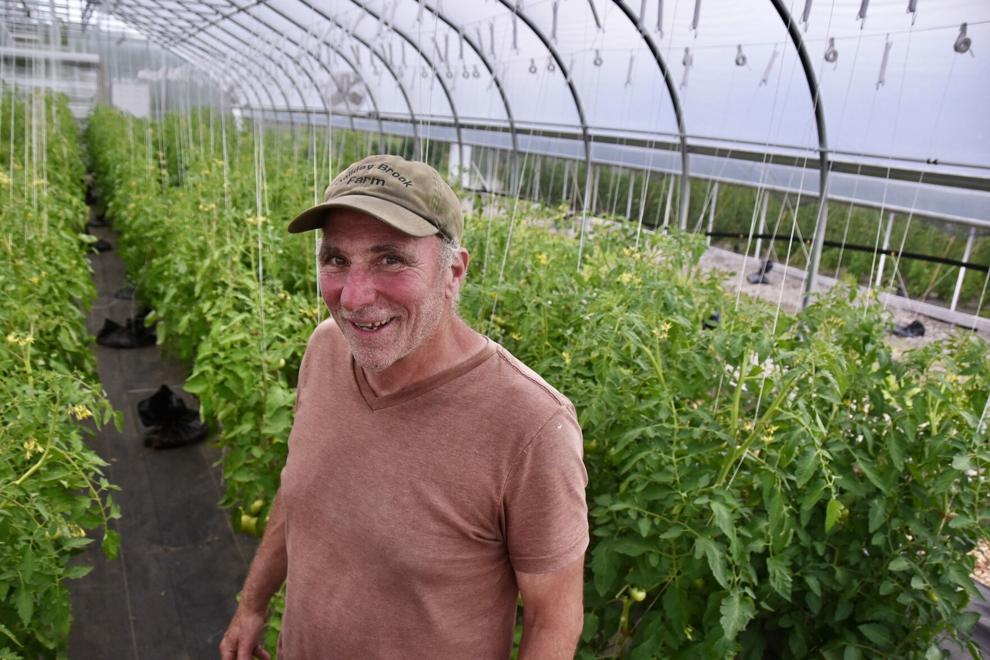 HOLIDAY BROOK FARM
Dicken Crane, co-owner of Holiday Brook Farm, is covered in a sheen of sweat and farm dust when he takes a mid-afternoon break Tuesday to chat with a visitor. He and his 11 or so workers are cleaning up the roughly 1,300-acre farm for a visit from the state agriculture commissioner.
The farm has a full roster of revenue streams, including vegetable crops, logging, a cattle herd of about 100 head, pigs, sheep, chickens, turkeys, guinea hens, peacocks and emus. For winter fun there is the sugar bush operation. And if there's time, there is the apple orchard.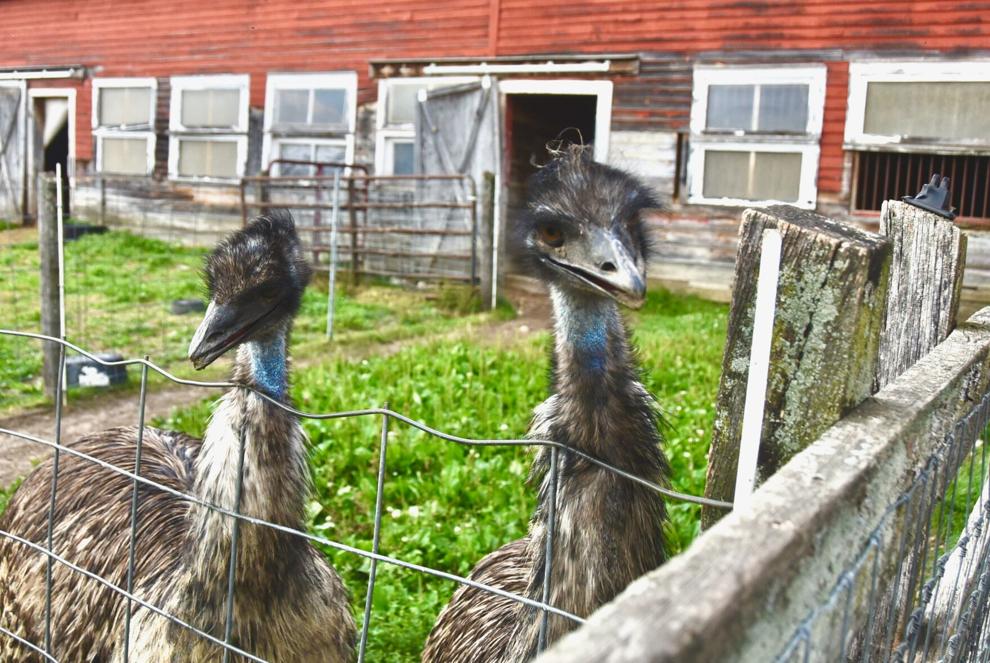 Crane says he's going to give the commissioner an earful, if he sits down long enough. But, he said, it's not criticism he'll offer, but praise.
He is very complimentary of the state's efforts to ease food insecurity by allowing users of the Supplemental Nutrition Assistance Program (SNAP), the Massachusetts Healthy Incentives Program (HIP) and the Women, Infants & Children Nutrition Program (WIC) to spend a portion of their food benefits to buy fresh produce, but not from grocery stores. They can only spend it with local farms, a policy that benefits the food insecure and the local farmers.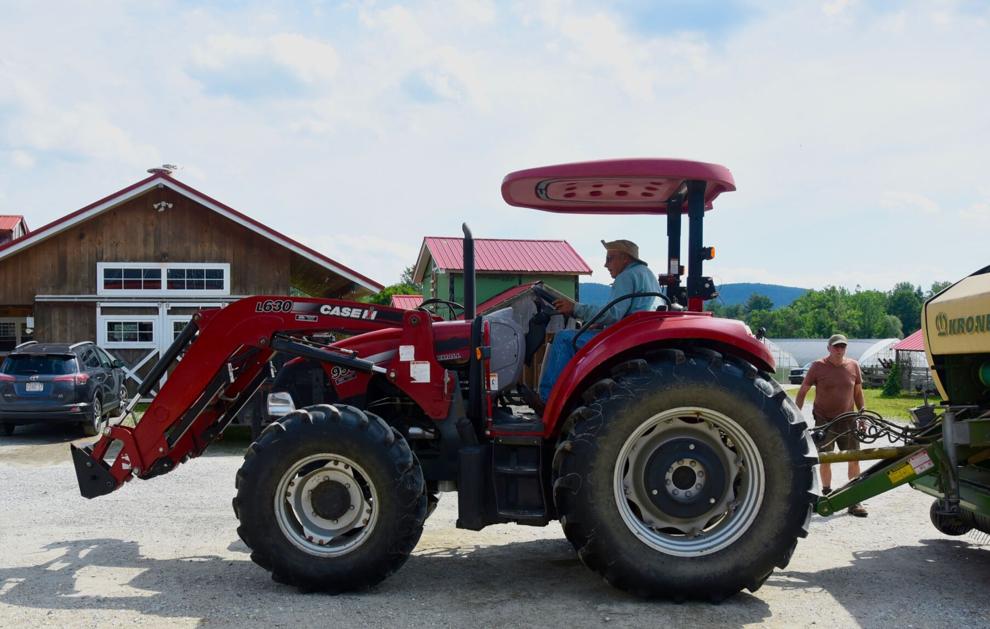 "I mean, the state is actually doing a great job with that," Crane said. "They benefit the people in need, and they benefit the farmers. Almost half of our farmers market sales are through the SNAP and HIP programs. And organizations like Berkshire Grown and Roots Rising also help the farmers as well as people with food insecurity."
Like his fellow farmers, Crane expressed some misgivings with the grant process.
"It's a huge time-sink," he said. "You have to spend a great deal of time applying for grants, and there's no guarantee that you'll get it."
When the grants come through during the busiest farming chores of the year, it makes thing difficult. Sometimes, Crane said, he wonders if it's worth the time. And for infrastructure grants, if one wins the grant, there is often further investment needed to make the project work.
And if the timing is bad, "you can't just drop everything else because you got a grant," he noted. "Sometimes I think it's a curse. It's not free money."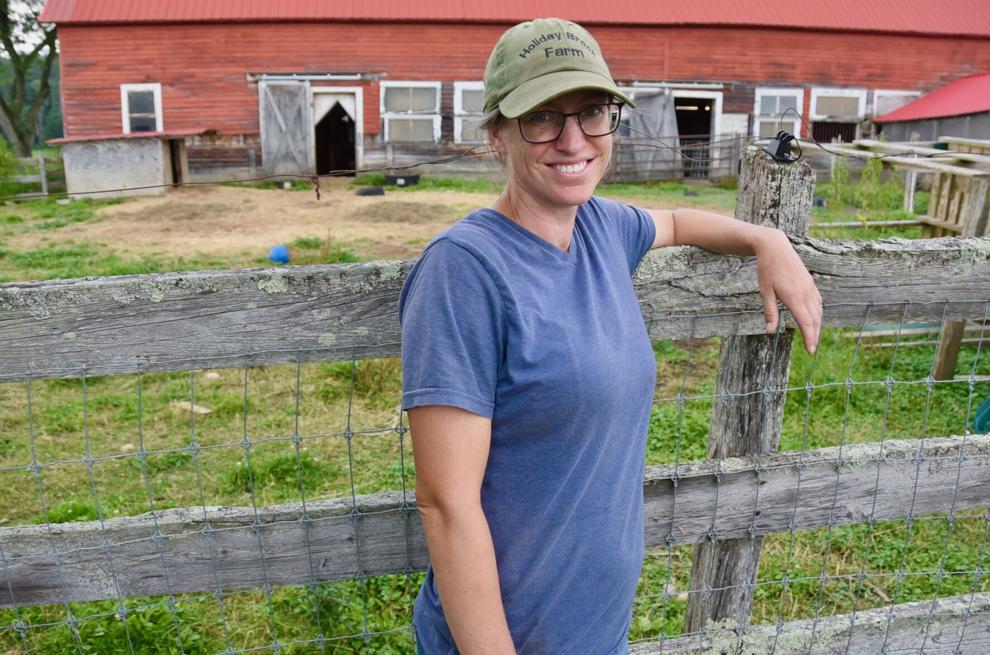 The nonprofit Berkshire Grown annually organizes the summer farm visit with the agriculture commissioner.
"Farm visits like these are crucial to helping our state government get a clear understanding of the challenges facing farmers in the Berkshires," said Margaret Moulton, executive director of Berkshire Grown. "We are excited to showcase these three farms and help state officials understand how farmers and communities intersect."